12 Books To Help You With That Fresh Start

This post may contain affiliate links through which Club31Women might get a small compensation – with no additional cost to you.  See my disclosure policy here.
It took me almost 30 years to realize that New Year's resolutions don't work for me.
Every year, I'd make a resolution of some sort, and every year, I'd feel like a failure before January was over.
So instead of New Year's resolutions, I choose books—old and new—to read for the New Year. Sometimes, I plan my book list carefully based upon what I want to learn and improve on. But most of the time I just laughingly realize that my "to read" stack looks a whole lot like a bibliophile's version of New Year's resolution reading.
Whether you're a goal-oriented girl who makes resolutions and has a five-year plan, or whether you're more of a go with the flow kind of girl who is doing well to know what you're doing for the next five days, a good book can often be an integral part of the inspiration you need to keep going. (For me, it's good books and a few trusted apps. Because I am living in the 21st century, after all.)
Here are twelve of the books that have been part of my New Year's reading stack through the years. From vintage classic fiction to non-fiction titles by a New York Times Bestselling Author, they are some of the books that have helped shape my thinking and make my plans.
Though this book starts on the heroine's birthday, rather than January 1, I still think of it as a book of fresh starts. I've cried many tears over its pages. It's on my mental list of books I want to re-read each year—it's just that good. More here ->
This book is at the top of my to-read list for 2015. Crystal is as generous as she is genuine, and I'm anxious to learn from her experience and expertise as a successful Christian work at home mom. More here ->
There's nothing like packing for a trip at the holidays to make me frustrated with the contents of my closet. Reading Embracing Beauty is like inviting your fashionable best friend over for tea and having her go through your clothes with you, outfit by outfit. Trina is a real mom with a real figure and a real budget, yet she guides you through the ins and outs of a mother's wardrobe with humor and grace—all while showing you how to work with what you have and shop thriftily for what you need. More here ->
This book has been on my wishlist, since I loved Rachel's first book Loving the Little Years so much. I was delighted to get it as a Christmas gift and it's at the top of my to-read list now! I know I always need a breath of fresh air when it comes to perspective as a mom. And Rachel's words right from the trenches are always right on target. More here _>
As a homeschooling mom of 4, ages 8 years down to 8 months, "rest" seems like a strange word to use to describe much of anything in our home. That's why I love this book from Sarah Mackenzie and the perspective she provides for what matters in our home education. More here ->
Nothing makes your own mess look like less than comparing it to someone else's. And by the same token, it's easier to conquer your own clutter if you're doing it with a friend. Meet Kaye, a de-cluttering junkie. Fictional character though she may be, Kaye's own journey toward less clutter may be just the encouragement you need to jump on the bandwagon. More here ->
In the ever-changing world of social media, it's sometimes necessary to go back to what never changes: God's Word. This book is convicting, but it's also a breath of fresh air. A must-read for every Christian who uses social media, and perfect for those New Year's resolutions about not spending so much time online. More here ->
If you're looking for a book that will give you a fresh perspective on life and a simplicity of focus toward the things that matter, you will love this book by Tsh Oxenreider. It's definitely the kind of book to re-read at the beginning of each year. More here ->
Have you ever wondered what it would be like to swap places with a stranger—for someone else to get an intimate but objective look into how you do life? This novel gives you a glimpse. And if you're like me, it might make you take a closer look at your own attitudes and actions. (The only problem is that it leaves you with a cliff-hanger waiting for the as-yet-unpublished second book in the Sight Unseen series!) More here ->
This book is the Let Me Be a Woman of the 21st century. It's one of those I keep handy so I can pick it up during a rare moment of quiet. Reading Feminine Appeal always feels like I'm having a heart-to-heart with a trusted mentor. If you're lacking a Titus 2 woman in your life, this book can help fill that hole. And if you have a Titus 2 woman in your life, why not work through this book with her in the New Year and explore and the virtues of Titus 2 together?! More here ->
I don't know about you, but after all the gluttony of the holidays, I'm always ready to make a serious change in my diet. But going cold turkey rarely works for me—all my favorite foods still entice me. Part cookbook, part guidebook, Your Real Food Journey is a real gem. Rather than outlining a 30-day plan that will leave you falling off the wagon, Trina emphasizes gentle progress for long-term benefits. If you've been leery of all the whole foods diets but really are interested in helping your family eat better, this is the book for you. More here ->
Hard-hitting, honest, practical—this book on marriage is one I've been working through slowly and want to finish reading this year. Because every year is a good one for me to work at improving my marriage. (And every year it still needs it!) More here ->
*What books are on your New Year's reading list?
I'd love to hear about the books that have shaped you in years past, too.
Because He Lives,
Gretchen Louise
P.S.
No, it's not a book. But I think if I keep these DVDs on the top of my to-read stack, I'll be more likely to pop one into the DVD player each day. The Tummy Team got me through pregnancy, labor, and recovery, and I'm hoping to make Fit2B part of my routine this year. These tummy-safe, family-friendly exercise routines are a favorite among my friends and recommended by the core rehabilitation specialists at The Tummy Team. More here ->

Here at Club31Women we recognize that not everyone has the same taste or point of view on books or movies, but we offer these short reviews for your consideration. Our hope is that you will find something new and wonderful on this list of recommended reading! ~ Lisa Jacobson, Club31Women
(This post may contain affiliate links. Read my full disclosure.)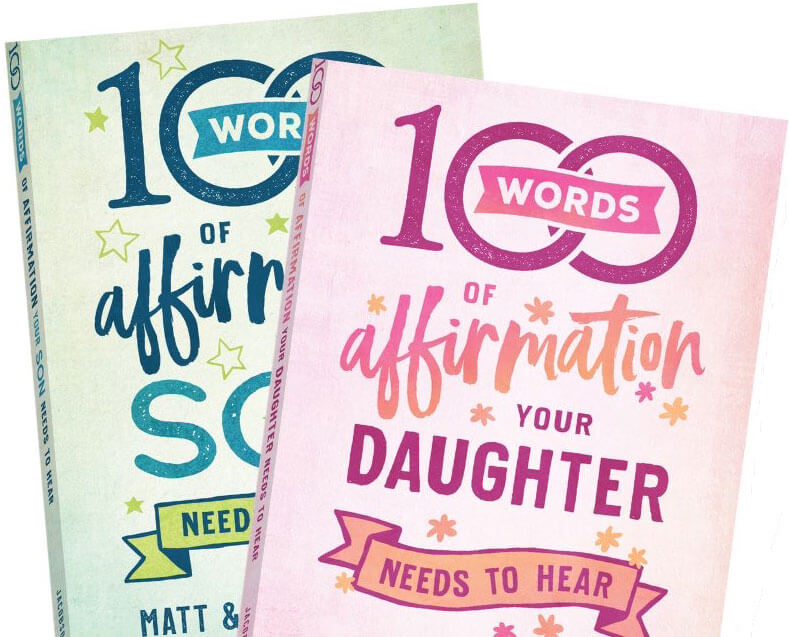 100 Words of Affirmation Your Son/Daughter Needs to Hear
Matt and Lisa Jacobson want you to discover the powerful ways you can build your children up in love with the beautiful words you choose to say every day–words that every son and daughter needs to hear.
These affirmation books offer you one hundred phrases to say to your son or daughter – along with short, personal stories and examples – that deeply encourage, affirm, and inspire.
So start speaking a kind and beautiful word into their lives daily and watch your children–and your relationship with them–transform before your eyes.