Ready for Fall? A stack of good books for cool autumn evenings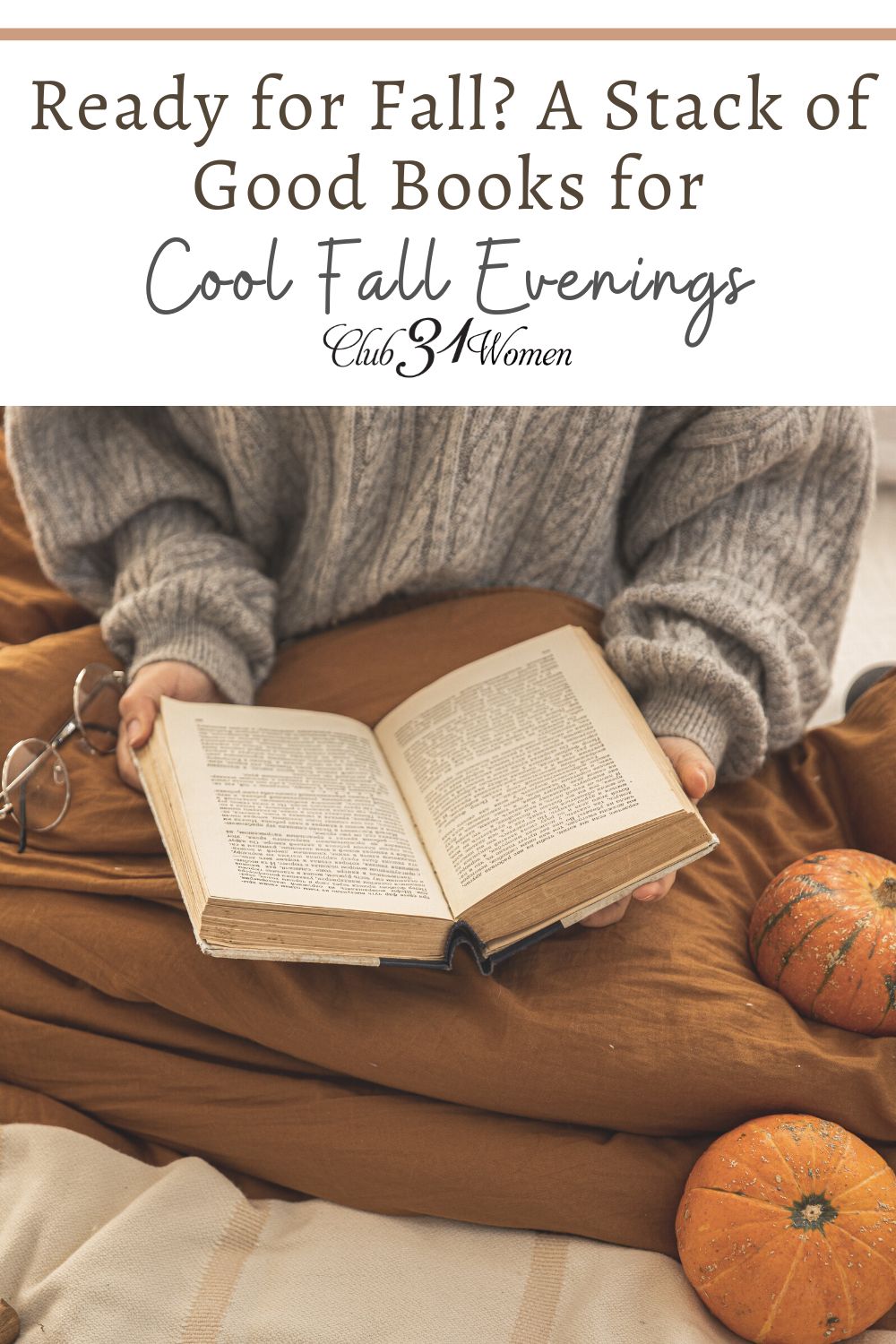 As the days get shorter, and we cuddle up under cozy blankets in the evenings, let's have a stack of books for autumn at our fingertips.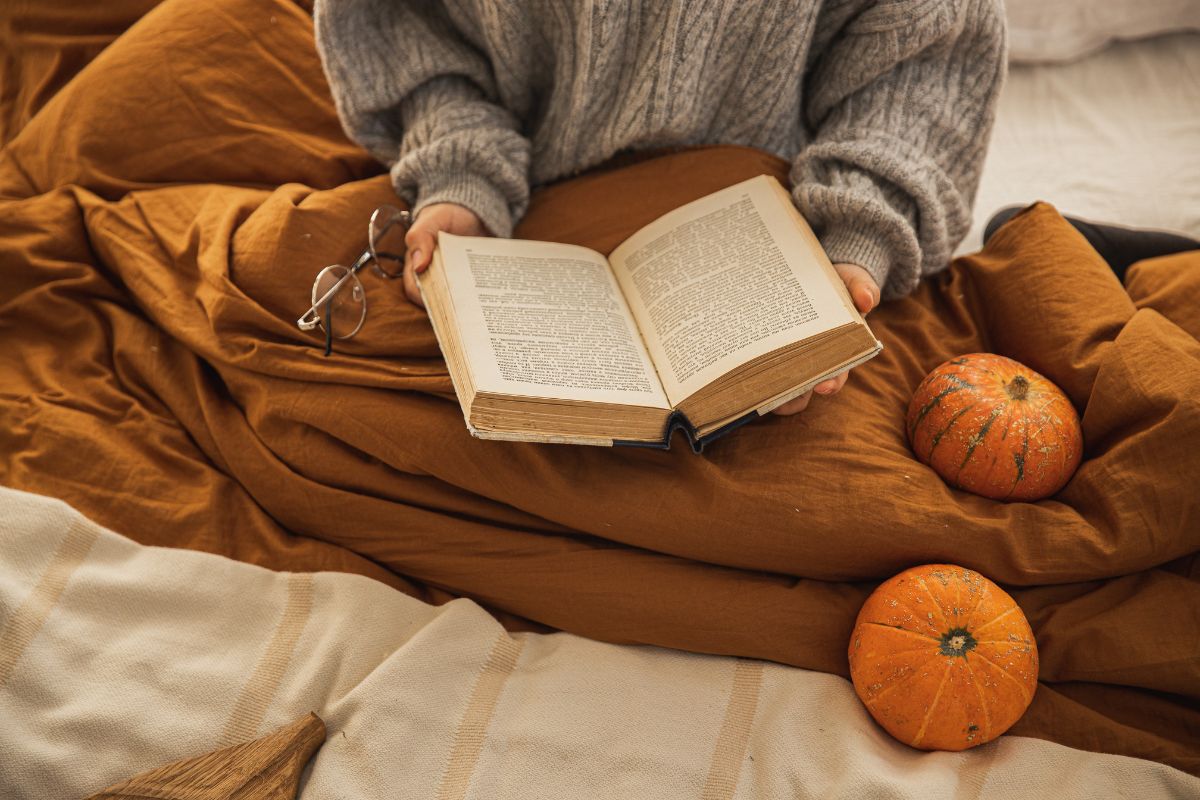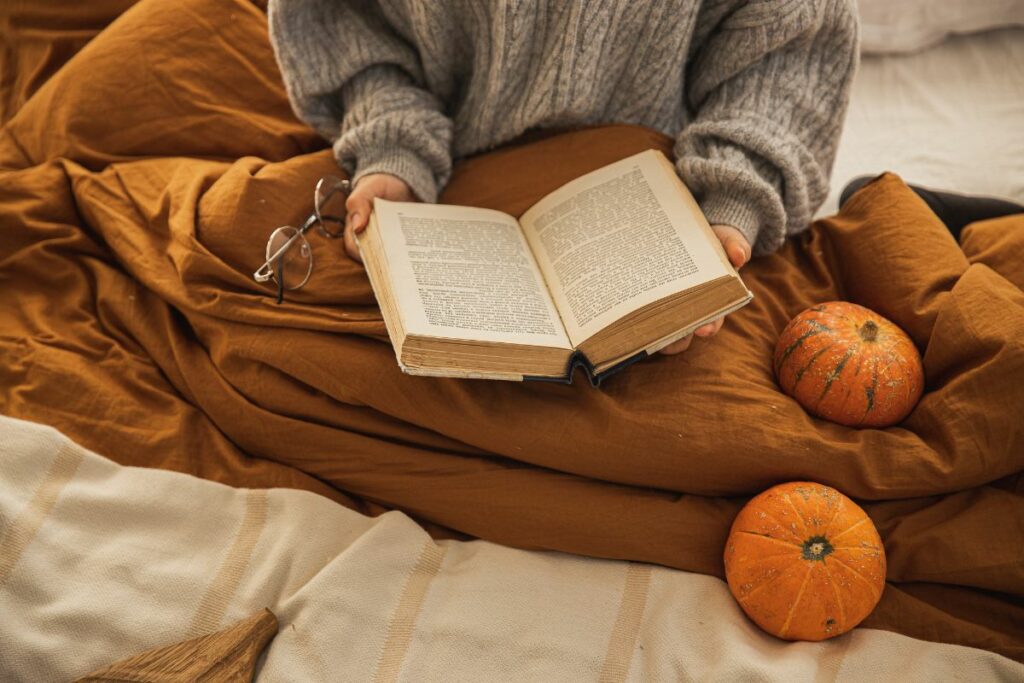 Oh, autumn…how I love thee. Summer is my least favorite season by a large margin, so when the weather starts to cool and the leaves start to change and that briskness starts riding the breezes coming in our open windows, my soul leaps with joy! Though my favorite way to spend an evening year-round is with a large cup of tea and a stack of books for autumn, it just seems to fit better with autumn evenings next to a roaring fire.
As I shared in my summer book list, I have a tendency to read more fiction than non-fiction. However, that is something I'm actively trying to change by incorporating more non-fiction into my TBR stack, so I've tried to share both equally here. However, I will admit that in this list, a good portion of the non-fiction are cookbooks, as autumn always seems like the perfect time to bake a bunch of goodies! I'll start with some of those…
A Great Stack of Books for Autumn
This post may contain affiliate links through which Club31Women might get a small compensation – with no additional cost to you.  See my disclosure policy here.
Written by an apple farmer in British Columbia, this book is full of delicious recipes for baked goods that include all sorts of fruits and berries: perfect for the different harvests of autumn (and tuck away the rhubarb and berry recipes for next spring and summer!). The Farmer's Daughter Bakes is also replete with gorgeous photography of the author's family apple orchard and the photos of the different dishes are definitely drool-worthy!
Being a family who deals with food intolerances, I couldn't mention autumnal baking without bringing in a gluten-free cookbook. I was torn between this book, Cannelle et Vanille Bakes Simple, and Aran Goyoaga's previous cookbook, Cannelle et Vanille: Nourishing, Gluten-Free Recipes for Every Meal and Mood, simply because the "Apple Cider Yeast Doughnuts" in the latter cookbook are beyond amazing. However, I went with the former because it has more baking recipes and those seem more fitting with the season. Cannelle et Vanille recipes are so very yummy, whether you need to eat gluten-free or not!
The title of this should make it pretty obvious why I chose this book for this list of seasonal reads, but Autumn By the Sea is more than just a book set during the fall months. Several mysteries, several love stories (not just the romantic kind!), and the beginning of a series (called "Muir Harbor") that has me very excited to read the just-released second book, A Seaside Wonder. The beautifully-written glimpses into autumn at a blueberry farm on the Maine coast are glorious and make this the perfect read for this time of year!
I think that for many of us, autumn rolls around, and with the laid-back vibes of summer falling behind us, we lean toward embracing more rhythm and routine, especially with school starting for those of us with kids. With this in mind, The Lazy Genius Way: Embrace What Matters, Ditch What Doesn't, and Get Stuff Done is the perfect read to help you come up with systems that work for you. Encouraging and funny, Kendra shares about how to approach your life so that it doesn't exhaust you mentally. What more would you want?!
Anne of Windy Poplars by L.M. Montgomery
I was hard-pressed to pick just one L.M. Montgomery book that would be perfect for autumn as so many of her books have some of the best autumnal descriptive passages I've ever read. Someday I will see the seasons change in PEI! I finally ended up choosing Anne of Windy Poplars (published as Anne of Windy Willows in the UK, Australia, and Japan) as it seems to be one of the lesser-known Anne books; some series sets don't even include it! Though it was the seventh Anne book Lucy Maud wrote, it's the fourth in the series and is mainly composed of letters that Anne writes to her then-fiancee Gilbert, during her several-year stint as the principal of a girls' high school. As most of the book takes place during the school year, quite a bit of it is set during the autumn months, and per Montgomery's usual is full of fun vignettes, sweet stories, and lyrical descriptions of nature.
I'll be honest, this book doesn't have a specific autumn correlation, but as it just released at the beginning of this autumn, that seemed a good enough excuse to include it! Mothering by the Book is written by an experienced homeschooling mama of seven, who I've looked up to for a long time. She combines thoughts on overcoming specific fears in mothering with lessons from different books and shares her extensive experience from a beautiful place of vulnerability.
Sarah Clarkson's thoughts on books are ones that I enjoyed immensely in her Book Girl, so I had very high hopes for this book that focuses on children's books. And unsurprisingly, it surpassed every one of them! As we settle into more home-centered evening routines in these colder months, both family read-alouds and children's personal reads often become more central, and Caught Up in a Story is full of encouragement and validation of our efforts to give our children great stories.Through the sharing of Sarah's own story, I saw the incredible impact that stories can have on a young person's life and how important that effort is.
Just seeing the gorgeous cover of this book evokes feelings of autumn…and it is a beautiful story as well! I'm not usually a fan of split-time novels, but I decided to read this one because I have loved all of Joanne's other books. And I'm so glad I gave it a chance! The Gold in These Hills is an exquisitely-crafted storyline full of hope and redemption and beauty (like many of Joanne's other books: also check out her The Lady and the Lionheart).
Another beautiful story of redemption takes place in autumn on the coast of Maine (I'm sensing a theme here…can you tell I want to visit Maine one day?!). Whose Waves These Are sweeps you away to the sweet town of Ansel-by-the-Sea, which we end up experiencing at different points over a sixty-year period. There are many threads of the story that end up pulling together in the end into an amazing story of hope.
Yes, this is another cookbook, but it's uniquely suited for these months of getting back into school rhythms. As indicated by its title, the recipes in The Little Lunchbox Cookbook are specific to being easily packable. I'll admit, as a homeschooler, I originally wrote this cookbook off as not really being applicable to my life. But then a fellow homeschooling mama shared about how helpful it was to her, and I started realizing how many times I do need to pack food for our family, even if my kids don't have to pack a lunch to school every day. This cookbook has many great recipes, and all the cute lunchbox photos have also inspired packable food ideas for me too. (Also, if you're dealing with diet specifics, all the recipes are gluten-free and allergen-friendly, and only ten aren't vegetarian.)
Part memoir, part parenting advice, this book is another one that's great for this time of year when we're getting back into our rhythms and routines…and especially if you have kids, many of those involve food! French Kids Eat Everything is a fun read as the author shares the adjustments that her family faces when they move from North America to her husband's hometown in France. The French approach food very differently from Americans, and it's always a good thing to be able to re-evaluate some of our paradigms outside of our own cultural influences. I found the cultural differences fascinating…and discovered some great advice as well!
As the days get shorter, and we cuddle up under cozy blankets in the evenings, I hope you brew yourself a cup of tea and enjoy some of these autumnal reads!
Under the Mercy,
Jessica
Here at Club31Women, we recognize that not everyone has the same taste or point of view on books, music, or movies, but we offer these short reviews for your consideration. Our hope is that you will find something new and wonderful on this list of recommended resources!
~ Club31Women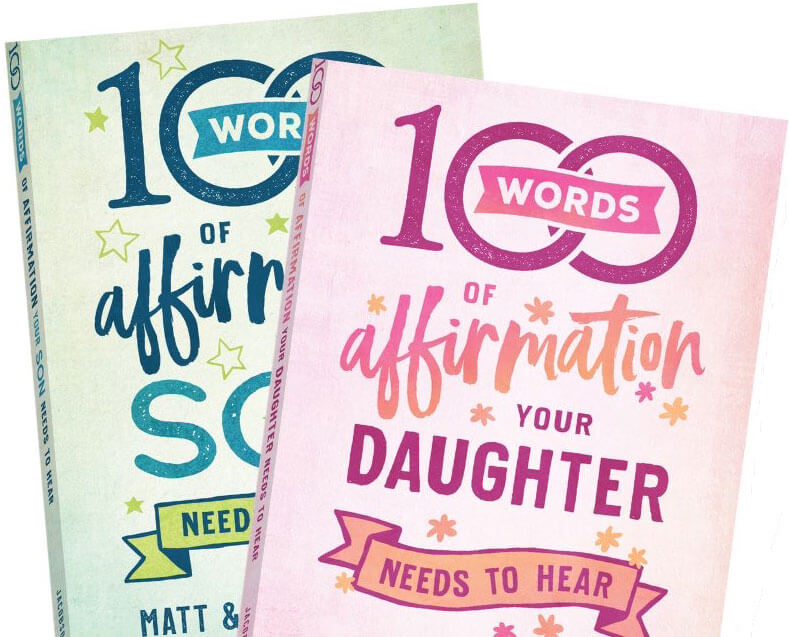 100 Words of Affirmation Your Son/Daughter Needs to Hear
Matt and Lisa Jacobson want you to discover the powerful ways you can build your children up in love with the beautiful words you choose to say every day–words that every son and daughter needs to hear.
These affirmation books offer you one hundred phrases to say to your son or daughter – along with short, personal stories and examples – that deeply encourage, affirm, and inspire.
So start speaking a kind and beautiful word into their lives daily and watch your children–and your relationship with them–transform before your eyes.