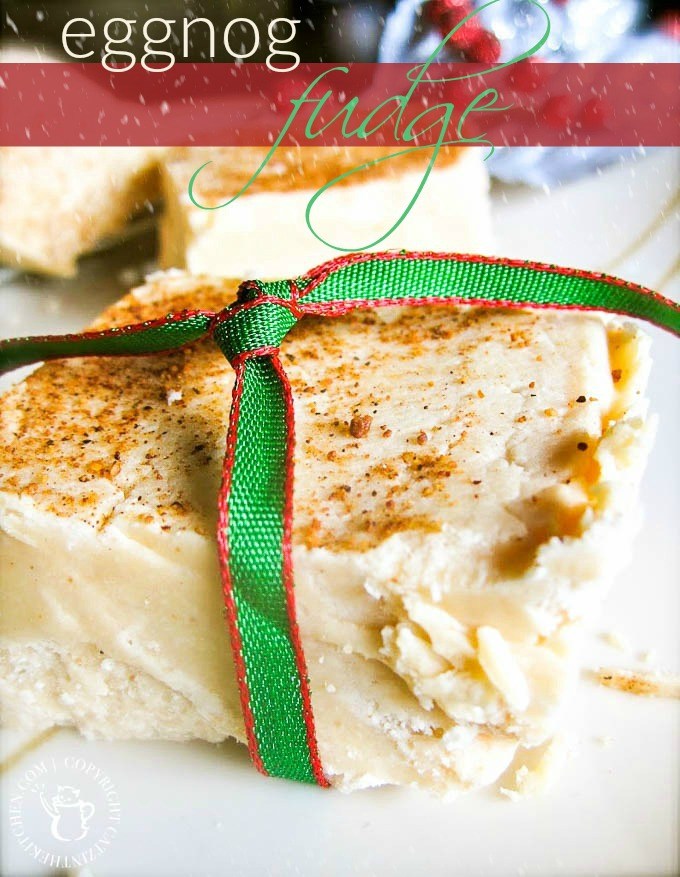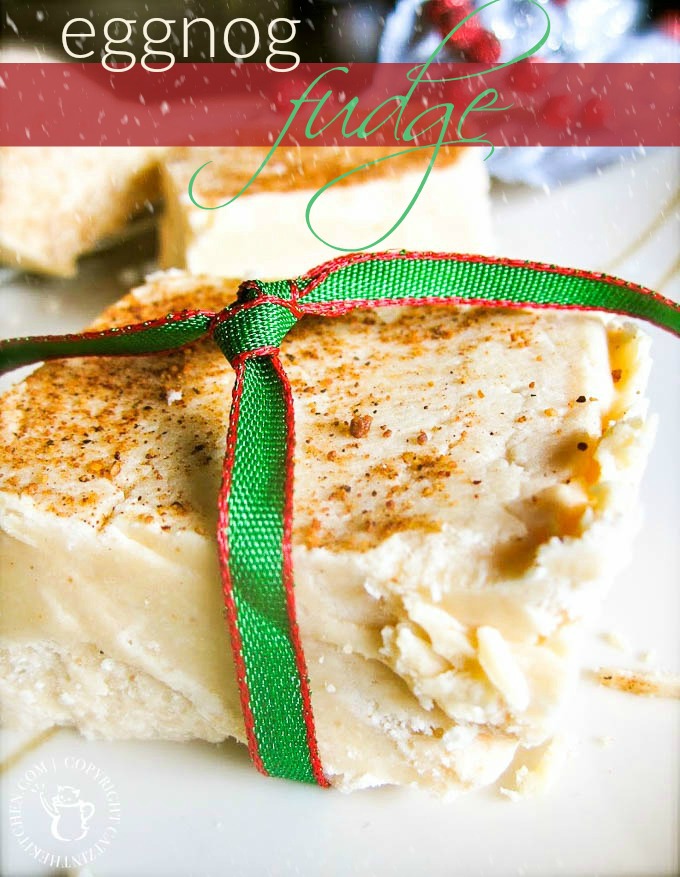 What a fun and festive variation of this fudge that you may enjoy if you like eggnog!
I had to stop myself from getting a little sad as I helped assemble the artificial Christmas tree at our church the other day.
This past Sunday, all the kids, teens and us older adult like people (the 20-31 1/2 yr olds) set out on a mission to turn the room in which we have our church service into a winter wonderland, and I was getting a little weepy at the thought of how short the Christmas season is.
The very tree we were putting together was going to be taken apart in just a few short weeks and Christmas would be over, the holiday spell would be broken, and the numerous remarks about how long the never-ending months of winter are would begin.
It breaks my heart just thinking about it, because I love this time of year!
The smell of fresh cut Christmas trees, the (admittedly repetitious) Christmas songs on the radio, all the houses getting blinged out by lights and crazy decorations, and all made so much sweeter by the reason we celebrate the season.
But those special feelings about Christmas, the warmth and the hope and the good memories, are dulled and faded for many every year.
In fact, for more than a few, the season actually makes things seem worse.
Those who are suffering with family problems, finances, illness, or loss of loved ones can be consumed with grief and resent the Christmas season – for them, the light of Christ is shaded by brokenness and pain.
Of course, Christmas isn't meant to remind us of our hardships and suffering, but to reveal to us that we're not alone in our hardships and suffering because we have a Savior – a Living Hope! – who heals our brokenness.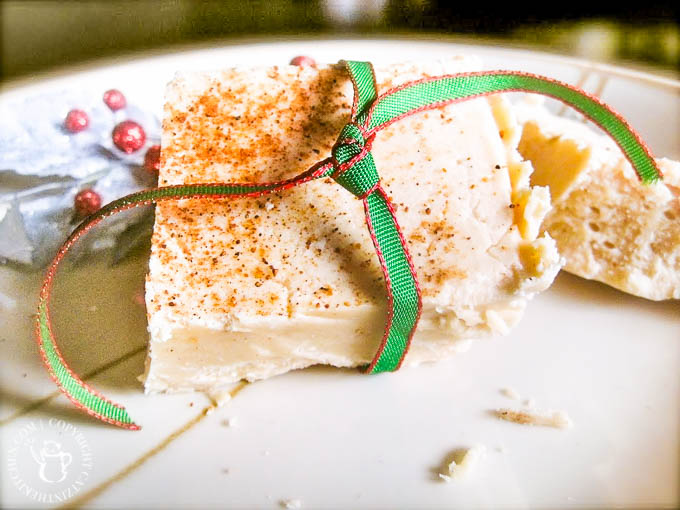 "Blessed be the God and Father of our Lord Jesus Christ, who according to his great mercy has caused us to be born again to a living hope through the resurrection of Jesus Christ from the dead…" 1 Peter 1 :3
As my father-in-love said this past Sunday during his message, "A living hope is knowing things are spinning out of control, but that we still have the blessed assurance that God is always there and that Christ is here to redeem us from our sins."
It can be hard for some to see Christmas in the light of the living hope – but it's our great honor and privilege to help point them to Him!
This time of year may give us the opportunity to share a tin full of sweets (like this eggnog fudge!) and the Gospel with others who are hurting and in need of comfort and compassion.
For me, sharing sweets is normal, but sharing the Gospel is a bit out of my comfort zone…and, frankly, something I don't feel very confident doing, but that's what faith in action is, right?
There isn't a better gift to give than that of the Good News, but eggnog fudge is up there somewhere!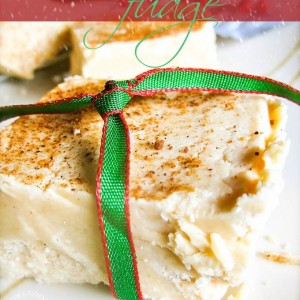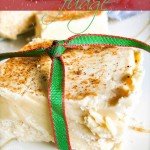 Eggnog Fudge
Ingredients
2

cups

sugar

1/2

cup

butter

3/4

cup

egg nog

10.5

oz

white chocolate bars

, chopped into small pieces

1/2

tsp

freshly grated nutmeg

, plus a little more for the top of the fudge

7

oz

marshmallow creme

1

tsp

rum extract
Instructions
Line a 8 or 9-inch square pan with foil and let it hang over the sides. Butter the foil.

In a heavy, 3-qt saucepan combine sugar, butter, and eggnog. Bring to a rolling boil, stirring constantly. Continue boiling 8-10 minutes over medium heat or until a candy thermemoter reaches 234 F, stirring constantly to prevent scorching. Remove from heat.

Using a wooden spoon, work quickly to stir in chopped white chocolate and nutmeg until chocolate is melted and smooth. Stir in marshmallow creme and rum extract. Beat until well blended and then pour into prepared pan. Sprinkle with a little freshly ground nutmeg on top. Let stand at room temperature until cooled. Refrigerate if you'd like to speed up the process.

When completely cool, cut into squares. Store in covered container.