How to Rejoice in the Midst of a Weary World This Advent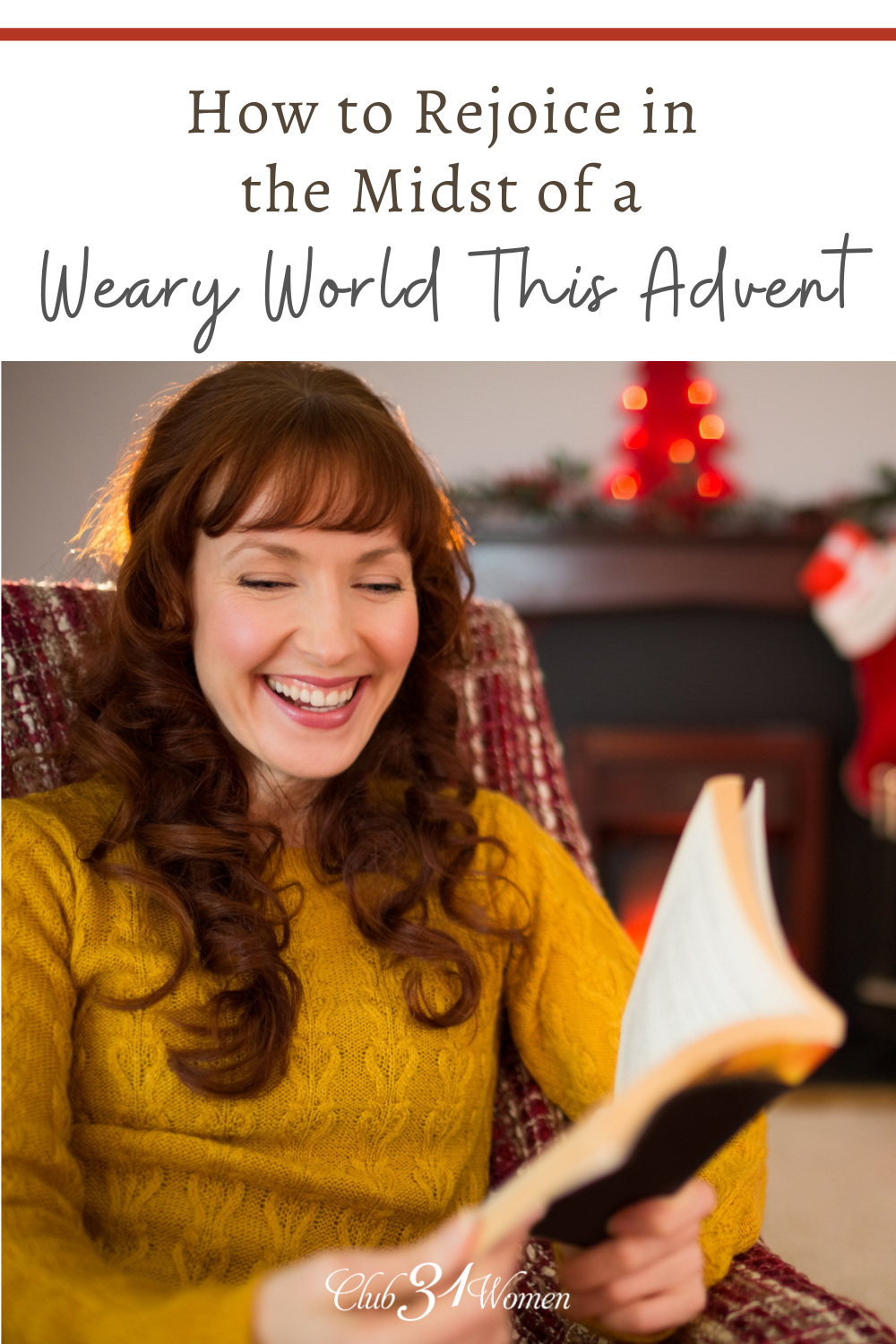 With everything that has happened in 2020 and the tumult we continue to find ourselves in, I'm feeling the need to squeeze every ounce of Christmas out of Christmas this year. I want to drink all the hot chocolate, watch all the Hallmark movies and make our house rival the Griswolds (minus the crazy squirrel). There's something appealing about the idea of losing myself in the cozy joy and tinsel that this season offers instead of dwelling on the death, injustice, and division that has pervaded our nation.
But I'm also poignantly aware that being on a steady drip of holiday cheer will only temporarily mute the pain and fear that has built up over the past eleven months. So, while I still plan to embrace the lights and the cookies and the fires and the presents, I want to lean into the tension that is so beautifully laid out in the Christmas carol "O Holy Night."
Long lay the world in sin and error pining,
Till He appear'd and the soul felt its worth.
A thrill of hope, the weary world rejoices,
For yonder breaks a new and glorious morn.
Twenty-twenty has felt like a vortex of sin and errors. But God promises the dawn of a world made new by His coming. During Advent, we get to remember that He did it once when Jesus was born and we are reminded that He will do it again. We may be wary, but we can still rejoice in the waiting.
I've found the waiting is always enhanced by an Advent study or book. Here are some favorite Advent reads.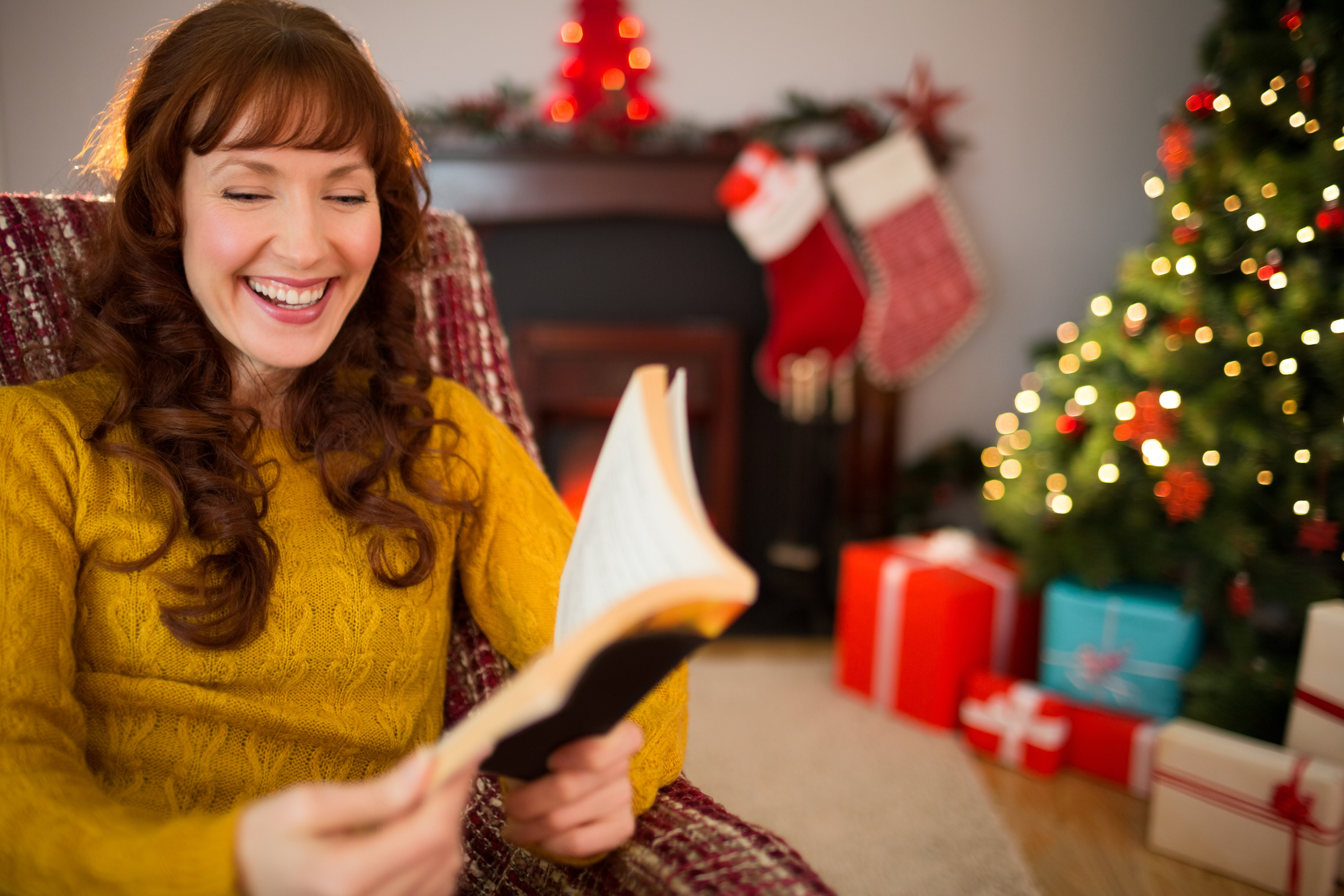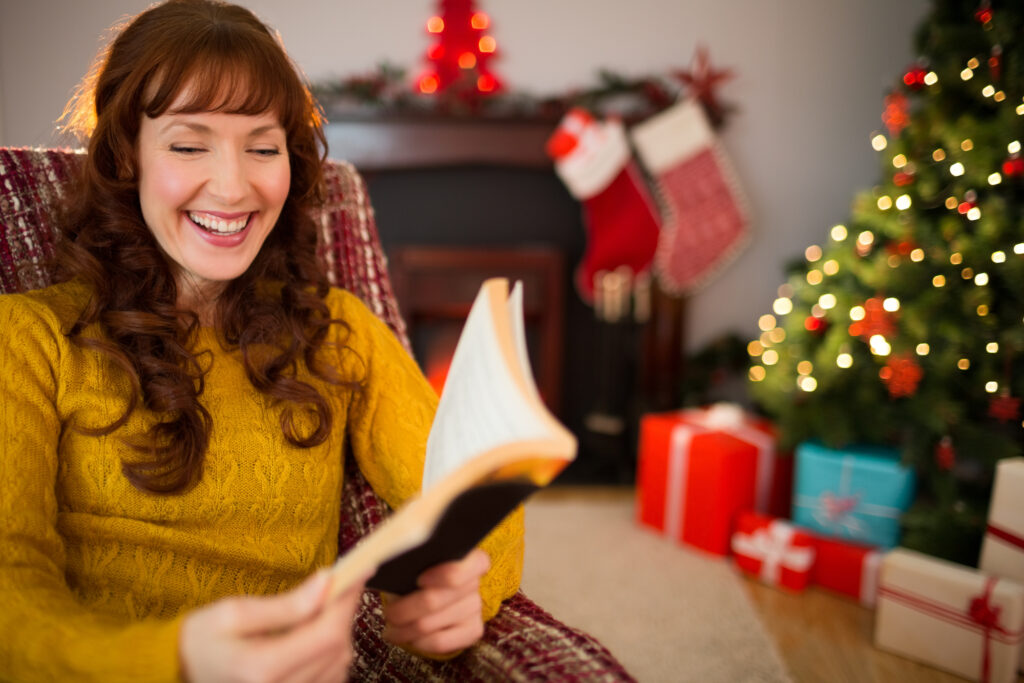 This post may contain affiliate links through which Club31Women might get a small compensation – with no additional cost to you.  See my disclosure policy here.
"Advent is a paradoxical season: a season of waiting and anticipation in which the waiting itself is rich and fulfilling, a season that looks back on the people who waited in darkness for the coming light of Christ and yet forward to a fuller light still to come and illuminate our darkness," Guite says in his introduction to Waiting on The Word. Poetry, with all of its veiled meaning and beautiful imagery, is a unique and fitting medium to explore the depths and tension of Advent. Guite is a gentle and skilled guide through each day's poem, picking out themes and theology embedded in this wonderful mix of classic and contemporary voices.
In the preface, Russ explains that "this book is meant to be a servant of the Bible," a way to help you connect individual stories to the broad narrative arc of Scripture, not substitute for the Bible itself. The Advent of The Lamb tells the story of the need for and the coming of Christ, encompassing both Old and New Testaments. Each of the 25 chapters has the Scripture passage it is based on for reference at the top. Russ is a skilled narrator and I loved how he effortlessly wove cultural and historical context into this retelling. It reads like a study Bible with the fluidity of a novel.
Ann's lyrical writing voice seems particularly fitting for the wonder surrounding Christ's birth. In The Greatest Gift, Ann uses the advent tradition of the Jesse Tree (a tradition I knew nothing about before reading this book) to frame daily readings that follow the lineage of Jesus starting with Jesse, the father of David. Similar to The Jesus Storybook Bible where "every story whispers His name," The Greatest Gift continually points to the coming promise of Christ throughout the Old Testament. It's rich and beautiful and I usually re-read this every year.
This is a stunning coffee-table-worthy reimagining of The Greatest Gift geared toward families. The gorgeous illustrations give life to The Jesse Tree tradition and will captivate children of any age. Each day has a scripture reading, kid-friendly devotional and suggested activities to do as a family. When we do a book advent (I wrap 24 books and they get to open one every day leading up to Christmas), I have the kids open this one first.
This is a wonderful collection of readings (mostly short essays and a few poems) from a wide spectrum of classic and contemporary voices. The index allows you to pick and choose readings by author. I enjoyed the diverse perspectives and number of readings (start on November 24 and end on January 6).
There are so many things I love about this slim book. It's beautiful to look at inside and out. Asheritah convincingly explains the history and relevance of celebrating Advent in her introduction. Each reading focuses on a different name of Jesus and are grouped to follow the four weeks of Advent (Hope, Preparation, Joy, and Love). Every week starts with an interactive devotional for the whole family. Unwrapping the Names of Jesus is a great place to start if you're new to Advent.
Liz Curtis Higgs is skilled at bringing out the emotional depth in stories from the Bible. In The Women of Christmas, Higgs explores the lives of three women who carry the story of Christmas – Elizabeth, Mary, and Anna. She provides commentary, verse by verse, as these women prepare for the birth of the Messiah. I loved the fresh perspective on how these women's individual stories intertwined with the Christmas story.
I was familiar with Scott Erickson from his prayer centric collaborations with Justin McRoberts and was excited to see this solo work exploring Christ's birth. Honest Advent perfectly captures the tension of the Divine coming down in a very earthly, everyday manner. With striking imagery and raw reflections, Erickson probes at the story of Jesus' birth with tender curiosity and contemplative awe. I underlined something on almost every page.
This slim Advent book looks at the birth of Jesus from the perspective of each of the four Gospel writers. Not necessarily a novel concept. But what makes this rather compelling is that each Gospel is reimagined as a home, with all the unique features that would distinguish my home from yours — structure, décor, family, and habits. In short essays (transcribed sermonettes may be a better descriptor), Cynthia Campbell tours the reader through each Gospel home in order to better understand what Christmas means and how Christmas would be celebrated there. Each home has been brought to life by the sketches of architect and Bible teacher, Kevin Burns, who offers artist reflections on each drawing at the end of the book.
⠀⠀⠀⠀⠀⠀⠀⠀⠀
Christmas in The Four Gospel Homes offers an added layer of insight into these familiar stories. I always appreciate when someone can frame these oft-repeated (and treasured!) words in a fresh way. The study questions in the back were helpful and would make this a great option to do as a family or small group.
For a holiday that is usually celebrated with joy and festivity, Christmas often holds the exact opposite for people. At the tail end of 2020 especially, I think many are entering this holiday season with weariness, at the least. Kathy Escobar, who has spent the past decade creating Blue Christmas experiences for her church, makes space to honor people's struggles in this helpful Advent book. During the four weeks of Advent, Escobar walks readers through honoring reality, practicing honesty, embracing paradox, and borrowing hope. The reflections, prayers, and practices are filled with empathy and compassion while pointing people to the truth of God with us.
I've never read Dickens' A Christmas Carol, but I'm well versed in the film adaptations. The Muppets version is my favorite, in case you were wondering… I'm also a fan of people who can find God and a Christian worldview in all manner of things. Allison Pittman has created a wonderful mashup of these two things in Keeping Christmas: 25 Advent Reflections on A Christmas Carol. Though not a theologian or Dickensian scholar, Pittman is a knowledgeable guide through the familiar sequence of events that lands Scrooge with a transformed heart. Her reflections were meaningful and will delight any literature lover.
Tsh describes her own book well when she says, "This book is written as a guide for the journey: intentionally short, ecumenical and requiring almost no preparation… It offers a sensory-rich summons to enter the season as we are, wherever we are in life." There is a wonderful primer on Advent before the daily reflections begin. Each day of Advent has a short message, Psalm to read, a reflection question, and a suggested listen. Shadow and Light follows a more traditional format as far as Advent books go, but the content was refreshing and approachable.
Advent Books to Watch
I'm always on the look-out for new Advent books. Here are a few I have my eye on for future seasons.
The first two chapters of the gospel of Luke record the very first Christmas songs. Each day of this 31-day devotional revolves around one line from one of these songs. (For more advent devotionals from Nancy DeMoss Wolgemuth, look for Consider Jesus and Born a Child and Yet a King.)
Twenty-eight devotions alternate between Scripture and passages from the novel to prompt meditation on Advent themes. Each devotion also includes questions for reflection.
Reflections on Advent with a daily guide to listening to Handel's iconic piece of music.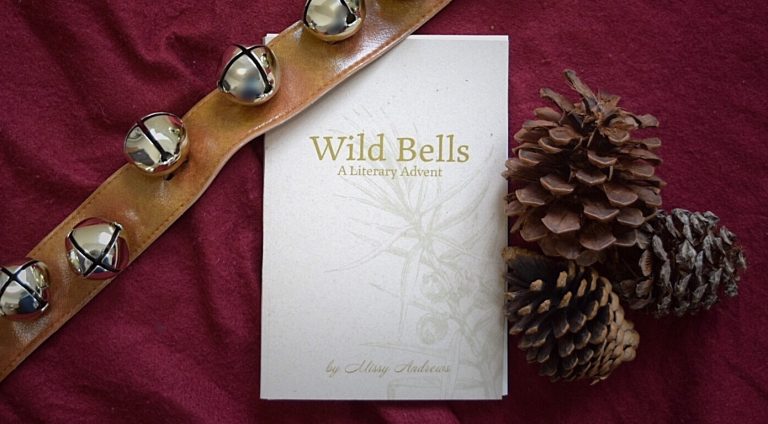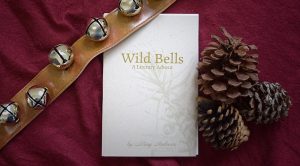 Twenty-five readings from literature in anticipation of the coming Christ.
Theologically meaty readings culled from Piper's sermons and blog.
One devotion for every day in December starts with a compelling, gospel-centered thought followed by an extended meditation for the day.
In Him,
Emily C. Gardner
Here at Club31Women, we recognize that not everyone has the same taste or point of view on books, music, or movies, but we offer these short reviews for your consideration. Our hope is that you will find something new and wonderful on this list of recommended resources!
~ Club31Women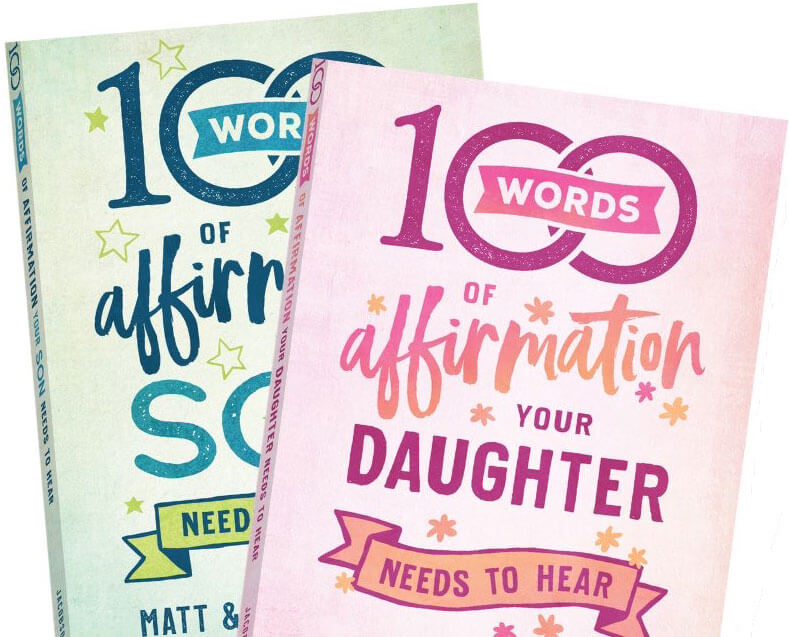 100 Words of Affirmation Your Son/Daughter Needs to Hear
Matt and Lisa Jacobson want you to discover the powerful ways you can build your children up in love with the beautiful words you choose to say every day–words that every son and daughter needs to hear.
These affirmation books offer you one hundred phrases to say to your son or daughter – along with short, personal stories and examples – that deeply encourage, affirm, and inspire.
So start speaking a kind and beautiful word into their lives daily and watch your children–and your relationship with them–transform before your eyes.