One Dirty Reason Your House is a Mess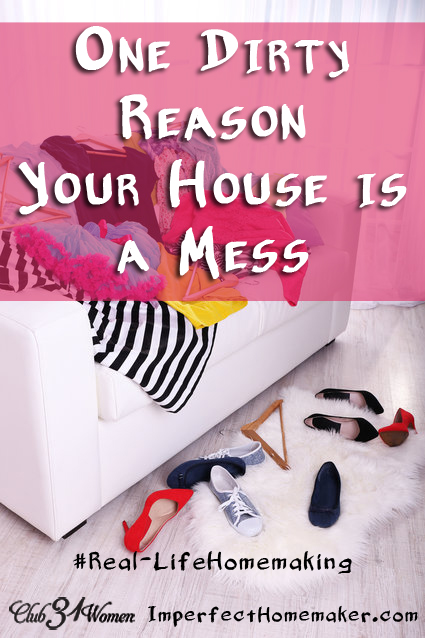 Does your house stay a mess?
I'll be completely honest — mine does. It's got the "lived in" look going on pretty much all the time, and quite often it sports the "disaster zone" effect.
I'm of the opinion that many women are needlessly allowing themselves to be laden down with what I call "homemaker's guilt", placing expectations on themselves that are unrealistic.
But there are other times your house is a mess because of your own faulty thinking.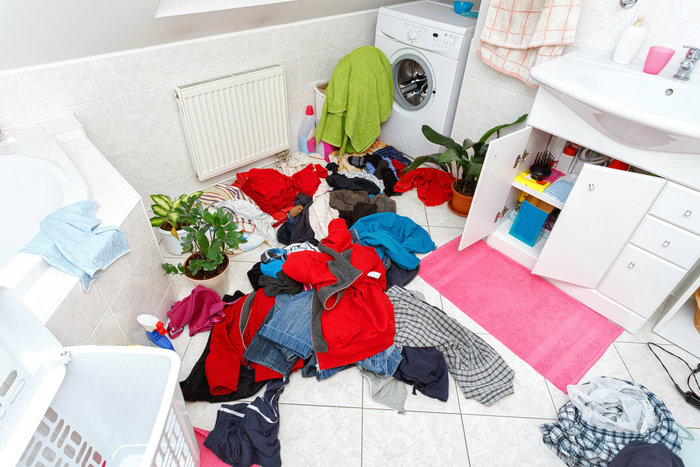 Company Is Coming
Think with me about what it's like to know that company is coming in a day or two.
What do you do?
You go to great lengths to make sure that your house is scrubbed and spotless, don't you? You'll give up time you might normally relax, work on your personal hobbies, or even sleep in order to make sure your messy house is in tip-top shape by the time your guests arrive.
Once your guests leave, your house goes right back to the disheveled state in which it typically stays.
"I just can't keep up with it," you say. "My kids are always making messes right behind me. I'm just not an organized person. I don't have time."
And on and on your excuses go.
But your whirlwind cleaning session before company came just proved that you can get your house clean — if you want to badly enough.
Do you want to know one reason you suddenly find the wherewithal to clean your house for company . . . but you just can't keep it clean for your family?
Five ugly letters: P-R-I-D-E
What does pride have to do with whether your house is clean or dirty?
There is no way on earth you'd let guests see your disastrous house. You'd be mortified. So you do whatever is necessary to get it clean – giving up sleep, play, meals, whatever.
But see, you didn't really clean it for your guests.
You cleaned it for you because you didn't want to look bad.
And when your guests leave, so does your clean house. No more giving up any of your free time to clean. No more giving up anything, really. Cleaning does not fit into your prideful, selfish way of thinking, so you skip it.
You can make excuses all day long about how disorganized you are or how you have bad habits that you haven't overcome yet, but when it comes right down to it, your pride is what is getting in the way of your having a clean house.
Serving Out of Love
I realize these are strong words, and my goal is not to put anyone on a guilt-trip.
In fact, I firmly believe there are times when it is perfectly okay to have a messy house.
However, it is entirely possible to become entangled in the trap of pride without even knowing it — to think of self so often that you don't even realize that's what you're doing.
Instead of being motivated by pride, let's be motivated by love.
Pride takes. Love gives.
When you're truly loving your family, you'll give of your time and your energy. You'll give up personal interests when they're getting in the way of what best serves your family.
Next time you start to make an excuse for your messy house, stop and evaluate whether you have been focusing on yourself.
If that's not the case, there is no reason to feel guilty about your messy house. Sometimes it simply can't be helped.
If you have been motivated by pride (or should I say de-motivated because of your pride?), I urge you to serve your family out of love.
I'm so happy to be able to introduce MaryEllen to you all! If you don't already know her, she's been a part of the Club31Women community for some time and has now joined us as a regular contributor to our Real-Life Homemaking feature! I hope you'll take a moment to welcome her, as well as pop over to her own helpful, encouraging site, ImperpectHomemaker. ~ Lisa Jacobson
*You might also be interested in this practical article 5 Ways to Live Neatly Around the Mess of Children, and this inspiring one, 5 Good Reasons Why Cleaning (yes, cleaning!) Actually Matters