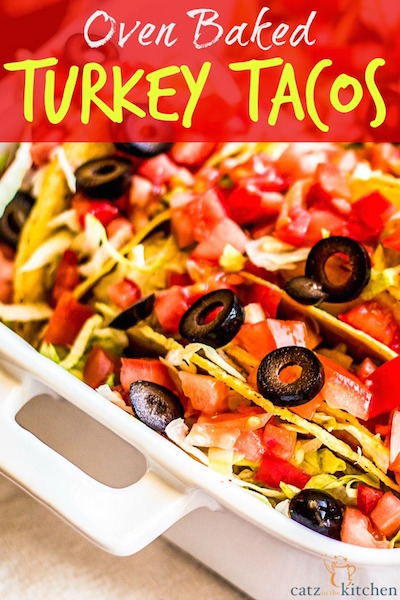 Since my husband's birthday is this weekend and he's joining me in the flirty 30's (stop by our Catz Facebook page and wish Josh a Happy Birthday on Saturday!), I thought I would share one of the recipes he requests the most from me on our "Taco Tuesday" nights.
Oven Baked Turkey Tacos!
This little creation came about from a memory of when I was a kid and I would spend my weekends with my dad and step-mom. My step-mom always made the best tacos.
I can't really remember what made her tacos different from everyone else's except that her cheese was always melted perfectly over the meat and I knew she put taco sauce in with her meat. As it turns out, I later found out that the reason her cheese was always melted perfectly over the meat was because she baked her tacos in the oven with the cheese on top of the meat, too!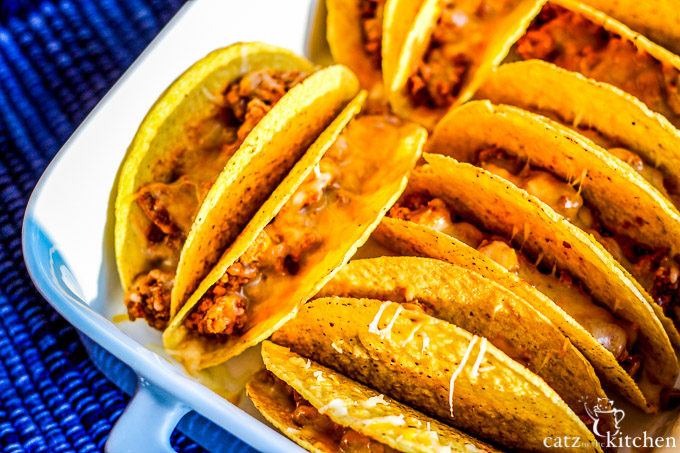 Great minds think alike, I tell ya!
I love this dish for two reasons . . . .
The first is because it really makes dinnertime easy.
Aside from the skillet you cook the meat in (I choose ground turkey because it's a bit healthier), the only other dish you need to clean up is the baking dish you use to bake your taco shells in, not counting dinner plates, of course. We put all the toppings on the tacos ahead of time and just bring the dish to the table.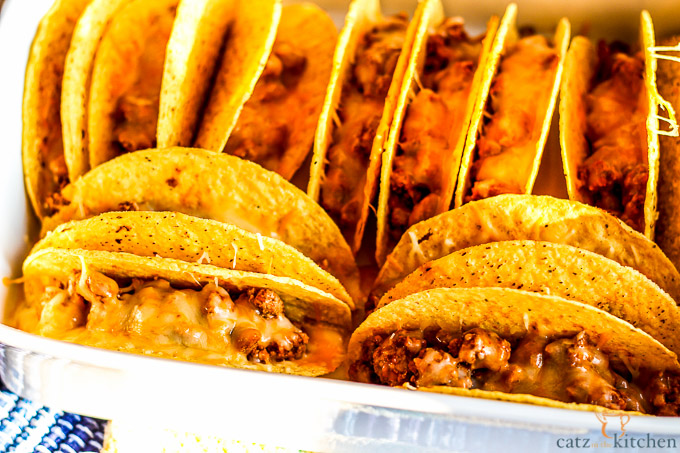 The other thing I really like about this dish is that it makes a fun and tasty meal ministry dinner.
Go ahead and cook the meat and and bake the taco shells in one of those aluminum foil baking pans from the Dollar Store and cover with foil to keep it warm. Then take all of your toppings like shredded lettuce, olives, tomatoes, avocado, etc and place them in individual foil pie plates or rubbermaid containers and the meal becomes a taco bar – which can be really fun if you're bringing the meal to a family who has little children!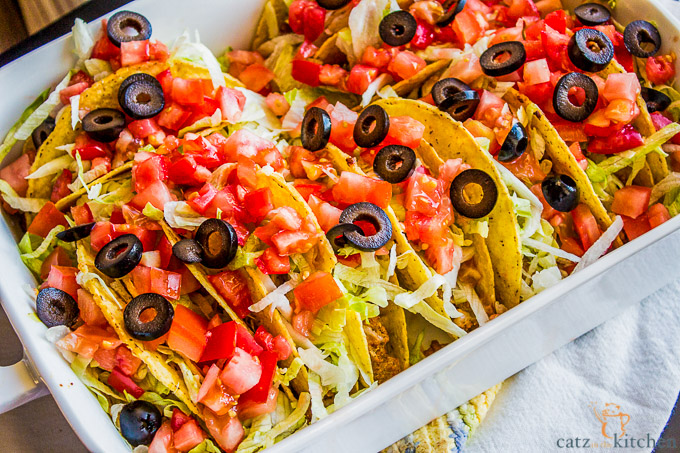 Try this out for your next Taco Tuesday night!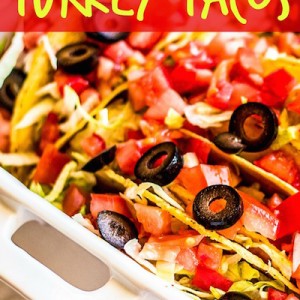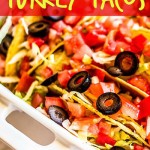 Oven Baked Turkey Tacos
Saucy taco meat, gooey melted cheese, and crisp taco shells make taco night a snap when you bake it all together and serve it at the dinner table.
Ingredients
1

lb

. ground turkey breast

1

packet taco seasoning

1/4

cup

La Victoria sauce

(we like mild because of the kiddos)

1

box taco shells

1

cup

shredded Mexican cheese blend

2

cups

shredded iceberg lettuce

2

large hot house tomatoes

, diced

1

(15 oz can) black olives, sliced

Sour cream for topping

Hot sauce for topping
Instructions
In a large skillet, brown the ground turkey meat. Once browned, follow the taco seasoning preparation directions and add La Victoria sauce, simmering for 10-15 minutes. Remove from heat.

Pre-heat oven to specified baking time for taco shells (usually around 325 degrees). In a baking dish, line the taco shells up in rows. Spoon the taco meat evenly into all the taco shells and top with shredded cheese. Bake for 10 minutes, just long enough to melt the cheese and warm the shells up.

Top each shell with shredded lettuce, tomatoes, and olives. Serve with sour cream and hot sauce