Old-Fashioned Peanut Butter Pie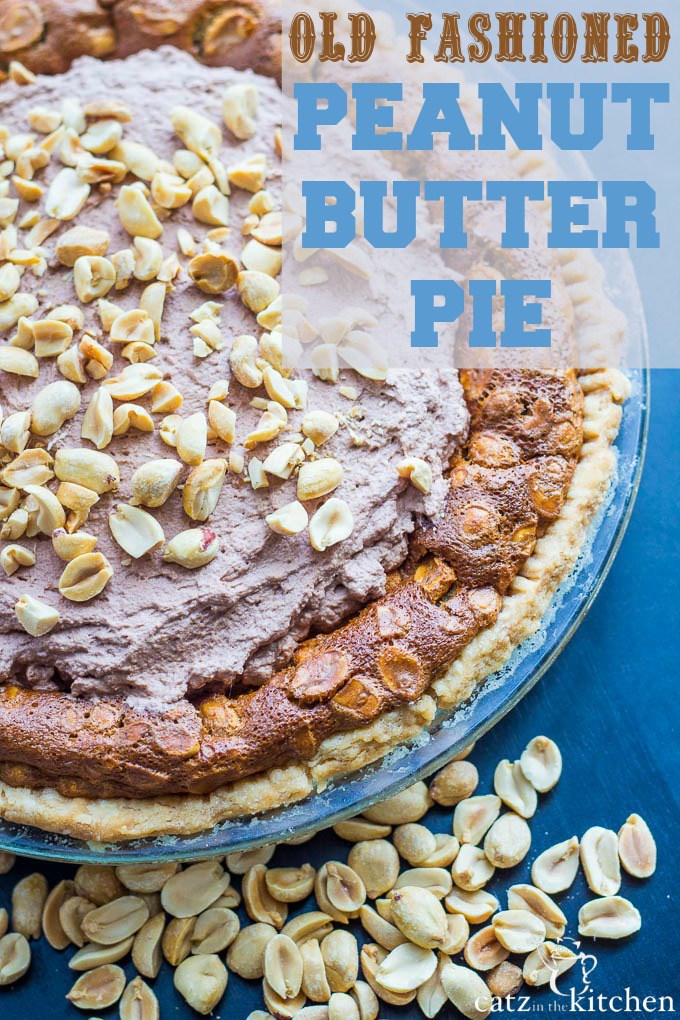 Sometimes…no, a lot of the time…I'm in awe of him. I'll stand there, silently observing his words and behavior and smile. I don't know how he does it!
How does he wake up before five every morning, do the hour plus commute to the office, work all day and then come home and greet the kids and I with a smile on his face with his arms open to welcome us all with a hug?
I wonder even more how he does it when bedtime rolls around. If I wasn't near the end of my rope when he got home from work, I sure am at bedtime. Come 8:30 or 9, I'm spent and feel like I can't do anything more until I get some sleep. I kiss the kids wherever I'm at and send them on their merry way, with their father chasing them upstairs, laughing and making jokes with them.
I know that Josh is probably even more tired than I am. He wakes up before me, puts out fires at work (not literally, unlike some of you with real firefighting hubbies!), navigates morning and evening traffic…and literally runs on coffee.
But then he comes home and walks into whatever situation we happen to be in.
It could be a peaceful, serene setting with the kids playing quietly (okay, probably loudly) or I could be in the midst of putting out one of those proverbial fires myself!
But if you're a wife and mom…you likely have an idea of what that particular scenario looks like in your life. And you probably have times where you shake your head with wonder at how that man of yours comes home with a smile on his face and still has energy for all of you. Maybe you grew up with a dad like that and it's what you expected, but I'd guess it's a new experience for a lot of us, too.
Josh works hard at being approachable with our kids. It's an intentional effort on his part every day and the only way for him to give himself fully to our kids is to give himself to fully to our God and fear Him, knowing that he (Josh) is completely imperfect and completely in need of some heavenly help!
"In the fear of the Lord one has strong confidence, and his children will have refuge. The fear of the Lord is a fountain of life, that one may turn away from the snares of death." Proverbs 14:26,27
How thankful I am to have a God-fearing husband and father in my life…and since Father's Day is right around the corner, it's my pleasure to continue a little tradition our church puts on every year of showering the dads in our lives with pie!
Again, not literally. The showering in pie part.
Cake is my happy place and pie is Josh's. To be honest, I've slacked a lot in the dessert area lately. I just haven't been in the mood to bake!
But, I am always in the mood to show Josh how much I appreciate him.
Sometimes it's simply doing his laundry or getting dinner on the table at a semi-sensible hour (anytime before 8 pm is a sensible hour in our house!), but other times I make him pie with some of his favorite flavors, like peanut buttery goodness and chocolate. (And in all fairness, he returns the favor from time to time – with cake, of course!)
It seems like such a small gesture compared to all the ways he supports our family, but I know for him, there is nothing he wants more than to be with family while enjoying a slice of pie that he knows was baked with love. And peanut butter.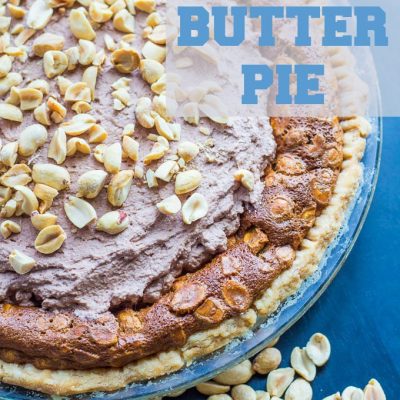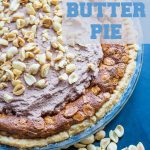 Old-Fashioned Peanut Butter Pie
Like peanuts? Peanut butter? How about this old-fashioned peanut butter pie recipe that has both, along with some insane chocolate whipped cream?
Ingredients
Pastry for single-crust pie

(9 inch)

1 1/2

cups

light corn syrup

1/2

cup

sugar

1/2

cup

creamy peanut butter

1/4

tsp

salt

1/2

tsp

ground nutmeg

4

eggs

1/2

tsp

vanilla extract

1/2

cup

chopped roasted

, unsalted peanuts

2

TBSP

cocoa powder

1

cup

heavy cream

1/4

cup

powdered sugar
Instructions
Preheat oven to 350 degrees. On a lightly floured surface, roll the pie dough to an 1/8-in.-thick circle; transfer to a 9-inch pie plate. Trim pastry to 1/2 in. beyond rim of plate; flute edge.

In a large bowl, beat corn syrup, sugar, peanut butter, salt, and nutmeg until blended. Beat in eggs and vanilla until smooth. Stir in gently chopped peanuts. Pour into pastry-lined pie plate.

Bake 60-70 minutes or until top is puffed and center is almost set; cover top loosely with foil during the last 30 minutes to prevent over browning.

Remove foil. Cool on a wire rack. (The pie will puff up while baking and then sink and/or crack while it cools.)

Once the pie has cooled, beat with the whisk attachment in a large mixing bowl or KitchenAid mixer, the cocoa powder and heavy cream until soft peaks form. Beat in the powdered sugar until stiff peaks form and smooth over the top of the cooled pie.

Serve or refrigerate within 2 hours. Top with an additional sprinkling of chopped peanuts if you like.