Ready to Celebrate Summer? 10 Delightful Picture Books for You and Your Children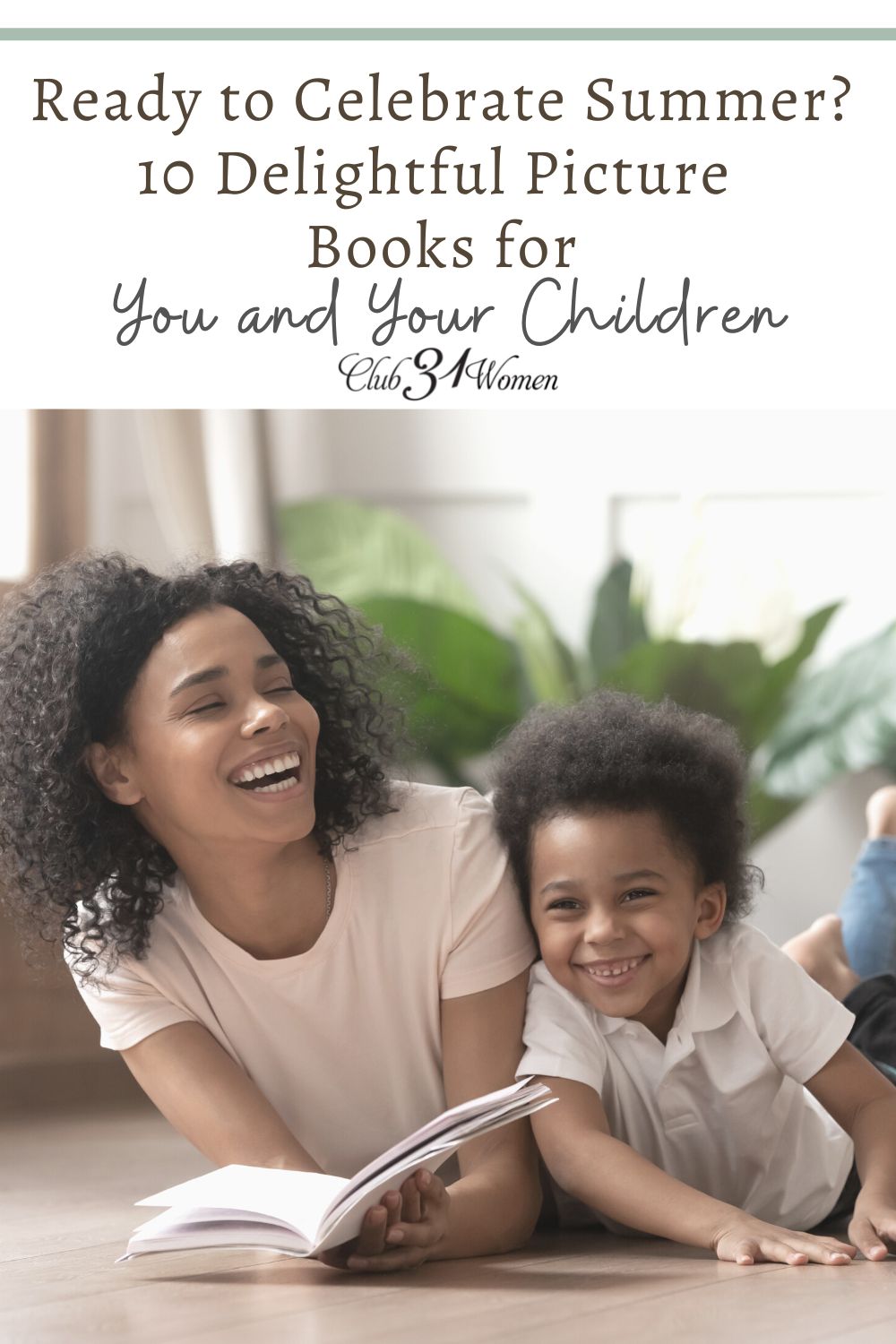 Summer is upon us and what better way to spend a rainy afternoon indoors or a sunny afternoon outdoors than with a good stack of picture books?!
My memories of summer growing up include gardening, baby animals, swimming, make-believe, and picnics. With school books put away, there was extra time for both adventures and outside projects. Whether we were tending the large garden, running through the tall field grass, or eating Grandma's homemade ice cream, there was something extra special about being outside.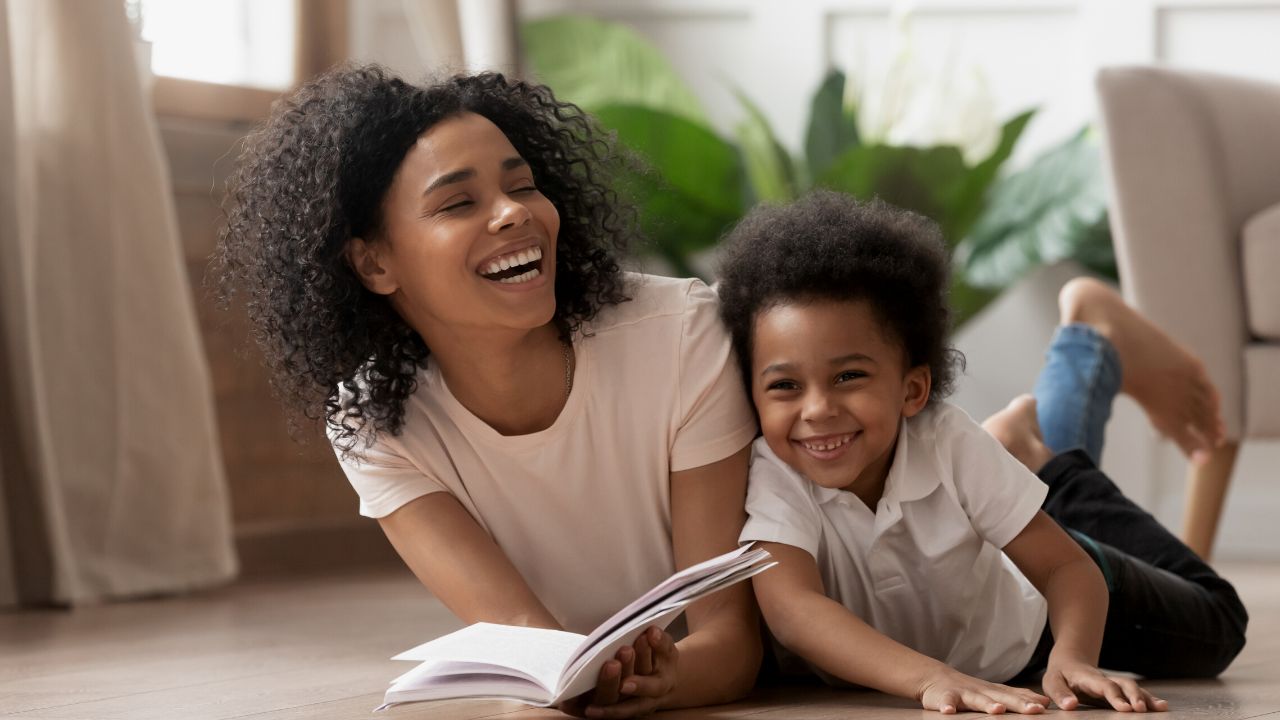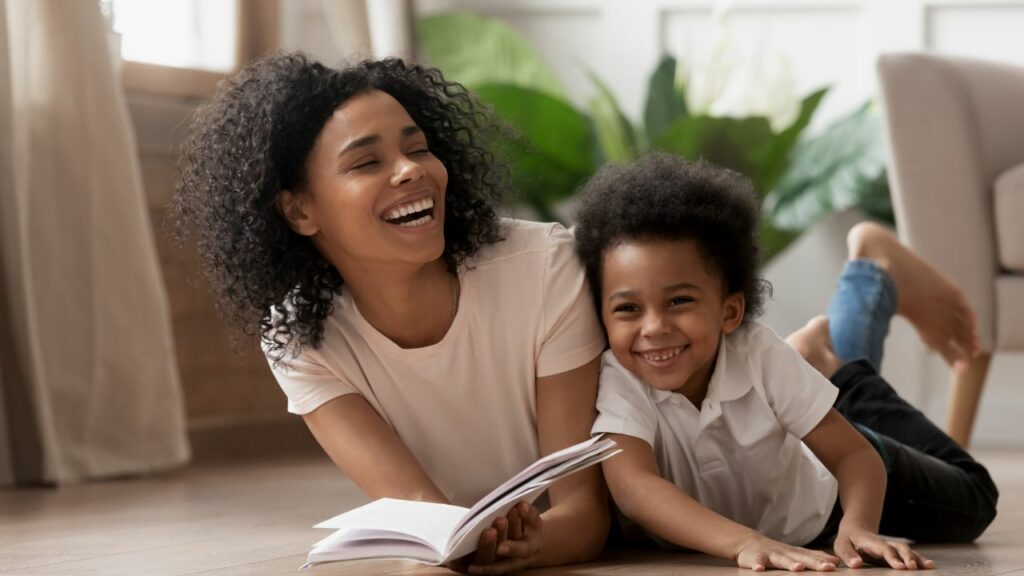 This year we aren't planting a huge garden, and I'm not sure a beach vacation is on our summer calendar, but we can certainly experience each of these summer activities via the wonderful world of reading. Here are a few picture books that your family might enjoy this summer.
Picture Books You and Your Child Will Love
This post may contain affiliate links through which Club31Women might get a small compensation – with no additional cost to you.  See my disclosure policy here.
Our tiny creek played many roles in our summer shenanigans, and this wordless book brings some of them to mind as it depicts a young boy and his creek adventures. The boy and his dog are determined to catch the large frog they've spotted, but the frog is just as determined in his desire for freedom. If you don't think that frogs have facial expressions, your perspective is about to change, because the facial expressions of all three main characters are just priceless. The surprise ending (different from my creek adventures!) is darling, and will surely delight all young readers. (Note: The last illustration is a bathtub scene.)
I can still see us gathered around the huge bins at Coastal Farm, watching the fuzzy ducklings and chicks as they scurried around their pens. Sometimes we even got to take some home, where before too long they shed their cuteness and became just another farm animal. But the ducklings in Make Way for Ducklings don't grow up, as we follow Mr. and Mrs. Mallard's hunt for the perfect home. Soon they settle on a small island, and Mrs. Mallard lays eight eggs. After teaching their babies all the important things ducklings must know, they head out on an adventure to the Public Gardens. But streets must be crossed, and just in time, Policeman Michael comes to the rescue, ensuring that all eight darling ducklings make it to the Gardens and a satisfying life finding yummy things to eat.
A stump was the fireplace, the dirt mound our table. Shells, acorns, and sticks doubled as kitchen implements and food. Sometimes my friend's goats were part of our make-believe, other times they were bothersome and we chased them away from our homes. I am reminded of countless hours of make-believe through the beauty and creativity of Roxaboxen, where we see Marian and her friends create a stunning community. Their world is one where you can eat all the ice cream you want, and old steering wheels are the most wonderful cars. It's a world that these children will remember long after they've grown, and which might just inspire your children if they're needing a bit of incentive to juice up their make-believe.
Trees are made to climb, and I spent many hours in the filbert tree at our house. Its branches made the perfect place to perch, and there was even space for a friend or sibling to fit too. While her tree is not a filbert tree, Maple also understands the value of a tree's companionship. Maple's parents planted a maple tree for her before she was even born, and she admires its leaves, loans it her jacket, and throws snowballs with it. Then Maple's baby sister was born, and Maple strives to be a good big sister to sweet baby Willow.
The beach might just be my favorite place on earth, and this board book uses cute rhymes to transport you and your littlest ones straight to that sandy oasis. From ball games to sandcastles to picnics, Beach Day covers all the basics of happenings on a typical beach trip. And while nothing replaces actual hours at the beach, by enjoying this picture book you'll skip all that sand that often lingers as memorabilia!
Not everyone has space for a huge garden, but sometimes a tiny garden in an unpredictable place will be more loved and more exciting. Really, there's not much that you actually need for an "anywhere farm." This picture book encourages would-be gardeners as it shares surprising locations for a myriad of plants, although I'm not completely sure the "corn in a horn" will grow all that well! Gardens are meant to be shared, and by sharing some seeds you might just start an "everywhere farm."
Having grown up in the country, I thoroughly appreciate Cynthia Rylant's descriptions of nighttime noises. There's something soothing about the silence filled with the quiet rustling of wild creatures. The illustrations in this book pair amazingly with the descriptions to help one imagine nighttime in the country, whether you've ever actually experienced it or not. Perhaps this book should be read before a family camping trip, as inspiration to listen well to the various and wonderful noises that will be heard at night.
Growing up I was blessed to live near my relatives, so while summer doesn't bring memories of extended trips it does remind me of numerous hours spent in the pool or building forts with my cousins. In Cynthia Rylant's delightful picture book, a whole carload of relatives travel up from Virginia to see their loved ones. The relatives' visit is filled with hugs, gardening, eating, fixing, and more eating. Then one day, it is time to say goodbye. But there is the promise of next summer, which will of course include another memorable visit.
Every household should own Tops and Bottoms. Hare's ingenuity as he proposes to lazy Bear that they should be business partners, combined with the creative illustrations that tell the ensuing tale, result in a funny and fascinating read. Bear is sure he'll get the best garden produce when he requests the top half of the garden, but Hare and his family proceed to plant carrots, radishes, and turnips. An outraged Bear orders Hare to replant the garden, announcing he'll take the bottom half this time.
Of course, Hare is not about to let Bear reap the benefits when all he is doing is sleeping, so Hare plants lettuce, broccoli, and celery. By the time Hare's family has harvested the produce from a third crop, Bear realizes that napping away his days doesn't result in anything profitable. Perhaps this gardening tale will inspire small gardeners at your house, as they consider if the tops, bottoms, or middles of each crop are the best.
Beach trips with Gramps and Grammy, with our primary purpose being to visit lighthouses, were woven throughout my growing-up years. But it's not just my longing for the beach that draws me to this stunningly illustrated book. The Seashore Book takes a boy's simple question to his mother and uses her descriptive answer to walk us through a beach day full of discoveries.
The clamshell with a live clam, the sand crabs, and a gull's feather are part of the adventures, and the illustrations accompanying each description are beyond beautiful. As the little boy falls asleep, he tells his mother he will always be able to visit the beach in his memory. While a beach trip may not be on your summer outing list, your children can explore the beach alongside this curious little boy.
Enjoy a Stack of Picture Books This Summer!
Summer days unfold before us, with extra hours for adventures and creativity. And while some of those hours may result in gardens or beach memories, a stack of library books to be enjoyed together is another highly prized summer activity. (And if ice cream is going to be consumed, you might consider adding Ice Cream Summer to your reading list!) Someday your children will reflect back on their summers and enjoy reminiscing with their own children on the myriad of sweet memories made with these picture books!
Off to the library,
Jennifer Church
Here at Club31Women, we recognize that not everyone has the same taste or point of view on books, music, or movies, but we offer these short reviews for your consideration. Our hope is that you will find something new and wonderful on this list of recommended resources!
~ Club31Women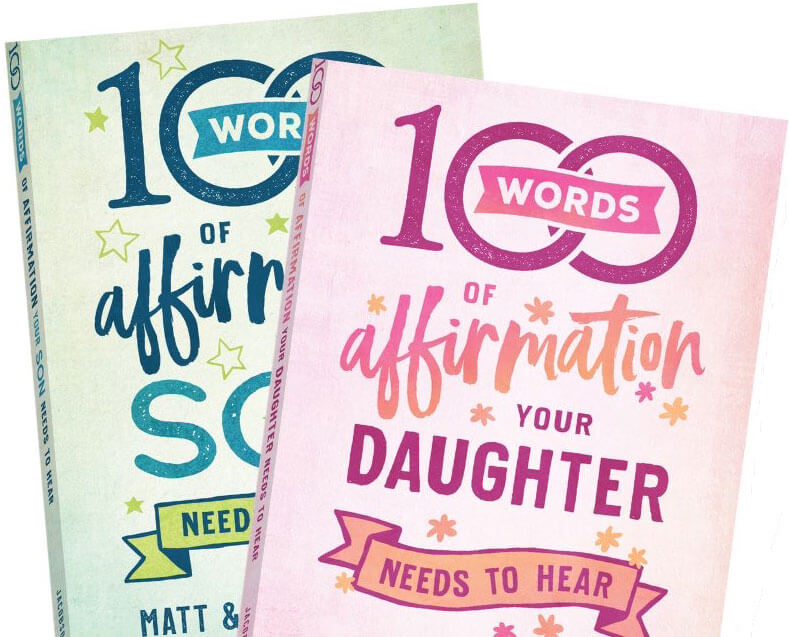 100 Words of Affirmation Your Son/Daughter Needs to Hear
Matt and Lisa Jacobson want you to discover the powerful ways you can build your children up in love with the beautiful words you choose to say every day–words that every son and daughter needs to hear.
These affirmation books offer you one hundred phrases to say to your son or daughter – along with short, personal stories and examples – that deeply encourage, affirm, and inspire.
So start speaking a kind and beautiful word into their lives daily and watch your children–and your relationship with them–transform before your eyes.