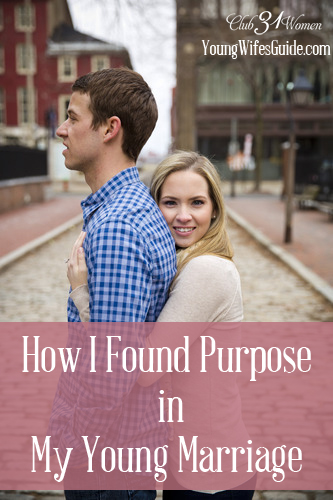 *My husband and I were a little older when we got married (read our Uncommon Love story). So Jami of YoungWifesGuide is sharing her beautiful perspective as a younger bride. ~ Lisa 
I wasn't looking for Mr. Right.
I wasn't hoping for a ring by spring. I wasn't day dreaming about my big day or pinning wedding dresses on Pinterest. Marriage wasn't even on my radar.
In fact, I thought anyone who got married before college graduation was probably making a mistake. It was too young. I thought you needed to live your life a bit more. Get established in your career first.
Find out who you are for crying out loud.
And then I met him.
At the ripe old age of 16, I first laid eyes on my husband near the checkout stands at a grocery store. Nine months later we started dating and a little over 2 years after that we tied the knot. I was 19 and he was 21.
In the space of just a few short years, my perspective and world view on life and marriage completed shifted. Instead of focusing on getting an internship or applying to graduate school, I was focusing on how to juggle all the responsibilities of my home.
I was learning how to be a godly wife, homemaker, and future mother without any training.
My Perspective Began to Change
It wasn't just falling in love with my husband that changed my viewpoint on marriage. Now that we've been married five years I can tell you that not everyday is a fairy tale. There have been times as a young wife that we failed at communication, times when we've each felt lonely. Then add the stress of having twins, and our marriage hasn't been perfect and doesn't fulfill our every need.
But the beautiful thing is, throughout all of this: being married in college, having babies young, not having two pennies to rub together…is that God's true design for marriage has been able to shine throughout it all.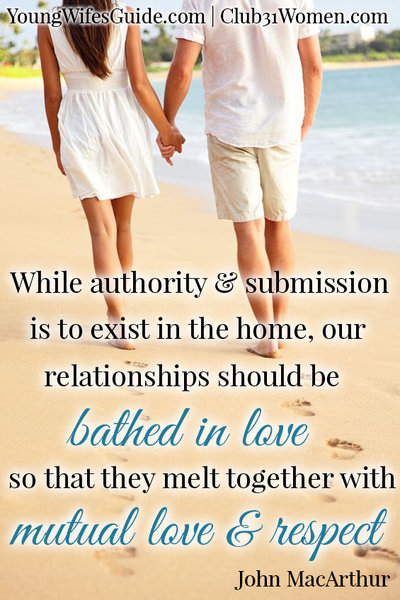 When people are shocked that I was married at 19 and had two babies at 22 and ask what we were thinking to not "live our life first." I'm able to happily share with them, that while not everyday is perfect and our marriage is far from a romance movie, God certainly knew what he was doing when he designed marriage.
"Now, more than ever before, is the time for Christians to declare and put on display what the Bible declares: God's standard for marriage and the family is the only standard that can produce meaning, happiness, and fulfillment". – John MacArthur, Marriage as it was Meant to Be
I am so thankful today for blogs such as this one that address Biblical marriage. Solid, Biblical blogs that tackle the hard issues in our marriages such as communication, affairs, finances, and more. We need to always be saturating our mind with Scripture so that on those hard days, we can remember that marriage was created by God and is given as a gift to us.
"Wives, be subject to your own husbands, as to the Lord. For the husband is the head of the wife, as Christ also is the head of the church, He Himself being the Savior of the body. But as the church is subject to Christ, so also the wives ought to be to their husbands in everything". (vv. 22-24).
Finding Joy & Purpose in Your Marriage
And so, whether you were married at 19 or 39, whether you've been married 6 months or 60 years, whether you have 0 kids or 8…remember the divine design for marriage.
Remember that marriage is the ultimate picture of Christ and the church.
Marriage is our witness field to a hurting world filled with divorce, broken families, and pain.
Marriage can be a picture that unconditional love exists and can be ultimately found in the Savior.
"Therefore a man shall leave his father and mother and hold fast to his wife, and the two shall become one flesh'. This mystery is profound, and I am saying that it refers to Christ and the church". – Ephesians 5:32
Here I am now at the ripe old age of 24. I've been married for just over 5 years, we have two amazing little toddler boys, we've had our ups and our downs, and more negativity towards our young marriage than I could have thought possible.
You might be a young couple who has heard some of these myths about getting married young, or perhaps you were married older (or are unmarried) and believe those myths about young marriage. In either case, I encourage you to sit down with your Bible, turn to Ephesians 5, and really meditate on what God's Word has to say about marriage.
Marriage, at any age, is a joy and something that we should cherish and encourage the young people in our church to be chasing after. Please quit telling those "ball and chain" jokes, stop putting your husband down in front of your girlfriends, and focus on the fact that marriage is a gift from God and start treating it as such.
"God's plan for marriage is marked by a holy reciprocity in which the husband's loving headship awakens in his wife a responsive submission just as a wife's submissive cooperation draws from her husband servant leadership. With a loving spirit, equal person hood in the image of God, and complementary roles within marriage, a husband and wife can glorify God and reveal him in unique ways by the metaphor he himself designed. Nowhere is the image of God more poignantly reflected. Fortunately, God's plan does not depend on perfect people or perfect circumstances because it is a perfect plan. Truths recorded in holy Scripture will stand forever as the standard by which men and women created by God in his image are to live. In studying how best to make a marriage work, the closer you come to following the instructions of the Creator, the more successful you will be." – Pat Ennis, The Christian Homemaker's Handbook, page 73.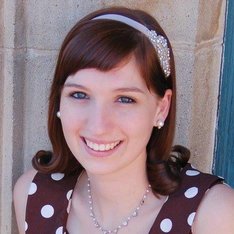 Jami is passionate about Biblical Homemaking and striving to be a woman of God. Jami and her loving husband Jason have toddler twin boys and are busy learning what it means to raise little boys! She has a heart for homemaking and making her home an inviting place that reflects Christ. She blogs about this passion at Young Wife's Guide. Jami is also the creator of the Christian Homemaking Community and would love to connect with you there!

*If you would like these posts delivered directly to your inbox, simply subscribe below (and get the FREE eBook, The 7 Habits of a Highly Fulfilling Marriage).