3 Reasons You Can Be a Woman of Confidence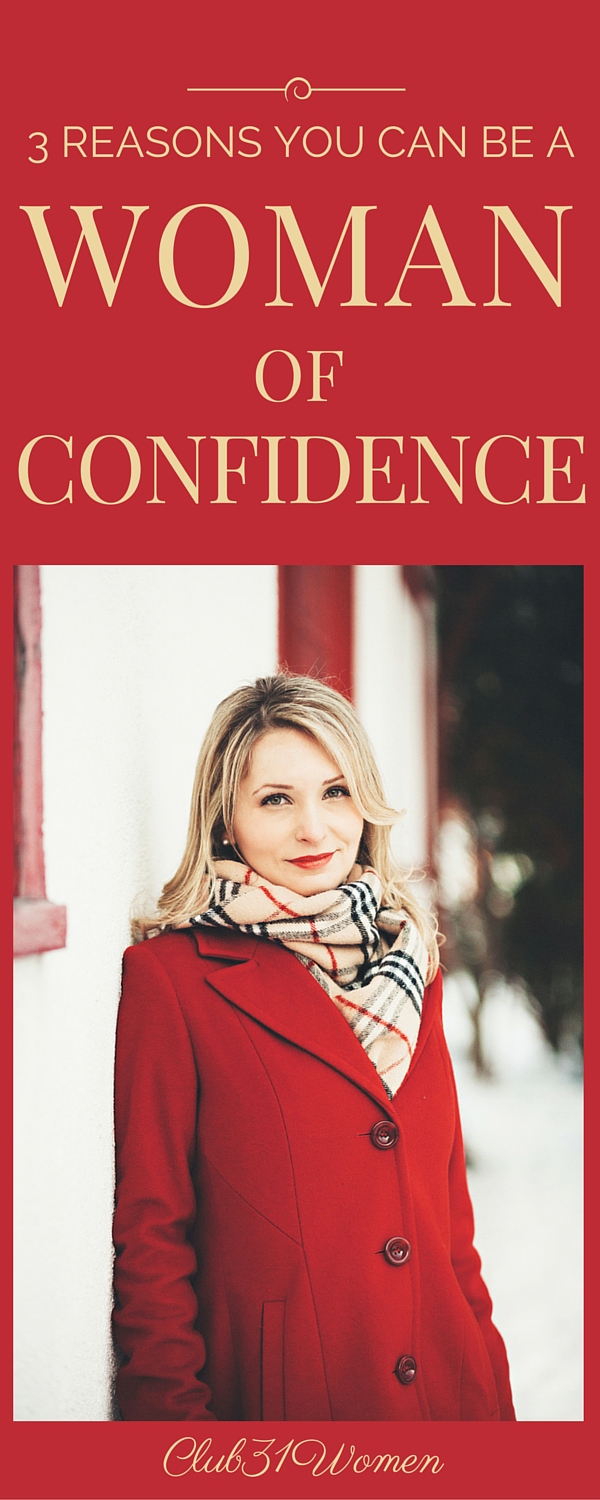 It's not self-absorption. It's not vanity. Not pride.
It has nothing to do with "self."
It's confidence.
That quality that settles the soul of the woman who possesses it. The quality that draws and even calms others.
But most of all, the quality that allows its owner to step forward and make a difference.
We see it all throughout Proverbs 31.
She dresses herself with strength
and makes her arms strong.
She perceives that her merchandise is profitable.
Her lamp does not go out at night. (v. 17-18)
Strength and dignity are her clothing,
and she laughs at the time to come.
She opens her mouth with wisdom,
and the teaching of kindness is on her tongue. (v. 25-26)
This woman grows in strength, creates merchandise that she recognizes as valuable, doesn't fear the future, and uses the wisdom she's gained to bless others.
How beautiful to live a life of confidence. And what a gift to pass on to our children!
It grieves me to see — in myself and in others — the fear of man, the fear of the future, the hesitation to stand for righteousness. After all, we were created for such a time as this, and the dark world in which we live needs us to be women of Proverbs 31. Women like Esther, Deborah, Mary.
And we can. It's entirely possible to shake our fears and life in confidence. It's not complicated.
In fact, all it requires is firm faith in what is True.
We can live in confidence, first of all, knowing whose we are.
Those whose faith rests in Christ and His free gift of salvation are His children forever.
See what kind of love the Father has given to us, that we should be called children of God. 1 John 3:1
Those who are His children are secure. No one can "snatch them out of the Father's hand" (John 10:28). We can say with Paul, "I know whom I have believed…" (2 Timothy 1:12).
We are His.
Secondly, we can find confidence in knowing our purpose.
Ephesians 2:10 tells us we were "…created in Christ Jesus for good works, which God prepared beforehand, that we should walk in them."
We've been designed on purpose, with a purpose. We've been given gifts, abilities, passions, and callings.
We're called to "fan into flame the gift of God… for God gave us a spirit not of fear but of power and love and self-control" (2 Timothy 1:6a,7).
The Spirit of God longs to prove Himself powerful on our behalf when we confidently step forward into the purpose and calling God has for us.
Third, our confidence need not waver, for we know our destiny.
We know the end of the story. When the life of the believer is over on earth, unparalleled life in heaven begins. When our Heavenly Father says, "Enough," Jesus will return and set up His eternal kingdom.
Evil loses. God wins.
And we, His children, will receive "…an eternal weight of glory beyond all comparison" (2 Corinthians 4:17).
Our confidence isn't in an easy life. We'll have trials. But…
Blessed is the man who remains steadfast under trial, for when he has stood the test he will receive the crown of life, which God has promised to those who love him. James 1:12
You and I have nothing to lose if we place our confidence in our God.
And that's the key, isn't it? A confidence that rests in an unchanging God, rather than in ourselves.
Our position in His family is secure. Our lives have purpose. Our future is guaranteed.
And I am sure of this, that he who began a good work in you will bring it to completion at the day of Jesus Christ. Phil 1:6
Blessings,
This post may contain affiliate links through which Club31Women might get a small compensation – with no additional cost to you.  See my disclosure policy here.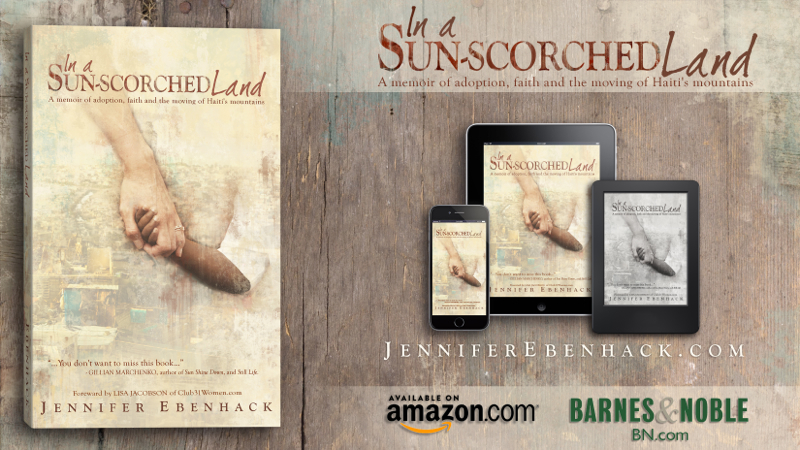 HIGHLY RECOMMENDED: This newly-released memoir, In a Sun-Scorched Land: A memoir of adoption, faith, and the moving of Haiti's mountains by Jennifer Ebenhack, Foreword by Lisa Jacobson.
★★★★★"This was a book I couldn't put down. I'm afraid the laundry went undone for a few days until I could finish it! Jennifer's story shows that life is hard, but God is at work behind all of the seeming setbacks. He protects. He makes a path for us, even if it's a crazy, almost untraceable one. He gives strength when we don't have any left. When I put Jennifer's book down, I felt encouraged to persevere through my own hard days. An excellent read that I highly recommend." ~ Amazon Review
In A Sun-Scorched Land is available HERE.