How Do you Know If God Is Truly Enough For You?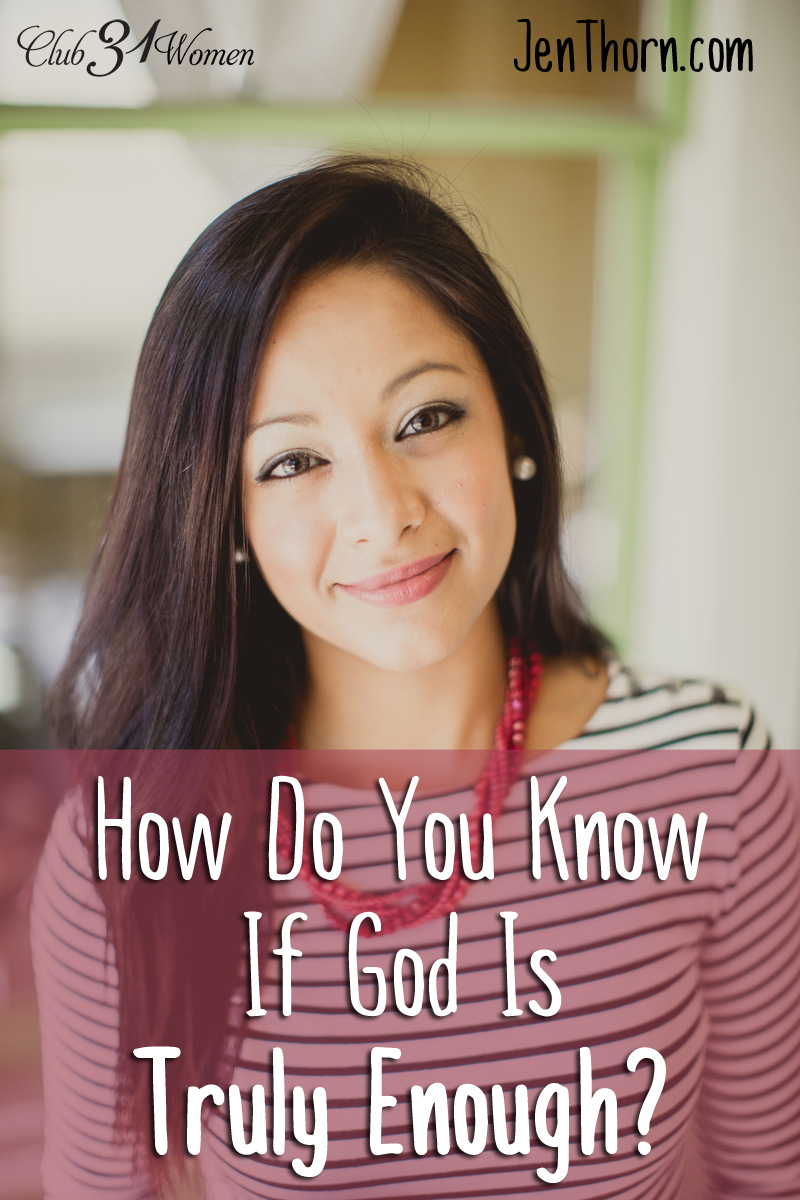 "Whom have I in heaven but you? And earth has nothing I desire besides you. My flesh and my heart may fail, but God is the strength of my heart and my portion forever."
Psalm 73:24-25

All throughout my Christian life I have heard that "God is enough", and I agree.
But the longer I live as a Christian the more I have to admit that it's very easy to agree with that statement intellectually, but really hard to make it connect to your heart. There are inumerous things clamouring for my attention, affection, and time.
So how can I know if I am living as if God is, indeed, enough?
1. Experience Contentment
Don't you wish you could walk into any store, look at any magazine, or even browse pinterest and walk away feeling completely content with what God has given you? I do.
But reality is sometimes different.
One of my particular weaknesses are kitchens. I have to avoid pictures of beautiful kitchens because looking at them leaves me very discontent with what I have at home.
I believe everyone wants to be content, but finding it and maintaining it are rarities.
We want a nicer home, newer clothes, and different furniture. We want more time with our spouses, less time cleaning, and fewer errands. I dream of the day when I can start my morning without children staring me awake and asking for breakfast before I am even fully conscious.
The person for whom God is enough will be content.
How do we get there? We have to come to see and embrace the fact that there is nothing on earth that can compare with the treasure we already possess in God. With God as our father, Christ as our Savior, and the Holy Spirit as our helper everything else we may lack will seem small and insignificant in comparison.
We deserve nothing, but we have so much. Whatever we do possess in this world is grace upon grace.
2. Great amount of Joy
If God is enough then we will be a joyful people.
The one who understands what it means to be forgiven of all sin and be reconciled to God, and that their soul is secure in Christ, can experience hurt, loss, heartache, devastation, illness, and death and still be joyful in the midst of tears.
When God is enough you trust that His plan is best and his control over all things perfect.
You can rest in the fact that his vengeance against all evil is forthcoming and all things will be made right. This knowledge should make us smile more and sing louder.
Joy is a mark that God is enough.
For under the loss of all things—you possess all things still. The immortal God is yours! And in him you have all—and need no more. ~ Edward Dorr Griffin (1770-1837)

3. Christ is your Safety
Just like children who run to their parent for everything, so we should run to our God for all things and in all circumstances.
When we are afraid, when we are in need, when we worried, when we are confused, when we are exhausted, when we want to grow in our faith, and even when we are happy and content, we should seek safety in Jesus Christ. There is spiritual danger in every circumstance and if God is enough then our hearts will draw us to Jesus wherever we find ourselves. Our running to Jesus is a communing with him through prayer and the Scripture.
We will know that our hope in all things is found in knowing Jesus Christ.
Be a rock of refuge for me, a strong fortress to save me! For you are my rock and my fortress; and for your name's sake you lead me and guide me;
Ps. 31:2,3
4. God's Word is your favorite book
We all say that we love God's Word, but does it show in our lives?
If God himself is our portion then His Word should be our treasured possession. It should not be a religious artifact that collects dust on our shelves, nor a seldom read book only accessed when the mood strikes. Our Bibles should be well-worn and well-known because in it God reveals Himself to us through poetry, narrative, prophecy, epistles, and prose.
Reading it should be first on our to-do list, meditating on it should become a constant, singing it should be our delight, and talking about it should be anything but boring.
I know that God is all I need, that He is enough, but words and actions, my priorities and thoughts often tell a different message. God has given me all I need for life and godliness (2 Peter1:3).
He has given me Himself.
He is enough.
Let's Talk:
What can cause you to doubt that God is enough? How do you fight against this lie?
Blessings,
Jen