5 Mind-Blowing Truths to Defeat the Whispers of Weakness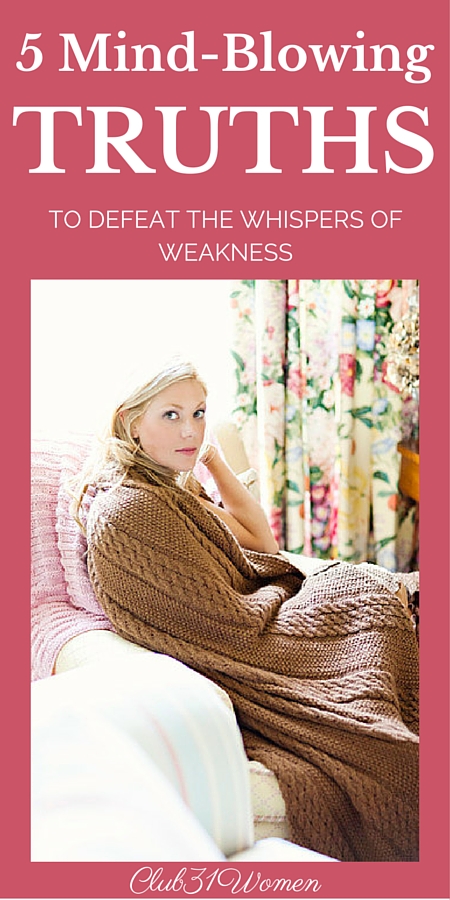 The events of the day have exhausted you.
After cooking dinner, reviewing schoolwork, two phone calls, 10 emails and finishing up the dishes, oh, and just a little more laundry, you finally have a moment to breathe.
Circumstances seem to be out of control lately. A sick loved one, an unanticipated car repair, you name it, life is moving quickly and you're just trying to keep up. And really? You feel plain tired. Worn out. Overwhelmed.
So you sit down, because you've been told that you need to rest more, take more breaks, but you continually wonder "How? When? Which child is going to immediately yell "Mom" two seconds after my tush hits the chair?"
For this time, no one yells Mom.
And you exhale a little longer than usual.
A few luxurious seconds pass and it seems that rest, yes, peace, might be enjoyed.
Only mentally you begin to hear lies whispered from a voice you don't like. I Peter 5:8 reminds us of the one this voice belongs to:
"Be sober-minded, be watchful. Your adversary the devil prowls around like a roaring lion, seeking someone to devour."
You're not the first person to hear those lies. In the beginning of time, the mother of the human race, Eve, heard this whisper too. When she paused long enough to listen to the whispering ear, Satan took advantage of her and the rest is history.
It's pretty easy to blame Eve, isn't it? Yet when Satan begins to throw his lies in the middle of your peace, it's a little tougher to identify him as the scoundrel he is.
It's time to fight back at the first sign of those whispers! You do not have to be overwhelmed; you are an overcomer in Christ!
5 Mind-Blowing Truths
When Satan says:
You're weak and you need to stop.
God's Truth says:
The Lord is my strength and my shield. (Psalm 28:7)
When Satan says:
This situation is impossible.
God's Truth says:
With God all things are possible. (Matthew 19:26)
When Satan says:
It's just too much; you'll never make it.
God's Truth says:
We are more than conquerors through him. (Romans 8:37)
When Satan says:
You can't do this.
God's Truth says:
I can do all things through him who strengthens me. (Philippians 4:13)
When Satan says:
You are going to fail.
God's Truth says:
God gave us a spirit not of fear. (2 Timothy 1:7)
When Satan throws his seductive lies your way, fight back with the truth of God's Word.
I've faced experiences that crushed my dreams of a perfect life.
But hope rises to greet us when we learn how to run to God's Word when discouragement strikes.
It all begins with just one more step.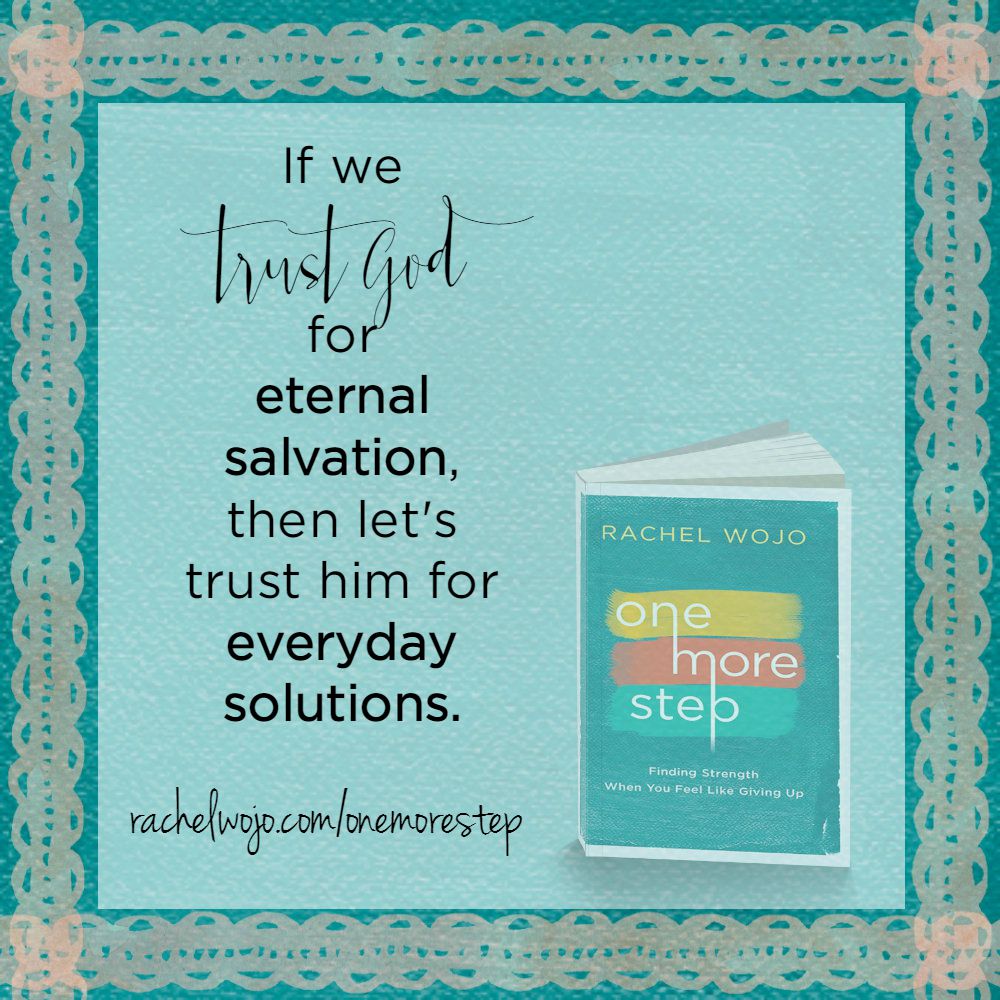 If you're feeling overwhelmed by circumstances and you're ready to discover the courage to keep going, you'll love Rachel's new book,
This post may contain affiliate links through which Club31Women might get a small compensation – with no additional cost to you.  See my disclosure policy here.
Also, enjoy this FREE Stepping Stones journal download as the companion guide to One More Step.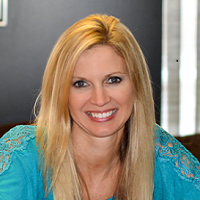 Rachel "Wojo" Wojnarowski is a wife, mom to 7, blogger, writer and speaker. She and her husband, Matt, enjoy caring for their busy family, whose ages span 3 years to 23 years and includes a special needs daughter. Rachel leads community ladies' Bible studies in central Ohio and serves as an event planner. In her "free time" she crochets, knits, and sews handmade clothing. Ok, not really. She enjoys running and she's a tech geek at heart. Rachel serves in her local community and also speaks at Christian women conferences. Her book, One More Step: Finding Strength When You Feel Like Giving Up, recently released on October 20, 2015. Wife, mom, reader, writer, speaker and dreamer, you can find Rachel at RachelWojo.com.