A Mother's Guide to Bedtime Prayer for Your Child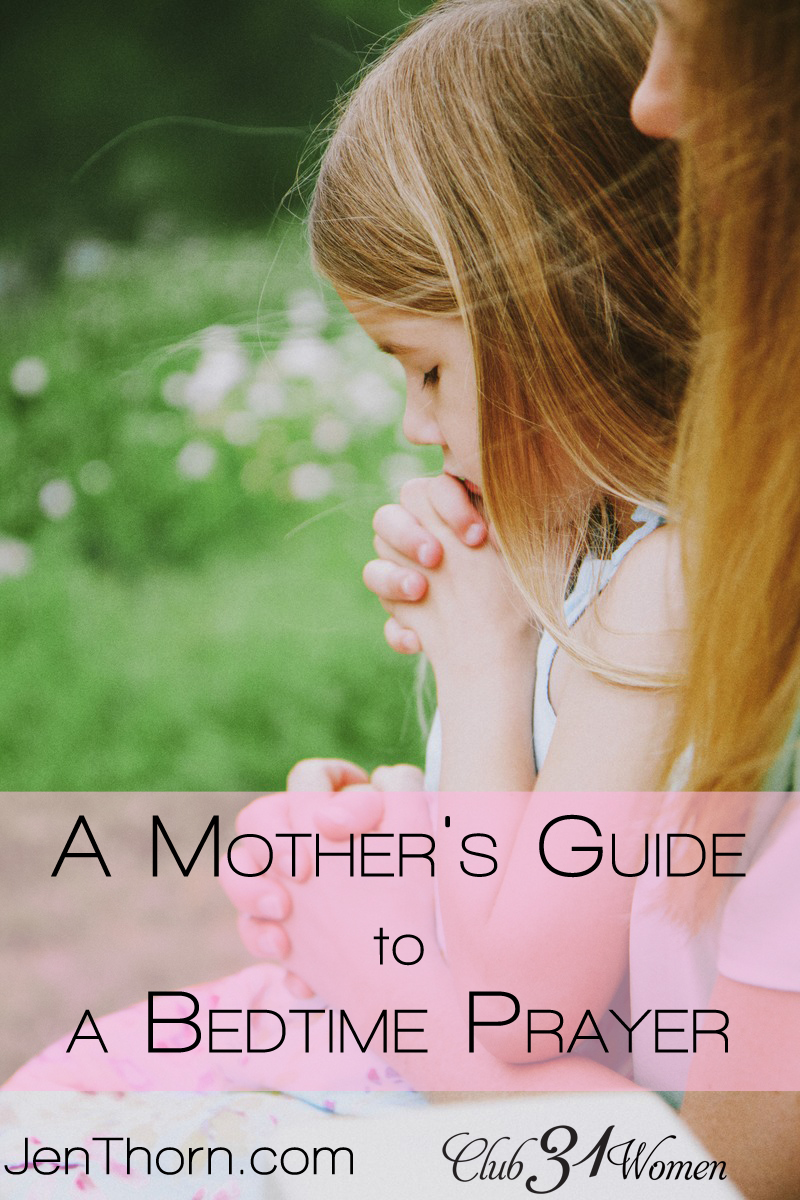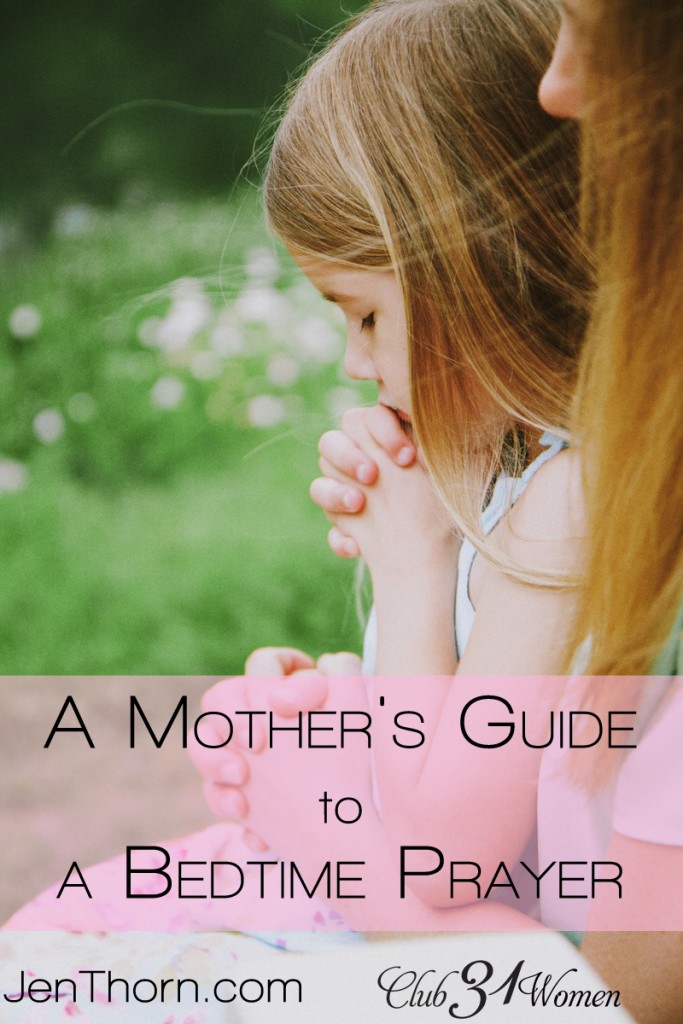 As a child I prayed the same prayer every night.
You might know it, and maybe you prayed this as well.
"Now I lay me down to sleep, I pray the Lord my soul to keep. If I should die before I wake I pray the Lord my soul to take."
Then came the creepy part about the 3 little angels around my head.
"Three little angels around my head, one to watch, one to pray, and one to carry my soul away."
I didn't give this prayer much thought. I had said it so many times that the words came without them meaning much to me.
Now I have children of my own and every night we tuck them into bed, answer questions, get drinks, give kisses and, we pray with them. This is important because we want our children to know that we love them, that God is in control, and that we are forever dependent on Him for life now and in eternity.
What are some things that we can pray over our children? How can we intercede for them before the throne of grace?
I find Psalm 28 to be a helpful guide in praying for my children.
A Mother's Guide to Bedtime Prayer
Save your people, and bless your inheritance: feed them also, and lift them up forever."
Psalm 28:9
"Save them"
Our children, like us, need the saving grace of our Lord. This should be a prayer they hear us pray for them all the time. That God would give them a heart that beats with love for Him and perseveres in faith. Additionally our children need continual saving (as do we). They need God to save them from the evil found in the world, in other people, and even from the foolishness that lurks in their own little hearts.
"Bless your inheritance"
Those who belong to Christ are his heirs. I do not know if all my children have placed their trust in Jesus yet. Some kids can very clearly and very early on articulate their faith in Christ, while others take a while for the fruit of their faith to be seen. We pray with anticipation and hope that God will save our children and so we also pray that God would in turn bless them.
We should desire that God bless our children with all the wonderful things spoken of in the Bible. We ask God to bless our children with mercy and an abundance of grace. We ask that God bless them with knowledge and wisdom regarding His Word as well as a love that starts with Himself and flows into the life of other people.
"feed them"
Jesus said that His the bread of life (Jn 6:35) and a well of living water (Jn 7:37). Anyone who comes to Him will find a satisfaction that the world does not posses. I want this for my kids, don't you? No matter what God has in store for them during their lifetime, I want them to be fully satisfied in Jesus.
I also pray that the Holy Spirit would use the Scriptures to feed their souls. I don't just want my kids to have a rudimentary knowledge of the Word of God. I want them to KNOW it, and I don't just mean have a bunch of verses memorized. I pray that through the study of the Scriptures they would get to know the God who has revealed Himself through its pages. I especially want them to know His character and His promises.
"lift them up"
The world says that we are to lift ourselves up and that it is okay to boast about our accomplishments. What we have, who we are, and what we look like are all things that we should use to exalt ourselves, but God tell us the opposite. He has said that He opposes the proud but will lift up the humble.
I want my kids to be humble boys and girls who look to the only One who holds the true position of exaltation.
Sometimes it is easy to just rattle off a shallow bedtime prayer, and believe me, I am guilty of doing this way too often. But I want my children hear me pray for them in very specific ways, that go beyond "thank you for a good day and help us all sleep well" ( though there are evenings when that is all I have energy for).
I want my children to learn that the Lord is real, that He saves, sanctifies, and satisfies.
In praying with and for my children they begin to get glimpses of this very truth.
Let's Talk:
What are some of your favorite bed time routines?
In what ways do you want God to work in the life of your children?
Blessings,
Jen
(This post may contain affiliate links. Read my full disclosure.)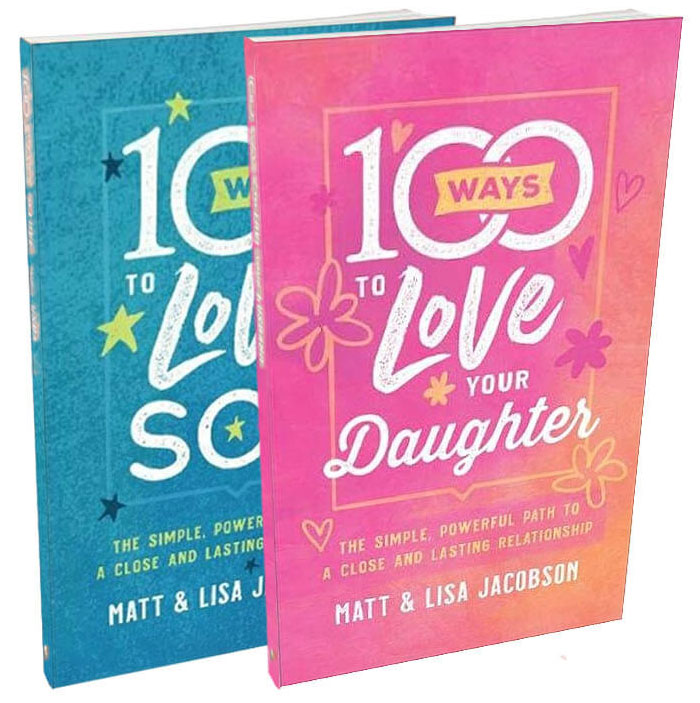 100 Ways to Love to Your Son/Daughter
You love your son and daughter–but that doesn't mean you always know the most effective ways to show that love, ways that will connect with their hearts, and stick with them no matter what life throws their way.
These practical books by the authors of 100 Ways to Love Your Wife and 100 Ways to Love Your Husband give you 100 specific, actionable ideas you can implement to show love to your children, no matter what age they are.
The best part? The short, bite-sized readings make it easy to start right now!