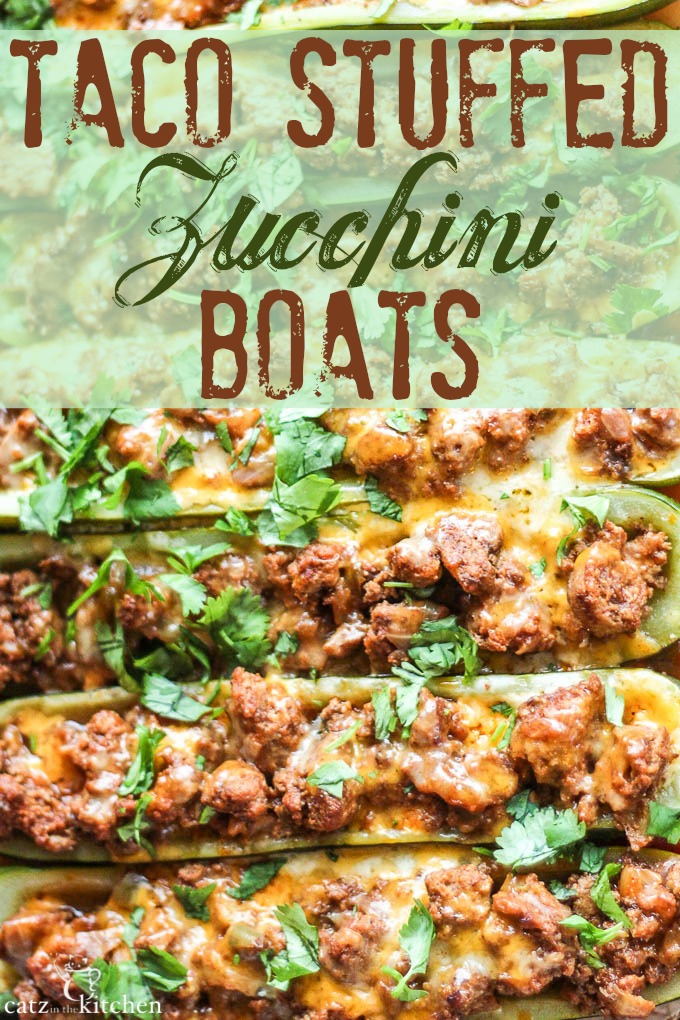 The other day we spent the evening with my husband's family celebrating one of his sister's birthdays.
I love celebrating birthdays with our family because it is always such a sweet time of fellowship and really focusing on that person, making them feel special and loved.
Plus, my mother-in-love is an awesome cook, so that is always an added bonus.
Within the past year or so, some of the members of my husband's family have been making some dietary changes. A lot of them suffer from migraines, and it helps to stay away from certain foods that are known as "migraine triggers." Others have been trying to avoid dairy, red meat and wheat, for other dietary reasons, and look for options that work for them.
In fact, at this birthday party, I tried my first spoonful of rice-based ice cream, which actually was really good. It was one of those things where you keep going back for another taste because it is just interesting, but not in a bad way (I did, however, go for the milk-based ice cream in the end!).
A World Full of Amazing Food
I find this whole process kind of fascinating. The need to shape one's food intake around specific dietary needs seems to be increasingly common as we learn more about where our food comes from and how it's processed.
My family is blessed (at the moment) to not deal with any special dietary restrictions…other than the occasional pickiness (ahem, I'm lookin' at you, red onions).
But, as someone who loves to cook and bring people together through food, I always kind of find it to be a fun challenge to tweak or find recipes that can be enjoyed by others – and often their dietary requirements are different from my own. It also doesn't hurt if you are interested in serving in meal ministry to have a few recipes in your back pocket that can be enjoyed by others. (Psalm 34:8)
God is full of creativity. He paints the skies with beautiful sunrises and sunsets, has created an amazing variety of living creatures, continually is creating and designing babies in the womb (let's not forget about our individual fingerprints), but He has given us a world full of amazing food and unique flavors that can be combined with other foods to create even more depth and flavor. (Genesis 1:29-30)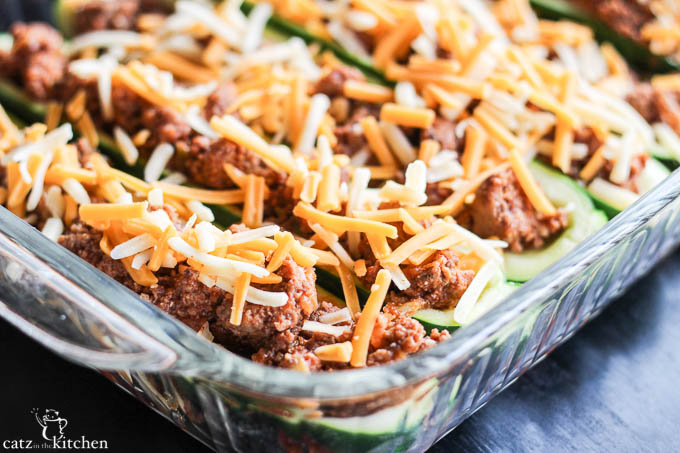 When foods that we've loved get taken away (or maybe we've never even been able to eat them), it is just another opportunity to discover ways in which God provides for us. (Luke 12:24)
We may not understand why our bodies can't handle certain ingredients, but it does allow us a chance to get creative, learn, and grow and experience new parts of culinary creation we might have otherwise missed, while also becoming more capable of being sensitive to the needs of others.
Taco-Stuffed Zucchini Boats
Today, I want to share with you one of my favorite recipes, Taco Stuffed Zucchini Boats.
It is one of those recipes you can prep ahead of time and cook closer to dinner if you like (which is perfect for meal ministry), or you can cook the whole thing and reheat it later. I've prepared it both ways and the end result is always yummy.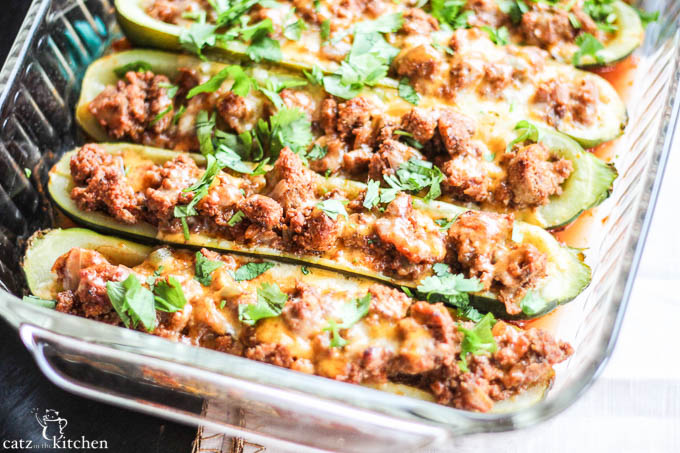 I like this because you can choose the protein. I used ground turkey, but ground beef, ground or rotisserie chicken or even your favorite combo of beans would work great, too. There isn't any flour or corn, because the tortilla is a vegetable boat which can be completely devoured, and I promise . . . it will be. It is delicious!
*How has God provided for you lately?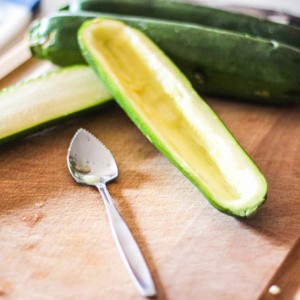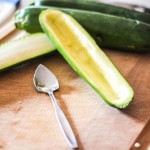 Taco Stuffed Zucchini Boats
Craving some pseudo-Latin cheesy goodness without the accompanying calorie intake? These tasty and fun zucchini boats are just the ticket!
Ingredients
4

medium zucchinis

, cut in half lengthwise

1/4

cup

mild salsa

1

lb

lean ground turkey

(I used 85% lean)

1

tsp

garlic powder

1

tsp

cumin

1

tsp

kosher salt

1

tsp

chili powder

1

tsp

paprika

1/2

tsp

oregano

1/2

small onion

, diced finely

2

TB

green bell pepper

, diced finely

4

oz

tomato sauce

1/4

cup

water

1/2

cup

reduced fat Mexican blend shredded cheese

1/4

cup

chopped cilantro

, for topping
Instructions
Bring a large pot of water to a boil. Add a pinch of salt.

Hollow out the zucchini halves using a spoon, leaving a 1/4 inch thick shell on each.

Chop the scooped out flesh of the zucchini into small pieces. Discard all but 3/4 cup (or save for another recipe). Squeeze out any excess water using paper towels.

Boil zucchini halves for 1 minute, then remove and set aside.

Preheat over to 400 degrees.

Brown turkey in a large skillet, breaking up any chunks. When browned, add spices and mix well.

Add bell pepper, onion, zucchini flesh, water, and tomato sauce. Stir and cover.

Simmer on low heat for 20 min, stirring occasionally.

Place 1/4 cup of salsa in the bottom of an 11x13 baking dish.

Use a 1/3 cup measuring cup to fill the hollowed zucchini boats with the turkey mixture, dividing equally (about a 1/3 cup in each).

Top each zucchini boat with 1 tbsp of shredded cheese.

Cover with foil. Bake for 35 min, or until cheese is melted and zucchini is cooked through.

Top with fresh, chopped cilantro. If planning to reheat later, add cilantro after reheating at 400 degrees for approximately 20 min.
Chels is a born-again believer who dreams of living with all four seasons in Central Oregon. She's a wife and stay at home mom to her four vivacious kiddos whom she home schools. When she's not schooling or chasing after her munchkins, she enjoys reading, bubble baths, and finding clothing/kitchen treasure at thrift stores. But more than all of that, she finds refuge in her kitchen where she and her husband can be found cooking and baking up a storm for their family and friends. You can read more about her culinary endeavors at CatzintheKitchen.com.