Slow Cooker Creamy Chicken Stew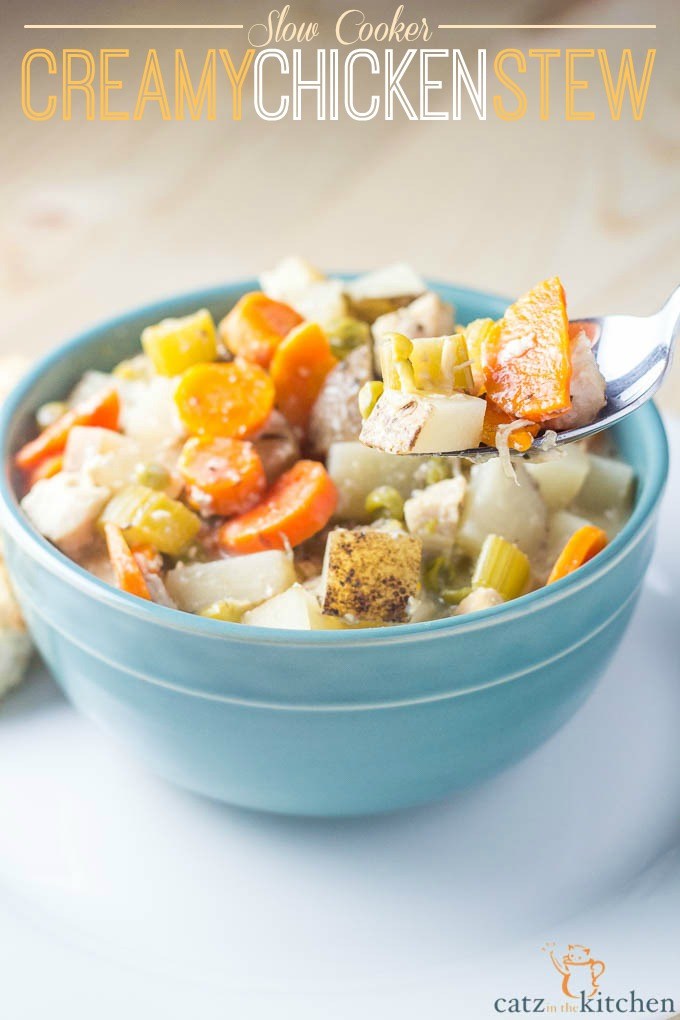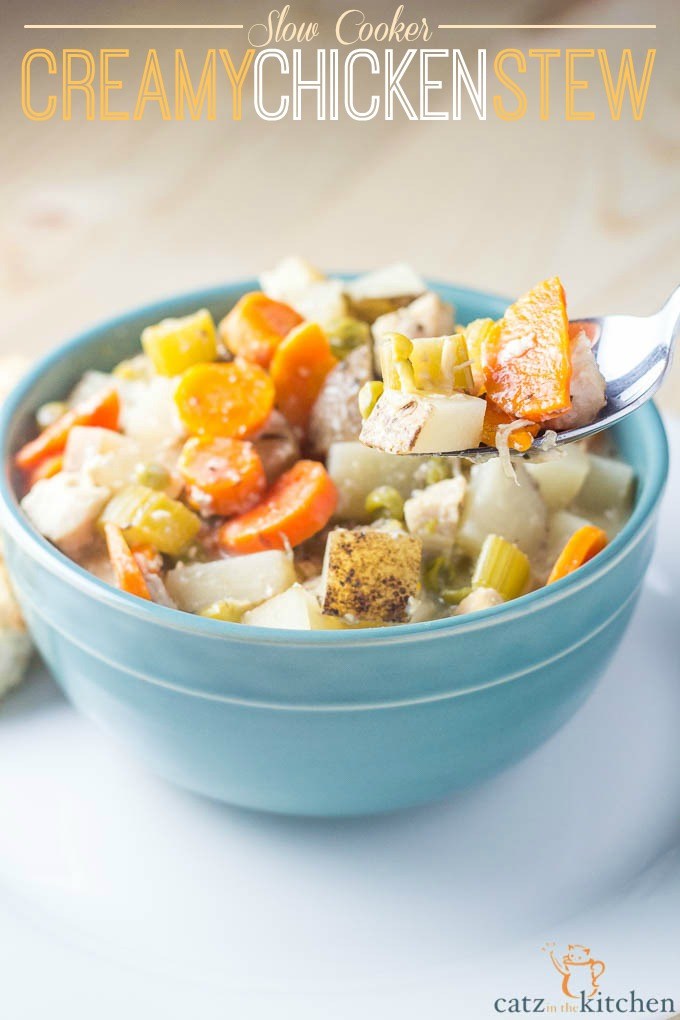 One of the questions I get asked most often by my kids is, "What's for dinner, Mom?" I don't hear it as often anymore from my oldest daughter, Grace, because she is a subscriber to my blog (Catz in the Kitchen), so she receives the weekly menu post every Monday, which means (if she reads her email) she knows what's for dinner pretty much every night of the week.
The other two kiddos almost always wake up and greet me with a hug, a kiss, ask how I slept and then proceed to reveal what's really on their little minds…
"What's for dinner, Mom?"
And because they're kids, this often means that they forget halfway through the day and need to be reminded of what's for dinner again…and again…and yes, usually, again while I'm in the middle of cooking dinner.
I know that those questions can be a little repetitive, especially when it's on a daily basis, but I have to be honest. I love this question, because to me, I interpret it as them saying that they look forward to our family dinner time around the table instead of just another meal that fills their hungry little bellies.
I guess you could say it's that glass-half-full perspective.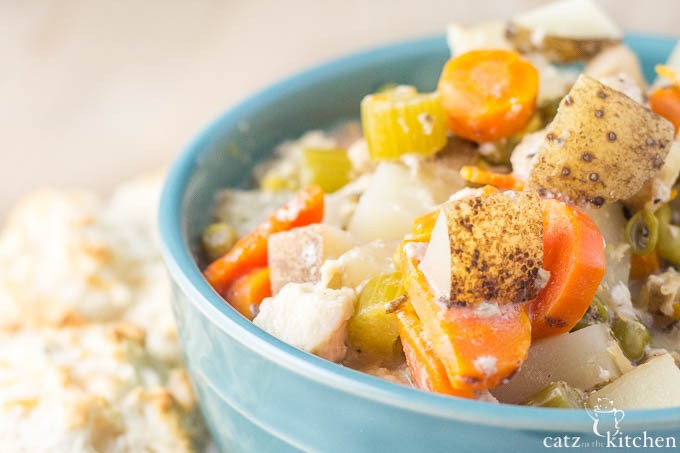 I learned from my mom early on how important it is to meal plan. As far back as I can remember, Friday mornings were spent sitting at the kitchen counter before school as she went over her grocery list and dinner ideas, even sometimes asking me if I had any suggestions – which I loved!
My mom was and is a wonderful cook, and I always used that opportunity to request something that I had been craving. If she was unable to make the suggestion work that week, then she would make a note and, sure enough, during the next few weeks, that dinner idea would show up on the table one night.
That idea of easy meal planning for moms struck home with me as I listened to Lisa mention how she likes to get something in the crockpot in the morning or set something out for dinner the night before for the next day. I love to do those things as well, but it occurred to me that I only have shared three crockpot recipes with you, which are slow cooker sloppy joes, sweet potato & butternut squash soup, and Irish stew (though there are many more on Catz if you need some ideas right away!).
All of those are favorites in our house that I make regularly, but they are also easy and flexible enough for every night eating while being great for company, too. But as we head into the holiday season, I thought it was time to share another slow cooker meal that is easy, simple, and delicious! Plus, I've been making this one for about eight years and it remains a family favorite.
This slow cooker creamy chicken stew is really forgiving in preparation. It's broken up in steps, cooking the vegetables first and then adding the chicken a few hours later, but I've also just thrown the whole thing together late in the morning and cooked it on high and it's been great that way too. I've cooked it using completely frozen chicken or if my ducks were all in a row from the night before, chicken that's been thawed. You could also use chicken thighs and tenders, as well. Just adjust the cooking time a smidge so the chicken doesn't dry out on you.
I usually pair it with something simple like drop biscuits (which also freeze well), rolls, or a loaf of artisan bread from our local supermarket bakery. I just keep it simple. My one tip I like to pass on is if you've got toddlers (my son is almost four now!), they can struggle with broth and really "soupy" soups, but with stews, I keep the liquid to a minimum and just add more of the potatoes, carrots, and chicken which is easier for them to eat and not as messy.
I hope this makes your day a little easier so your evenings are not completely taken up with food prep, and also helps with menu planning, so you can get back to more important things like snuggling your kiddos or loving on that husband of yours.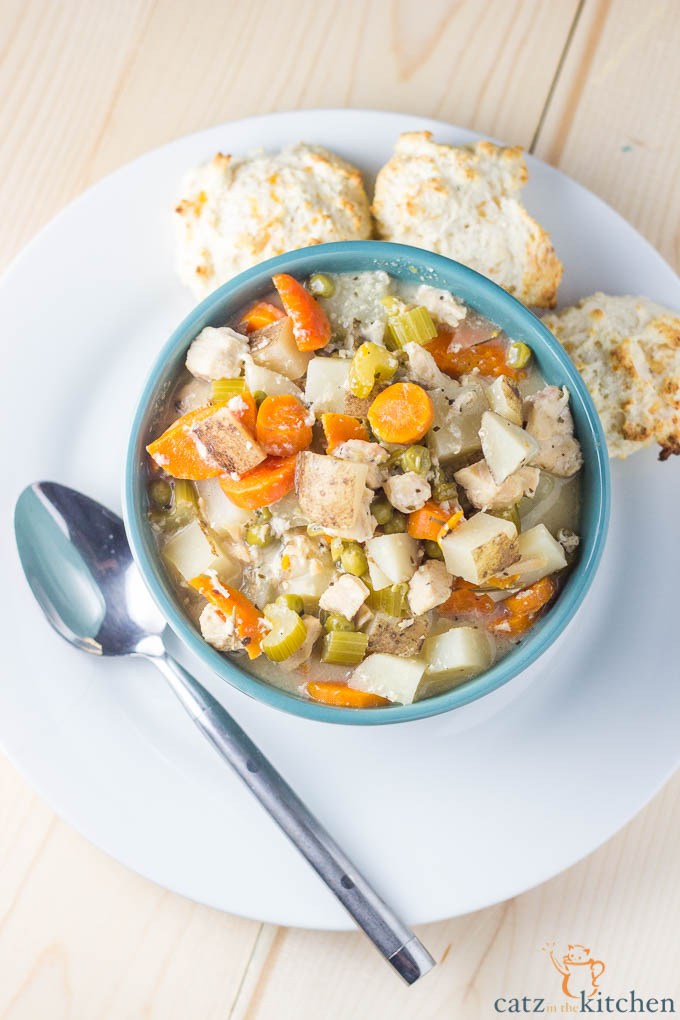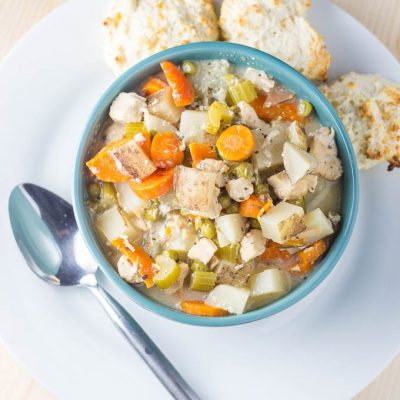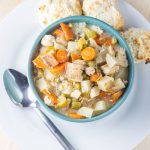 Slow Cooker Creamy Chicken Stew
In need of some crockpot comfort food? This slow cooker creamy chicken stew recipe will fit the bill!
Ingredients
3

medium potatoes

, chopped into cubes, skin on

2

cups

sliced carrots

1/2

cup

chopped celery

3/4

cup

frozen peas

2

cans

(15 oz) chicken broth

2/3

cup

flour

2-3

cups

chopped boneless

, skinless chicken breasts

1/4

cup

heavy cream

1

tsp

dried basil

3/4

tsp

dried rosemary

3/4

tsp

dried tarragon

3/4-1

tsp

salt

1/4

tsp

pepper
Instructions
Combine carrots, celery, and all but 1 cup chicken broth. Cover and cook on low for 2 hours.

Stir flour into the remaining cup of broth until smooth. Stir into slow-cooker.

Add chicken, potatoes, peas, and herbs into slow-cooker.

Cook on high for 4 hours.

Stir in salt, pepper, and cream.

Serve with crusty bread or biscuits
Blessings,
Chels
Save
Save
Save
Save