Slow-Cooker Sweet Potato & Butternut Squash Soup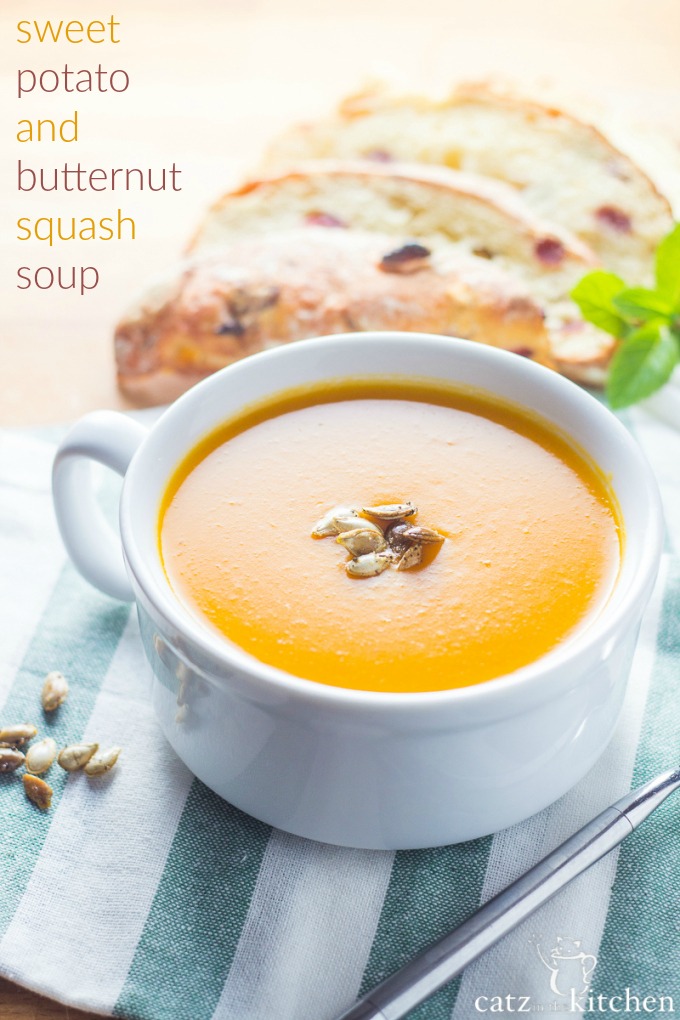 It's cold and flu season (in case you hadn't noticed), and last week it hit our house and two of my three kiddos. It hasn't been fun, but at least they have seemed to recover pretty quickly.
I hate seeing my kids sick. It's the worst!
I don't know a parent out there that wouldn't mind trading places with their kids so that they could take away their pain.
So, ironically enough…the other afternoon, out of nowhere, the bug hit me and I was in bed all day long and all night long! Being sick in bed was not how I intended my Sunday to be. Not only was it hijacking my Sunday, but my sweet husband's as well, because he was going to be leaving the following morning for a business trip!
Josh spent his whole Sunday evening keeping me company in bed.
While I laid on my side facing the wall half-watching a show, he just sat there next to me, reaching over occasionally to hold my hand or rub my shoulder. His company was just what I needed.
Not only did he find a way to make bland food taste really good, but he also made omelets for the kids and got them ready for bed. He's a saint, I tell you!
But then Monday morning rolled around and he had a date with the airport, leaving me alone with the kids.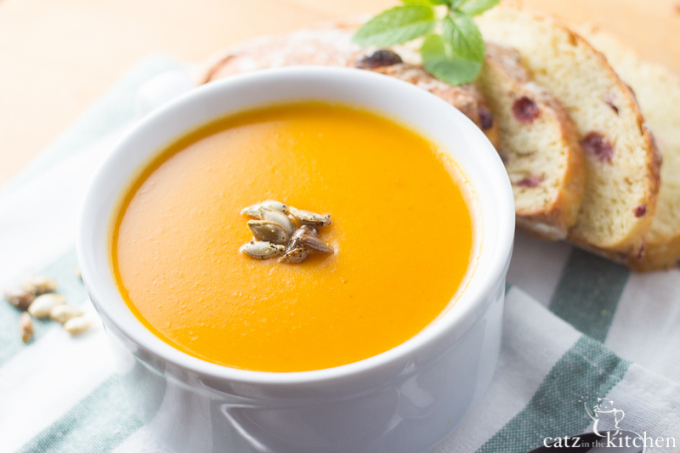 Please tell me I'm not the only one who feels completely incapable of doing…life…when sick? Most days, I can do the whole mom thing without too much trouble (I think).
But when I'm sick…I just can't function. Am I just that big of a wimp?
Thankfully, my oldest daughter Grace (she's 11) is almost literally my right hand. I would be lost without her on days like this. Not only has she managed to get her school work done, but she also took care of all the meals and made sure the two smaller ones were taken care of.
Both of my girls would wander up the stairs periodically to check on me, refill my Ginger Ale, and to tell me they hoped I felt better.
Those little visits made my day. They made me feel cared for, important, and loved.
"I was naked and you clothed me, I was sick, and you visited Me; I was in prison, and you came to me." Matthew 25:36
It's this type of compassion that leads me to believe that Grace will one day be an amazing mother to her children and it excites me because one day, I'll get to see her care for her children, shower them with love and show them how important they are to her. That thought just warms my heart and fills me with joy!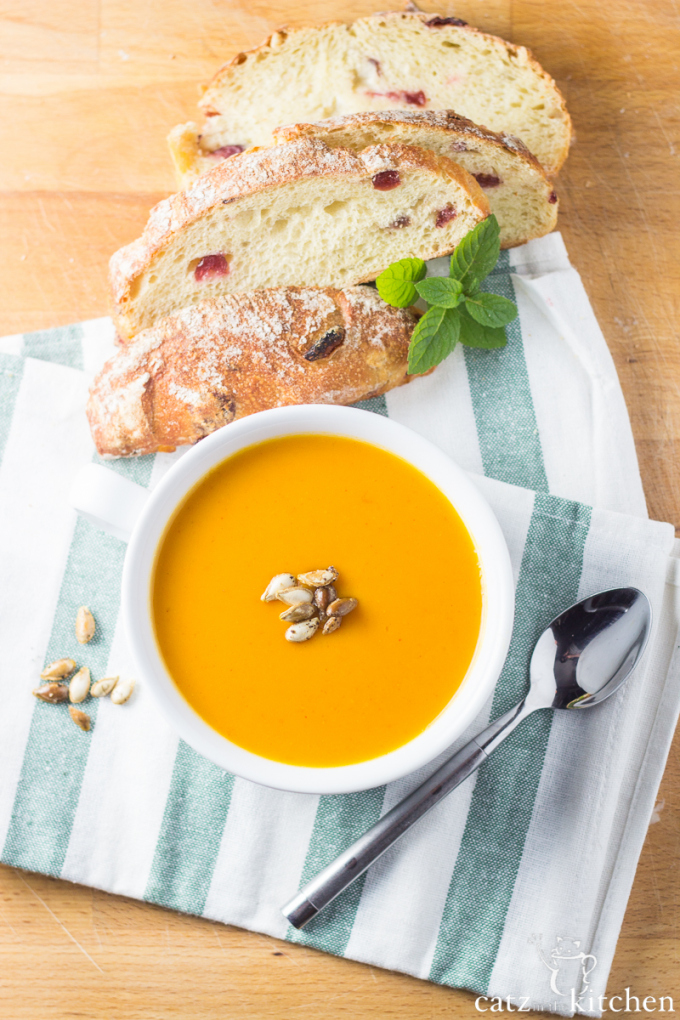 Soup is kind of like a magic potion for the sick. Chicken noodle soup is the classic, of course, but at this time of year, something smooth, filling, and light is the perfect combination.
Which is why this Sweet Potato & Butternut Squash Soup is perfect! Sweet potatoes are a super food and butternut squash is rich in vitamins A and B, which are all things your body needs.
Whether or not you're getting over being sick or just trying to stay healthy, this is one soup you will want in your arsenal for keeping your family well.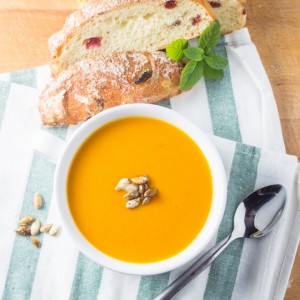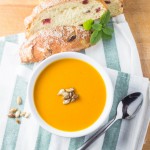 Creamy Slow-Cooker Sweet Potato & Butternut Squash Soup
Ingredients
1

lb

sweet potatoes

, peeled and cut into 1-inch cubes (about 3 cups)

1

lb

butternut squash

, peeled and diced into 1-inch cubes (about 3 1/2 cups)

1/2

cup

chopped onion

1

can

(14 ounces) chicken broth, divided

1/2

cup

(1 stick) butter, cubed

1

can

(13 1/2 ounces) coconut milk

1/2

tsp

ground cumin

1/2

tsp

ground red pepper

, or more to taste

1 1/2

tsp

salt

, or more to taste

3-4

green onions

, green and white parts, finely chopped (optional)
Instructions
Combine sweet potatoes, squash, onion, half of chicken broth and butter in 4 1/2-quart crockpot. Cover and cook on high for 4 hours, or until vegetables are tender.

Puree until smooth in blender 1 cup at a time, returning batches to crockpot. Stir in remaining broth, coconut milk, ground cumin, ground red pepper, and salt. Cook on high for 15 minutes or until heated through. Ladle into bowls and sprinkle with chopped green onions or toasted seeds.