10 Books Your Teens Will Treasure for Years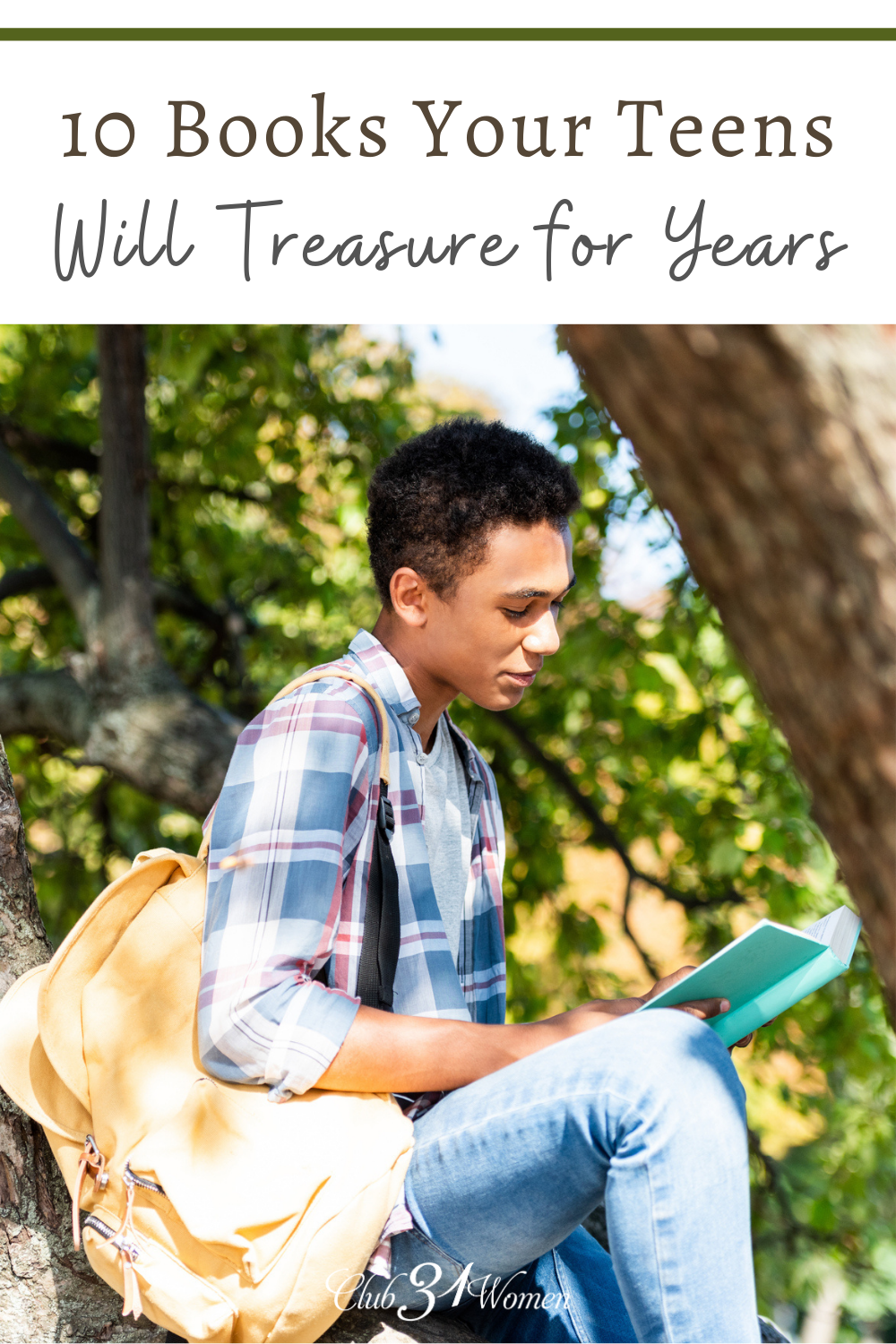 Does your teen need a challenge to what they are reading–or some encouragement to read at all? These books are sure to offer both!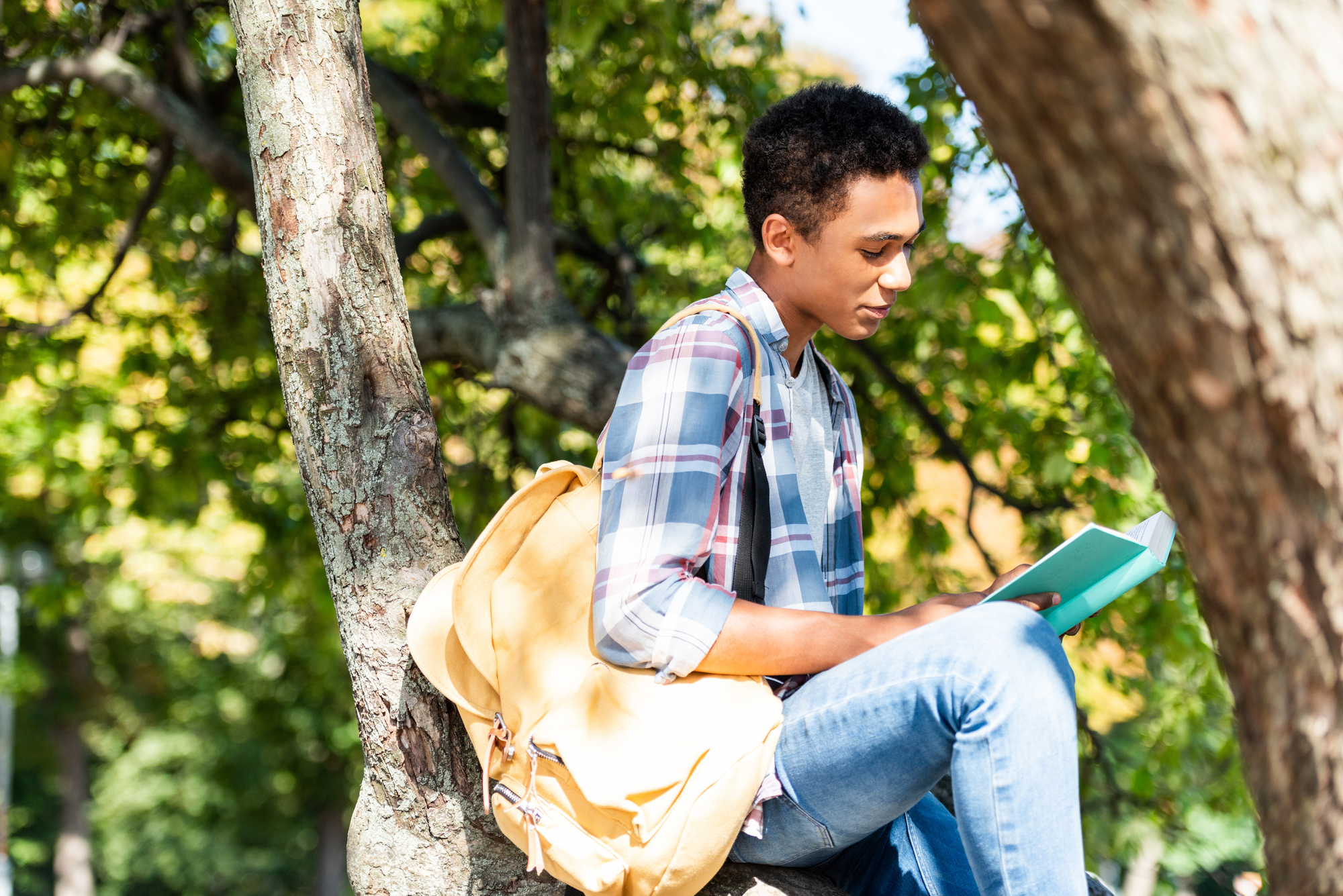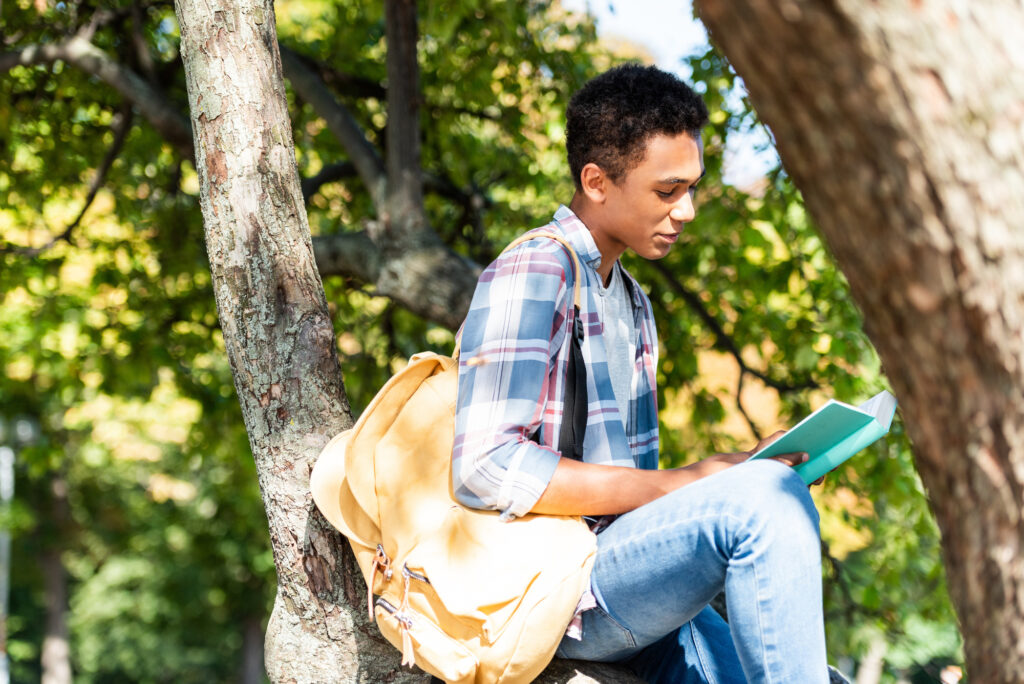 Looking for some books for your teens to treasure?
I grew up in the church. I knew the Bible studies from hours in Sunday school. I knew how Jesus died for my sins. I knew how Ruth found Boaz. I even knew about the left-handed judge and his brave deeds. (Since I am left-handed, it was one of my favorite stories.)
But it took Biblical fiction for me to feel the death of Jesus and the cost of being his follower.
I read The Robe when I was 10. I was told by our local, well-intentioned, librarian that I was too young to read it and probably wouldn't understand it. I was determined to prove her wrong.
And I did. I devoured the book.
It remains on my bookshelves. It fills my thoughts some days when I think of the gentle way it explains suffering.
The Robe, like so many others, that I read when I was young has stayed relevant and precious to me throughout many years.
These books challenged the way I saw the world or understood Scripture. They showed me how friends should love, how Christians should live, and how little events change the world in a big way.
But they're just stories, right?
Not really. It's easy to think that fiction is just fun, but remember that roughly 75% of the Bible is story format.
Jesus used stories (parables) to emphasize much of His teaching because stories stick with us.
Neurosurgeons have studied what the brain does while listening to stories: our brains connect actual experiences when hearing a story. That means reading a book about camping activates the memory of a past camping experience. It also means that when your teen encounters a life situation they read about in a book once, they will remember how the literary character dealt with the same situation.
What are these stories that your teens will love as they journey through life?
Here is a list of 10 books I think every teen–and adult–will love for many, many years.
This post may contain affiliate links through which Club31Women might get a small compensation – with no additional cost to you.  See my disclosure policy here.
1. The Robe by Lloyd C. Douglas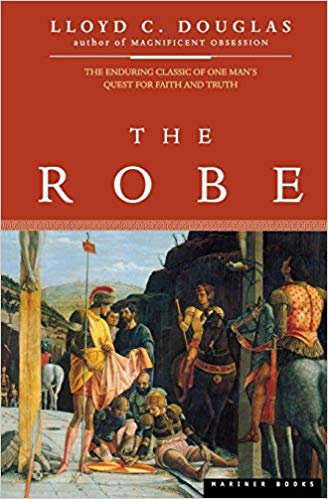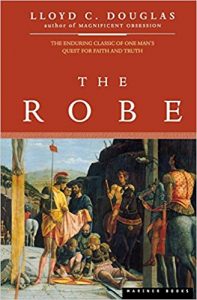 One centurion won Jesus' robe at the foot of the cross; The Robe is his story. Journey from the elite of Rome to Israel with Marcellus and his slave (and friend) Demetrius. After the crucifixion, Marcellus is sent by the emperor of Rome on a mission to find out the truth of the man called Jesus. What he finds changes his life forever.
Why This Book: Marcellus must decide who Jesus really was and how that affects him. He goes through the basic questions of faith: who is God, how does God reveal Himself to us, is He good, why there is pain in the world, and more. It's Theology 101 wrapped in an action-packed, compelling story.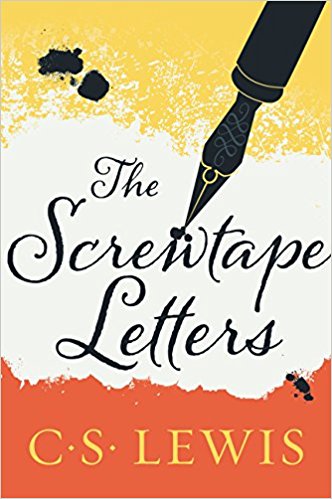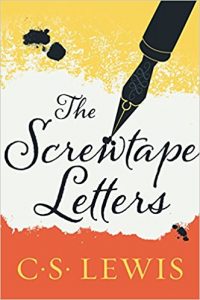 Screwtape Letters is a compilation of 31 letters written by Screwtape, a senior demon, to his nephew, Wormwood, who is in need of guidance. Wormwood is charged with guiding a man towards Satan and away from Jesus.
Why This Book: While each chapter reads like a devotional, the whole book drives home one point: We have an enemy. This enemy wants to destroy us, and he doesn't stop when one becomes a Christian. We should know our enemy's attacks to stand against them.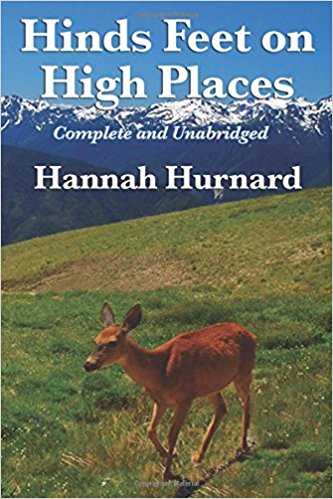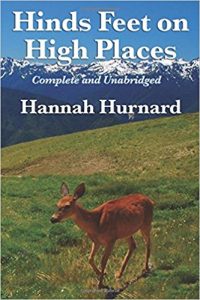 In this allegory, go on a journey with a young woman named Much Afraid away from her Fearing family to the High Places of the Shepherd. She travels with two companions, Sorrow and Suffering. Follow along as a picture of salvation to spiritual maturity unfolds through walking with God.
Why This Book: In Hinds' Feet on High Places, you experience how a Christian is transformed from someone who does not believe in Jesus to a believer who faithfully follows Jesus through dangerous and safe places.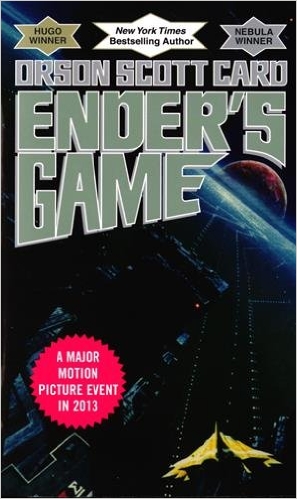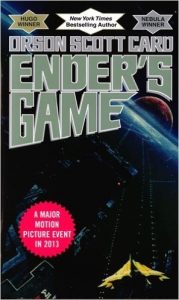 When aliens threaten the existence of Earth, Ender Wiggins is sent to Battle School, orbiting above the Earth. A tactical genius, Ender finds himself bullied for various reasons, but this compels him to fight back smarter. (Parental Advisory: contains some language.)
Why This Book: While Ender's Game is a thrilling adventure with journeys into space and computer games certain to delight sci-fi readers, it is filled with discussion opportunities about what defines us as humans, how to treat those who are different, and when war is acceptable or not acceptable.

When 17-year-old Nic moves to small-town Idaho with his aunt, he has no idea the problems that have hounded him since childhood are going to get worse. His strategy to avoid the spiritual battle raging around him? Avoidance. Shadow Slayer takes Nic from fleeing a fight that surrounds us to joining in to vanquishing the enemy.
Why This Book: Written to be similar to This Present Darkness, Shadow Slayer is a modern take on the spiritual battle in this world. While it shows that evil exists, the book gives a biblical perspective with cliffhangers. "If God is for us, who can be against us?"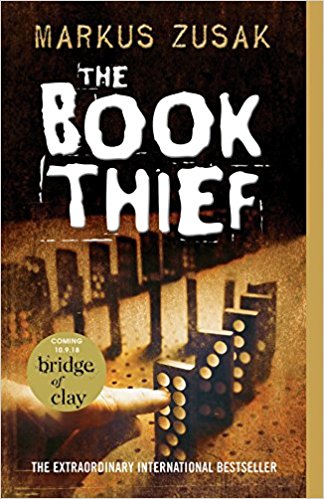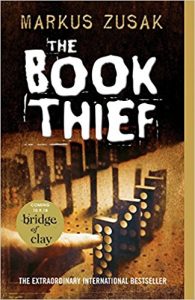 In Nazi Germany, everyone was busy trying to stay alive. But the busiest of all was Death. And yet, despite the work that piled up, Liesel Meminger catches the attention of Death. Liesel, a foster girl, learns to read and can't resist any book she may find. Together she shares her love with her foster father and a Jewish man hidden in their basement.
Why This Book: The narrator, Death, is completely different from our usual perceptions of death. Portrayed in The Book Thief as compassionate and weary of his job, Death gives us an outside perspective of life and death. Death becomes the story-teller, watching a poor family trying to survive a world that is extremely more different and unpredictable every day. How do you live in a world where friends and family are executed just for their heritage? How do you help the innocent when it means risking your own family?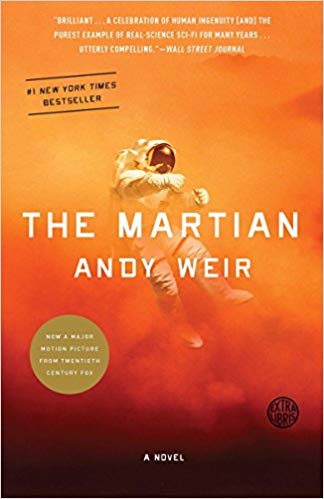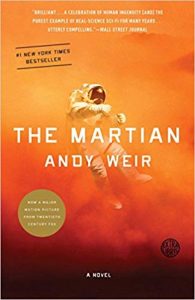 Astronaut Mark Watney is one of the first people to walk on Mars, the first to live there, and perhaps the first person to die there. When a dust storm nearly kills him and forces his crew to evacuate, they think him dead as his communications are damaged. Now he is stranded with no way to signal Earth. And even if he could, it will take four years to return. But Mark doesn't give up. With ingenuity, skills, and a relentless refusal to quit, he confronts the obstacles. (Parental Advisory: There are many swear words within The Martian. In fact, one of the first words is a swear word when Mark discovers he was left behind.)
Why This Book: Is reading The Martian worth the swear words? For older teens, I say yes. Mark's attitude during adversity is inspiring. There's a strong feeling of family within the team of astronauts and Mark holds no ill towards them. In fact, one of Mark's greatest wishes is for the other astronauts to know that he forgave them. Finally, it shows that we don't always have to be the best to succeed. Mark wasn't one of the top astronauts, and yet he does extraordinary things.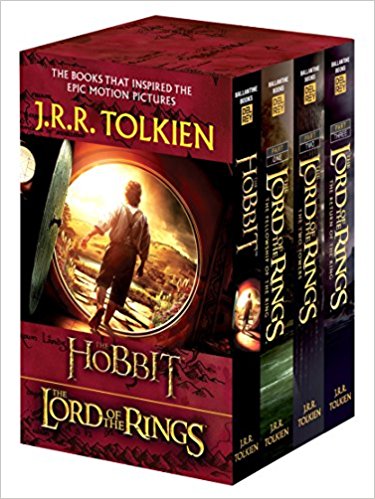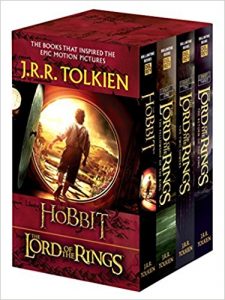 We all know this classic fantasy by J.R.R. Tolkien. Maybe your teens have even seen the epically long movies. But take the time to read the The Hobbit and the entire The Lord of the Rings trilogy. The books are richer than the movies–they take you on a quest to destroy a ring with the power to annihilate all that is good in Middle Earth. The Lord of the Rings is another series that you should read again even if you have once.
Why These Books: The entire series is filled with lessons of persistence, courage, leadership, and friendship. The weak are strong; the humble the wise. And the smallest–the strongest.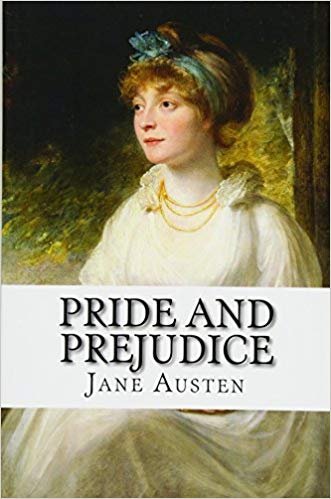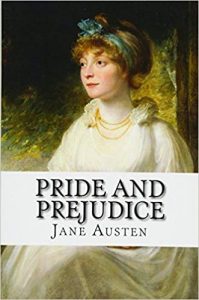 Guys, don't let your eyes glaze over. Pride and Prejudice is not just a girl's book, or even just a romance novel. It's humorous, it's thought-provoking, and it's a classic. Elizabeth is an intelligent woman who is strong and independent. While her mother and society push her to marry someone rich, she is determined to marry for love. Don't be too proud or prejudiced to read it!
Why This Book: Elizabeth's story is about the folly of making snap decisions about people and learning to overcome your pride when you are wrong. Throughout the book, you see how Elizabeth's pride and Mr. Darcy's prejudice hinders and hurts each of them.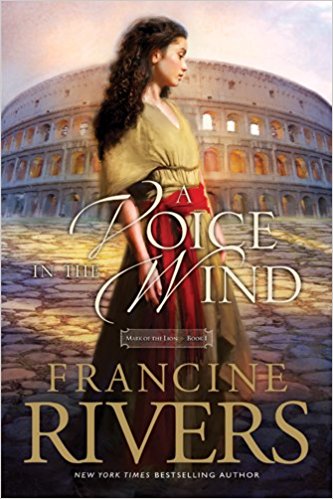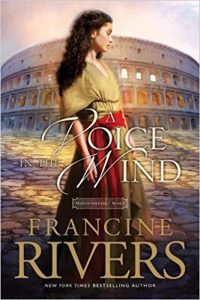 Young Hadassah doesn't turn away from God when she is captured and enslaved by the Romans. Not even when her family is killed. Yet she doesn't let her faith be known, as she's enslaved to her fear as well. But her courage grows, and so does her love for Marcus, the brother of her mistress. Her path, like the young gladiator Atretes, leads to the arena where both must embrace their faith.
Why This Book: The similarities between the last days of Rome and our culture today are alarming. Rome, although described as majestic, is also seen as "a stinking bog of base humanity drowning in filth and depravity." Characters in A Voice in the Wind deal with issues of abortion and other subjects that are relevant to us. But through it all, we see that faith in God holds us steady.
---
As I think back to that librarian looking at a 10-year-old girl with a fat book, of many books, in her hands, I have to smile. She gave me the determination to finish a very large book. I proved her wrong about that.
But she was right about one thing.
She told me that I probably wouldn't understand it. At the time, I felt like I did. Now when I look back, I still don't understand the themes that run through the book–the power of the resurrection, undying friendship, and sacrificial love.
Perhaps these are the things that bring us back to a book over and over again.
Perhaps as we age, we realize we really don't understand life after all, and we return to books that illuminate these simple and yet so profound truths.
Perhaps this is why specific books becomes a favorite.
Onward and upward,
Vicki V. Lucas
Here at Club31Women, we recognize that not everyone has the same taste or point of view on books, music, or movies, but we offer these short reviews for your consideration. Our hope is that you will find something new and wonderful on this list of recommended resources!
~ Lisa Jacobson, Club31Women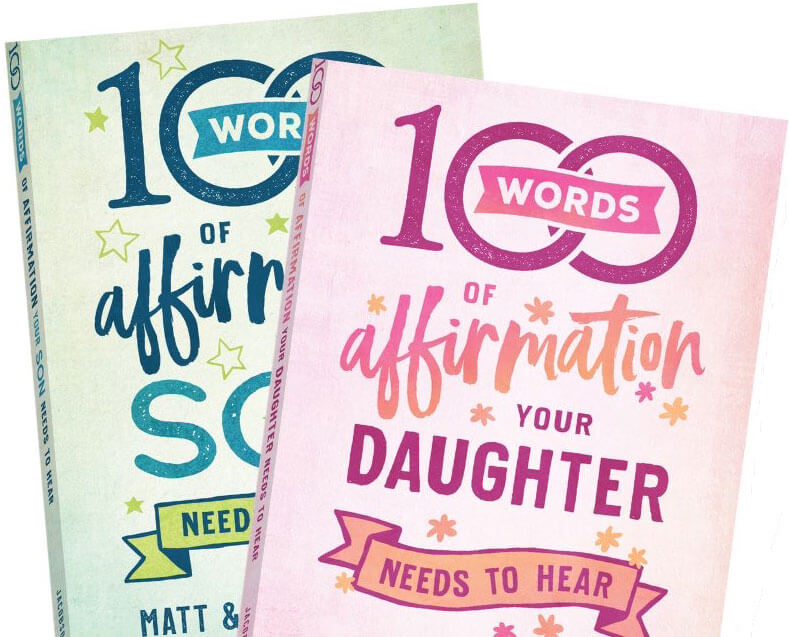 100 Words of Affirmation Your Son/Daughter Needs to Hear
Matt and Lisa Jacobson want you to discover the powerful ways you can build your children up in love with the beautiful words you choose to say every day–words that every son and daughter needs to hear.
These affirmation books offer you one hundred phrases to say to your son or daughter – along with short, personal stories and examples – that deeply encourage, affirm, and inspire.
So start speaking a kind and beautiful word into their lives daily and watch your children–and your relationship with them–transform before your eyes.