A Faith-Building Story You Will Never Forget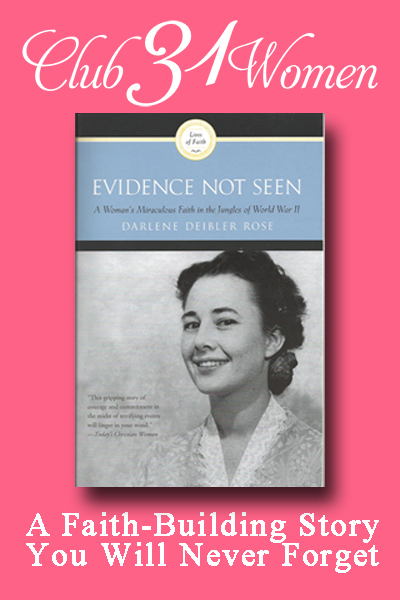 This post may contain affiliate links through which Club31Women might get a small compensation – with no additional cost to you.  See my disclosure policy here.
My life was changed when I heard Darlene Rose's story. It challenged my faith as nothing else had. ~ Ruth Bell Graham (daughter of Billy Graham)
Maybe you're different than me.
You wake up inspired and are confident in your purpose each morning. You can see clearly what you're doing and why you're doing it.
But that's not always me.
Because sometimes I forget. I get lost in the busy and the mundane. I stare at my pile of laundry and try to figure out what's for dinner.
And it all seems so terribly blaaaah.
Basically I get lost in my own story – and it doesn't feel like a particularly interesting or inspiring one.
I have other kinds of days too. Days where I feel rather overwhelmed by my trials. Surrounded by seemingly impossible situations. These are tough days too.
These are days when my faith can feel a bit wobbly.
But then I remember the 92 bananas.
I don't think I'll ever forget them.
My 3 daughters have read the same story and so we'll often turn to each other in times of despair or discouragement and say, "Don't forget the 92 bananas!" and our hope is renewed. Yes, we've all read the awe-inspiring story of Darlene Deibler Rose and it's made its mark on us.
If your faith is feeling somewhat shaky and you could use some encouragement? Then I'd highly recommend reading this amazing and inspiring story: Evidence Not Seen: A Woman's Miraculous Faith in the Jungles of World War II

.
The Story of Evidence Not Seen by Darlene Deibler Rose
As a new bride, Darlene Deibler followed her veteran missionary husband to the jungles of New Guinea, where the two worked to spread the word of the gospel to tribes who had never before seen a white woman. When World War II erupted, Darlene and her husband, Russell, were forced to go to separate internment camps where both endured countless horrors and degradations. Never to see her husband again, Darlene's faith never wavered despite test after test. After four years of cruel internment in a Japanese camp, she was forced to sign a confession to a crime she did not commit and face the executioner's sword, only to be miraculously spared.

This is the inspiring true story of a courageous woman who, despite the loss of her beloved husband, the death of her closest friends, and countless humiliations, never wavered in her faith in God and his plan for her life. ~ From the back cover of Evidence Not Seen
Well-Written: This is a well-told story—-full of insight, adventure, and even humor (yes, if you can believe it!). I've shared this book with many people and they often say they couldn't put it down. The story really flows and keeps you turning page after page.
Real Photos: The book has several pages of real photos taken before, during, and after the events take place. Amazing photographs capturing a time and place that is rarely recorded.
Faith-Building: Seeing God work over and over again – even through trial, tragedy, and pain – can significantly impact the way you view your own life and challenges. And somehow, despite the awful conditions, it is not a depressing book in the least, but has quite the opposite effect.
by Darlene Deibler Rose
Pages: 224 Originally published: 1988 Reprint edition: Harper Collins, (November 25, 2003)
Over the years I've read many missionary and faith-filled stories, but this is one of the best I've ever read. The story – and the lessons throughout – are truly unforgettable.
This is one of my favorite books of all time. Darlene's story is so beautiful, so raw, and yet sweetened with unwavering faith all the way through. It's one of the few books (other than the Bible, of course!) which I can honestly say, changed the way I looked at – and lived – my life. Highly recommended. ~ Lisa Jacobson (from my personal review of Evidence Not Seen on GoodReads)
I hope you've found this Club31Women Book Review helpful and inspiring!
Now faith is the substance of things hoped for, the evidence of things not seen.~ Heb. 11:1
In His grace,