Why You Should Want More Than Feel-Good Faith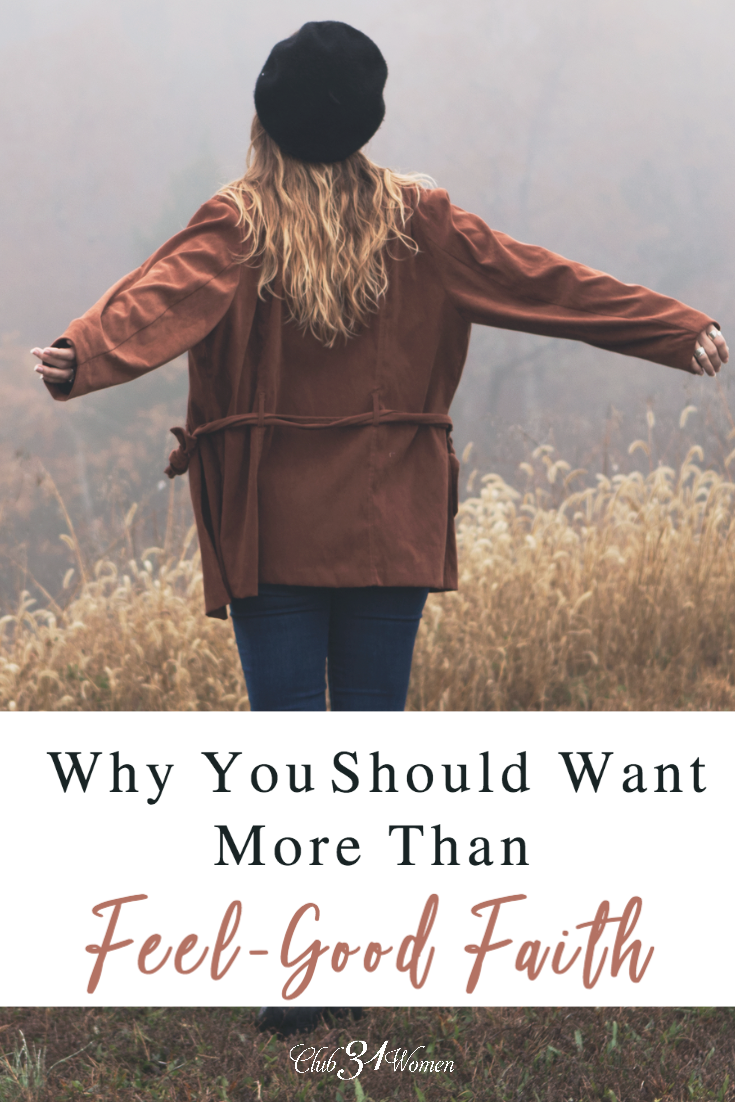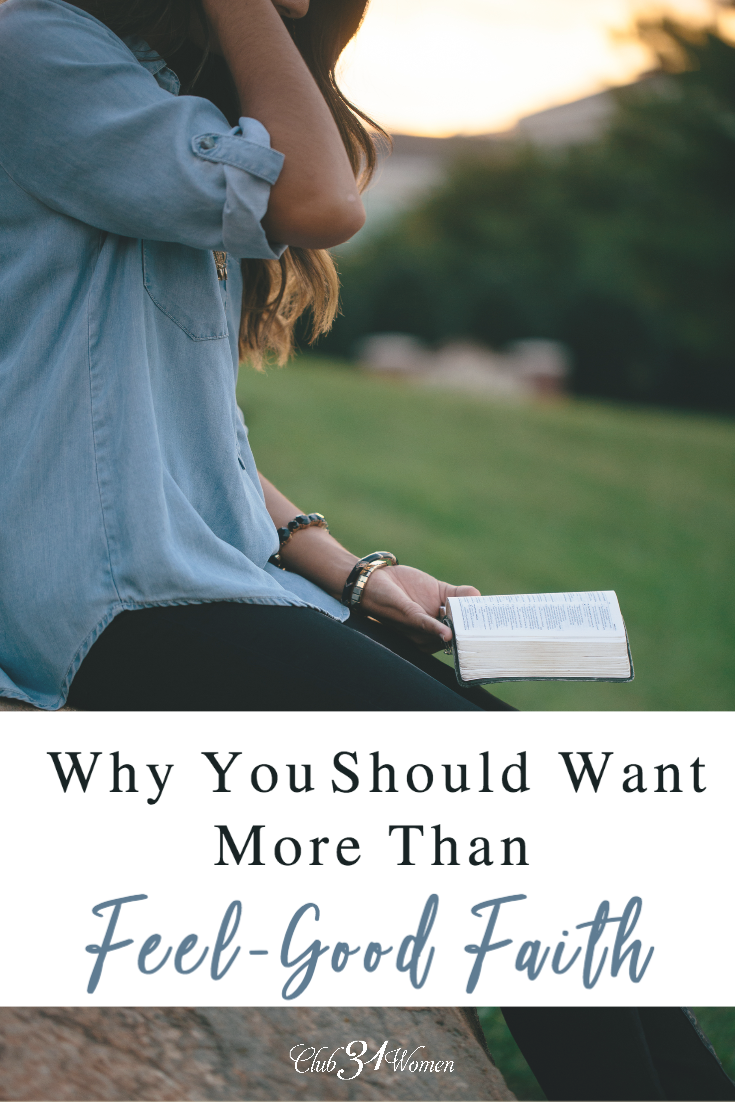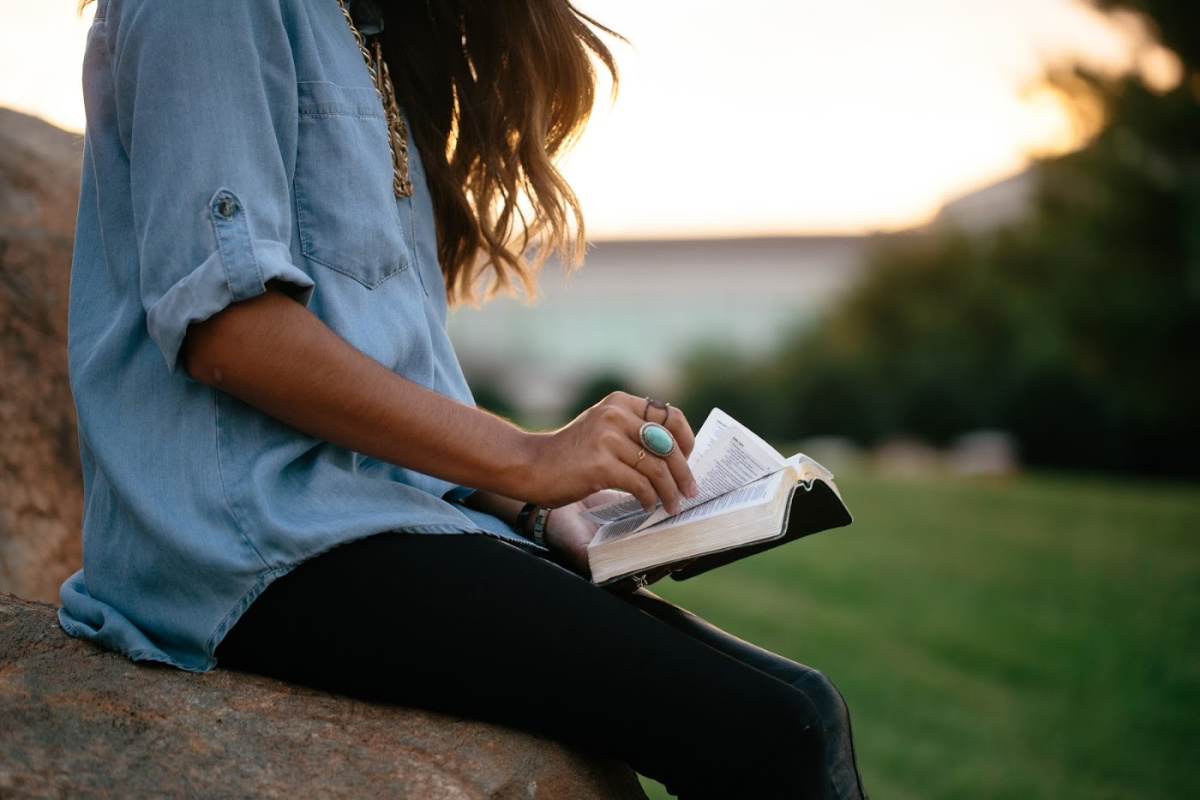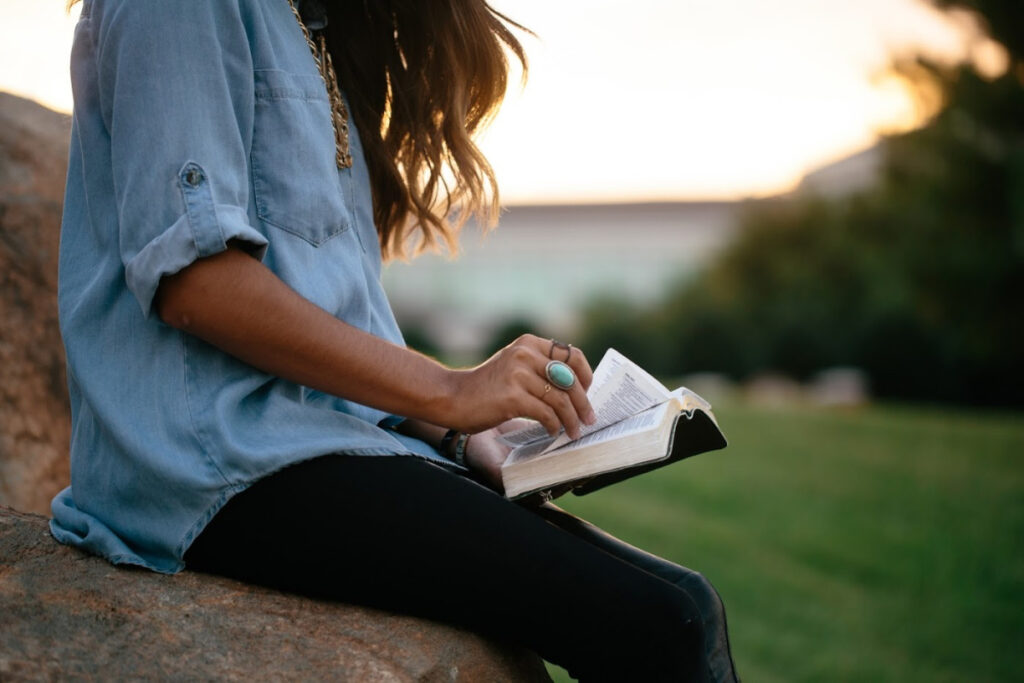 What if faith went deeper than just being a "beautiful daughter of God"? More than just a feel-good faith?
Every year thousands of women gather together to listen to yet another speaker tell us who we are in Christ.
These conferences, retreats, and conventions are well-intentioned. Some of them equip and educate women in the Word of God, or at least attempt to do so.
Then the next year rolls around and we find ourselves once again seated at the women's conference, learning once again that we're "beautiful daughters of God."
Yet each year we return home to the same struggles and sins we had before the conference. The spiritual high of the speaker's message fades. Something is missing. At home, many of us face difficult marriages, lonely workplaces, unfriendly mirrors, and overwhelming motherhood. Insecurity and guilt take a back seat at a women's conference, but here at home? They loom large.
The Jesus whose presence was so tangible in a worship-filled sanctuary is now seemingly impossible to reach.
The Christian Life Is Not A Checklist
The problem of shallow Christian teaching pervades women's conferences, retreats, ministries, and devotional books. We have heard the same message time and time again—a message meant to empower us to live better lives. Yet no matter how many times we hear it, change evades us. If this message is so powerful, why haven't our lives, marriages, and experiences of motherhood changed for the better? Why does the Christian life still feel so heavy if Jesus promised His burden was light (Matthew 11:30)?
The Christian life is not a checklist, but many women treat their faith as if that's exactly what it is. Their faith consists of virtues they are meant to achieve by sheer willpower and sufficient Bible reading.
They attend church, listen to worship music, start Bible-reading plans, and try to pray. But when anxiety, stress, fear, anger, or temptation assault their hearts, these women are running on empty. The Christian life they've been sold is all effort and little reward. The best they can hope for is the next platitude from their morning devotional—"You're a beautiful daughter of God!" However, the "you're beautiful" message, though palatable and fun to present, isn't the one women need to hear most.
Perhaps you're tired of the struggle. You're tired of the work. You're just…tired.
And being told you're beautiful hasn't made things any easier. What good is being a beautiful daughter of the King when your marriage is on the rocks, when grief is choking you, when work is unfulfilling, or when you hate what you see in the mirror?…
Being told we're beautiful in God's eyes is a surface response to a soul-deep problem. That problem is our own sinfulness.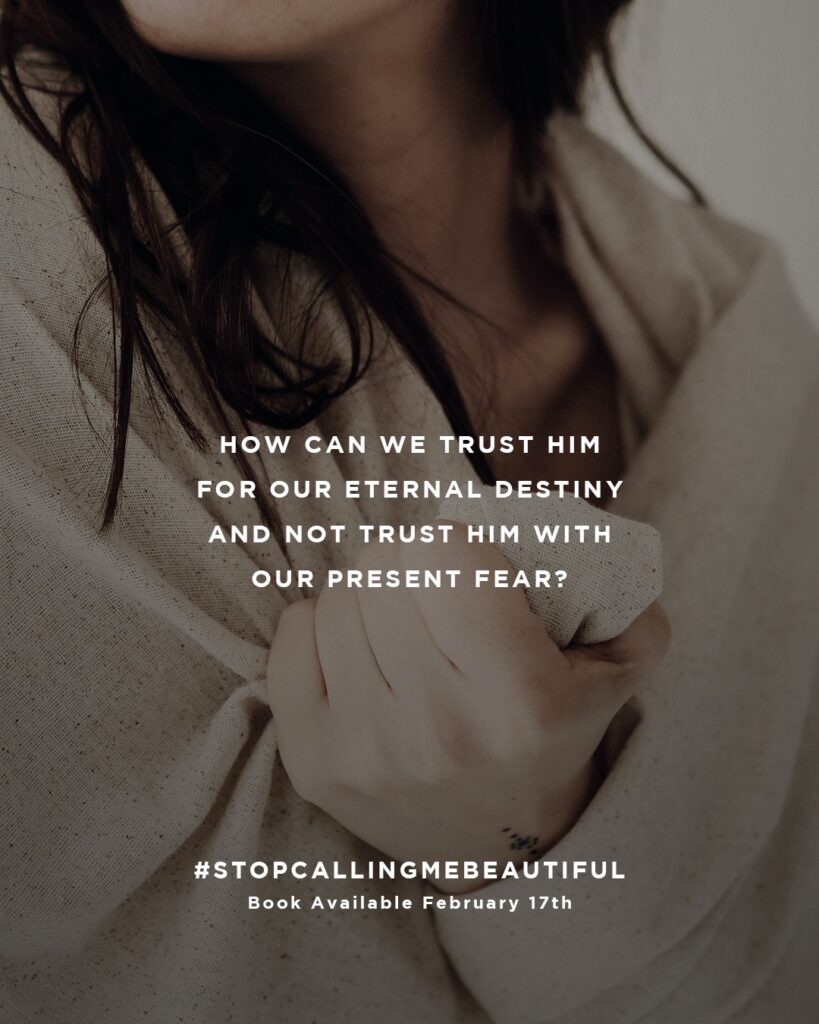 The Truly Good News of the Gospel
Sinfulness isn't a word we like to attribute to ourselves. It's uncomfortable and ugly.
We'd much rather talk about God's love for us— and that's what many female writers and teachers do. But when we ignore the impact of sin on our own natures, we can't comprehend the greatness of God's love.
In John 3:16, Jesus says, "God so loved the world that he gave his one and only Son." God does love us—so much so that He sacrificed His Son. But when we only focus on the first half of this verse, we're missing the entire point. God doesn't love us because you and I deserved it. He loves us in spite of ourselves.
We are so sinful, so unable to bridge the gap between ourselves and a holy God, that He sent His Son to die on our behalf. And this is the GOOD news!
…We'd much rather God had come to earth simply because we're beautiful to Him. But in order to grasp the fullness of God's love and find true freedom, we have to get the story straight… Jesus's sacrifice wasn't just a nice plan to get us out of trouble. His punishment replaced ours! Because God so loved the world, Christ paid the debt we owed. This is the gospel. This is the good news of Christ Jesus for those in need!
But many female Christian leaders have parsed the gospel into "pleasant" and "not-so-pleasant" pieces. Consequently, we hear a lot about God loving us, calling us beautiful, and celebrating us as women, but not much about what had to happen for us to receive this extraordinary love.
Women have the capacity to be curious about spiritual things. But surface-level messages kill such a curiosity. In a sense, many Christian influencers talk down to us instead of speaking to the capability of the Spirit within us. These messages are just enough to keep us going in our spiritual walk, but not enough to aid deeper growth.
Faith That Cultivates a Holy Curiosity
The true gospel is available to all of us through God's Word. We must learn to study it. We must know it well enough to rightly divide the truth and check teachings against the Word of God as the Bereans did (Acts 17:11). In other words, we must cultivate a holy curiosity.
Holy means set apart, sacred, and dedicated to God. Curiosity is a strong desire to know and learn.
A holy curiosity, then, refers to a mind that strongly desires to know and learn about God. A mind like this doesn't happen by accident. It is cultivated day by day. The Holy Spirit grows and nurtures this desire as we faithfully expose ourselves to Him through Scripture, godly community, and solid teaching.
Women who love God and cultivate this holy curiosity aren't satisfied with shallow teaching. By rejecting this imitation spirituality and seeking God's intentions for our walk with Him, we grow into a robust faith, a faith able to weather even the most difficult or mundane of circumstances. Not a feel-good faith, but a powerful one.
~ Excerpt from Stop Calling Me Beautiful by Phylicia Masonheimer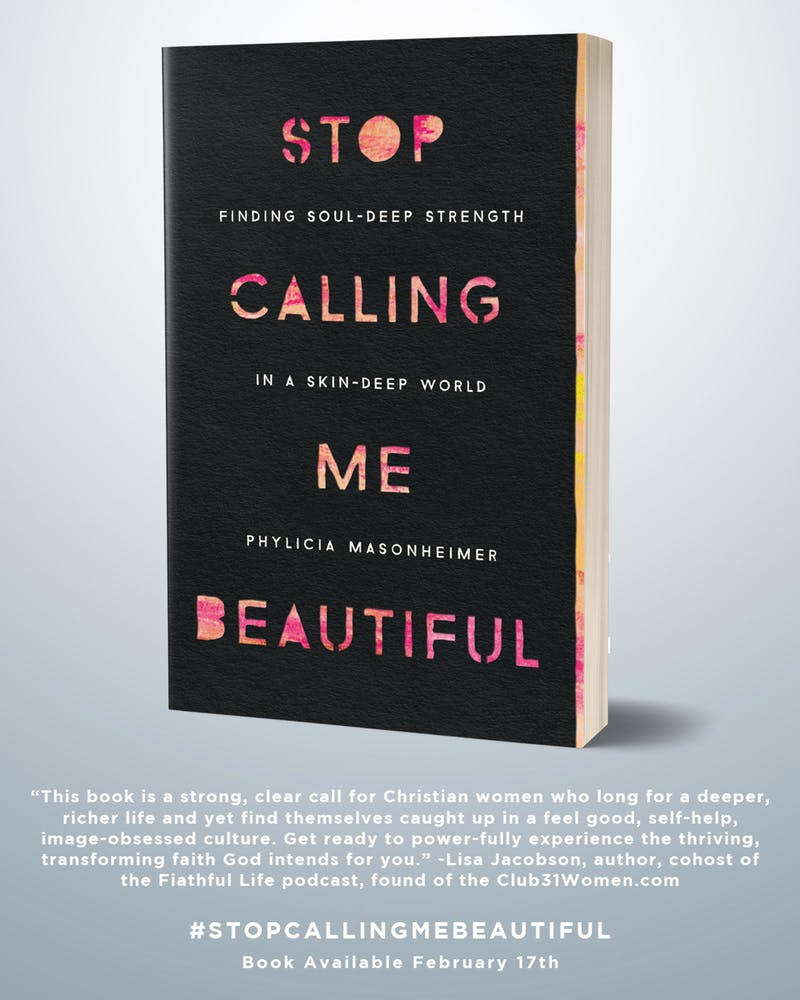 Stop Calling Me Beautiful
Are you done living on the surface? Are you ready to dive deeper in your faith, your understanding of God, and your walk by the Spirit?
If you are hungry for a deeper, more vibrant spiritual life, Stop Calling Me Beautiful teaches you how to pursue the deeper truths of who God is and who you are in relationship to Him. You will learn
how to study Scripture, and how your view of God determines how you face life's challenges
how false teaching keeps you from living boldly as women of the Word and how to overcome it to live by grace
how to keep perspective in painful circumstances and overcome bitterness by learning to rejoice
Jesus doesn't offer a halfway salvation. He makes your brokenness part of His whole redemption story—if you allow Him to enter in. When you seek out discipleship and theological understanding, you experience transformation in your life and your relationships and become better prepared to fulfill your Great Commission purpose.
Stop Calling Me Beautiful is releasing TODAY! Available on Amazon or at all major bookstores: