How to Have a Quiet Time When You Have No Time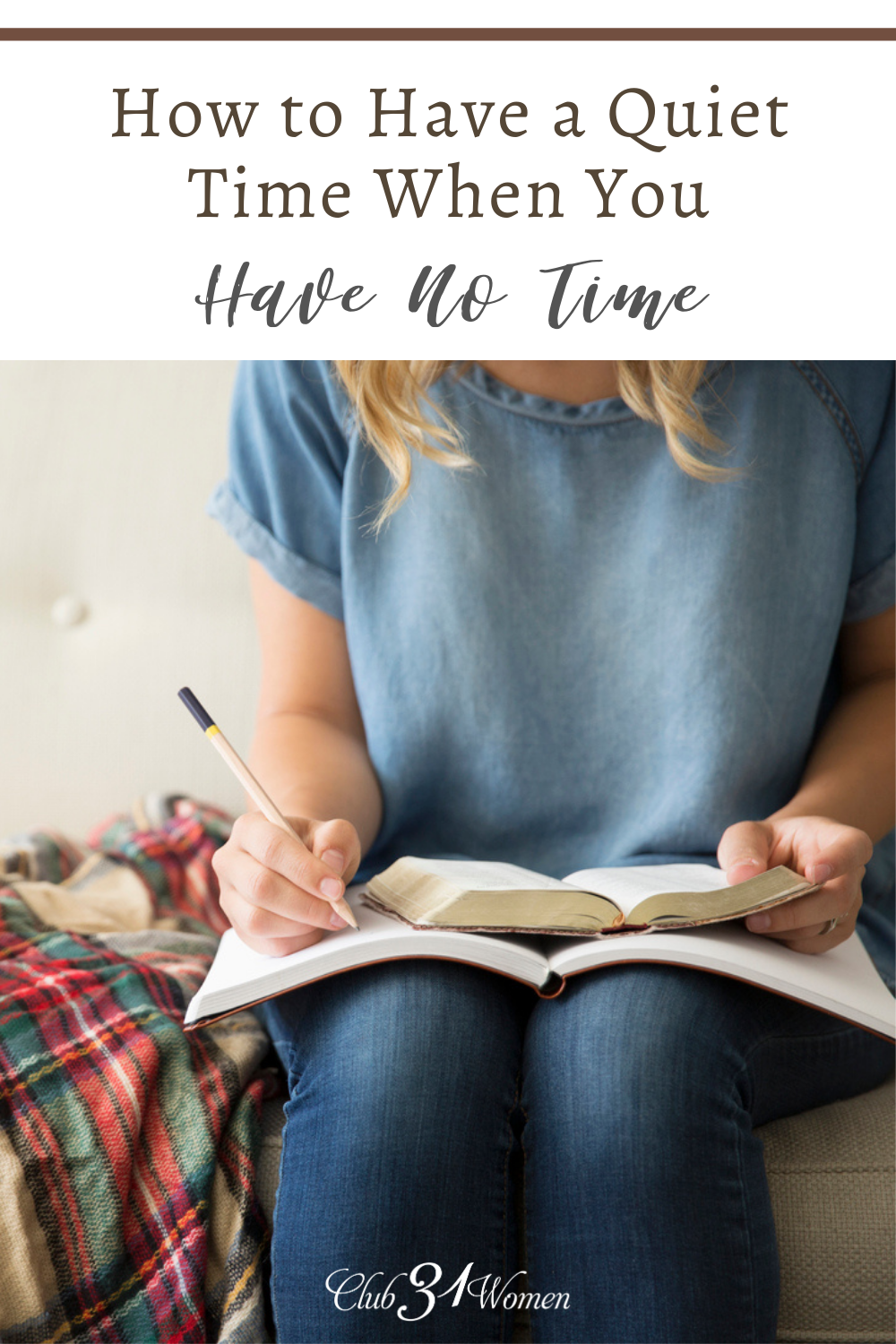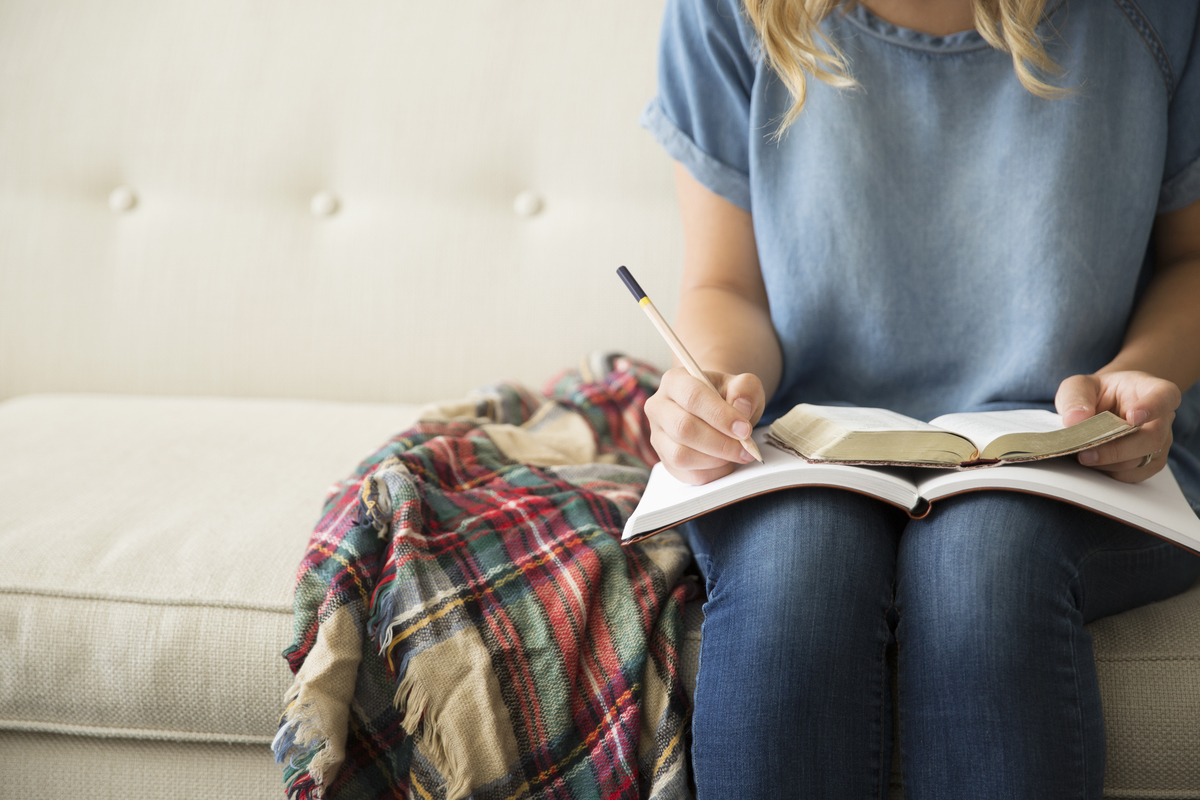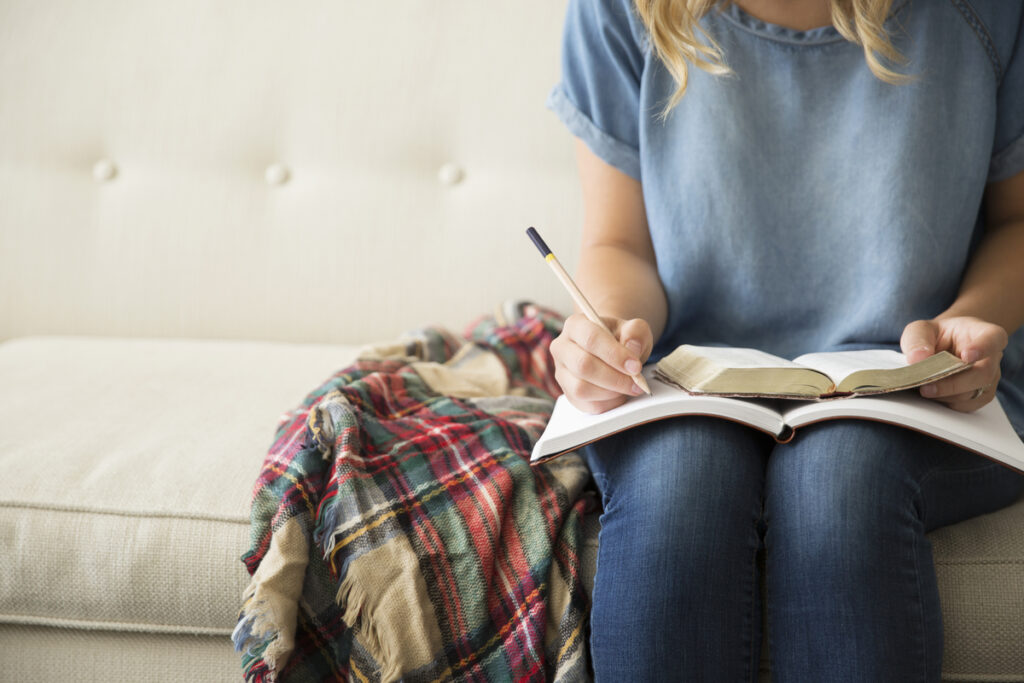 I feel like I have to choose.
That's what she said to me, and I could see it weighed heavily on her.
It's either Bible time or exercise. I can't seem to do both!
And boy! Did I understand that dilemma. She probably thought I'd say it was an easy call (um, Bible time?), and in some ways, it is. But I'm not without sympathy when it comes to making tough decisions with a limited amount of time.
She's a young mom with young kids, so that comes with its own challenges. But I think she'd be surprised to hear I recently had an older woman – in a different season of life – also confide she struggles with such things.
She too asked: How do you find time for devotions when you're so overwhelmingly busy?
It's a question many of us Christian women are asking. And, as the mother of 8 kids, an author, along with my ministry here at Club31Women—I really do get it. There is never enough time.
Yet the more I have on my plate, the more desperate I am to spend that sweet time with my Lord and Savior.
How Do You Have a Quiet Time When You Don't Have Any Time?
1. Make your time with the Lord a priority.
Don't wait for it to fall into place or work out. Decide on a time and then protect it with all you've got.
And if it doesn't work out that day? Let it go. Then try again the following day. And the following one after that.
You might have to try a few different things or times before you land on something that works in your season and schedule.
2. Pick a quiet, uninterrupted place and time (if at all possible).
Currently, I set my alarm and get up early in the morning before everyone else.
It was different when I had young children and nursing a newborn, though. In that season, I looked forward to – and fought valiantly – for my devotional time during naptime in the afternoon.
There was also a long season when I had my quiet time with four young children – each in their designated spots – sitting all around me. Not ideal, but better than nothing! (Besides, I figured it was a good example for them.)
3. Set yourself up for success.
Here's what I mean by this:
Put together a basic plan. Are you reading through the Bible in a year? A chapter a day? A specific Bible study? It's helpful to have a simple structure of some kind, so you're not merely flipping open your Bible to random spots each day.
Put everything you need in one, easy place. Personally, I have a pretty basket (not essential, but sure is inviting!) that holds my Bible, highlighters, Growth Book, and a few other devotionals and studies. It's right there by my chair, all ready to go (so no excuses: "can't find my Bible, pens" etc.)!
Establish a basic routine. For me, that might mean reflecting on that day's reading, possibly followed by a supplemental study or devotional, a time of prayer – requests and praises, and listening/singing a favorite worship song or hymn.
Here's what I like about this kind of devotional reading: it's simple, doable, and rewarding. I'd rather make the most of this precious time than be discouraged by a big goal that I'm not able to keep consistently.
I hope you find this encouraging and helpful! And if you want to hear more about how you can start enjoying a devotional time? My husband, Matt, and I are talking about the challenges — and creative solutions — to seeking the Lord each day on the FAITHFUL LIFE podcast this week.
How to Have the Devotional Life You Want, Starting Today
Do you struggle to maintain a regular, consistent quiet time? We have good intentions, but somehow, all those obligations and great opportunities manage to edge out meeting with God.
This week, Matt and I explore those things that keep us from pursuing God and meditating on His Word; we also discuss why this often happens to so many Christians, and what can change.
A close, consistent devotional life with God is the last thing your enemy wants. Are you ready to go deep with God every day? Begin pursuing the devotional life you desire and that God desires for you.
We invite you to join us on the FAITHFUL LIFE podcast this week HERE or press "play" below!
FAITHFUL LIFE podcast
Matt and Lisa Jacobson, authors of 100 Ways to Love Your Husband and 100 Ways to Love Your Wife, are the hosts of a weekly podcast to talk about what it means to be a biblical Christian in marriage, parenting, church, and culture. Matt and Lisa offer deep encouragement, along with practical steps and true-life stories, as we grow in walking the faithful life together.
Subscribe to the FAITHFUL LIFE Podcast
Subscribe to the podcast on iTunes, Google Play, Google Podcasts, Spotify, iHeartRadio, Stitcher, Castbox, or (my personal favorite) Pocket Casts. Get notified each week when a new episode is available! New to podcasts...but don't know where to start? It's quite simple. Click here to learn more!