FILLED: 3 Reasons to Embrace Failure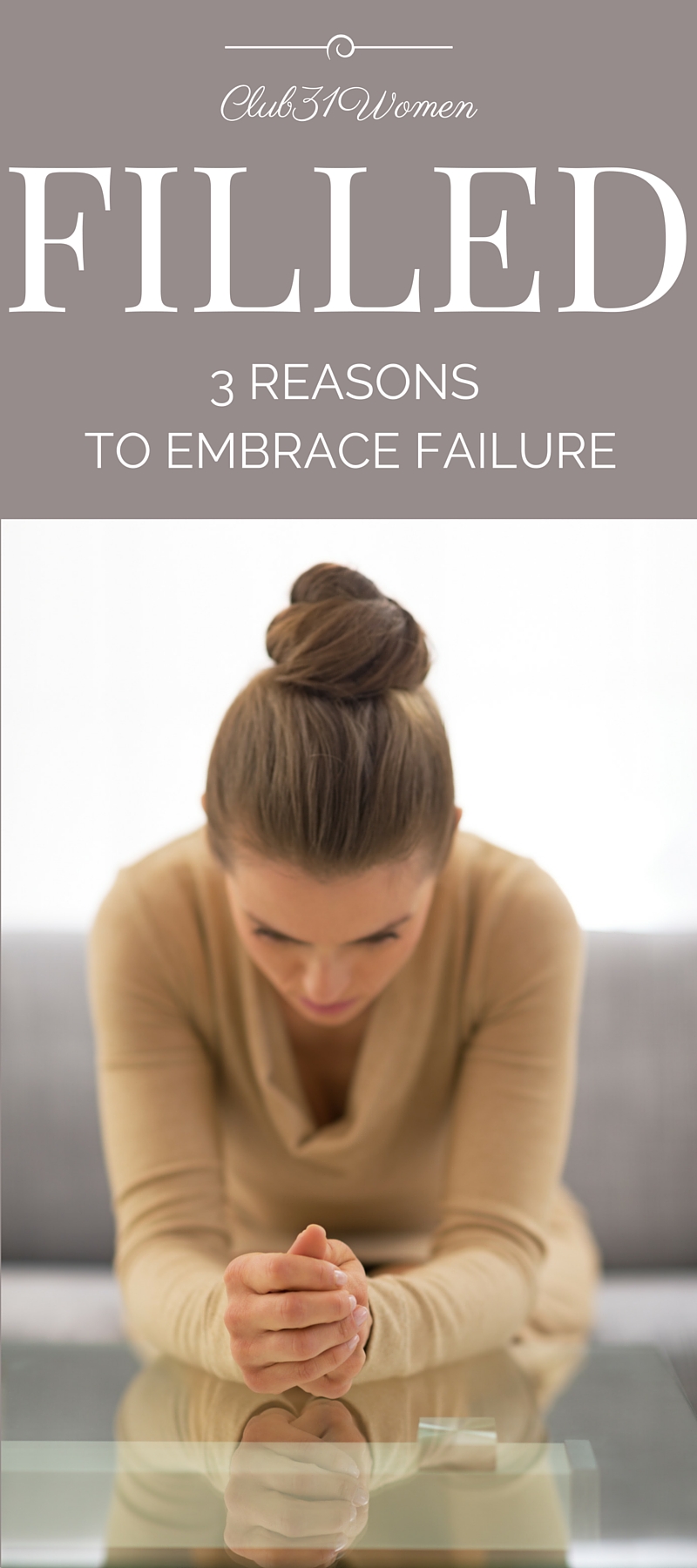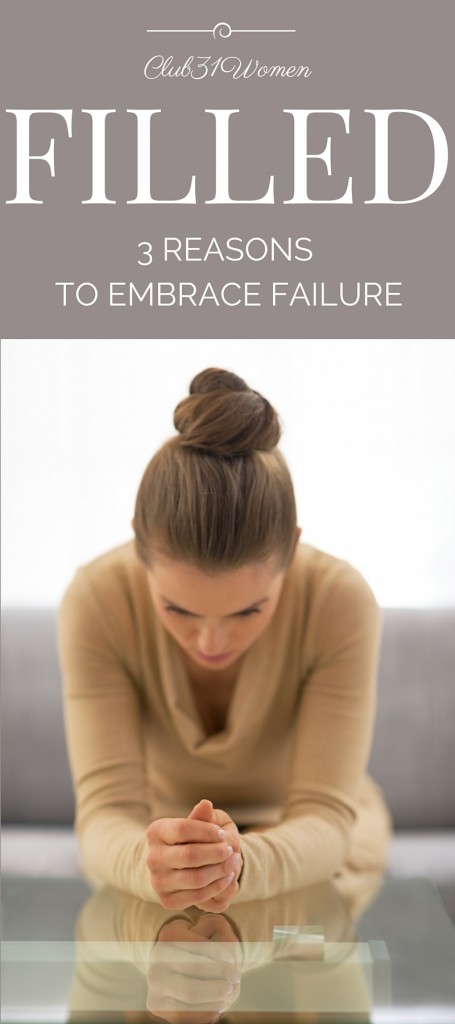 This post may contain affiliate links through which Club31Women might get a small compensation – with no additional cost to you.  See my disclosure policy here.
I knew it was a privilege to mother these kids, but there I was, snapping, lecturing, even belittling.
I was called to write, but my words felt wooden, ordinary, so much less than "that other writer's."
I offered truth spoken in love, but feared I'd destroyed a friendship.
To top it all off, I lost my child's most important legal document.
Self-demeaning words flooded my mind.
Failure. Wannabe. Inept. Idiot.
So goes the battle.
Will I let the enemy debilitate me through my failures? Or will I let God refine me through them?
While wallowing in self-pity frequently holds morbid appeal, today I choose to claim these failures for good.
Here's why.
1) They force me to recognize my inadequacies.
It's clear to me (again) that I need Jesus. Desperately. If there weren't already several hymns and choruses written about needing Jesus every hour, I'd compose one now. And another one tomorrow.
The apostle Paul gloried in his weakness and boasted in Christ's strength. Like him, I'm a vessel of clay.
The type that breaks.
The kind so full of holes that it reveals completely what's on the inside.
The only way I can be used is to be filled with Jesus.
2) Failures show me where I can grow.
Though I may be tempted to wallow or despair, I could also step back and take a realistic look at my shortcomings.
Are there areas I can improve in? Most definitely.
I can learn to parent proactively instead of reactively.
I can develop the skills I currently covet.
I can help friends at God's leading, but also rest in Him when results aren't ideal.
I can organize more effectively to avoid losing what's important.
This is the stuff of life. Why would I not seize the opportunity to grow into the "me" that Jesus is developing?
3) My failures point out the adequacy I have through Christ.
God always equips those He calls. If He's given me children, He'll supply the grace and wisdom I need to parent them. If He's called me to a particular vocation, He'll give me strength to hone my craft. He'll accomplish things I can't see when I'm obedient. He'll help me bring order to chaos.
I can do all things through Christ who strengthens me. (Philippians 4:13)
And my flops, my weaknesses, and my down-and-out failures serve to remind me that anything good is entirely of Him.
But we have this treasure in earthen vessels, so that the surpassing greatness of the power will be of God and not from ourselves. (2 Corinthians 4:7)
I don't like failure any more than you do. And by God's grace, I'm not going to live in its shadow. But while I feel its sting, I'll embrace God's purposes and learn the lessons He has for me.
*What are you learning from your inadequacies today? How can I pray for you? May our Savior fill you with hope and strength!
Blessings,
HIGHLY RECOMMENDED: The newly-released memoir, In a Sun-Scorched Land: A memoir of adoption, faith, and the moving of Haiti's mountains by Jennifer Ebenhack, Foreword by Lisa Jacobson