For Girls Like You: 70 Days of Encouraging Devotions for Your Tween Girl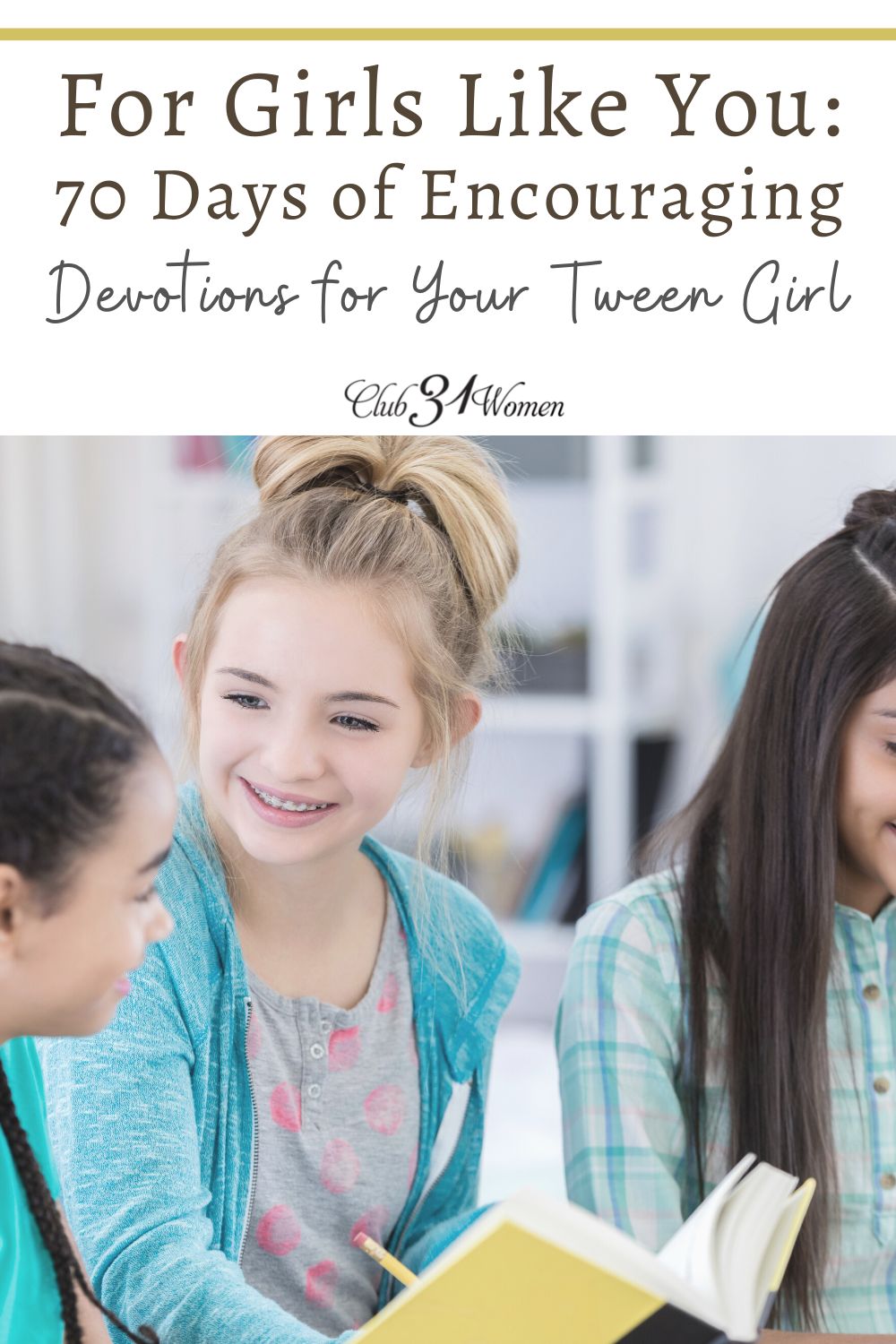 Our tween girls need loving guidance as they enter an uncertain age. Here is a resource that can help her through those challenging years.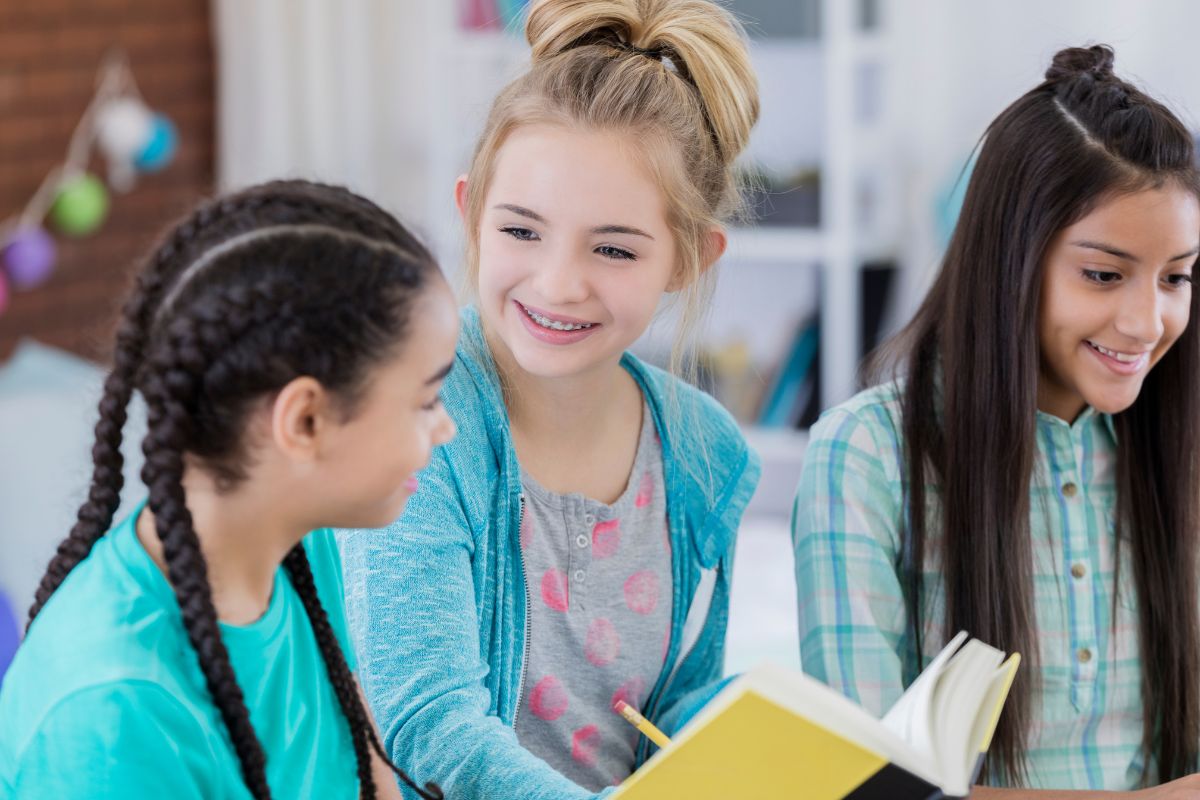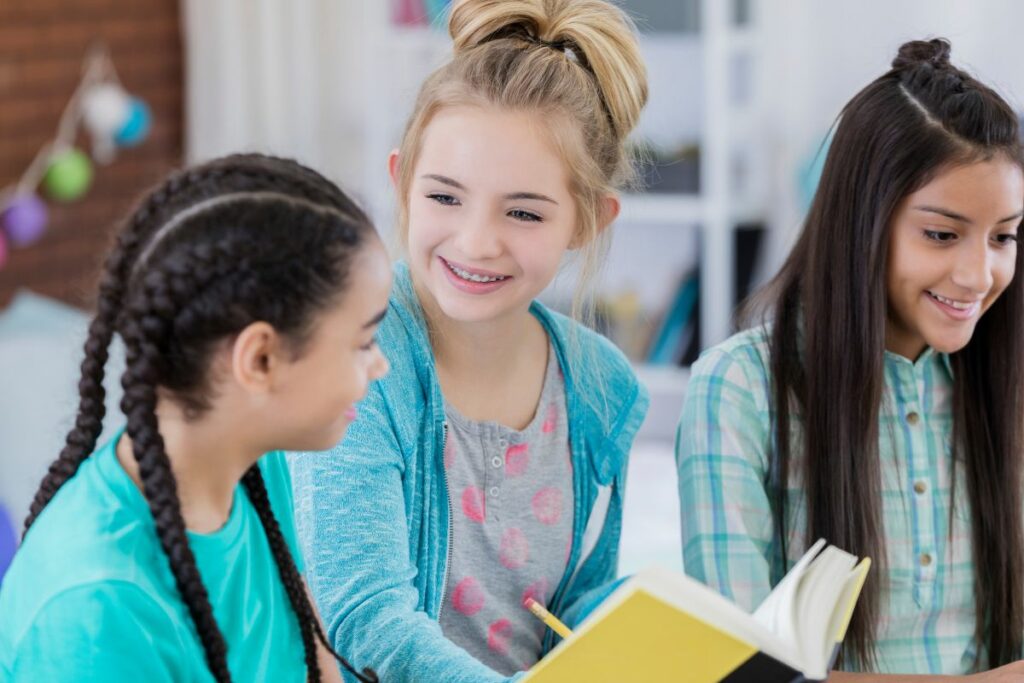 So you already know that I have four daughters.
Four teenage daughters whom I love and adore.
Who were themselves "tweens" not so long ago.
And can I just tell you something? A moment of complete frankness between us both?
IT IS NOT EASY BEING A TWEEN.
There! I said it and it's true.
People told me that being a teenager was a challenge, so I was as ready for that as a parent can be reasonably expected to be.
But nobody told me that there was also this in-between age – sometimes called a tween – that has challenges of it's own. No longer a little child . . . and yet not quite grown up enough to enter the Big Girl arena either.
Or, worse yet, thrown into the Big Girl arena when you're not ready for that world just yet.
We had more than a few tears during those younger years as our girls were trying to navigate this growing world they were encountering.
So do you know what I wish I could have offered them as a source of encouragement and comfort? A source of wisdom and grace?
A little devotional of their very own. One that understood where they were at and about what they were going through.
This post may contain affiliate links through which Club31Women might get a small compensation – with no additional cost to you.  See my disclosure policy here.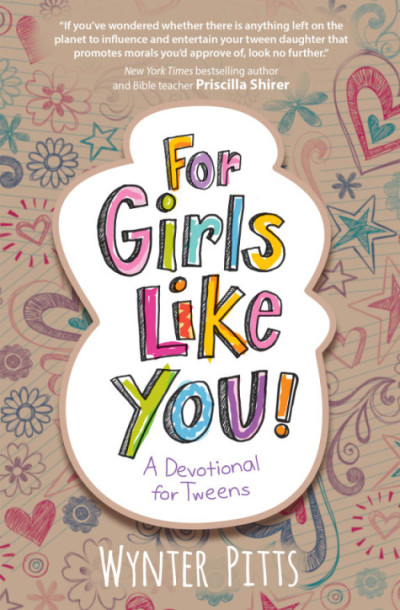 I am so excited to discover this wonderful resource for young girls!
So you want to know what I like about it?
Okay, I'll tell you . . .
Friendly. Each devotional takes such a kind tone, as if talking to a younger friend. I appreciate the gentle, and yet inspiring voice in each one.
Real. Rather than the "stuffy" approach I've seen some books take, this one takes a realistic view of the world we live in and the challenges that our girls can face.
Short. These bite-sized devotions are just right for this age! Only a page, or page-and-a-half long, each one can easily be read in a short sitting.
Practical. I appreciate the concrete, do-able challenge that is included with most every one.
Prayerful. A small prayer is included at the end of every devotion.
Biblical. Each devotion includes a verse – not merely "tagged on the end" – but woven very naturally into the lesson presented.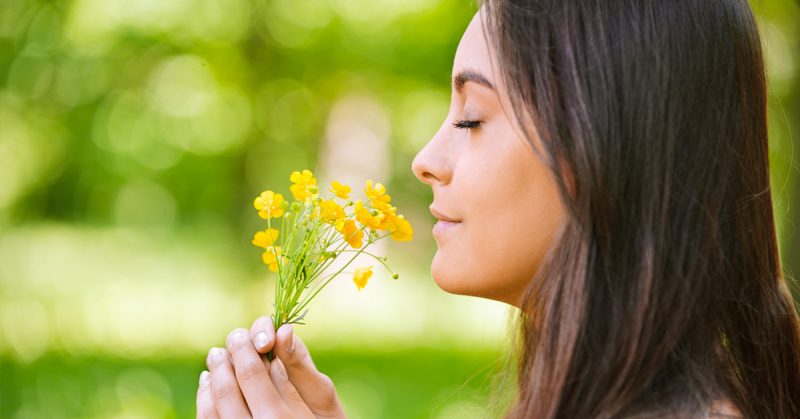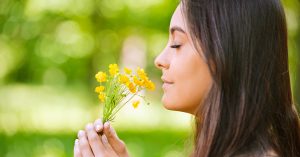 (This post may contain affiliate links. Read my full disclosure.)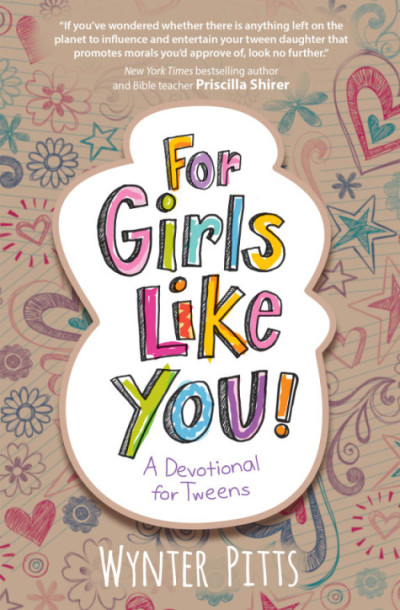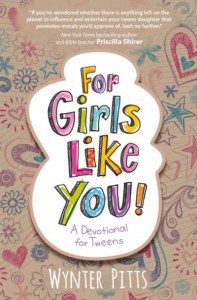 Age Range: 8 – 12 years
Paperback: 144 pages
Publisher: Harvest House Publishers (February 1, 2015)

Tween girls have access to an unbelievable amount of media and information with just a simple click of the remote or mouse. Every outlet they turn to attempts to subtly influence their worldview…and what they believe about themselves directly affects how they live.
Wynter Pitts, founder of For Girls Like You magazine, gives girls a new devotional showing them a correct definition of themselves, opening their eyes to God's truth and the difference it makes in their lives. Each daily devotion includes a prayer to help girls apply the lesson. ~ from The Publisher
"If you've wondered whether there is anything left on the planet to entertain your young beauties that promotes morals you'd approve of, look no further" –Author and speaker Priscilla Shirer
So if you, or someone you know, has a young girl in the age-range of 8 to 12? One of those terrific tweens?
Then I can recommend this devotional as a very encouraging resource!
In His grace,
P.S. I want to mention that For Girls Like You has a magazine for young girls – and their parents – as well.
For Girls Like You, is a ministry to young girls and their parents, that also includes a quarterly print magazine, journal, and other print and web resources. We have a passion and drive to introduce young girls to Christian values in a way that they are able to palate and digest, so they can walk passionately and boldly in who God has created them to be.
Save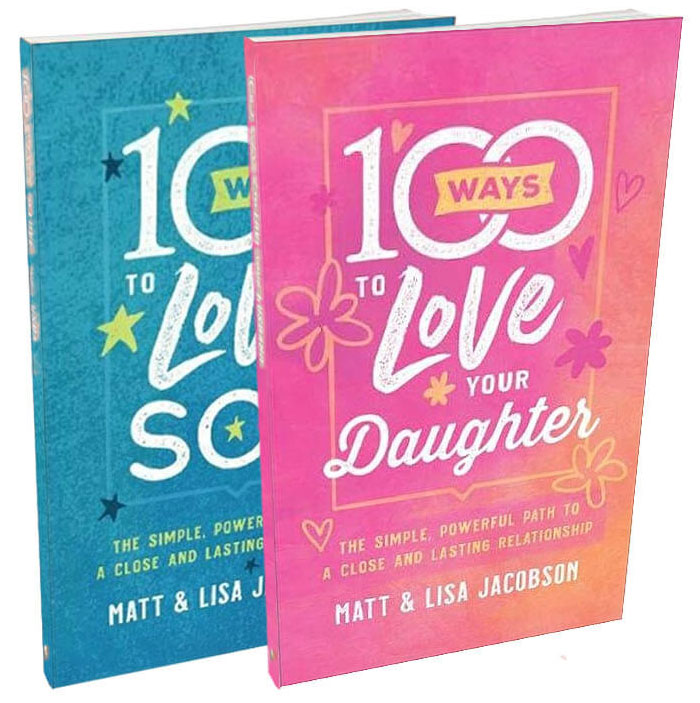 100 Ways to Love to Your Son/Daughter
You love your son and daughter–but that doesn't mean you always know the most effective ways to show that love, ways that will connect with their hearts, and stick with them no matter what life throws their way.
These practical books by the authors of 100 Ways to Love Your Wife and 100 Ways to Love Your Husband give you 100 specific, actionable ideas you can implement to show love to your children, no matter what age they are.
The best part? The short, bite-sized readings make it easy to start right now!