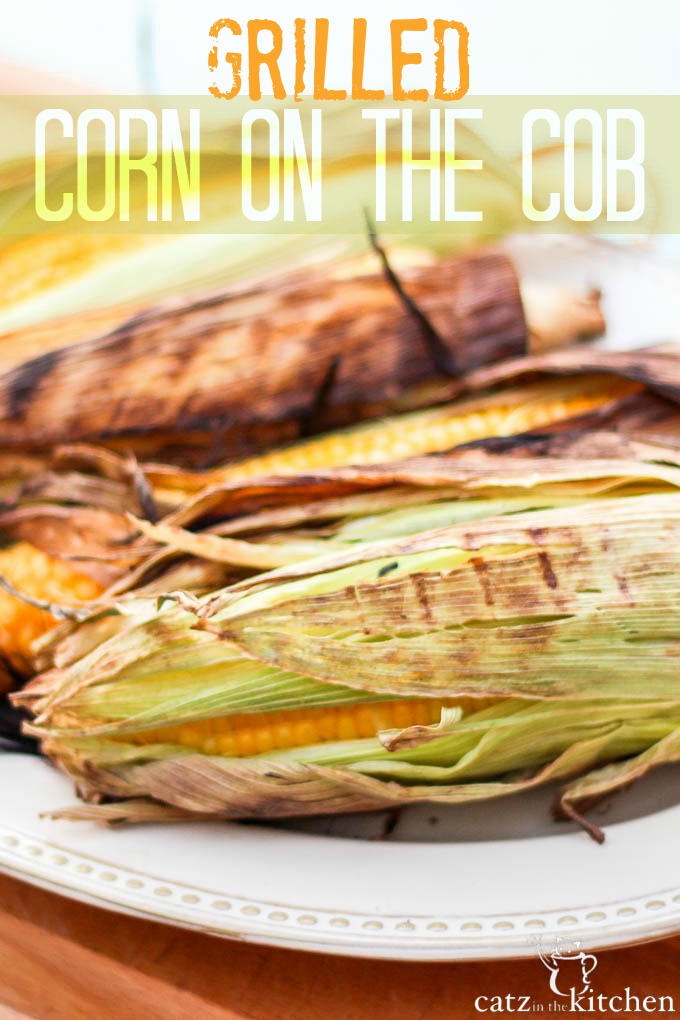 It wasn't about showing off our new house.
The idea of "showing off" my house to family members who have yet to see our new home kind of rubs me the wrong way. Showing off implies a "me me" perspective when really all I want to do is focus on them – to make them feel welcome, invited, cared for, and loved.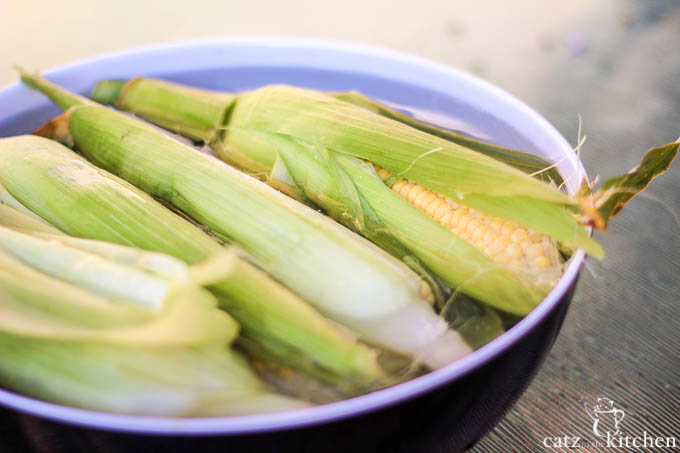 Josh's grandfather drove for two days, all the way from southern California, to spend time with all of us, his family, and maybe even to be encouraged.
You see, I think I mentioned before in the Layered Taco Dip post that Josh's beautiful grandmother, Nani, passed away last August. I still can't believe it has been almost a year.
And for Papa, Josh's grandfather, it's been almost a year of figuring out what life without his beloved wife by his side looks and feels like. To go from sharing conversations, sharing a bed, sharing hobbies, and sharing a life of marriage sixty years in the making into the life of a widower, a life that no longer shares her living presence – that has to be traumatic, regardless of the amount of time you had to prepare for that day. (1 Timothy 5:3)
During one of the days he was here, we had a barbecue "joint" birthday party for my daughter Grace (who turned 11 on the 11th) and her youngest uncle, Joey (who turned 16 on the 9th). We gathered everyone over at our new home for ribs, barbecue chicken, hot dogs, baked beans, and grilled corn on the cob.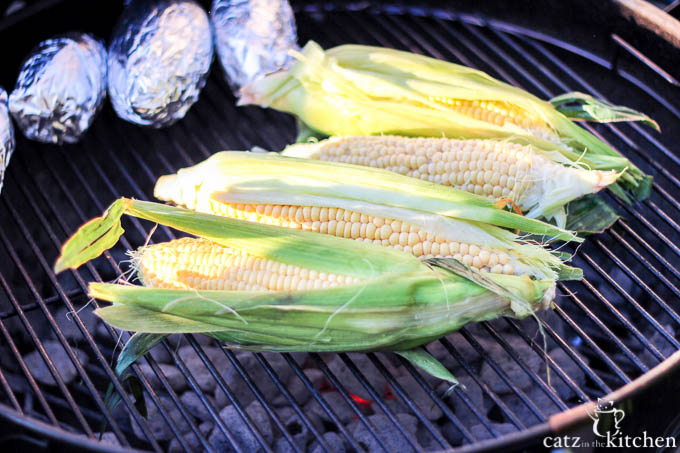 It wasn't about getting everyone down to see our new home (even though everyone wanted to see it, which was nice).
It was about filling the house with life and laughter, reconnecting with each other, sharing our hearts and some encouraging fellowship. Papa was our guest of honor, and we wanted him to feel honored and loved the moment he walked through our door.
While Grace and Joey took turns opening up birthday presents, I happened to look over at Papa and saw him smiling – to his left was a picture of himself, his beloved bride, and my three children from our trip to see them last April.
He later pulled me aside and told me that he had such a wonderful time, but that our beautiful Nani would have enjoyed being in our home, too.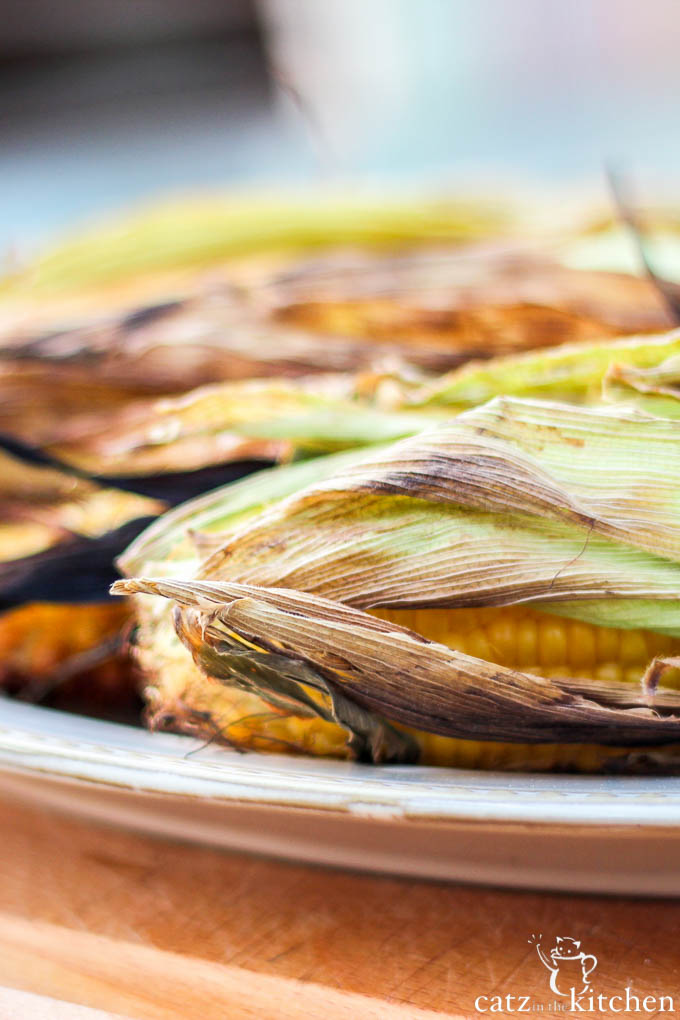 In honor of the birthday barbecue we had at our home over the weekend, and because Memorial Day is so close, I'm sharing this super easy grilled corn on the cob recipe. Josh is not a big corn on the cob person – unless it has been grilled, and then he really enjoys it!
There are a lot of ways to make grilled corn – you can make a spice mixture and rub it over the kernels or coat it in Mexican cheeses for a more "street" style. I'm just sharing the simple basic method you can prepare it because that is how I prefer my corn on the cob.
Also, corn on the cob, this time of year, is cheap and the perfect way to feed a crowd (seriously, if you are looking to stretch your budget for a crowd, grilled corn on the cob will save your life!). Which is what we did!
Josh grilled all the corn and afterwards some of his sisters and I husked them and broke them in half. I was skeptical that there wouldn't be enough for everyone, but believe it or not, there was and I had leftovers…which is perfect for freezing so you can add it to soups and chowders or topping a salad with!
Losing a spouse must be unimaginably painful, but I believe being surrounded by people who genuinely love and care is some of the best medicine for grief out there.
*Have you ever experienced grief? What helped you and what can you do to help others with their grief?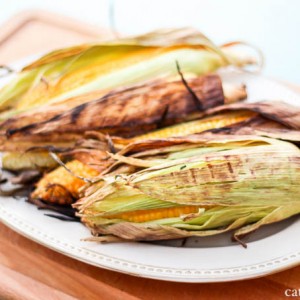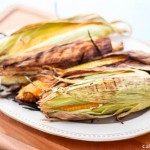 Grilled Corn on the Cob
Grilling corn on the cob in its husk makes it smoky and sweet. Add this corn on the cob to almost any outdoor meal!
Ingredients
4

heads of corn

Water

Salt

Pepper

Butter
Instructions
If you have a charcoal grill, start your coals now. Pull the husk of each head of corn back to the base, but do not allow the husk to disconnect. Remove as much of the silk as possible, and then wrap the husk back up around the cob as tightly as possible.

Fill a large bowl with cold water, and soak the cobs for at least ten minutes. If you're using a gas grill, preheat the grill now.

Place the corn on the grilling surface, trying to keep the husk between the grilling surface and the kernels whenever possible. Close the lid and grill for five minutes.

Open the lid and turn the corn, again using the husk as a barrier for the kernels when possible. Close the lid and grill for an additional five minutes.

Open the lid and turn a final time. Grill with the lid close for an additional five minutes, or until the kernels are easily popped with a grilling fork. Serve immediately and carefully, as both the husk and the corn itself will be very hot. Serve with butter, salt, and freshly ground black pepper.
Chels is a born-again believer who dreams of living with all four seasons in Central Oregon. She's a wife and stay at home mom to her four vivacious kiddos whom she home schools. When she's not schooling or chasing after her munchkins, she enjoys reading, bubble baths, and finding clothing/kitchen treasure at thrift stores. But more than all of that, she finds refuge in her kitchen where she and her husband can be found cooking and baking up a storm for their family and friends. You can read more about her culinary endeavors at CatzintheKitchen.com.