8 Reasons Why I Love Being the Mom to a Large Family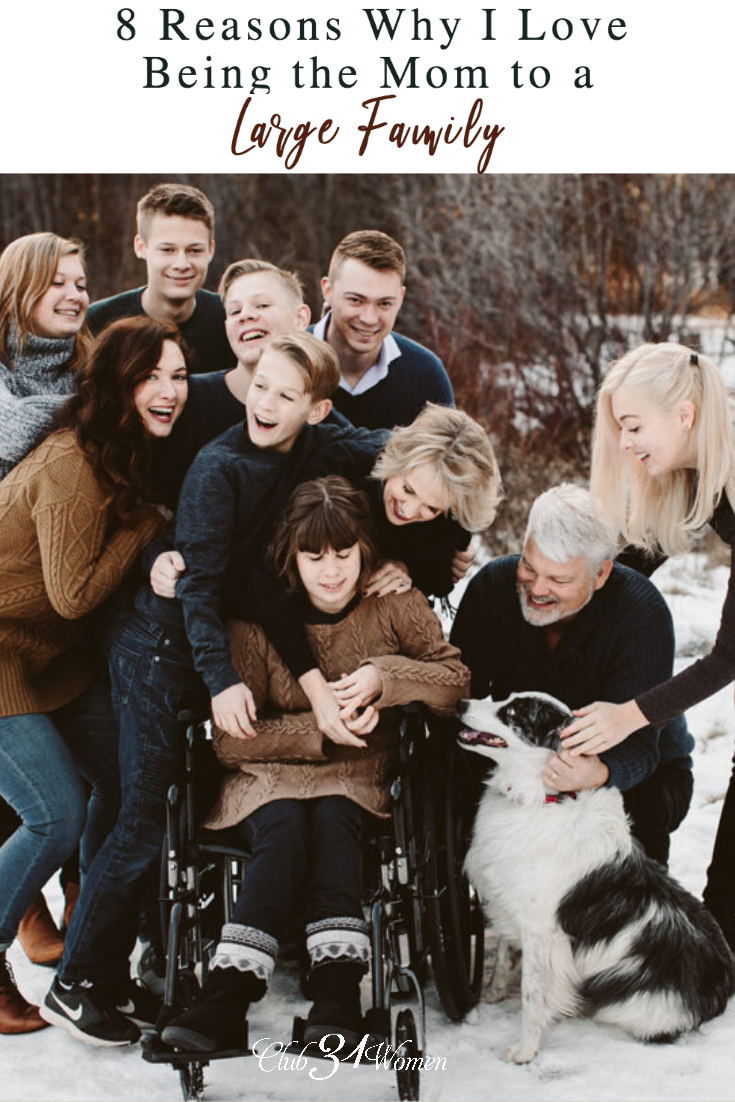 What are my favorite things about mothering a large family? Well, let me tell you!
I'm the mother of 8 children. And, yes, I love it.
This often surprises people when they learn that I have all these kids. They'll say things like, "But you don't look like a mother of 8 children!"
And then, occasionally,"Do you actually like having a large family?"
I'm never sure how to answer that first one (Thank you…I think?).
The answer to the second question is easier, Yes, I do. I love it!
Which some people seem to find interesting.
I could write a long list of all the things I love about having a bunch of kids, but here are some of the best . . . .
8 Reasons Why I Love Being the Mom to a Large Family
1. I love the joy they bring.
How their sweet faces look up at me with so much love. The hugs. The laughter. The fellowship of family.
2. I love all that I learn from them.
They remind me to stop and wonder. They ask good questions and challenge me to think. They reveal areas in my life that I – apparently – need to work on. Ouch.
3. I love how they have built-in friendships.
If you're bored or lonely, there's always a buddy nearby. Someone to help with the work or someone to play a game. Someone to talk to or someone to snuggle.
4. I love watching the older ones care for the young ones.
How the older ones get the opportunity to be selfless and put aside their own plans. The chance for them to look after the interests and the hearts of their younger siblings.
5. I love that I still have younger ones at home.
Even if their older siblings have left home to pursue their own calling.
6. I love how much fun they are!
Let's face it; there's nearly always something going on around here. From family coffee time to late-night movies and games.
7. I love how the younger ones look up to their older siblings.
For instance, our oldest son is something of a celebrity – a basic rock-star – to our younger boys whenever he comes home. Thankfully, he walks with God. Could be worse, I figure.
8. I love how they can reach the world.
In ways that I can't. Children seem to have this ability to soften even the hardest of hearts. There's something about young people that breaks through the toughest barriers. They're a bright light in a darkening world.
So however many children you have – whether one, four, eight, or twelve – they are a gift from God, aren't they? Children are truly a blessing.
What Does God Say About Kids…And How Many Should We Have?
When should you start a family? And how many children should you have? Does God have an opinion, o,r does He leave the question entirely in your hands, without input? What is the Bible's perspective on kids?
Join Matt and Lisa for an interesting, wide-ranging discussion . . . and learn about the journey Lisa went on regarding kids and how many she wanted!
You can listen HERE or simply press "play" below!
FAITHFUL LIFE podcast
Matt and Lisa Jacobson, authors of 100 Ways to Love Your Husband and 100 Ways to Love Your Wife, are the hosts of a weekly podcast to talk about what it means to be a biblical Christian in marriage, parenting, church, and culture. Matt and Lisa offer deep encouragement, along with practical steps and true-life stories, as we grow in walking the faithful life together.
Subscribe to the FAITHFUL LIFE Podcast
Subscribe to the podcast on iTunes, Google Play, Google Podcasts, Spotify, iHeartRadio, Stitcher, Castbox, or (my personal favorite) Pocket Casts. Get notified each week when a new episode is available! New to podcasts...but don't know where to start? It's quite simple. Click here to learn more!
This post may contain affiliate links through which Club31Women might get a small compensation – with no additional cost to you.  See my disclosure policy here.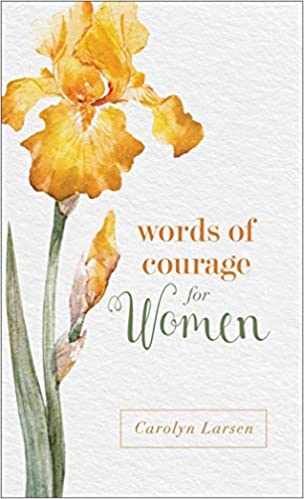 By Carolyn Larsen
When we get out of bed in the morning, we don't know what the day ahead holds. It could be routine. It could be amazing. It could be devastating. No matter what each day holds, one of the biggest influences on the direction our days take is our own attitude. We can live in fear, worry, and anxiety, or we can choose to live with purpose, trusting God in every circumstance.
Compact and concise, Carolyn Larsen's Words of Courage for Women and Words of Peace for Women each offer you 90 inspiring devotional readings that will help you remember God's presence in your days and see your world from a positive perspective. These short, to-the-point readings illuminate God's promises and show you just how they apply to your everyday life. Beautifully designed, these devotionals are the perfect gift for a friend–and for yourself.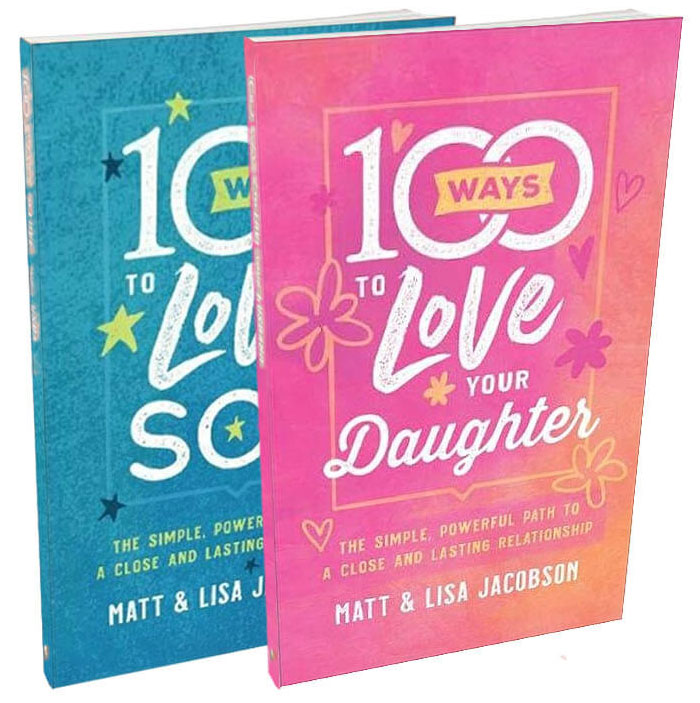 100 Ways to Love to Your Son/Daughter
You love your son and daughter–but that doesn't mean you always know the most effective ways to show that love, ways that will connect with their hearts, and stick with them no matter what life throws their way.
These practical books by the authors of 100 Ways to Love Your Wife and 100 Ways to Love Your Husband give you 100 specific, actionable ideas you can implement to show love to your children, no matter what age they are.
The best part? The short, bite-sized readings make it easy to start right now!