Those First 30 Minutes That Determine the Rest of Your Day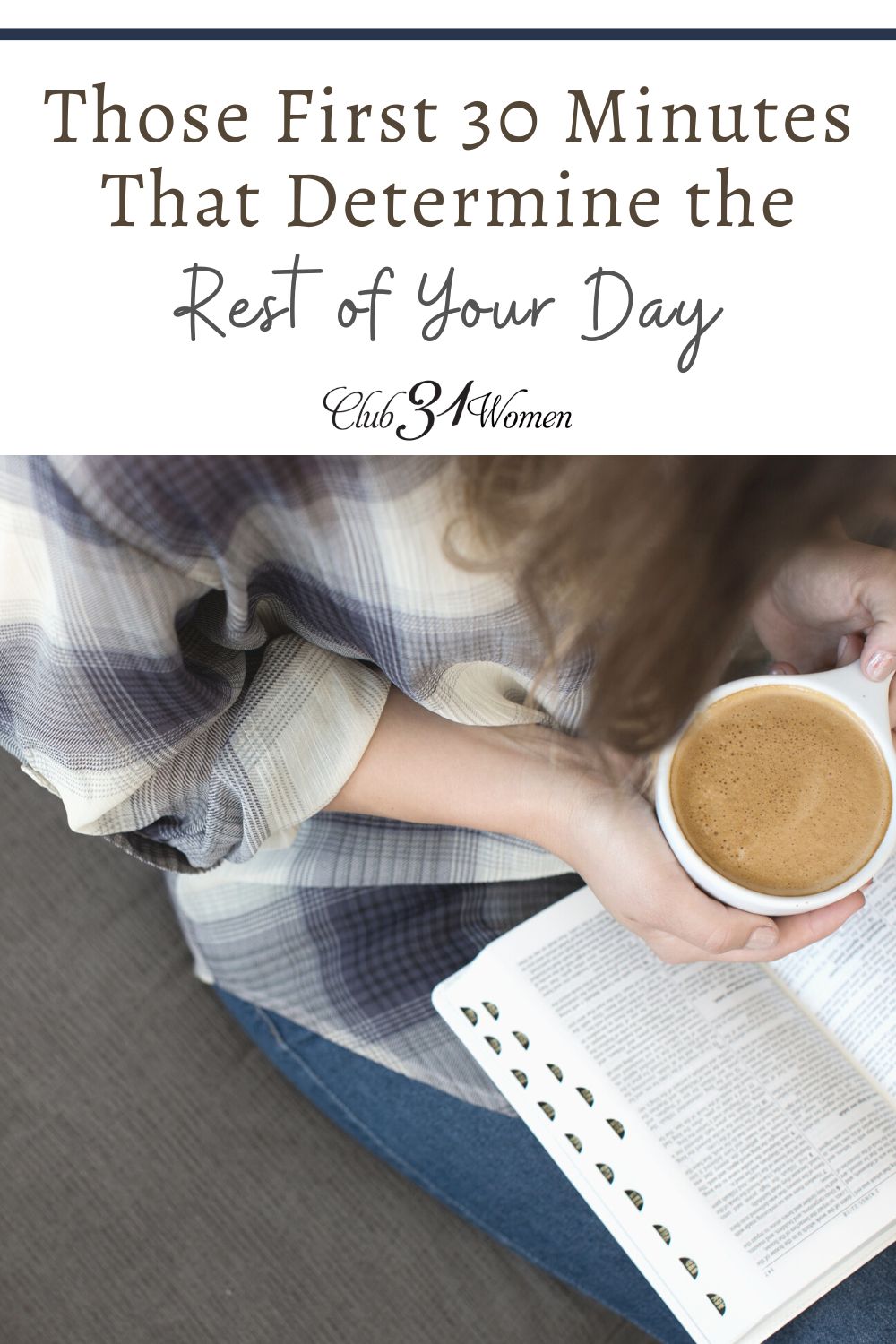 How do you start your day? The way it begins has a profound impact on you and your attitude – as well as the rest of your family and your life together.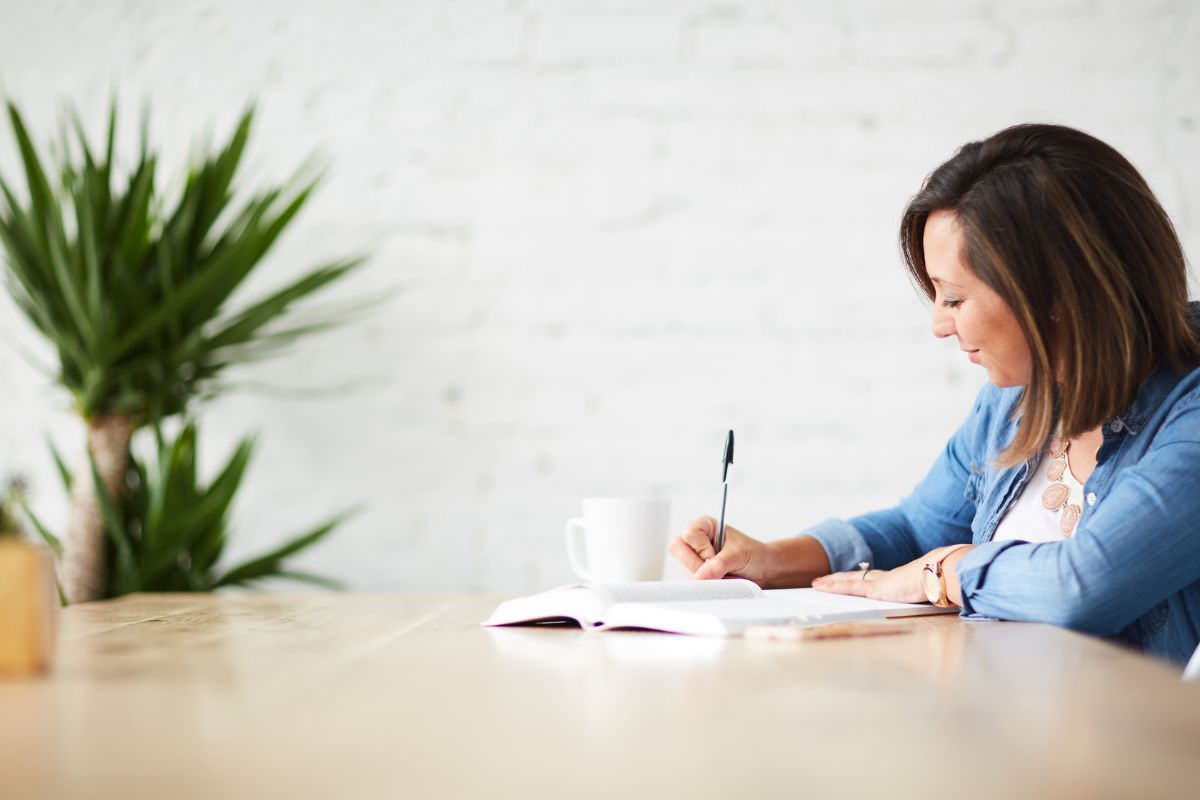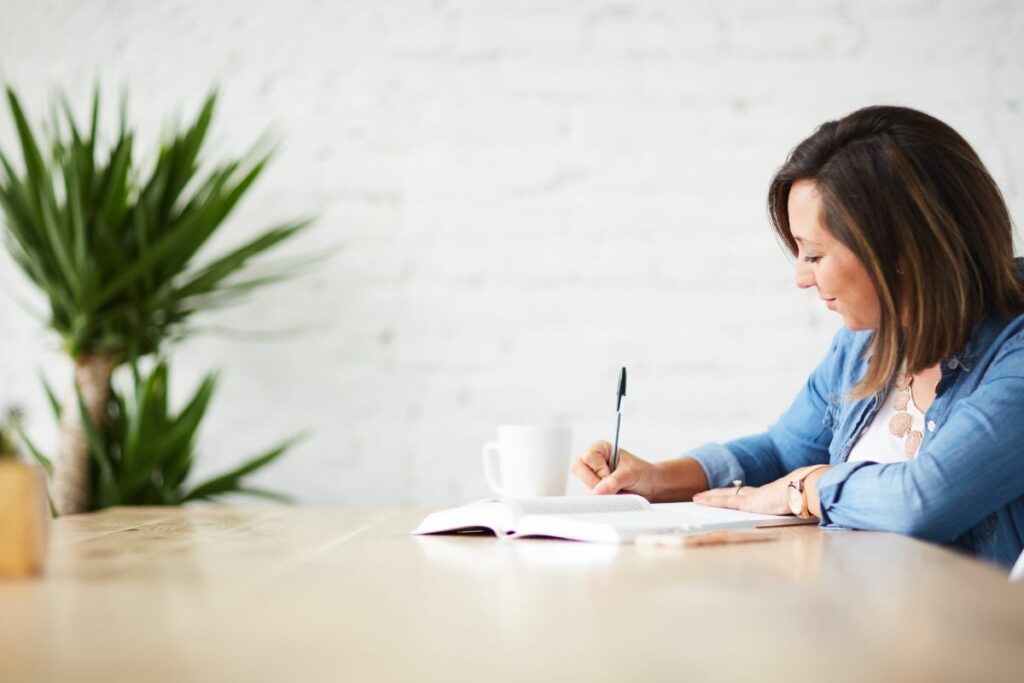 You probably already figured out that I'm not exactly a morning person.
As in, not really at all.
If I had my way, I'd stay in bed until the sun came streaming in through my bedroom window. Heard the birds chirping and could smell the coffee brewing.
And then I'd probably lay there for another half hour . . . or more.
No, you could never describe me as a Morning Girl.
What Makes a Big Difference in Starting Your Day
But I've learned something that has made such a difference in my heart and home that it now motivates me to get up. Early. Even set my alarm.
If she tells me that I should simply wake up earlier and read my Bible, I just might scream.
Okay, wait.
It's that.
But it's not just that.
Somewhere along my journey of walking with God and raising a family, I learned something. Something super important.
You might even say it's my secret.
The way I start my morning is what determines the rest of my day.
Maybe you think I'm exaggerating. Possibly making this up.
Except I'm not.
I couldn't be more serious.
How the day begins has not only a profound impact on me and my attitude . . . .it affects the rest of our home and our life together.
It's those first 30 minutes that set us up for the entire day.
And I mean all of us.
Because the spirit that I bring with me when I walk out my bedroom door is the spirit that pervades my home. If I can greet my family with a peaceful spirit – with a heart focused on God and His goodness and grace, rather than my to-do list or other pressures and troubles – then I am infusing our home with that same spirit.
Beginning the day with a kiss and loving eyes for my husband is a powerful thing. Starting off with a hug and cheerful "good morning" for our children does wonders for establishing the spirit of our home. But I find I can't fabricate those feelings—they have to come from the overflow of a full heart.
In other words, how I begin my day is how they begin theirs.
Turning Our Hearts to God
So you're saying that dutifully reading the Bible decides whether you're going to have a good day or not?
No, I'm not saying that.
Duty doesn't do it.
But worship? Adoration? Intentionally handing my day over to Him?
Yep. That does it.
Because when I begin the day by turning my heart to God and looking to Him for all I need?
I remember that we have everything necessary for whatever the day holds. From spilled milk to hurt feelings to serious illness. All things that I encounter in our home on a fairly regular basis.
And, to be honest, it can be a little overwhelming.
Sometimes a lot overwhelming.
So that little half hour? That one small start is a significant and sure-footed beginning to my day and the same with your day.
In those first thirty minutes, we are setting the tone for our hearts and our homes and, in many real ways, setting the course for our lives.
And that, my friend, is enough to turn anyone into a Morning Girl.
In Those First Thirty Minutes of Your Day
Worship
Why limit worship to that thing we do on Sunday mornings at church? Our God and Savior is worthy of so much more than that! So begin by acknowledging Who Christ is, what He has done, and all He is touching in your soul and life. (John 4:23)
Prayer
Spend a few minutes to thank God for the new day and ask Him to fill you with His strength and to reveal His purposes in it. If you wake up with a burdened heart, turn those requests over to Him, trusting Him who hears you and cares for you. (Philippians 4:6)
Meditation
While I save my more in-depth Bible study for later in the afternoon, I like to begin the day with one or two verses to focus my mind on His Word and cling to the truths found there. (Colossians 3:16)
Praise
I'm not sure if you're supposed to have "favorites," but when it comes to starting out the day, this one would be it. Humming a hymn or listening to a powerful song of praise while going about morning chores prepares and fills you up for the whole day. (Psalm 95:1-2)
Yes, in the morning when I rise, Give me Jesus.
How about you?
Let me hear in the morning of your steadfast love, for in you I trust. Make me know the way I should go, for to you I lift up my soul. ~ Psalm 143:8
In His grace,
Lisa Jacobson
*Special note for nursing moms: I found that I needed to adapt this practice somewhat—things like posting verses on 3×5 cards nearby and singing and praying while I nursed and changed the baby. Also, this: 4 Creative Ways for a Busy Mom to be In the Word.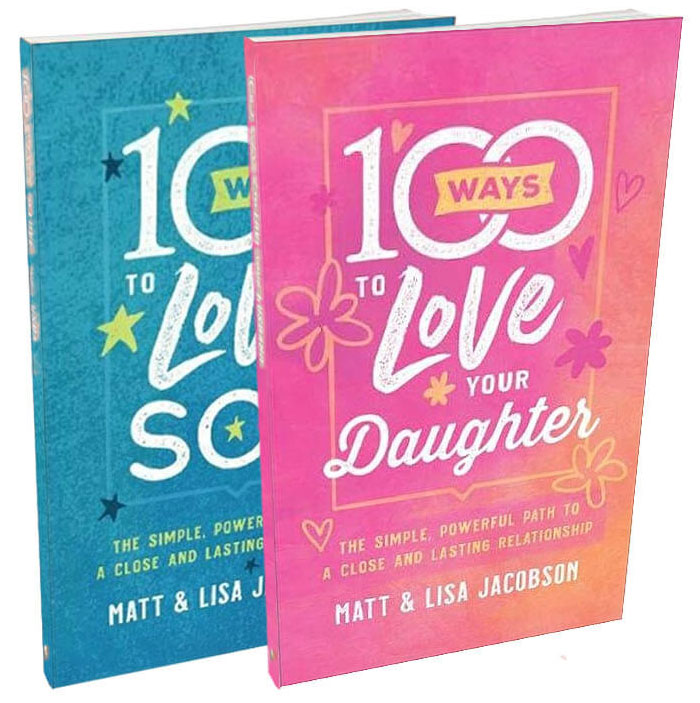 100 Ways to Love to Your Son/Daughter
You love your son and daughter–but that doesn't mean you always know the most effective ways to show that love, ways that will connect with their hearts, and stick with them no matter what life throws their way.
These practical books by the authors of 100 Ways to Love Your Wife and 100 Ways to Love Your Husband give you 100 specific, actionable ideas you can implement to show love to your children, no matter what age they are.
The best part? The short, bite-sized readings make it easy to start right now!