7 Ways to Lovingly Prepare Your Marriage for the Holidays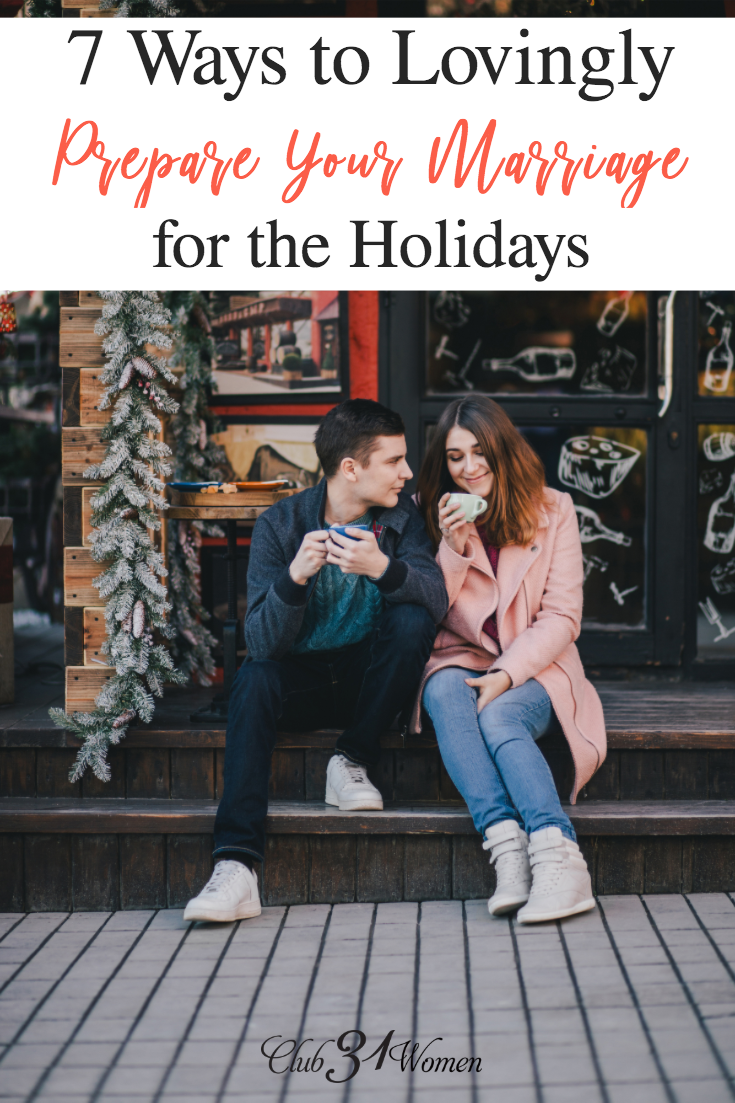 Drifting snow, twinkly lights, and a simple nativity scene. Mystery and joy. The beginning of the holidays in our marriage.
We were newlyweds living in those dreadful pink apartments and I was eager to have his family over to celebrate Christmas Eve with us. Everyone was invited over for "light snacks and a festive evening".
I put together a platter of cheese and crackers, a large bowl of popcorn, and an assortment of Christmas cookies. The doorbell rang and Matthew's parents, his sisters and their families poured in and soon our tiny apartment was full to overflowing.
Everyone was in good cheer and began nibbling on the goodies.
After an hour or two, however, something seemed wrong.
A slight tension.
Finally, my sister-in-law softly whispered, "Um…..I don't mean to be rude, but my children are starving! When are you going to serve the dinner?"
Dinner . . . ?
I'm quite certain that I had specified "light snacks" because, of course, that is what you do on Christmas Eve—saving your big, fancy meal for Christmas Day.
Yet apparently, that is not how they did it in his family. Not at all.
I suddenly realized that our small apartment was full of very hungry people who look forward to this special dinner every year. And I had unknowingly offered them a rather meager bowl of popcorn . . . .
And this new bride burst into tears.
Horrified. Embarrassed. Stressed. Upset. Even angry.
This was the first of many lessons I would learn about marriage, family expectations, and holiday traditions.

This post may contain affiliate links through which Club31Women might get a small compensation – with no additional cost to you.  See my disclosure policy here.
7 Ways to Prepare Your Marriage for the Upcoming Holidays
Thankfully, over the years I've learned some ways to help prepare our marriage for the coming holidays such as…
1) Communicate your expectations: Often, we assume our spouse knows what we value and expect over the holidays, but it's usually worth a conversation or two. You might both be surprised at the honest answer. You also might find that these things change over time.
2) Hold your traditions loosely: Traditions can be delightful – but they should never be held above your relationship. God cares more about the love and peace between you two than any long-standing traditions.
3) Protect your marriage: His family is important. Your family is important. But your marriage is your first priority, so make decisions together that are in keeping with that priority.
4) Keep it simple: I know, easier said than done. But if attending every event and upholding every tradition sacrifices the peace in your home? Is it really worth it? Probably not. Be willing to let go of some activities to lessen the stress.
5) Stick with your budget: Sometimes, the holiday stress stems from financial pressure, so determine your budget and then keep to it. Cut back your gift list, decorate simply, and make things at home. Debt is always a damper to the celebration.
6) Be considerate of one another: For instance, my husband is an extrovert and I'm the introvert. Basically he has more "party" in him than me. So we try to accommodate one another – each giving up a little for the sake of the other.
7) Keep Christ at the Center. He is the reason we are celebrating. It's not about the presents, cards, food, fun, or even family. It's about rejoicing in the Prince of Peace, amen?
For unto us a Child is born,
Unto us a Son is given;
And the government will be upon His shoulder.
And His name will be called
Wonderful, Counselor, Mighty God,
Everlasting Father, Prince of Peace. ~ Isa. 9:6
I hope some of these things help you both to enjoy a loving, joy-filled Christmas this year.
And now you know, if I ever invite you over for "light snacks" . . . well, I really mean it. 😉
Blessings on you and yours as we celebrate the birth of the Christ-Child and King!
In His grace,
Lisa Jacobson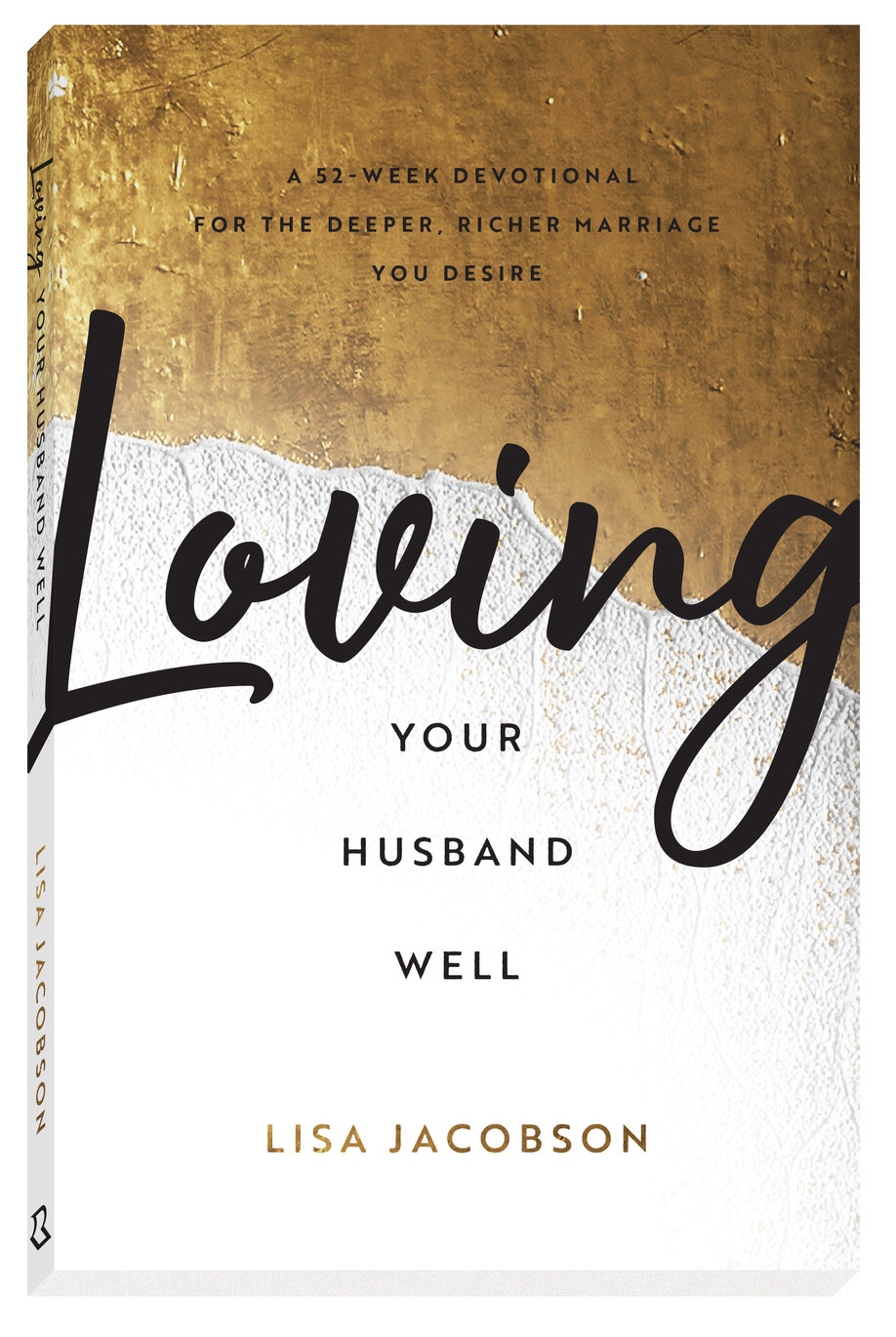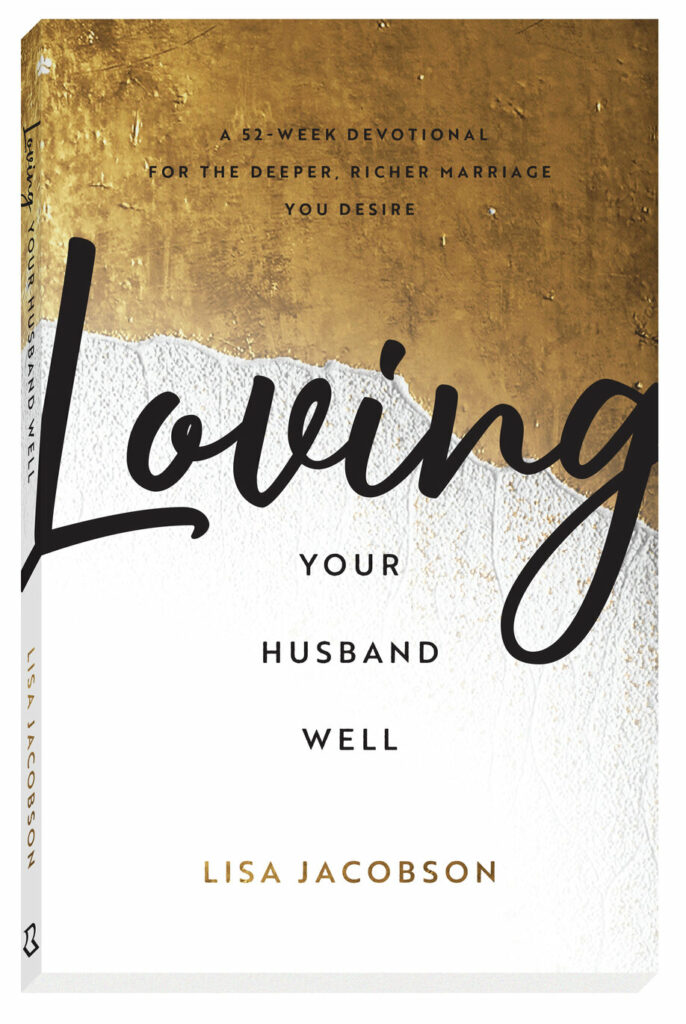 A 52-Week Devotional for the Deeper, Richer Marriage You Desire
An intimate, loving marriage is so much closer than you think

Imagine if, at the end of the year, despite your busy schedules and all the demands on your time and attention, you and your husband were more in sync, more connected, and more in love than ever before. Sounds amazing, right?

That kind of marriage is what is waiting for you as you read through the fifty-two weekly devotions in Loving Your Husband Well. Each entry includes a specific theme, related Scripture, a powerful devotion, thoughts for further reflection, practical ideas, and a prayer, all designed to help you love, cherish, and serve the man who shares life's journey with you.