Do You Want to Bring More Romance Into Your Everyday Marriage?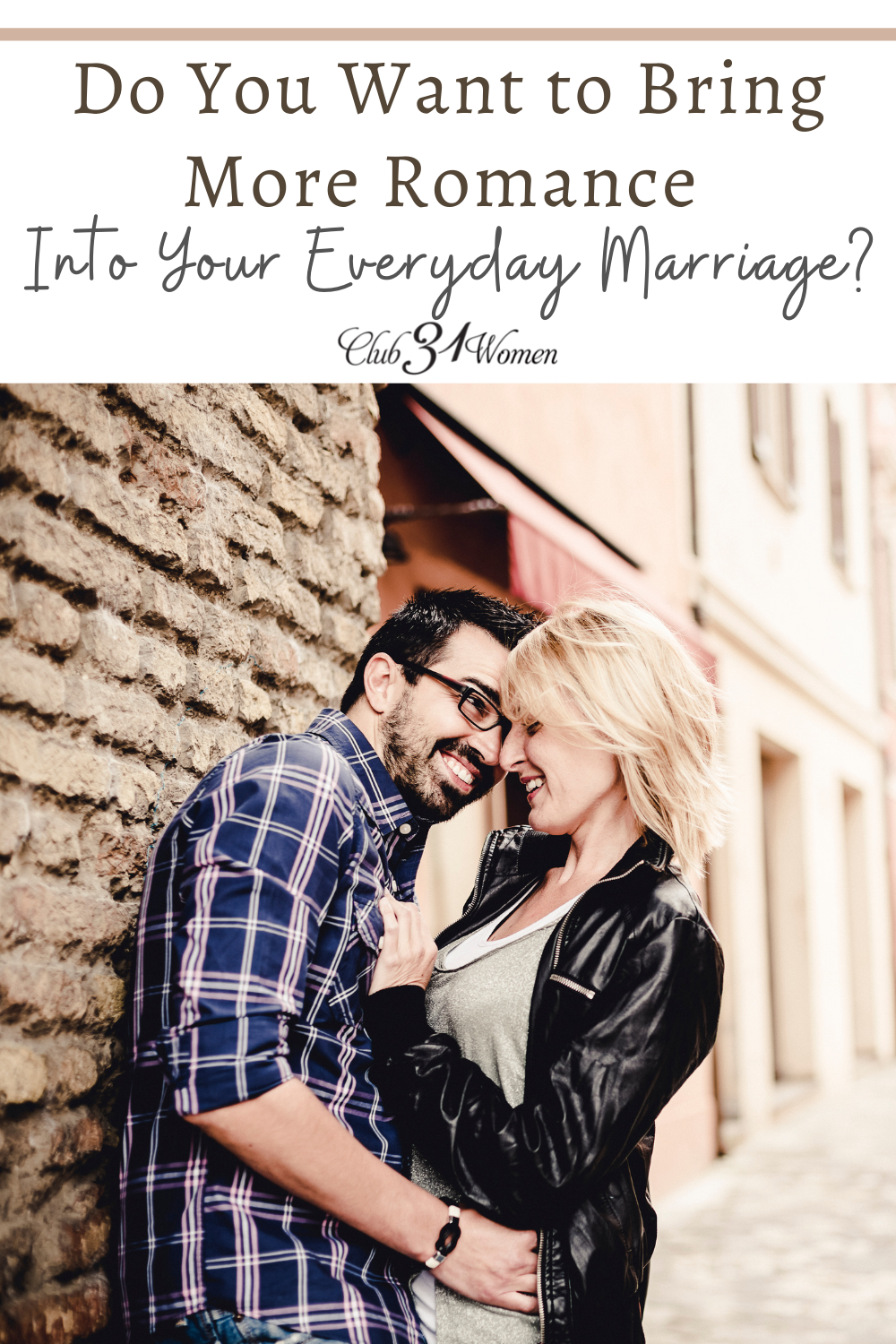 Are you ready to turn the heat up in your marriage? Consider adding some intentional romance and watch it turn sparks into flames!
I'd say it started with a phone call from my friend, Phylicia, although in some ways, it started long before that.
She rang me up to tell me about this creative idea to cultivate more romance in her marriage. She was determined to put more passion and playfulness back into their relationship—finding herself discontent with the current state of their five-year marriage. In her words, it was "more like a meeting between two coworkers than two lovers in the kitchen."
So my friend decided to take intentional steps toward making a change in their marriage. She sat down and wrote down thirty ideas to try—ranging from "kiss him longer when he leaves" to "tell him a joke" to "start dancing with him in the kitchen."
She called it…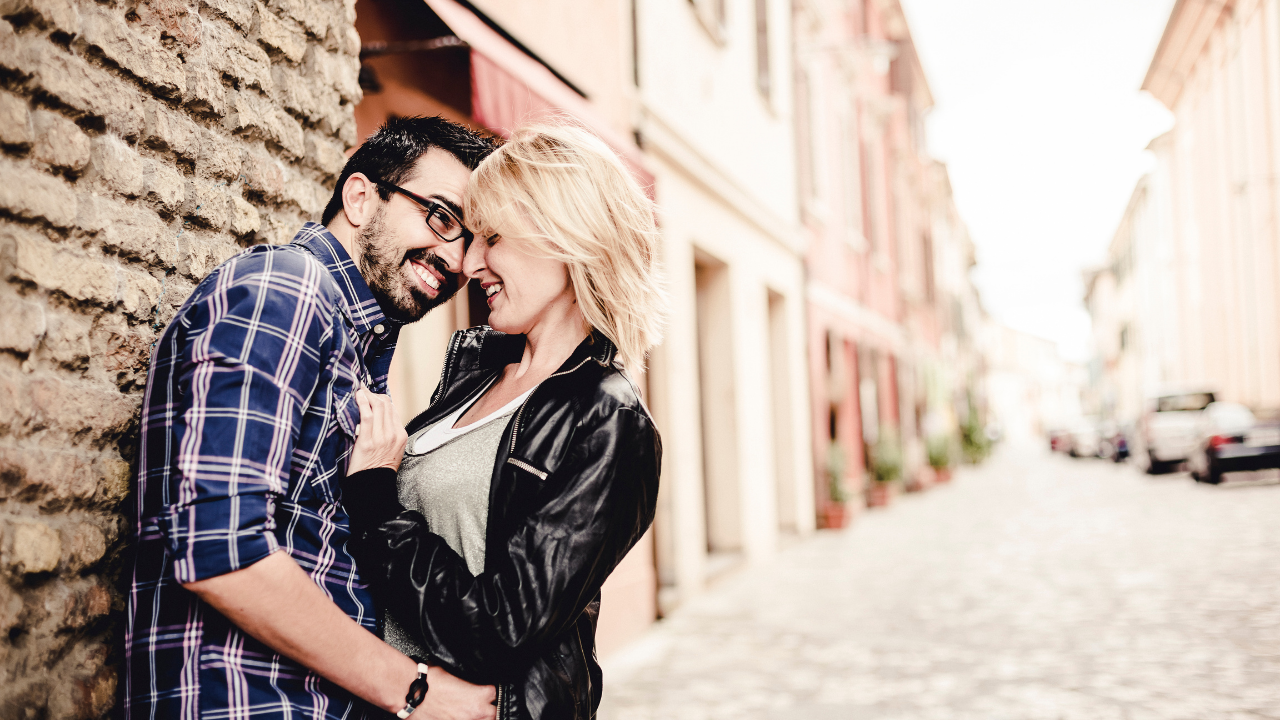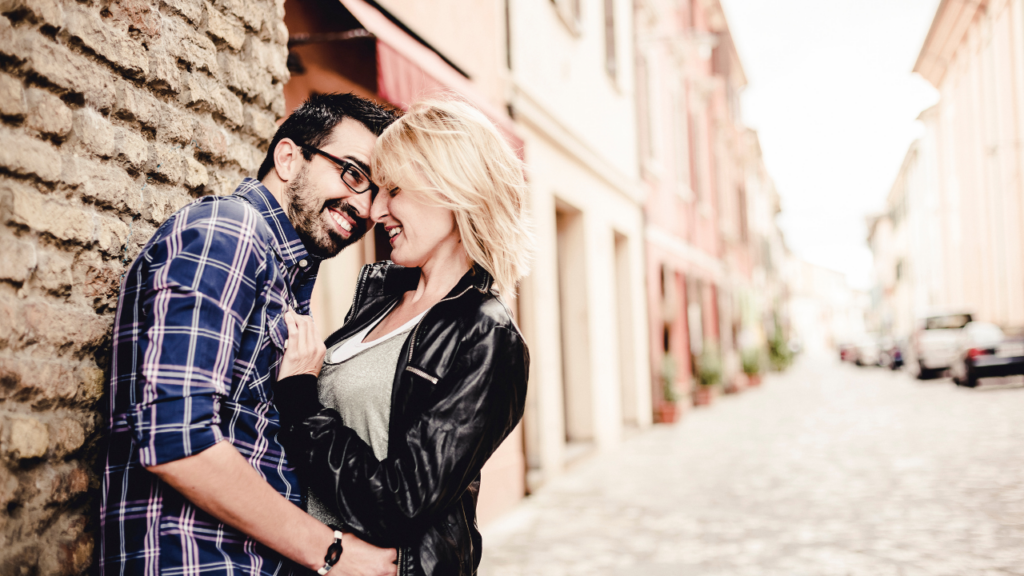 Although initially, she was a little nervous about pursuing her husband, Josh, like this — wondering what in the world he'd think — it turned out her light flirtations were well-received—and even reciprocated! He surprised her with a bottle of wine on a weekday. He asked about her work. They teased each other and laughed again.
Phylicia was so thrilled by the results of her romantic experiment that she called me up to tell me about this amazing transformation.
Finding True Romance
Intrigued. That was my first response to Phylicia's findings from her flirtation experiment.
I was intrigued more than surprised because I had also stumbled upon a similar phenomenon in my marriage of twenty-eight years. I half-jokingly admitted to her that I was something of a "professional flirt" with my husband, although that might have been the first time I'd put a name to it.
So much of the "magic" people sensed in my own marriage was actually due to our behind-the-scenes flirtation.
I tease, touch, and romantically pursue Matt all the time. Or, at least, often. Because what started as flirty fun in the earlier years of our marriage proved to be far more impactful than I ever would have imagined. I unexpectedly found that our playful passion spilled over into so many other areas of our relationship too.
I noticed that flirting seemed to improve our overall communication and made it easier to work through the hard stuff when it came up. Not only that, but our light flirtations somehow brought us closer, leading to an even deeper connection.
Our playful flirting turned everyday situations into a true romance.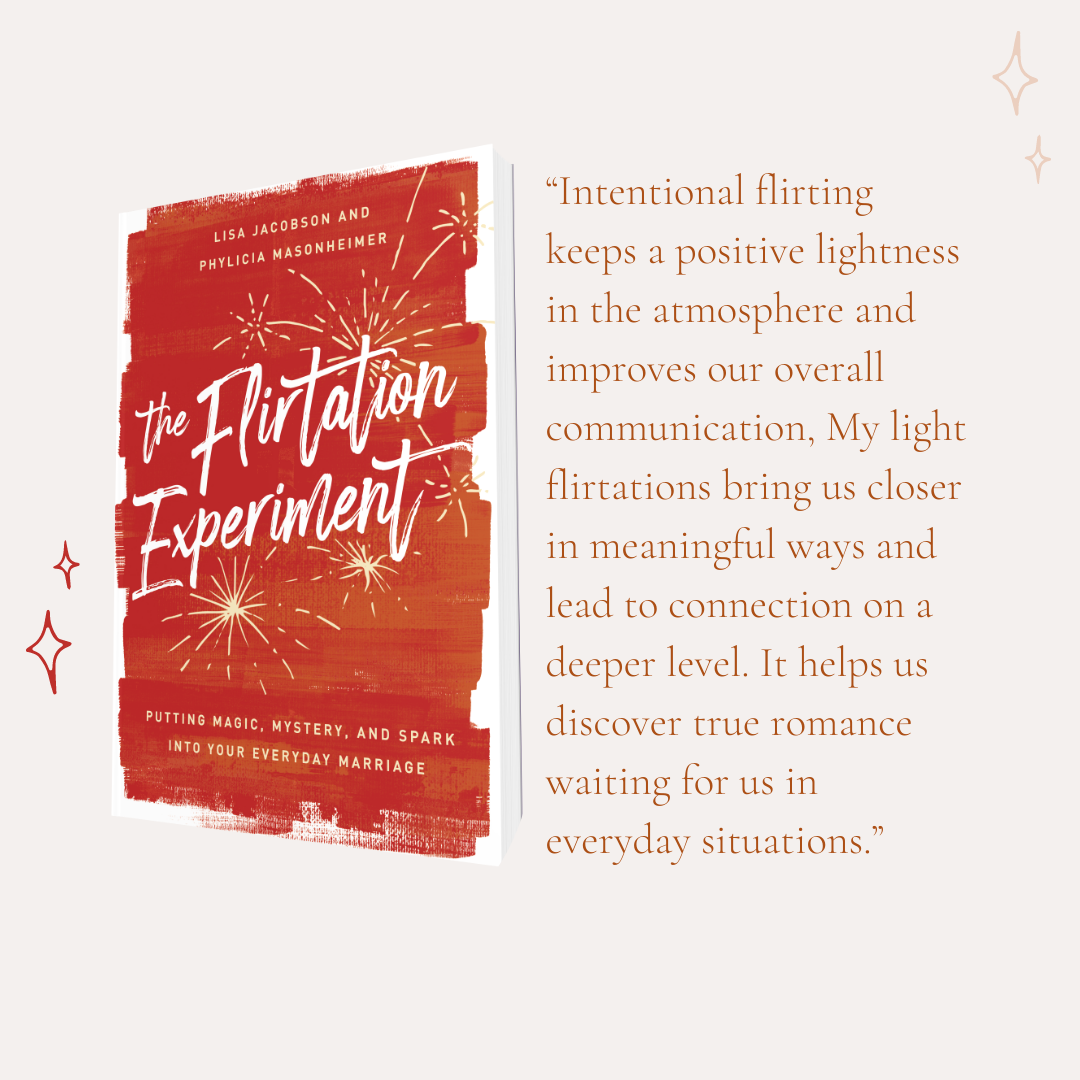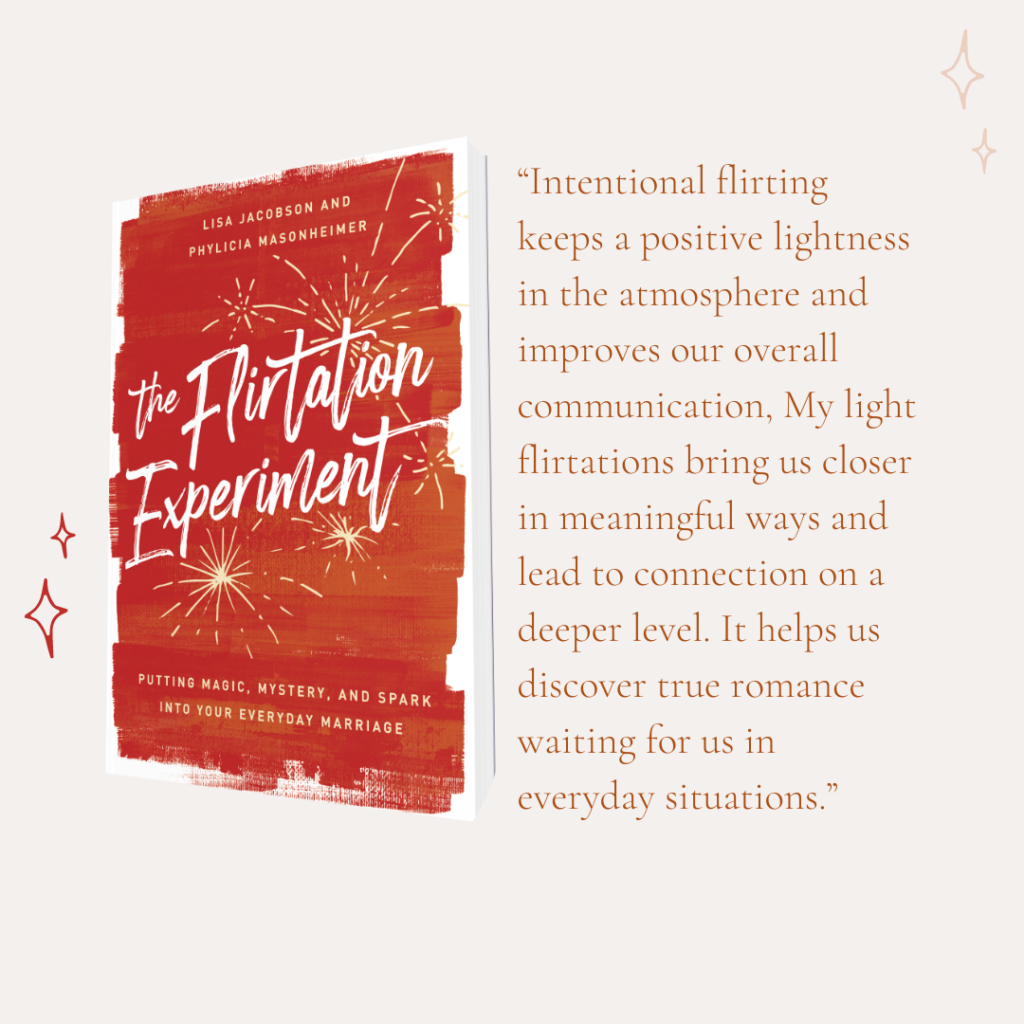 Pursuing My Man
I didn't become serious about my own Flirtation Experiment until about seven years into our marriage. I found myself feeling drab and lonely, struggling with the noisy demands of having four children ages five and under. Then one day, Matt returned home from work and came up behind me as I was preparing dinner. He lovingly wrapped his arms around me. . . but all I felt was worn-out and annoyed. I carelessly shrugged off his attempt at affection.
Then suddenly, I had this thought: What if I didn't brush him off? What if I turned around and leaned back into him instead? I found the answer to my curiosity when the kitchen nearly caught fire with our stirred-up passion.
And that's when it dawned on me: Here, I'd been quietly blaming him for the dull rut we'd found ourselves in when maybe it was me who needed to do things differently.
I realized that I could do things differently. So from that time on, I became purposeful in pursuing my man. I tried to think of the many ways to light more fires and bring more romance into our busy everyday lives.
Nearly three decades later, The Flirtation Experiment continues, and our marriage is all the better for it—richer, deeper, and more fun than ever.
The Power of Pursuing Love
Are you ready for some good news? If you're interested in setting up your own flirtation experiment, it's all laid out in our new book, The Flirtation Experiment.
Yes! My co-author, Phylicia, and I share what we did, how we went about it, the barriers we had to overcome, and how our husbands responded to our flirtation. We also discuss the biblical precedents for each flirtation experiment we chose to carry out.
Our hope is that if you decide to do your own Flirtation Experiment that you'll find the power of pursuing love—and the fun of flirting with your man—only the beginning of something truly beautiful for you both.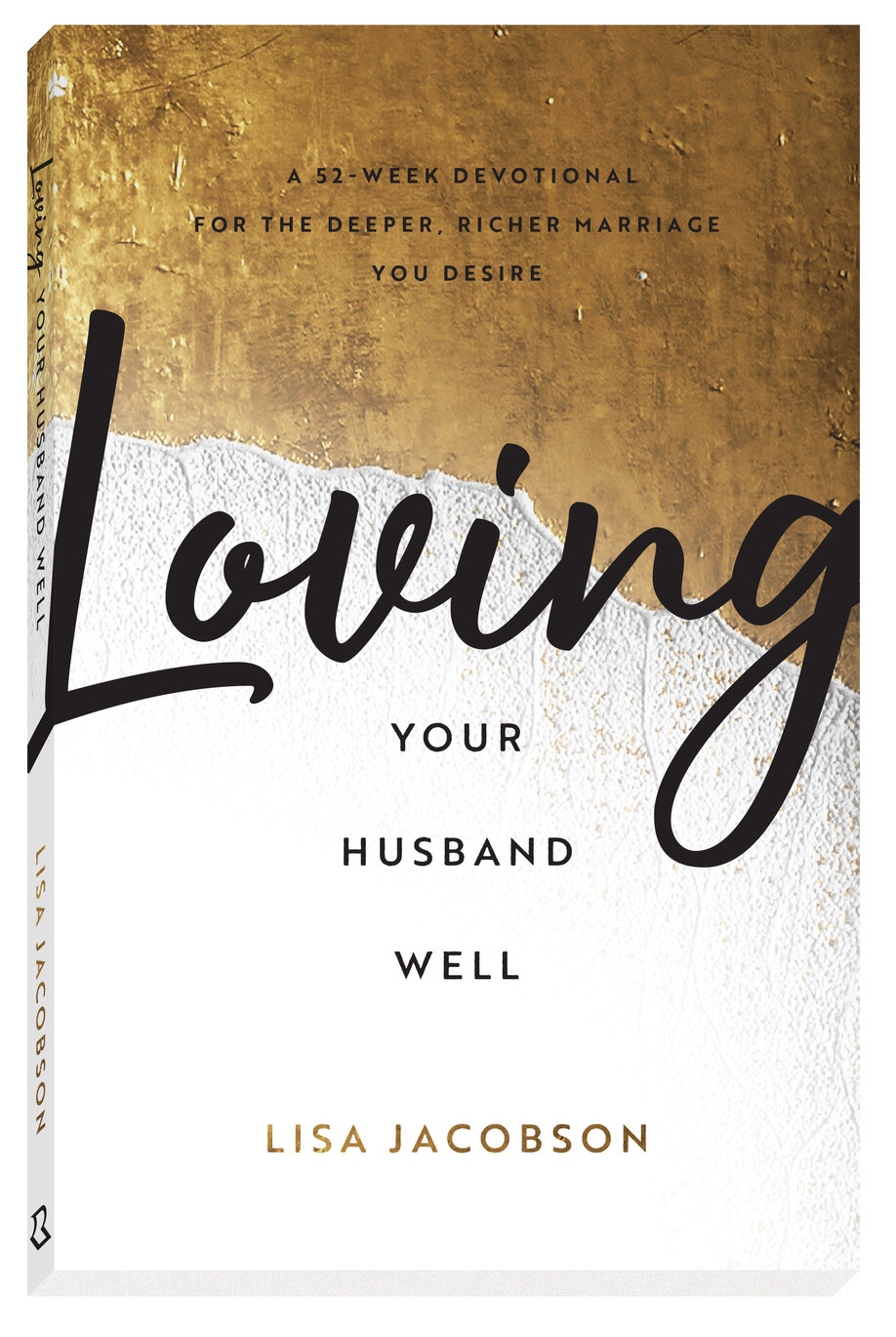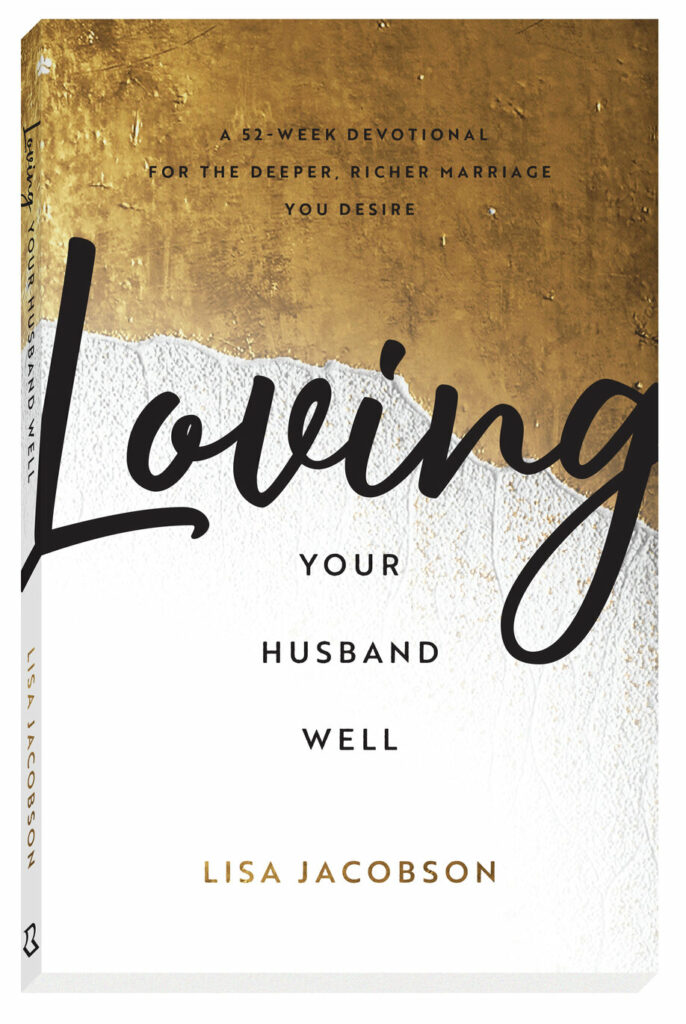 A 52-Week Devotional for the Deeper, Richer Marriage You Desire
An intimate, loving marriage is so much closer than you think

Imagine if, at the end of the year, despite your busy schedules and all the demands on your time and attention, you and your husband were more in sync, more connected, and more in love than ever before. Sounds amazing, right?

That kind of marriage is what is waiting for you as you read through the fifty-two weekly devotions in Loving Your Husband Well. Each entry includes a specific theme, related Scripture, a powerful devotion, thoughts for further reflection, practical ideas, and a prayer, all designed to help you love, cherish, and serve the man who shares life's journey with you.