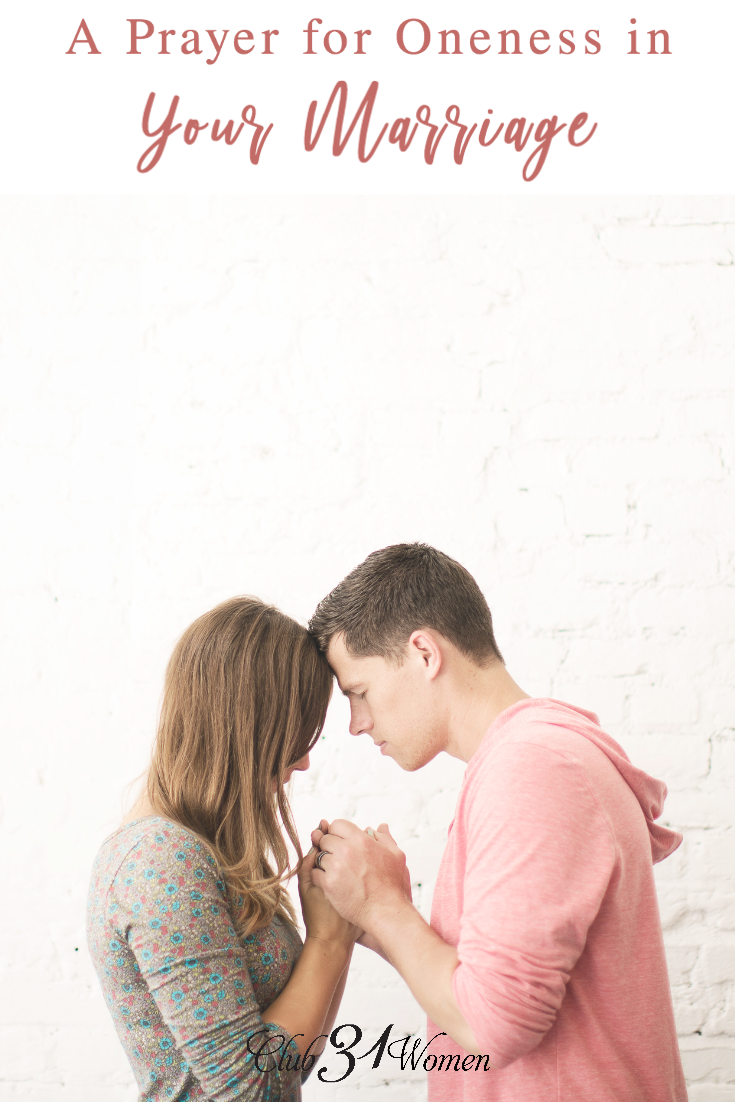 Praying regularly for your marriage is one of the best ways to invest in it.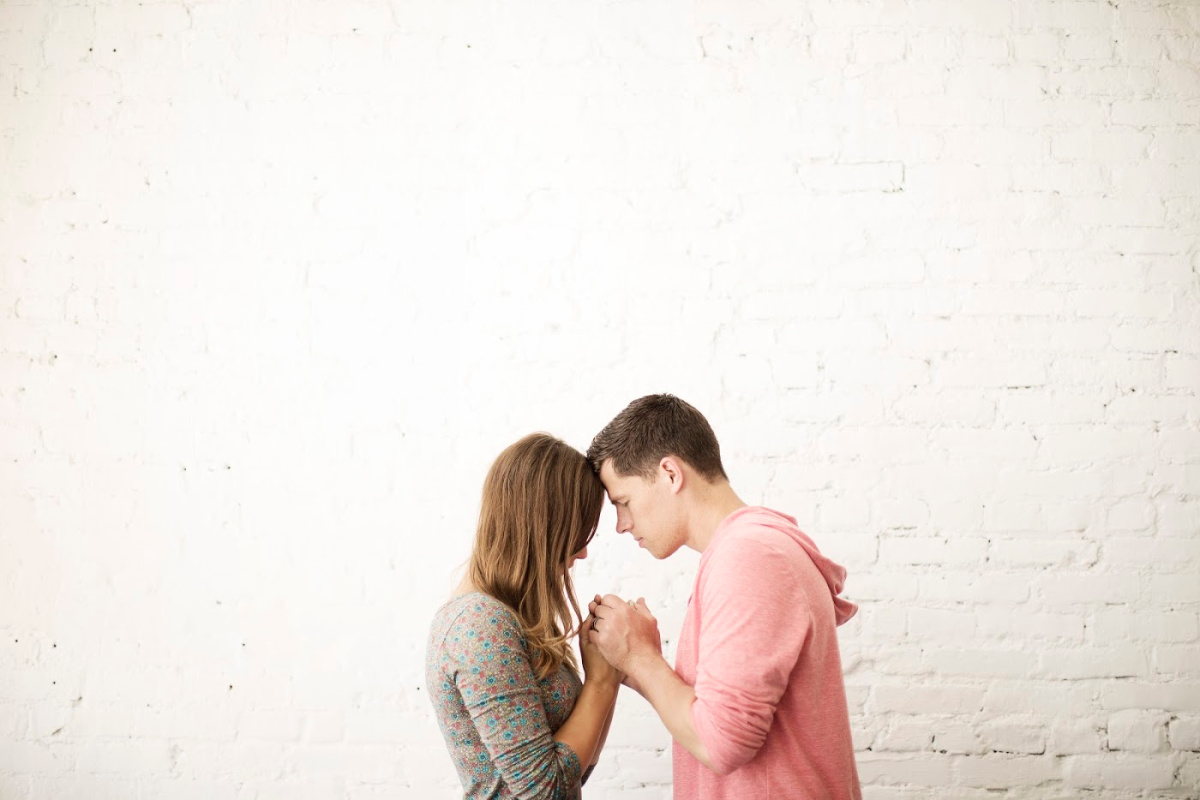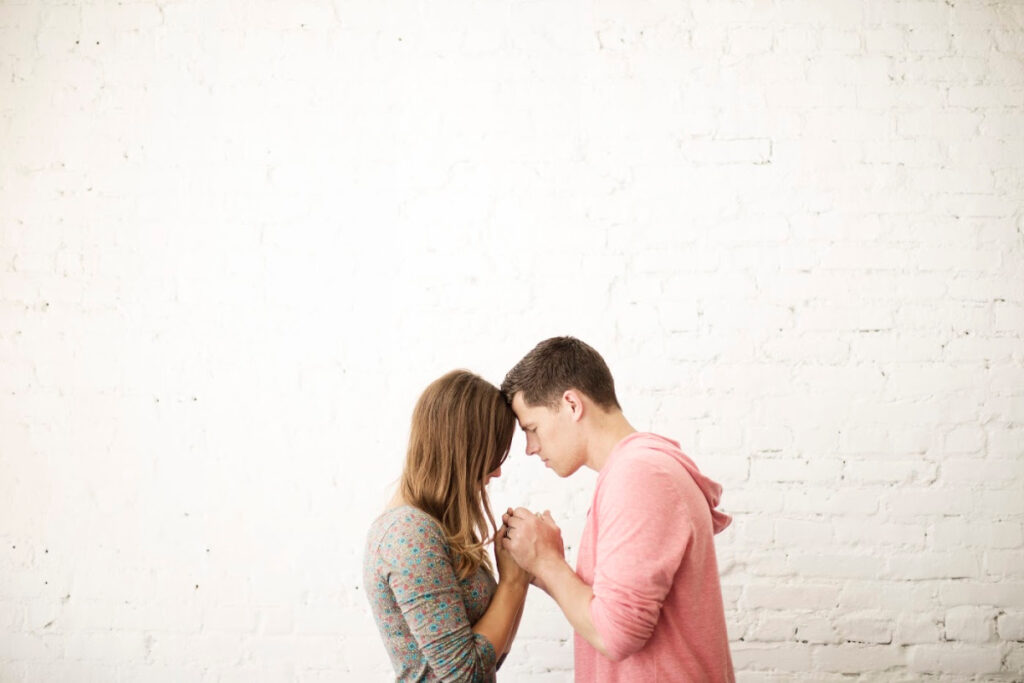 John and I have been married for 50 years.
We have five grown kids-all married and 21 grandchildren. Yes, this still shocks me!
The greatest desire of my heart, and probably yours too, is that my kids will love the Lord and each other. I long for this passion to continue throughout generations to come.
However, I know this will take a lot of prayer, a lot of forgiveness, and a lot of God's grace.
Every Tuesday, I focus on praying for our six marriages (5 married kids, plus me and John =12 people. Now, that's higher math!).
Dear Father,
You have called all 12 of us into marriage. It was your creation that you might be glorified by it. Lord, please be protecting our unions.
Give to each of us:
A sweetness of speech
A desire to work through struggles and stick to it when we are tempted to flee
Eyes only for each other
A desire to serve the other
The discipline to quickly forgive and to ask for forgiveness
A sense of how we are fitting together-us two being better than one.
The willingness to really listen and consider the other's view instead of "presuming"
A growing thankfulness for one another
A time to pray together
A time to laugh
Deliver us from:
Taking one another for granted
Failing to appreciate or to build-up
Wandering eyes
From those who would tear apart our marriage
From work overtaking relationships
Please:
Keep adding layers and layers of glue into our unions and molding us into oneness.
Amen
My list isn't "done." It's always changing because we'll always need His grace and power to keep growing in our marriages!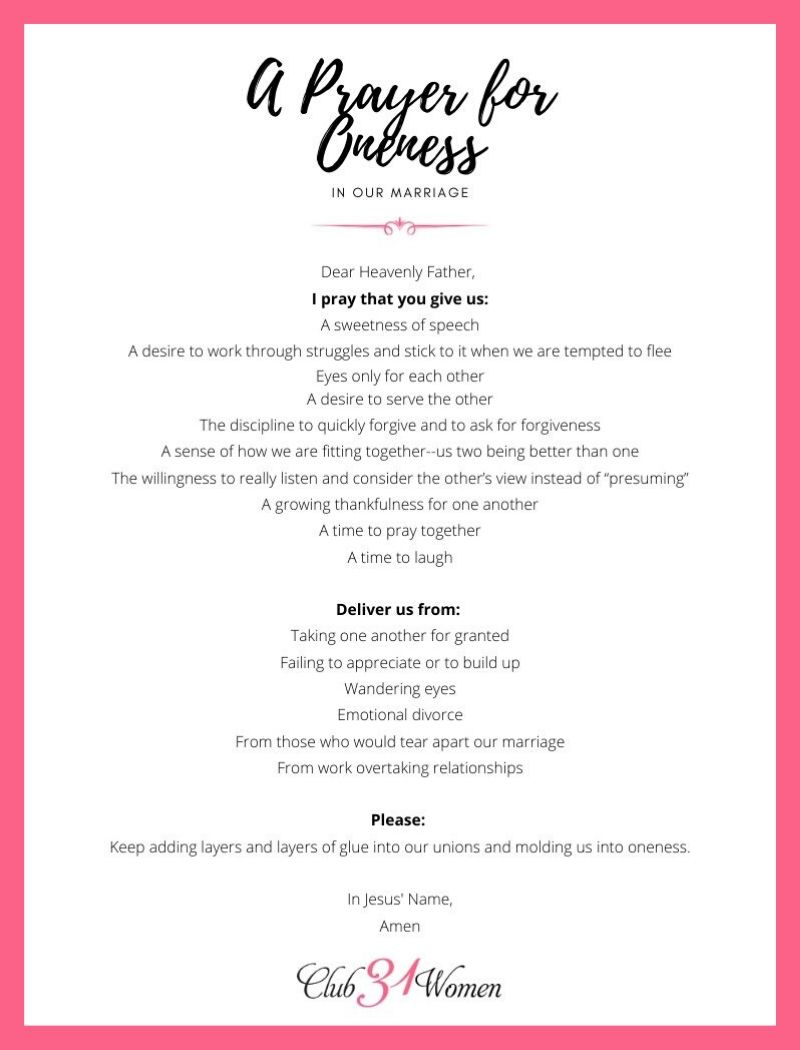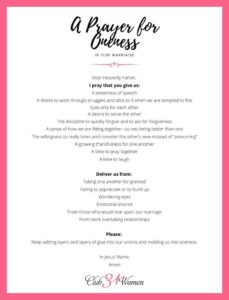 To download the free printable of the prayer, simply click the link below:
Blessings on you and your marriage,
Susan
Are You Missing Out On the Power of Prayer in Your Marriage?
Prayer is missing from so many marriages . . . is it missing from yours? Want your spouse to change? Talk to God about it! And, remember, He's at work, even in the silence!
Join Matt and Lisa in this encouraging conversation on the FAITHFUL LIFE podcast about the impact prayer can have on your marriage!
You can listen HERE or press "play" below!
FAITHFUL LIFE podcast
Matt and Lisa Jacobson, authors of 100 Ways to Love Your Husband and 100 Ways to Love Your Wife, are the hosts of a weekly podcast to talk about what it means to be a biblical Christian in marriage, parenting, church, and culture. Matt and Lisa offer deep encouragement, along with practical steps and true-life stories, as we grow in walking the faithful life together.
Subscribe to the FAITHFUL LIFE Podcast
Subscribe to the podcast on iTunes, Google Play, Google Podcasts, Spotify, iHeartRadio, Stitcher, Castbox, or (my personal favorite) Pocket Casts. Get notified each week when a new episode is available! New to podcasts...but don't know where to start? It's quite simple. Click here to learn more!
This post may contain affiliate links through which Club31Women might get a small compensation – with no additional cost to you.  See my disclosure policy here.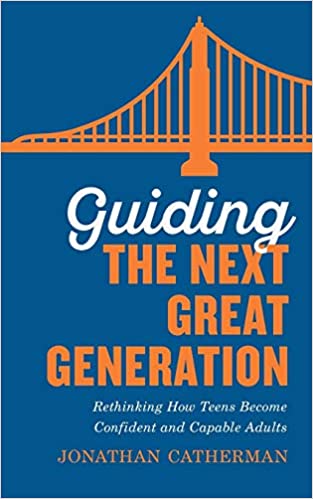 It's cliché to say today's adults hope the best for the next generation, yet fear the worst. As the gap between generations widens and our shared experiences dwindle, adults find it increasingly difficult to connect with and remain relevant to today's young people. So the question is, what values can we pass on that will help them to become the next great generation? And how do we communicate those values effectively?
In this paradigm-shifting book, Jonathan Catherman shares with adults raised in the 1900s a fresh look at guiding 21st-century youth to become confident and capable adults. With relevant research and real-world examples, Catherman shows us the benefits of practicing and teaching four principles that will unite and empower us all:
– build bridges between generations
– transform raw talent into valued strengths
– practice stewardship before leadership
– live with purpose
Whether the emerging generation knows it or not, they need you. Their greatness tomorrow begins with your guidance today!
Susan Alexander Yates is a mom to five children (including a set of twins) and grandmother to 21 (including a set of quadruplets!). Susan and her husband John have been married 51 years. Susan has written 16 books and speaks on the subjects of marriage, parenting, faith, and women's issues. Susan's favorite time of the year is June when all her kids and grandkids are together for a week of "cousins and family camp" in the foothills of the Shenandoah Mountains of Virginia.