Ready for Spring? Here are 20+ Fresh, Beautiful Picture Books About Spring!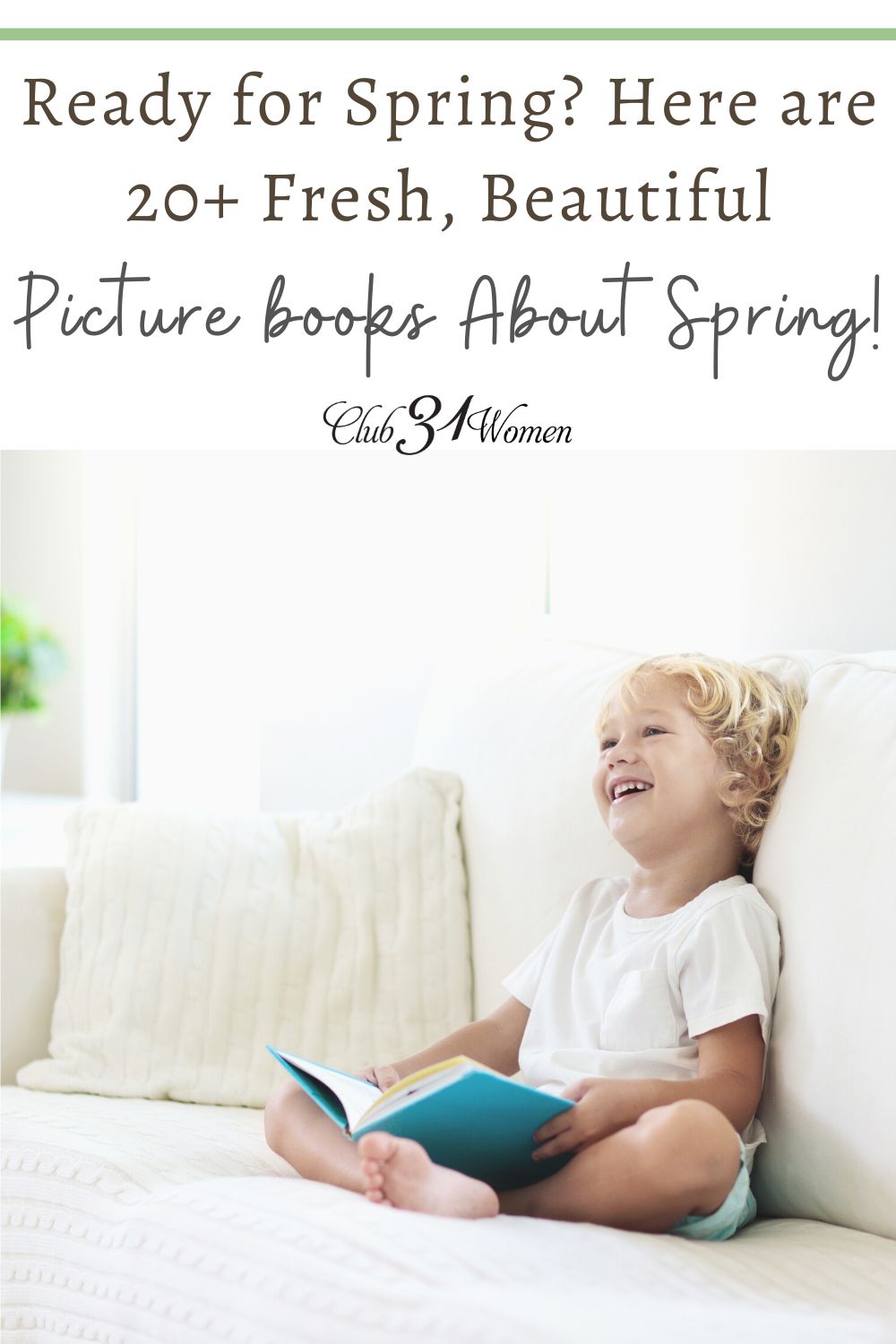 Jump into the season with this list of amazingly illustrated picture books about spring. Allow the magic of spring to fill your heart and imagination!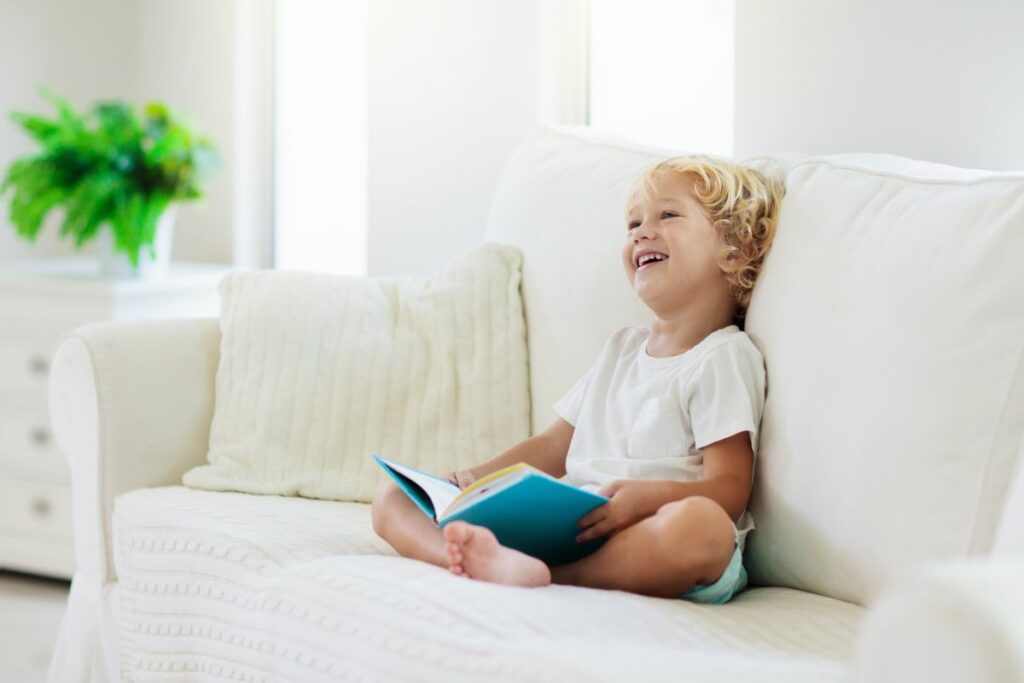 When I was a girl, I knew spring was on the way by the green shoots of daffodils and hyacinths popping up in our flowerbeds. We rarely had snow even in the winter months, but the faithful bulbs were a welcome sight amid the seemingly never-ending April showers.
Now that I live where snow can linger into March and come again as a bit of an April Fool's, the signs of spring aren't always quite so obvious. But when my children's windowsills fill up with pots of tiny green shoots of vegetable plants and flowers, I know spring must be around the corner.
Here on our farm, spring is synonymous with seeds, sprouts, and salad greens. So many of our favorite picture books for this time of year have to do with gardening (picture books, after all, can be an integral part of homeschool nature study!). Below I'll share some new picture book titles and a few vintage favorites—all celebrating the themes of growth, beauty, and seasons.
This post may contain affiliate links through which Club31Women might get a small compensation – with no additional cost to you.  See my disclosure policy here.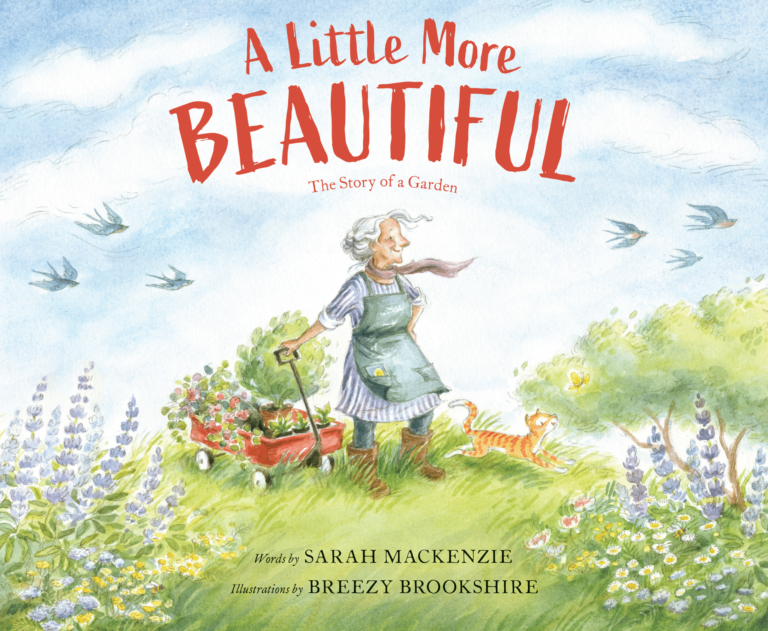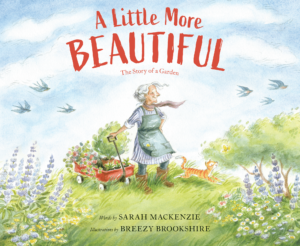 Lou Alice was a little old lady who was sly as a fox, swift as a bird. Every day, she went on a walk through her little town. And then one day, she made a decision… This sweet tale is a touching read-aloud (the last pages make me cry every time!). On some pages, the lovely illustrations from Breezy Brookshire tell the story—no words needed.
Alice dreamed of going to faraway places when she grew up and living by the sea when she got old, just like her grandfather. But he told her there was one more thing she must do, as well. The story of how Alice became known as "The Lupine Lady" is a classic that belongs on every family's bookshelf!
This epistolary tale evokes a lot of emotions! When Lydia Grace has to go live with her uncle in the city, she's afraid there won't be anywhere to plant seeds. Full-page illustrations fill in the blanks between Lydia Grace's letters. And the ending is heartwarming indeed.
This book from the "Fixer Upper" family was an instant favorite in our home and earned a permanent place on our bookshelf. From the pretty little fern that came home with Daddy one day to the Gaines family planting their own outdoor garden, this is a fun tale full of charming illustrations and amusing little side notes.
The Baby Believer® primer board books are full of bright colors, pretty illustrations, and simple biblical truths (they make fabulous baby shower gifts!). Each page spread shares one concept with a few thoughts or a verse of Scripture. The Kingdom of Heaven: A Gardening Primer uses verses such as 1 Corinthians 3:9 and the Parable of the Sower in Luke 8:15 to teach children about their part in God's kingdom.
I'm so glad that this story of Little Seed and Little Fox (an unlikely pair of best friends!) is a favorite with my youngest because it is filled with truths I want her to learn by heart. Little Seed has to learn to trust that the Farmer has a good plan and can be trusted through the changes and seasons, scary though they might be.
This Brambly Hedge tale is bursting with spring! It's Wilfred's birthday and unbeknownst to him, there's a surprise party being planned at the Palace roots. The sweet illustrations and friendly anthropomorphic mouse community of Brambly Hedge make this story a delight.
This vintage book pairs Cicely Mary Barker's whimsical art with her poems for each flower fairy—daisies, daffodils, dandelions, primrose and pussywillows and so many more! (Another antique title to look for is Marigold Garden by Kate Greenaway.)
In the first half of this book, it's winter. With falling snow, a frozen pond, and sleeping fish. But then! One morning, the early light illuminates the hills and the winter begins to thaw. Goodbye Winter, Hello Spring!
Bright, colorful illustrations and big, bold text characterize Ehlert's books. Planting a Rainbow is a celebration of planting flowers in a rainbow of colors—from seeds and bulbs. Be sure to check out Waiting for Wings and Growing Vegetable Soup as well.
"Bzzz… What's that? Do you hear it? You're near it. It's closer, it's coming, it's buzzing, it's humming…" This brightly colored book with larger-than-life illustrations is filled with fun rhymes and a few simple facts about bees.
A is for Amaryllis, B is for Buttercup, C is for Crocus… An alphabet bouquet!
This book made us laugh! Mr. McGreely finally plants his dreamed-of garden, only to have three hungry bunnies appear. His efforts to protect his vegetable garden are hilarious, making it a fun book to read with little ones.
Lyrical text and luscious illustrations are interspersed with a wide variety of facts about seeds and germination. Be sure to look for more of Aston's books, including An Egg is Quiet, A Nest is Noisy, and A Butterfly is Patient.
The illustrations in this book are filled with so much detail! The pages alternate between "up in the garden" tasks like weeding and watering and the "down in the dirt" activities of the bugs and roots.
A little boy planted a carrot seed. Everyone said, "It won't come up." But every day, he faithfully watered and weeded and waited. A classic tale! (If you can find a copy of A Hole Is to Dig, it's also adorable.)
The illustrations of Eloise Wilkin make this celebration of the wonders of nature a sweet read-aloud. Though it's not mentioned in the text, it's easy for parents to point out that these wonders are thanks to our amazing Creator! Other Eloise Wilkin favorites include The Wonders of the Seasons and Poems to Read to the Very Young.
"Baby animals come big and small" — and baby animals are synonymous with spring. This sweet introduction to baby animals of all kinds often comes in board book form for littles. Another favorite from Gyo Fujikawa is Oh, What a Busy Day! which includes poems and pictures for each season of the year.
When his lamb's coat is ready, Pelle shears the wool. Then he trades with his grandmother, mother, and others in the town for their help in making him a new suit. The illustrations are simply charming—and I love how the book encourages industriousness, as well! More Beskow titles featuring spring scenes include Emily and Daisy and Children of the Forest. (We've also enjoyed The Story of the Root Children by Sibylle von Olfers.)
"Mama, is it summer yet?" asks the little boy over and over. And on each page, his mother explains how it's still spring. But in the last pages of the book, summer finally arrives! Perfect for reading as summer approaches.
The never-ending rain and mud may not be my favorite, but they are a harbinger of the green that means spring is on the way. And hope springs anew!
Because He Lives,
Gretchen Louise
P.S. Want something new in your audiobook collection for the spring? Check out these titles on Audible:
Looking for books to help you celebrate the Resurrection?
Here at Club31Women, we recognize that not everyone has the same taste or point of view on books, music, or movies, but we offer these short reviews for your consideration. Our hope is that you will find something new and wonderful on this list of recommended resources!
~ Lisa Jacobson, Club31Women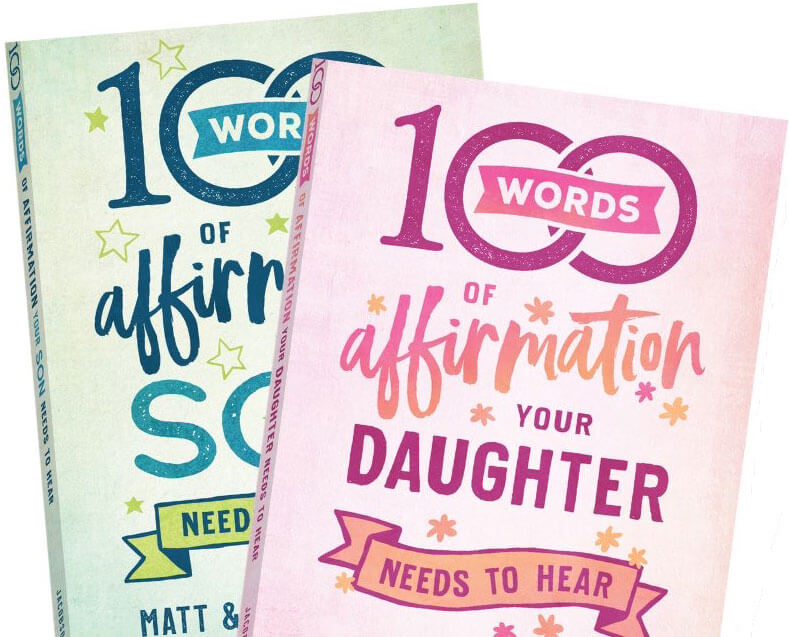 100 Words of Affirmation Your Son/Daughter Needs to Hear
Matt and Lisa Jacobson want you to discover the powerful ways you can build your children up in love with the beautiful words you choose to say every day–words that every son and daughter needs to hear.
These affirmation books offer you one hundred phrases to say to your son or daughter – along with short, personal stories and examples – that deeply encourage, affirm, and inspire.
So start speaking a kind and beautiful word into their lives daily and watch your children–and your relationship with them–transform before your eyes.