How to Strengthen Your Mom Heart with this Encouraging Devotional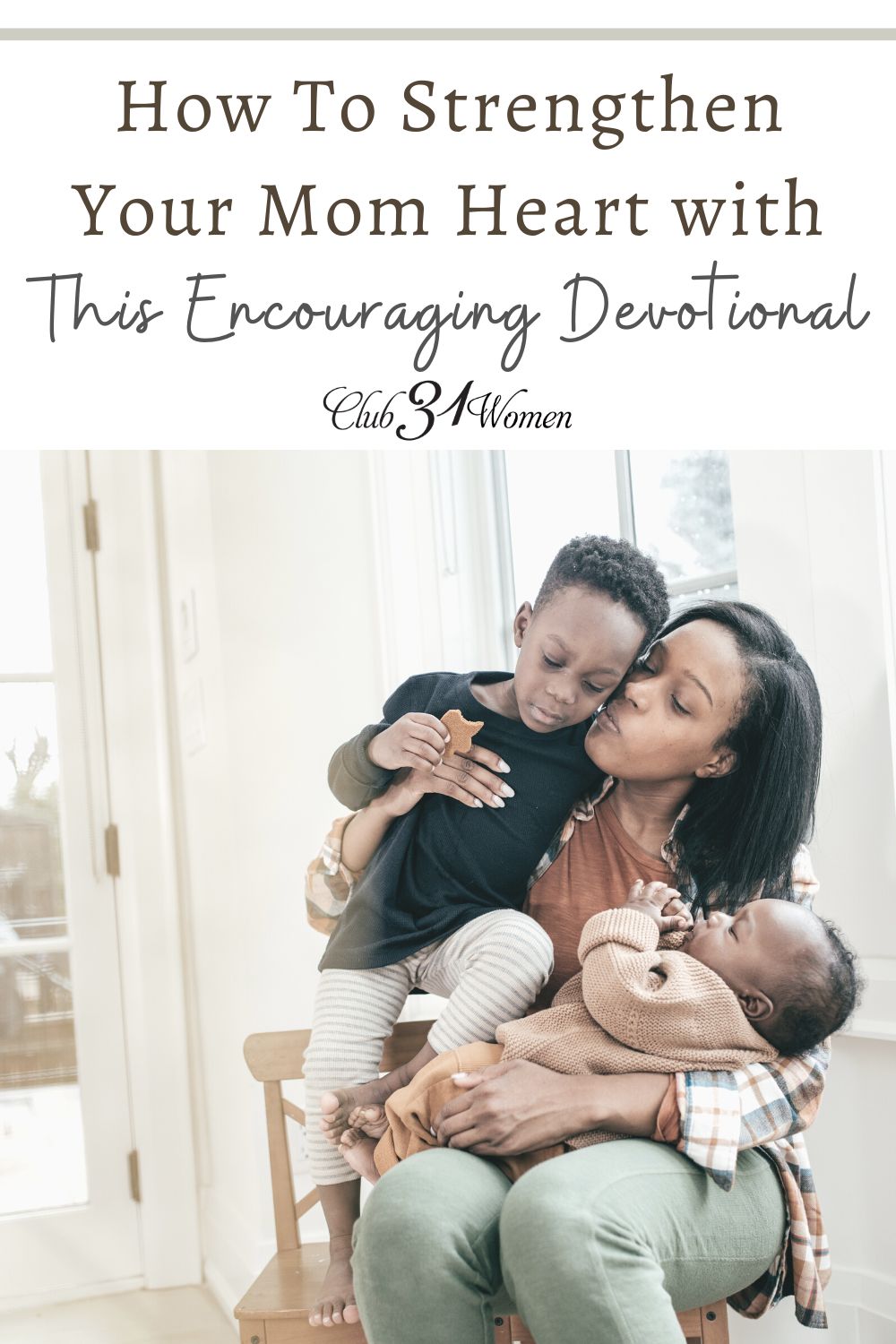 As a mom, we need lifegiving encouragement. When we can receive that, we can be lifegiving mothers. This resource will touch your heart and spirit as a mom!
I never expected mom life to be quite so hard.
Or quite so lonely.
Did you?
Not that I didn't have any friends at all.
Because I did. I do.
But what I longed for was more than just another mom-friend—what I wanted was someone a little older, a little wiser (okay, a lot wiser), who could come alongside me.
And help me figure some of this mom-stuff out.
Encourage. Inspire.
And kindly hold my hand along the beautiful, challenging, motherhood way.
A Desperate, Bold Move
So maybe you could imagine how anxious I must have been to make this next bold move. You know, being a mother of three children under the age of three at the time?
Think: desperate.
Our young family had recently moved to Nashville, Tennessee for my husband's new role at a Christian publishing company, and I felt more alone and ill-equipped than ever.
So I asked Matt (more like begged) if he'd introduce me to his new boss's wife–a complete stranger I'd never met before.
My reasons? Mostly because I'd heard she was the mother of seven children.
And I was incredibly curious to learn how she did it.
No, that's not entirely true.
I wanted more than that.
How I longed to hear from someone older and wiser who could relate to what I was walking through—and also understand how very desperately I desired to do it well.
Who Pours Into Me?
Several weeks later, my wish came true. I had the chance to meet this experienced mother and ask her several questions—the kind that often kept me awake at night.
Things like:
I didn't want that last question to sound selfish or whiny. I really didn't.
But it was an honest, soul-wrenching question that I'd struggled with to the point of tears…and didn't know anyone else I could confidently ask.
Praying for an Encouraging, Wise Mom Friend
My new acquaintance did her best to answer my questions when we met together. And I was grateful for the time we had, but couldn't help hoping this was only the beginning.
I faced many struggles. Needed so much encouragement and direction.
Now looking back, I can see how unrealistic my expectations were for her.
Because I was wishing for something like coffee with her every morning…and yet she was already a very busy mom and in the thick of it herself.
And that's when I started to pray – seriously cry out to God — for a godly, encouraging Titus2 woman to come into my life.
Maybe you're familiar with that prayer? I wouldn't be surprised if you were. I hear this heart cry all the time.
And I'm so thankful that for many of you, the ministry here at Club31Women has been part of that answer to that prayer.
So, sisters, it is in that same spirit, that I have a powerful, daily resource to share with you!
I don't know how many of you are familiar with Sally Clarkson and her inspiring ministry to women? But I've known Sally for a long time now, and I'm excited to share she has just released a new and truly wonderful devotional for moms.
Choosing to be a Lifegiving Mom
As I sat in the growing darkness, I actually thought of you who will read this book. I know that every day, your life is challenging, demanding, and perhaps isolated as you fulfill this important role. But you are my hero. You are shaping the history of the next generation by choosing to be a lifegiving mother. ~ Sally Clarkson, Introduction to Mom Heart Moments
Do you remember how I told you how I wished I could have coffee every morning with an older, wiser Titus 2 woman? Well, that's what this devotional by Sally Clarkson is like: a daily, godly encouragement from an insightful mom who has "gone before."
To encourage, inspire, and kindly hold your hand along the beautiful, challenging, motherhood way.
Here's Why I'm Highly Recommending Mom Heart Moments:
Biblical.
Every entry begins with a Scripture verse or two. What better way for a mom to begin her day than with the Word of God? Even if it's "only" a short passage, God can use His Word to speak powerfully into our hearts and minds. Plus, Sally's wisdom and advice that follows comes from a beautifully biblical perspective—which is harder and harder to find in our current culture.
Encouraging.
Something else I deeply appreciate about Mom Heart Moments? Sally's kind and compassionate spirit. We're already so hard on ourselves, we don't need another critical word or some way we don't measure up. You'll quickly find that she is both empathetic and caring, and yet graciously truthful too (see the next point).
Equipping.
I don't know about you, but I want to grow, not merely stay the same person I am now. So while I'm always glad for some sympathy in the challenges of motherhood, I'm looking for helpful and practical instruction too. And here's another aspect of Sally's devotional that I'm grateful for: her concrete examples, real-life stories, and little tips sprinkled liberally throughout the book. Along with her many good ideas, she offers gentle correction and guidance as well.
★★★★★

"A daily dose of discipleship!!"

by Stephanie (Amazon review)

As a mom of 5 kids 7 and under, I don't always have time to commit to as much reading as I wish I could. A small one-page devotional is the perfect size to read in the morning, in the bathroom, as kids are settling down for naps/quiet time, in the car when you have a few minutes to before an appointment or school, or before bed. Sally is simultaneously encouraging and convicting, both essential aspects of discipleship. One small step at a time, she paints a beautiful vision of God's heart for mothers while also giving practical tips along the way. Perfect gift for new moms and all moms!
Spend the year with Mom Heart Moments, the first devotional by beloved author Sally Clarkson, and discover how as a mother you can draw closer to the heart of God. In a world constantly vying for our attention, it can be easy to get caught up in the chaos.
Each day of this beautiful devotional offers encouragement and direction to become the mother God has called you to be, no matter what the age of your children.
This post may contain affiliate links through which Club31Women might get a small compensation – with no additional cost to you.  See my disclosure policy here.
[ with warm thanks to Tyndale for their partnership in this review ]