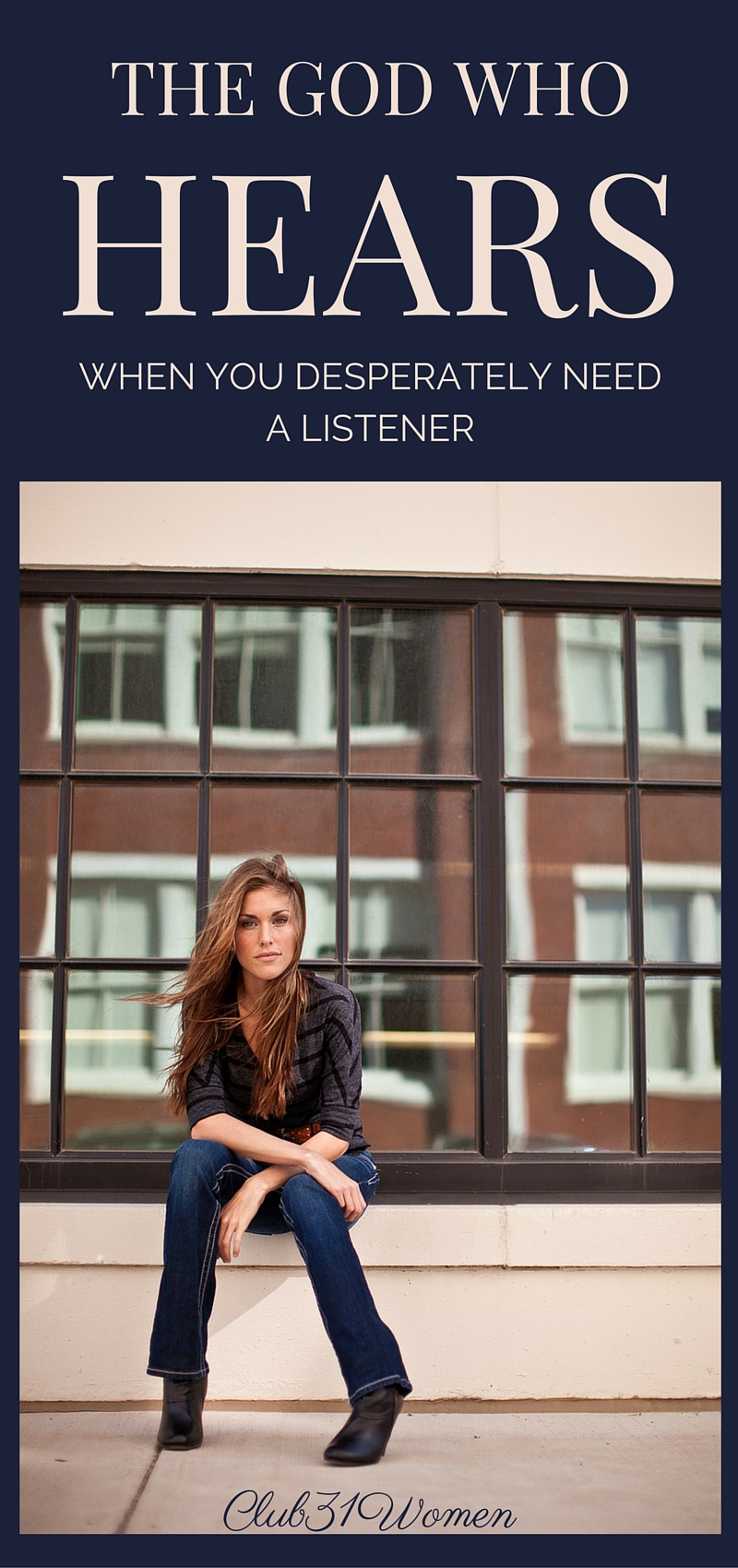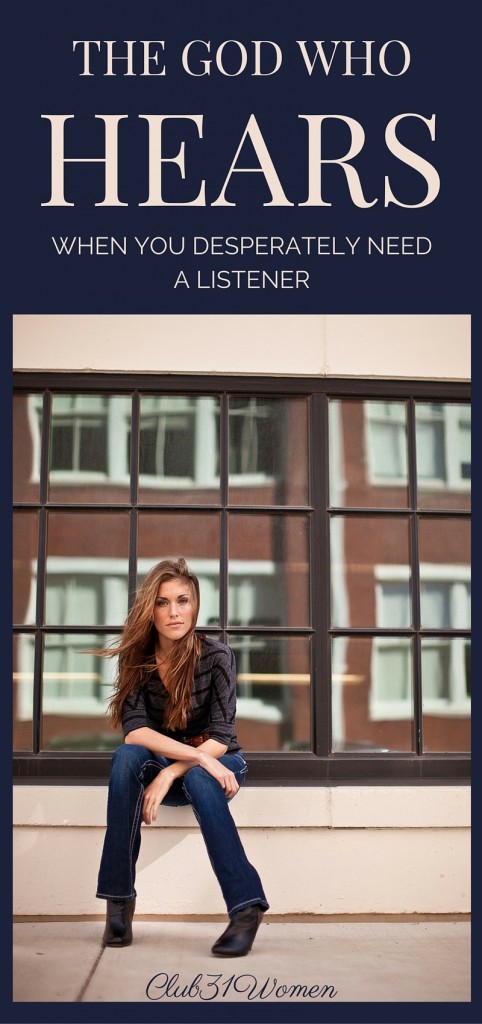 This post may contain affiliate links through which Club31Women might get a small compensation – with no additional cost to you.  See my disclosure policy here.
Sometimes you just want someone to listen.
Not fix. Not advise. Just listen.
Listen long enough to "get it." To simply feel what you're feeling right along with you.
I can't count the times I've gone through my mental list… Who could I call? Who would be willing to just be here in this place with me?
And sometimes as I've gone through the list I've come up empty-handed. I already know what they're going to tell me. They'll tell me to trust God. Or persevere. Or that everything is going to work out. Truth, but not necessarily what my soul needs at the moment.
Other times, when I've bared my soul, I've been surprised by the one listening. Surprised by their gracious silence. The way they refrained from telling me what I already know. How they just heard me and felt my heart.
Maybe I'm weird like this. But I suspect I'm not alone.
We want to be known. To have someone see us where we're at, struggles, failures, weaknesses, and all, and just surround us with love.
I remember being in that spot during a particularly hard season while ministering full-time in the country of Haiti. And I especially remember the bitterness that crept into my soul when the people around me failed to provide what I wanted most.
For a while, I believed the lie that we're all tempted by: No one understands what you're going through.
If they truly cared, if they really saw you and the struggle you're enduring, they would try harder, listen better, reach out more persistently.
Honestly, I'm still not immune to that lie. I probably never will be.
But the truth is sinking in—deeper and deeper.
Jesus sees me. He knows me. Even though no one else will ever fully "get it," He will. Every single time.
My God invites me to pour out my heart to Him, for He is my refuge (Psalm 62:8). And He does the same for you.
What an invitation! Our hearts are full of pain, frustration, fear, bitterness, sometimes despair. And yet our Savior wants to hear it all. You and I can "cast all our care upon him, for he cares for you" (1 Peter 5:7).
Our God is the perfect listener.
He knows how and when to fix things, but He also knows how to listen. How to feel. How to weep when we weep – even bottling our tears (Psalm 56:8). How to hold us with His everlasting arms (Deuteronomy 33:27) and love with perfect love that casts out fear (1 John 4:18).
No one else can compare.
Finding a friend who will listen well is a gift of God. But know that your Heavenly Father will top him or her every time. His patience is limitless, His wisdom infinite, and love unfailing. He sees you. He cares completely.
I pray that today you'll allow yourself to be comforted and strengthened by the God who hears.
I'd love to share the goodness of this God with you through my recently released memoir, In a Sun-Scorched Land.

If you find yourself in that position, where I so often did… "No one could possibly understand how hard this is," I believe you'll find refreshment for your soul and renewed faith in our God's sovereignty.

May God use it to bring hope in the dry places of your life!
Blessings,
HIGHLY RECOMMENDED: This newly-released memoir, In a Sun-Scorched Land: A memoir of adoption, faith, and the moving of Haiti's mountains by Jennifer Ebenhack, Foreword by Lisa Jacobson.
★★★★★"This was a book I couldn't put down. I'm afraid the laundry went undone for a few days until I could finish it! Jennifer's story shows that life is hard, but God is at work behind all of the seeming setbacks. He protects. He makes a path for us, even if it's a crazy, almost untraceable one. He gives strength when we don't have any left. When I put Jennifer's book down, I felt encouraged to persevere through my own hard days. An excellent read that I highly recommend." ~ Amazon Review
In A Sun-Scorched Land is available HERE.