Where Do You Turn When You're Ready To Give Up?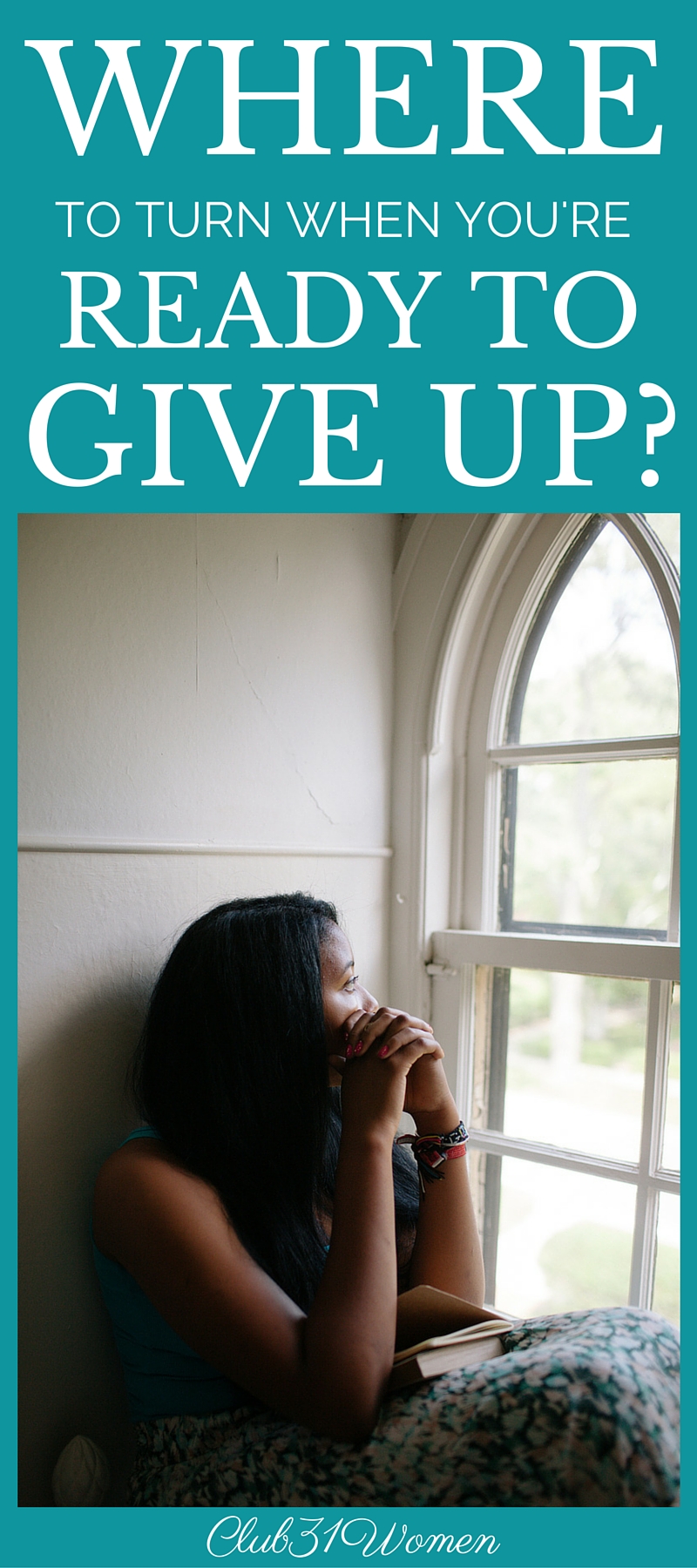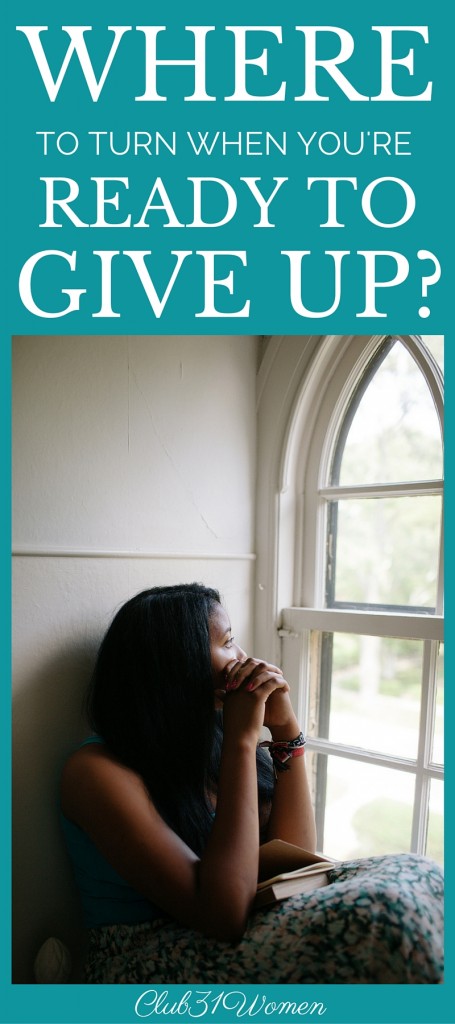 If you knew how many times I almost gave up, I'm not sure I could look you in the eye.
There have been so many dark moments where I almost fell for the lie… This isn't worth it. This pain. This much sacrifice… It's too much.
I've wanted out. So. Many. Times.
Like you, I've tortured myself with the questions, "How did I get here? What if I'd chosen differently? Could I have avoided this?"
How desperately we want to skip the pain. If only we'd known . . . we'd have done anything to spare ourselves.
Yet miracle of miracles, here we are. Sustained. Held up. Surviving. Even in this.
And it's only divine power.
The same power that raised Jesus from the dead.
It's in us. Keeping us on course. Taking us through the flame. Through the flood. Through the test.
Through…
Not around.
And so we wait. We endure. We delay gratification.
We die to self.
We let go of what glitters and hold out for pure gold.
We allow ourselves to be planted . . . remaining in the dark, patiently, faithfully awaiting the promised resurrection.
But here's the good news.
It always comes.
It ALWAYS comes.
Joy. Resurrection. Harvest. Gold. Reward.
It will always come!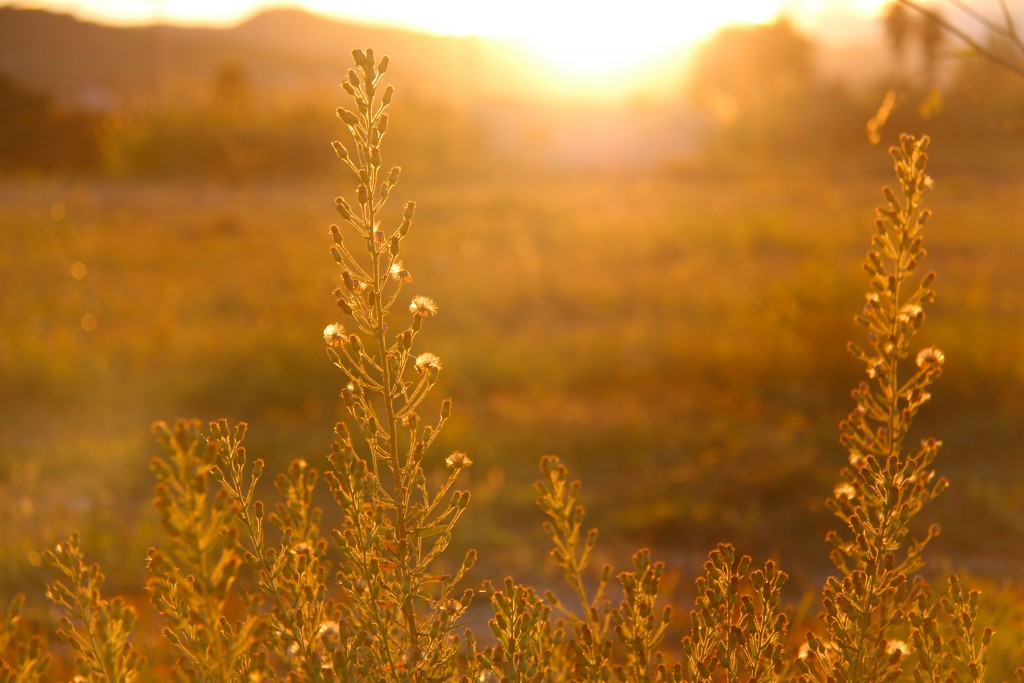 I've had glimpses . . . .
The nine-year adoption process. The eight years of struggle on Haiti's broken soil.
And then? The opening of our Red Sea.
The children. Wounded. Hurting. Silently screaming.
And now? Maturity, humility, and beauty rises from ashes.
Dreams. Put on hold. Buried in the dark. Made small, unseen even.
And tomorrow? God promises a harvest only He can produce.
How often I've spoken only of hard. Because that's where I've been.
Don't we all? We're in this messed up world together. And sin has made everything hard.
But today, as I see fruit emerging after such harsh prunings, my soul is dancing.
And I can't keep from smiling up at my Heavenly Father.
You've always said it will be worth it! And how I've doubted… But you're right! You're right, dear Father!
As trials and testing produce perseverance, and perseverance finishes its work (James 1), I find the joy set before me more than I could have imagined.
And I find something I never would have believed until now. In hindsight, all of that hard really is "light" and "momentary" (2 Corinthians 4:17).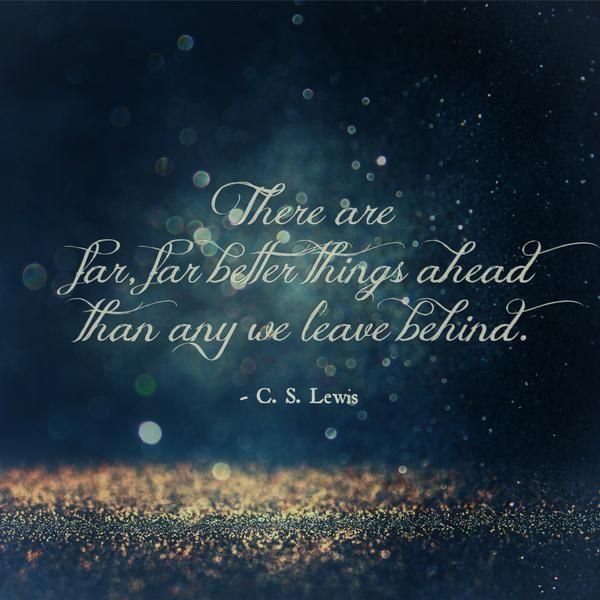 Here's the thing . . .
I'm not Heaven yet.
All I see is the tiniest fraction of the glory… of the reward… of the joy.
What I see now is nothing.
As I zoom my perspective out, I can only imagine how short, how brief, how light and momentary this is.
And how profoundly the joy will bubble and overflow when the true resurrection takes place.
It will be worth it.
This will all fade, and we will be awed at the honor our Savior pours out on us. On you. On me.
We'll be so grateful He deemed us worthy to suffer, that He empowered us to endure, that He used our unique stories and heartaches and obstacles and faithfulness to bring Him glory.
"Eye has not seen, nor ear heard, Nor have entered into the heart of man the things which God has prepared for those who love Him." ~ 1 Corinthians 2:9
The glimpses of that joy that accompany me today change how I live.
I'm reminded that my patience with my special-needs son will yield eternal reward.
I realize that Scripture read and discussed as a family—even while showing no fruit today—has the power to sink in and change lives.
I understand that being a nobody… washing dishes, folding laundry, teaching my kids, is seen and will produce a harvest.
And that simple, trusting faithfulness through pain will result in resurrection.
Will you believe this with me? The very heart of the gospel? That from death comes life? Beautiful, joyful, abundant life?
If so, you'll make it through. I promise you.
Let's press on through this a little longer…
"…looking unto Jesus, the author and finisher of our faith, who for the joy that was set before Him endured the cross, despising the shame, and has sat down at the right hand of the throne of God." ~ Hebrews 12:2
Only a little longer. Let's endure this for the JOY of that.
It's worth it!
Blessings,
This post may contain affiliate links through which Club31Women might get a small compensation – with no additional cost to you.  See my disclosure policy here.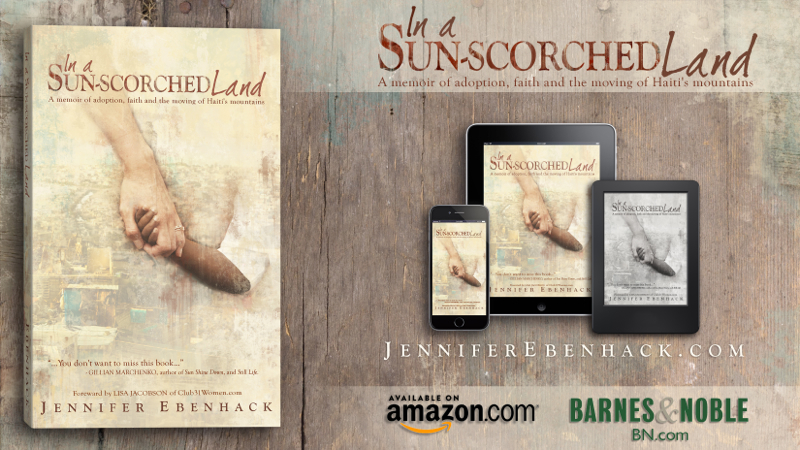 HIGHLY RECOMMENDED: This newly-released memoir, In a Sun-Scorched Land: A memoir of adoption, faith, and the moving of Haiti's mountains by Jennifer Ebenhack, Foreword by Lisa Jacobson.
★★★★★"This was a book I couldn't put down. I'm afraid the laundry went undone for a few days until I could finish it! Jennifer's story shows that life is hard, but God is at work behind all of the seeming setbacks. He protects. He makes a path for us, even if it's a crazy, almost untraceable one. He gives strength when we don't have any left. When I put Jennifer's book down, I felt encouraged to persevere through my own hard days. An excellent read that I highly recommend." ~ Amazon Review
In A Sun-Scorched Land is available HERE.