7 Books for Your Tween Girl's Journey to Womanhood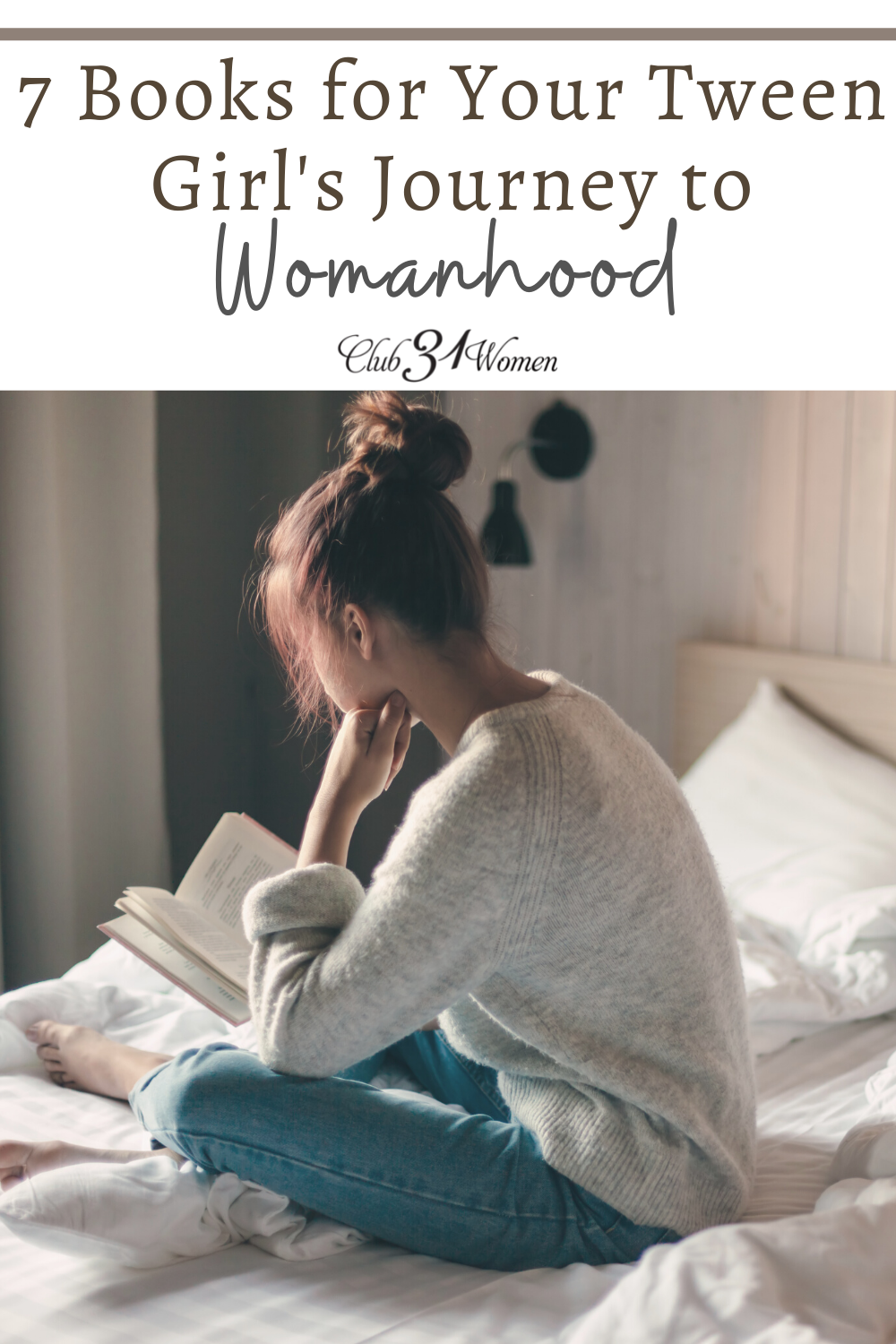 Tween girls are at a good age for learning what it means to grow into a young woman and many girls (and moms) need direction with what that looks like.
This post may contain affiliate links through which Club31Women might get a small compensation – with no additional cost to you.  See my disclosure policy here.
When I was a girl, I had a special place I called The Bower.
Really, it was just a Wisteria shrub that had grown over an old clothesline near an overgrown flower bed in our backyard. I thought it was enchanting, and many times I slipped through the tendrils and branches to sit inside with a notepad, sketchpad, or good book.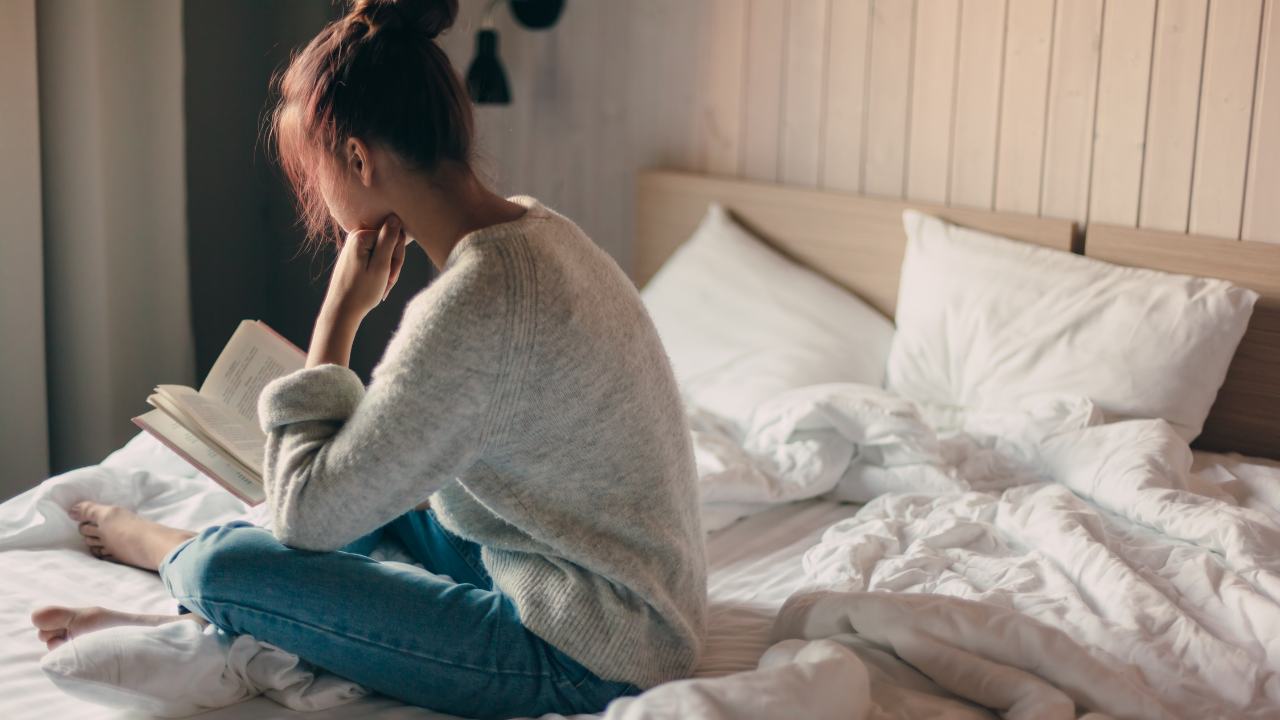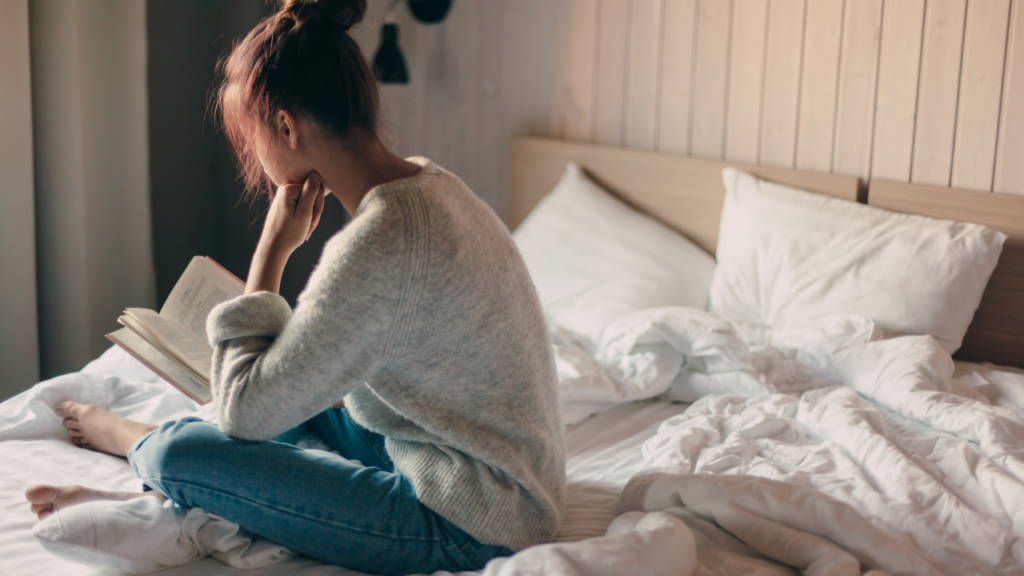 When I was a teenager, that Wisteria shrub was cut down.
Little did I know as a "tween," but Wisteria is meant to have beautiful, fragrant blooms. Unfortunately, our Wisteria was never meant to be planted in such a shady place, had never bloomed, and could never truly thrive there.
Growing up is sort of like that.
We cannot grow up and truly thrive under just any conditions. We must have the right amount of shade and sun, the best soil, and lots of loving care in order to go from a sprout to a full bloom.
Even with all the loving care my parents were able to afford me, growing up was not easy, nor is it easy for my precious eleven and twelve-year-old sisters or anyone else. But in every good story, there are helpers for the journey, and I agree with Mabel Hale, who said:
"Through books, we may, very intimately, know the wisest and best."

–Beautiful Girlhood by Mabel Hale
This is why I am sharing seven books that are friends for the journey to womanhood.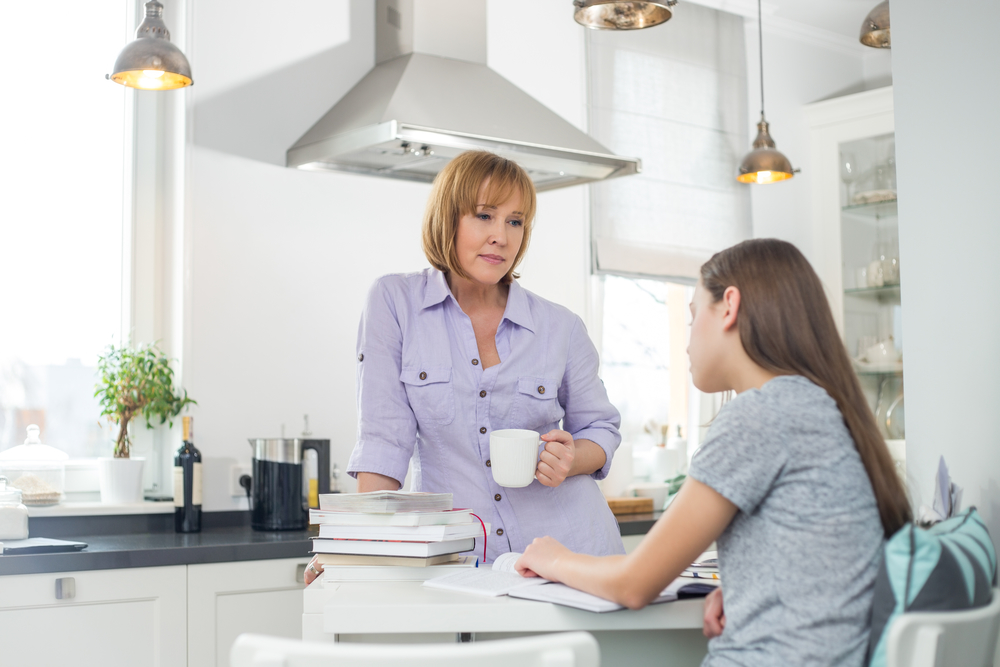 This post may contain affiliate links through which Club31Women might get a small compensation – with no additional cost to you.  See my disclosure policy here.
7 Books for Your Tween Girl's Journey to Womanhood
This book was a very pleasant surprise. Published by American Girl, this is a secular perspective on growing up, but I found it very tastefully done. I was the awkward tween who felt queasy when reading any literature on puberty or anatomy. I wish I had had this book then!
The Care and Keeping of You would be appropriate to be used to answer a young girl's queries about her changing or soon-to-be changing body, without jumping into all The Facts of Life. In my opinion, everything is presented in a pleasant, wholesome way. Available—>HERE
From the author of Anne of Green Gables, we meet another lovely young lady, Jane! Jane is eleven when she leaves her dreary city life, sweet but sad mother, and overbearing grandmother for the exciting world of her estranged father.
Jane finds herself, in more ways than one, on Montgomery's beloved P.E. Island and works to bring her fractured family back together. A truly charming tale about a hardworking, pure-hearted heroine. Available—>HERE
Popular Christian author, Elizabeth George, wrote this book for "tweens" after her book A Young Woman After God's Own Heart was met with praise. This short book is made up of ten chapters that I once used to lead a girl's book club. The girls in my group were 3rd-5th grade, and they all came into our meetings eager to read each week!
I appreciated that the book tackled some hard topics such as sibling relationships, school, and prayer. Each chapter includes space to answer questions, take notes and write a prayer. Available—HERE
The best thing about still being young? Having fun and enjoying your freedom! That's why I love this book, originally published in 1887! Think about the original Girl Scouts and what they stood for, or the guilds your grandmother may have been a part of as a girl.
This thick, quirky book is chock-full of ideas for games, clubs, celebrations, crafts, and skills. Complete with step-by-step instructions in beautiful woodcut illustrations, hilariously outdated but still-inspiring advice, and good old-fashioned fun for girls of all ages. Want to learn to press flowers? Decorate a seaside cottage? Paint china? Create a home gymnasium? Look no further! Tweens are children. This book may slow their hourglass for a summer. Available—HERE
I was prepared to dislike this book because I thought it would be too predictable and, well, glad, but it was really very good. This would be a great read-aloud, as well.
Pollyanna is an orphaned eleven-year-old girl who is resolutely and unwaveringly cheerful. (A characteristic I know I needed to learn a thing or two about when I was a tween!) She is sent to live with her ill-tempered Aunt Polly in a community badly in need of cheering up. Pollyanna inspires the people she meets and changes their hearts. When tragedy strikes, Pollyanna's "Glad Game" is put to the test. I remember this story as being engaging and having a great message! Available—>HERE
Beautifully illustrated by the talented Breezy Brookshire, this hardback book is something between a long picture book and a chapter book. Definitely to be read one story at a time, For Such a Time as This tells the stories of forty women from scripture. Your daughter probably knows about Eve and Mary, but does she know the story of the widow of Zarephath or Priscilla?
After each story, Angie takes girls through three sections; He (an attribute of God,) Me (how we can apply that attribute), and She (a prayer to pray over your girl.) There's also a memory verse and a Hebrew word to learn after each chapter and some lovely bonus material in the back. It's no wonder this book has been receiving rave reviews since its publication in 2014. Available—->HERE
Just released in April of 2016, this short chapter book shares the remarkable, true story of sisters Eddie, Ocy, and Darlene in the spring of 1946. When their pastor invites the congregation to save money for a special Easter offering, the three girls and their courageous, widowed mother set out to do everything they can to help the poor family in their church. Resourcefulness, hard work, and an undyingly cheerful spirit make this family one we can learn from time and again. Always Plenty is made up of six short chapters and pen-and-ink illustrations and was my personal labor of love! Available—>HERE
Growing up is not easy, but it is a good and natural thing. I don't know a single mother (or big sister!) who doesn't want to see their dear tween girl mature into a faithful, lovely woman, and sometimes the good company of a good book is just what we need for the journey.
"Keep good company, read good books, love good things and cultivate soul and body as faithfully as you can."

–Rose In Bloom by Louisa May Alcott
May you walk in His sweet light,
Caroline Rose Kraft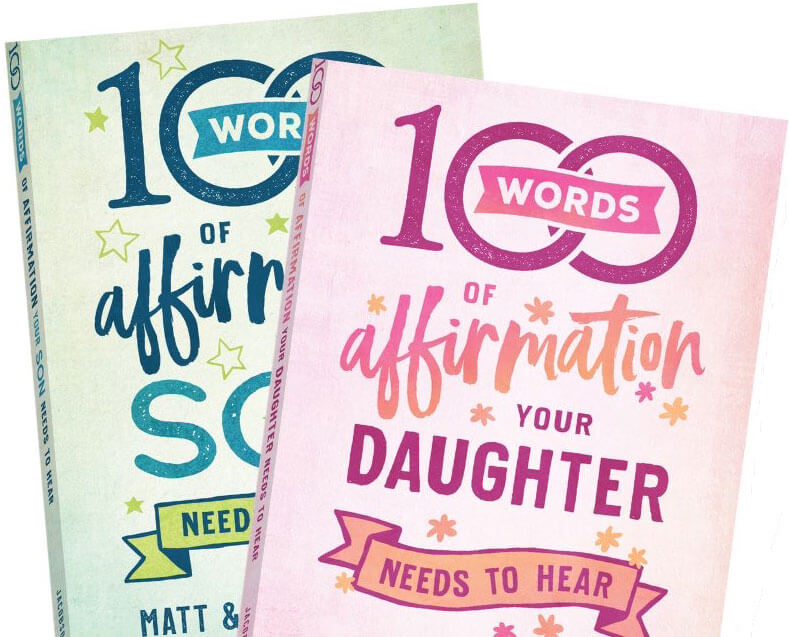 100 Words of Affirmation Your Son/Daughter Needs to Hear
Matt and Lisa Jacobson want you to discover the powerful ways you can build your children up in love with the beautiful words you choose to say every day–words that every son and daughter needs to hear.
These affirmation books offer you one hundred phrases to say to your son or daughter – along with short, personal stories and examples – that deeply encourage, affirm, and inspire.
So start speaking a kind and beautiful word into their lives daily and watch your children–and your relationship with them–transform before your eyes.