Why Your Kids Need Never Be Bored ~ Ever Again

Have you heard this lately?
"I'm bored; there's nothing to do."
It is so frustrating to hear this when you've just returned from a family vacation full of all sorts of activities for your kids. Or you've had them in special camps at home. (And most likely they haven't thanked you.)
Instead, now they have a few free minutes and they expect you to entertain them. It's enough to make a tired, unappreciated mother scream!
We are raising our kids in an "entertain me" culture.
However, making sure our kids are always entertained is not our primary job.
In fact, always having a planned, structured day or an ever-ready TV show or "device" can rob our children of the ability to develop creativity.
Kids don't need more toys; they need more encouragement to make up their own games, to create things out of nature, to devise plays, write poetry, create art, hunt for treasures (like worms!) in the backyard.
Some time ago we created a list with our grandkids.
It says: We never say, "I'm bored at the farm." Here's a list of things to do by myself or with another child."
So far we have 54 things on our list and the kids keep adding to it. It has become a game to see how many more things they can think of.
So now when a child says, "I'm bored," we send them to the list.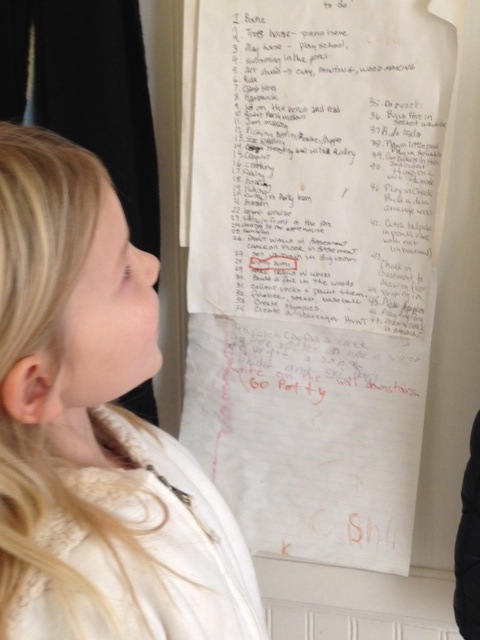 OUR WE-ARE-NOT-BORED LIST

READ
CLIMB TREES
PLAY FOOTBALL
COLOR
PLAY FREEZE TAG
WORK A PUZZLE
LOOK AT PHOTO ALBUMS
PLAY TEA PARTY
SLEEP
PLAY SARDINES
BUILD A FORT
PLAY BINGO
LAY ON COUCH IN PARTY BARN
PLAY WITH ARMY MEN
BUILD SOMETHING WITH HAMMERS AND NAILS AND WOOD (GET SCRAPES FROM HOUSES UNDER CONSTRUCTION)
PLAY DRESS UP
WRITE IN JOURNALS
COLOR ON FLOOR IN BASEMENT WITH CHALK
KICK SOCCER BALL
PLAY IN THE ROCKS WITH TRUCKS
COOK
PLAY VOLLEYBALL
GET A CUP AND COLLECT WORMS AND BUGS
PLAY HOPSCOTCH
DO HANDSTANDS
PLAY BOCHE
BUILD A TREE HOUSE
PLAY PING-PONG
SIT ON THE BENCH AND READ
PLAY SCHOOL IN THE PLAY HOUSE
ROAST MARSHMALLOWS
MAKE JAM
PICK BERRIES
LOOK FOR STARS
PLAY IN THE CREEK
FISH
PLAY WITH RIDDLE DOG (THROW HIS BALL)
MAKE A SECRET TRAIL IN THE YARD OR WOODS
CREATE A SCAVENGER HUNT FOR THE FAMILY OR FRIENDS
MAKE A PLAY OUT OF A BIBLE STORY AND PREFORM IT
BUILD A FORT IN THE WOODS
COLLECT ROCKS AND PAINT THEM
PLAY IN THE SECRET WARDROBE
CREATE AN OLYMPICS COMPETITION
PLAY IN THE SPRINKLER OR LITTLE POOL
GET A BAGGIE AND COLLECT THINGS GO HAS MADE
PLAY WITH TRAINS
WRITE A SONG OR POEM
PLAY WITH BLOCKS
GET LARGE CARDBOARD BOXES (FROM AN APPLIANCE STORE) AND CREATE PLAYHOUSES OR TRAINS OUT OF THEM
PLAY HIDE AND GO SEEK
COLOR PICTURES AND SEND THEM TO GRANDPARENTS
SEE HOW MANY DIFFERENT LEAVES YOU CAN COLLECT. (IRON THEM BETWEEN 2 PIECES OF WAX PAPER AND HANG THEM IN THE WINDOW. )
SWING IN THE HAMMOCK WITH A BOOK
…?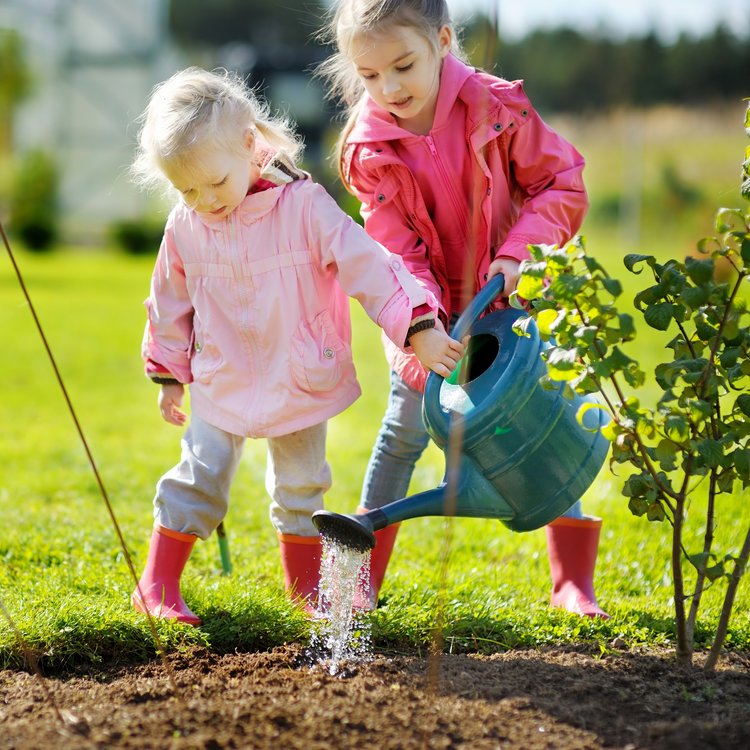 Creating Your Own We-Are-Not-Bored List
Gather you kids and begin brainstorming together.
And make it a family fun time.
Turn it into a contest to see how many you can come up with and then post it. You can then let them add on to it over the weeks ahead.
Rather than get frustrated, simply say,"Honey, you are so creative. Go look at the great list we developed and find something to do by yourself, or I bet you can even create something new!"
A wise parent doesn't always entertain your child, but gives him or her an opportunity to grow and learn and create.
Blessings,
*What kinds of things would you include on your We-Are-Not-Bored List? Please share your ideas!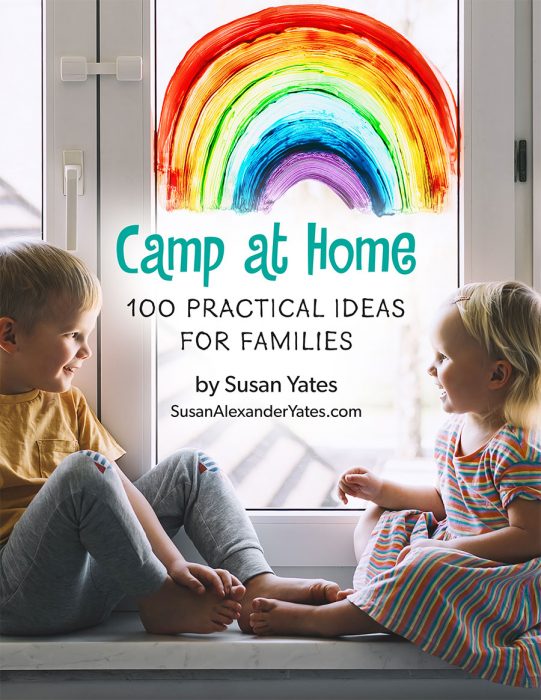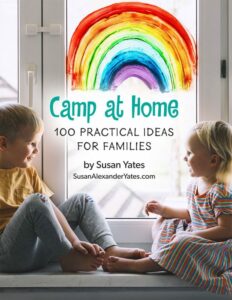 Grab Susan's free ebook, "Camp at Home," right here. This valuable resource is based on her book Cousin Camp. It includes 100 things for you to do with your kids of different ages including toddlers, the middle years, teens, and specific things for the whole family. In addition, there are ideas for grandparents to use to stay connected with their grandkids.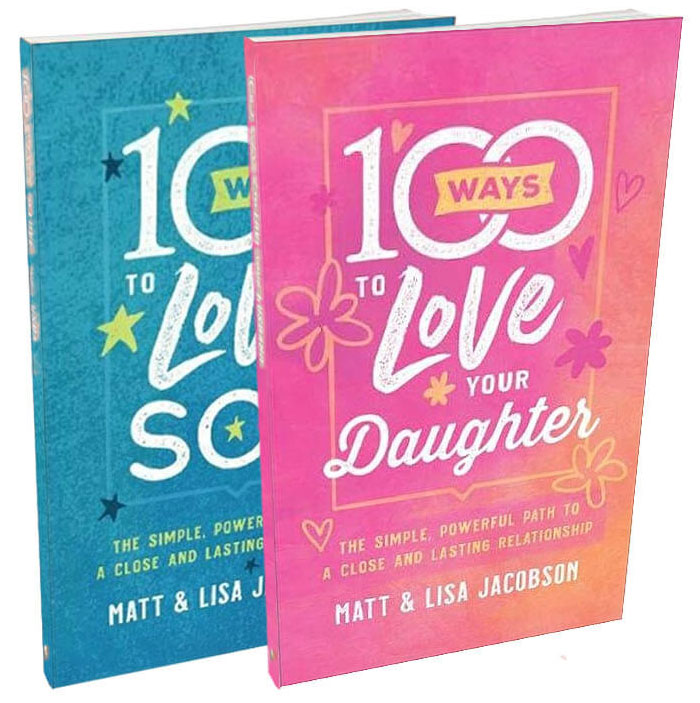 100 Ways to Love to Your Son/Daughter
You love your son and daughter–but that doesn't mean you always know the most effective ways to show that love, ways that will connect with their hearts, and stick with them no matter what life throws their way.
These practical books by the authors of 100 Ways to Love Your Wife and 100 Ways to Love Your Husband give you 100 specific, actionable ideas you can implement to show love to your children, no matter what age they are.
The best part? The short, bite-sized readings make it easy to start right now!