9 Books for Your Tween Son to Grow On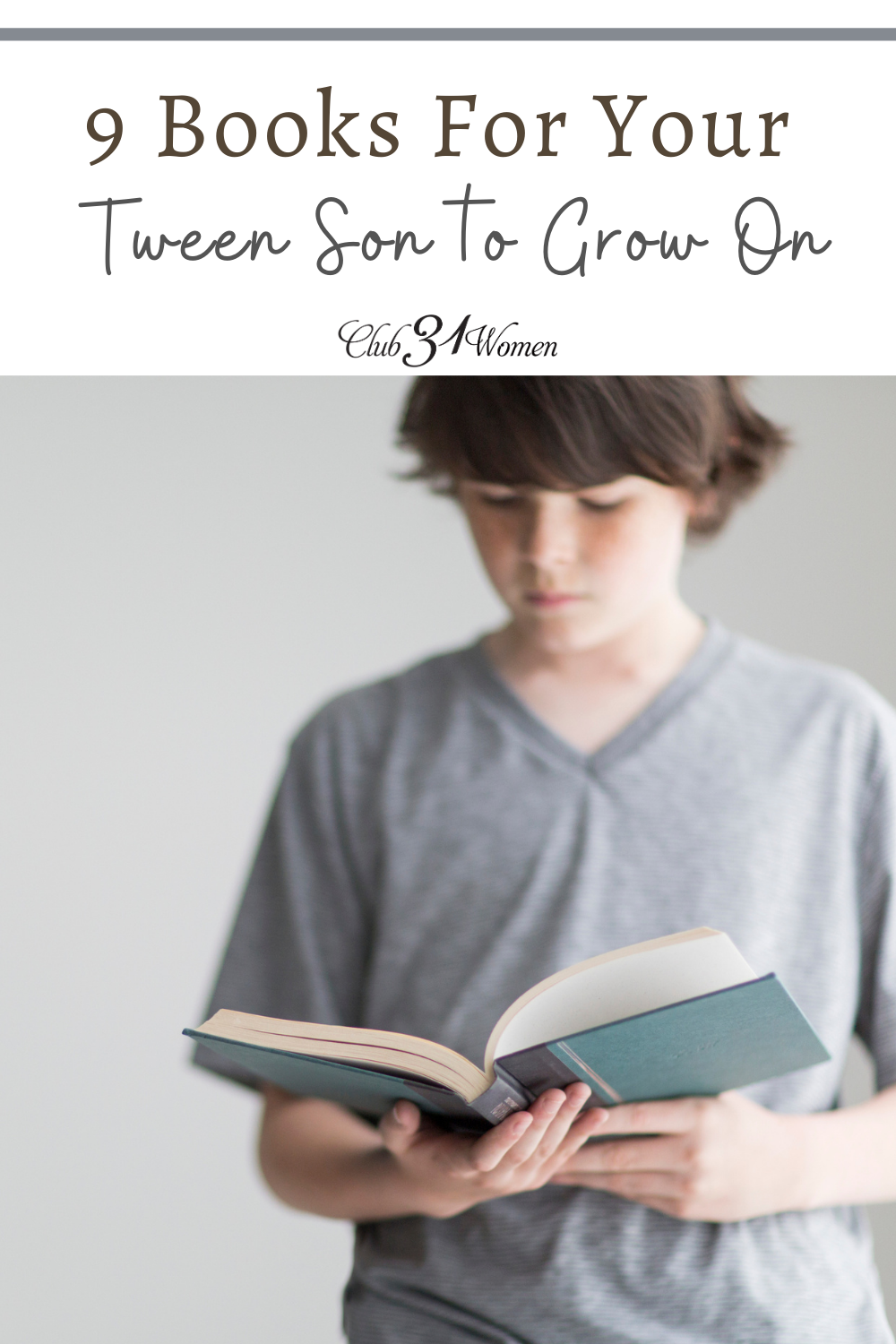 A good story can help shape and grow your tween son in character and integrity.
In my parents' home, we have a closet under our staircase where all manner of decor, future gifts, and boxes of dress-up are stored, but the wood-paneled door serves a special purpose. Though the outside of the door faces the living room, the inside is etched with years of measurements.
Nine children, one decade, and many pencil marks, labeled with a name and date. If there's one thing I've learned in the past decade, watching my little siblings grow, it's that no one can hold back time.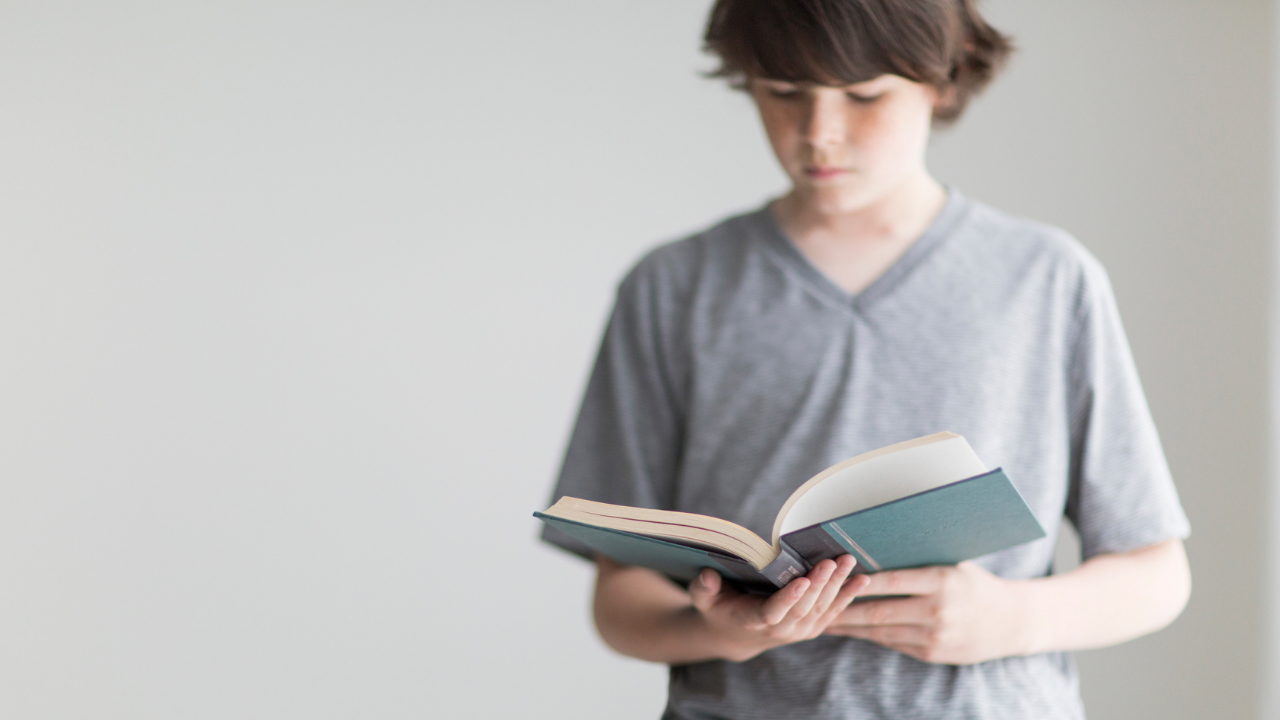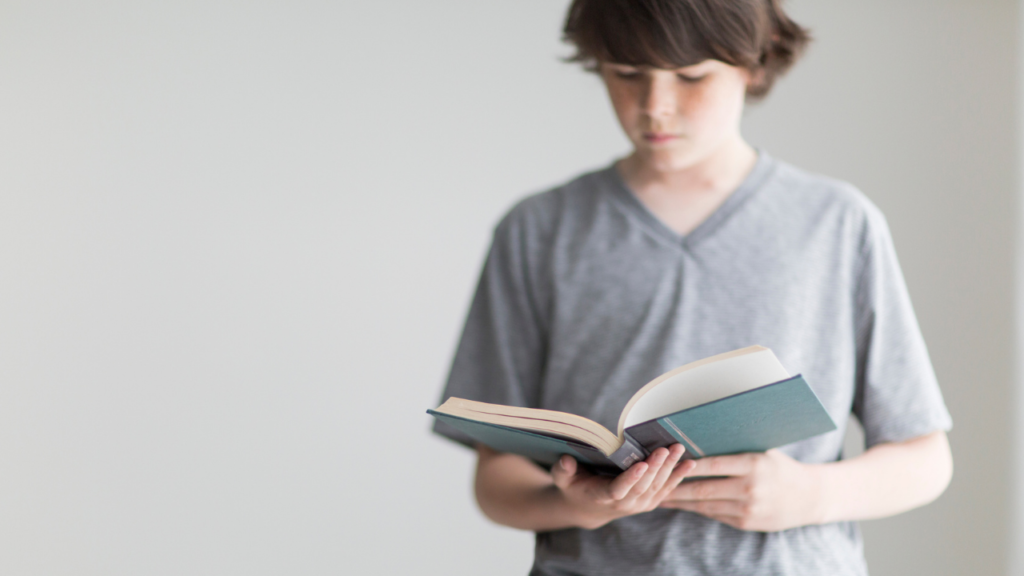 No matter what curriculum you use, no matter what parenting philosophy you subscribe to, no matter how many ups and downs they may face, time passes and children grow up.
My dad always told me he was going to put some heavy books on my head to keep me down. Today I'm going to talk about books to stand on.
In May I shared my list of 7 Books for Your Tween Girl's Journey to Womanhood. Now I have my brothers in mind. All three of them are voracious readers, but I decided to only choose books I have personally read and enjoyed, so these come to you brother-and-sister approved!
This post may contain affiliate links through which Club31Women might get a small compensation – with no additional cost to you.  See my disclosure policy here.
9 Books for Your Tween Son
I wasn't sure what to think as a little girl when my mom chose this as our next read-aloud, but it proved to be a score with the whole family. A comedic adventure story, The Great Turkey Walk tells the tale of Simon Green, a 15-year-old Missouri boy who believes himself to be of little value, due to his trouble in school. When he hatches a plan to drive a giant flock of turkeys from Missouri to Denver, everyone calls him crazy, and the journey does prove to be far from easy! But like many challenges, it makes for a great story! A great book to read aloud or leave in reach of your budding historical fiction guru. Available—-> HERE
This is one of the few books I can say I have read three times! This Newberry Medal Award-Winning book tells the tale of widowed mouse-lady Mrs. Frisby and her four (very) small mouse-children. They find themselves in distress when they are told they must either move out of their home in Mr. Fitzgibbon's garden or face the doom that is a cat named Dragon.
Thankfully, the Frisby family encounters the Rats of NIMH, a (literally) underground society of highly intelligent rodents, capable of scheming up the solution to the mice' troubles. This unusual book blends idyllic animal stories with exciting utopian epics in an engaging way. Some younger children may find this book a touch dark, but the ending is a happy one! Available—->HERE
"There once was a boy named Milo who didn't know what to do with himself–not just sometimes, but always."
So does this delightful book open, before launching poor, bored Milo into a bizarre and hilarious adventure! Milo is like many boys during the summer: bored, discontent and out of ideas. When a mysterious tollbooth appears in his bedroom, his eyes light up for perhaps the first time.
A note reads, "Easily assembled at home, and for use by those who have never traveled to lands beyond." This book is a classic for good reason! Milo's expedition will be reminiscent of Alice falling down the rabbit hole, Charlie riding in the glass elevator and Dorothy whirling to new lands, courtesy of a twister! Witty, silly, clever, exciting: I've never lent this book to anyone who didn't enjoy it. If your son likes riddles, jokes, and word-play, he will have a hay-day among these pages. Available—->HERE
Do you know what a "Pagurus" is? Neither did I until my mother read us this book many years ago, but I've never forgotten! Holling C. Holling's iconic books come in large, paperback copies with beautifully detailed illustrations by the author. Called "an intricate study of tide pool life," the description may not immediately hook you, but I remember being mesmerized by this book both times I read it, as a small child and an adult.
Pagoo the Pagurus (a hermit crab hatchling) begins our scientifically-accurate tale as something almost microscopic, floating at the surface of the sea, and we follow him through the entire dangerous voyage to adulthood. Amazingly, the meticulous study of a hermit crab's life cycle put into picture book form is quite interesting and I've always remembered sitting on the edge of my seat as he nearly becomes "dinner" for a grabby octopus!
Holling C. Holling wrote several other books which are all wonderful and science-based and, in short, are must-reads for any young naturalist. Available—->HERE
Before there was Hank the Cowdog, and Click-Clack-Moo: Cows that Type, there was Freddy the pig and his barnyard of compatriots! I was first introduced to Freddy through Freddy the Detective, but everyone who can, should begin at the beginning; Freddy Goes to Florida. If you ever read the original Winnie the Pooh books, you know there are some "animal stories" which are enjoyable and amusing for all ages.
Freddy is one such story. In Freddy Goes to Florida, the animals on Mr. Bean's farm are facing another dismal winter. Mr. Bean is a good farmer, but he cannot seem to afford the amenities his livestock desire. There's no central heating, no quilts…even the barn mice are chilly!
When a talkative barn swallow plants the idea of migration in their heads, the whole farm decides to pack up and head to Florida for vacation! Freddy the pig, Jinx the cat, Charles the rooster, Henrietta the hen, Hank the old horse, Mrs. Wiggins the cow, Alice and Emma the ducks and Robert and Jack the dogs all set off on a rollicking adventure which includes, burglars, alligators, a hidden treasure and even the president of the United States! Available—->HERE
Ingri and Edgar D'Aulaire were quite the dynamic duo, writing nearly thirty books together during their marriage. Their works include historical biographies, such as those of George Washington and Pocahontas, and collections of folklore, but they are perhaps best known for their excellent Book of Greek Myths. The basis of so many books and movies of the modern era, some knowledge of ancient mythology is essential for any education.
My youngest brother loves mythology and this book was perhaps his first introduction when he was a little boy. Of course, mythology can be rather "adult" in its content, but this classic is quite mild, comparatively. This book is heavily illustrated in colored pencil, is a large format, and 192 pages long. It serves as an excellent resource but can be easily read aloud, cover-to-cover. The D'Aulaires also wrote D'Aulaire's Book of Norse Myths. Available—->HERE
This is another book that has the rare honor of being re-read by myself. An amusing and moving story based in the author's homeland of the Netherlands, in a small fishing village, called Shora follows several diverse school children who begin to wonder why storks no longer nest in their village. And we all know that when children begin to ask questions, that is only the beginning of a matter.
Facing such obstacles as a very grumpy neighbor who is bound to a wheelchair and the threatening north sea itself, the six children from Shora School set out to bring the storks back. What they don't expect, is to bring the community together in a way that hasn't been seen in an even longer time. You really have to read it yourself to experience the charm of DeJong's writing, the marvelous story of Shora and the famous Maurice Sendak's illustrations throughout. This Newberry Medal-Winner is a literary staple in my house. Available—->HERE
If you haven't heard of Trenton Lee Stewart, you are seriously missing out. Boys, girls, old men, and babies…everyone needs to read his books! Okay, maybe I'm a little too excited about The Mysterious Benedict Society, but that's something you'll have to decide for yourself! I first read this book when it was new in 2008 and have since enjoyed its three sequels.
The Mysterious Benedict Society has everything: action, humor, sentiment, and a great plot. Set in an ambiguous time period, the books have the feeling of our favorite old standbys without being cliché.
The story begins when an ad is placed in the paper inviting bright children to compete in a battle of the wits at the home of a mysterious man named Mr. Nicholas Benedict. At the end of this trial, four exceptional children are chosen: Reynie Muldoon, Constance Contraire, Kate Weatherall, and George Washington (who, oddly enough, goes by "Sticky.")
These four kids each have a special skill set that will help them on their secret mission into The Learning Institute for the Very Enlightened, a strange school where the only rule is "there are no rules." Brimming with riddles, suspense, and laughs, the adventures of these lovable characters will be not easily forgotten. Available—->HERE
Don't let the "princess" title fool you…this is a great book for both girls and boys! George MacDonald was a Scottish author, poet, and minister in the 1800's and his works were of great inspiration to writers such as C.S. Lewis. The Princess and the Goblin is the best kind of fairytale; one that you are never too old for! It tells the tale of Princess Irene, a very sheltered young royal who lives in a castle on the side of a mountain with her oft-absent but kindhearted king-father and a nursemaid, Lootie.
One day Irene discovers an invisible thread which leads her to a mysterious woman who claims to be her great-great-grandmother. This encounter launches Princess Irene onto a thrilling journey of scary goblins, a brave miner boy named Curdie, an enchanted ring, and plenty of peril and excitement to go around. This is a fairly short book and is surprisingly easy reading for something first published in 1872. If your son has already gobbled up Narnia, send him back another century for The Princess and the Goblin. Available—->HERE
Growing Strong in Heart
Tween boys seem to be taller and stronger every morning when they wake up again, but the question is, are they growing strong in heart and mind as well as stature? I hope this list serves as a diving board for your son's tween-years library and a guidepost to choosing books for years to come; and I hope he grows into a wise, adventurous, courageous, kind-hearted protagonist of his very own epic.
"No book is really worth reading at the age of ten which is not equally – and often far more – worth reading at the age of fifty and beyond."
-C. S. Lewis
May you walk in His sweet light,
Caroline Rose Kraft
Here at Club31Women, we recognize that not everyone has the same taste or point of view on books, music, or movies, but we offer these short reviews for your consideration. Our hope is that you will find something new and wonderful on this list of recommended resources!
~ Lisa Jacobson, Club31Women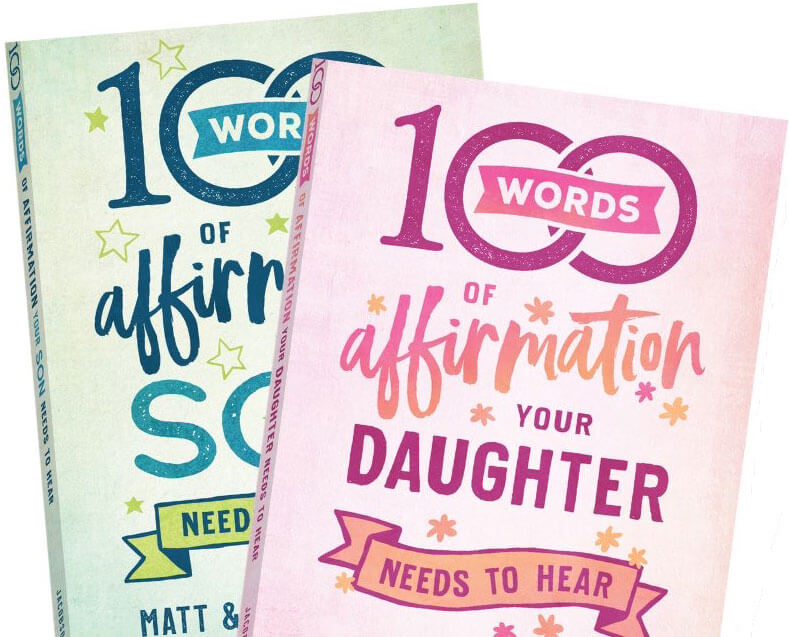 100 Words of Affirmation Your Son/Daughter Needs to Hear
Matt and Lisa Jacobson want you to discover the powerful ways you can build your children up in love with the beautiful words you choose to say every day–words that every son and daughter needs to hear.
These affirmation books offer you one hundred phrases to say to your son or daughter – along with short, personal stories and examples – that deeply encourage, affirm, and inspire.
So start speaking a kind and beautiful word into their lives daily and watch your children–and your relationship with them–transform before your eyes.