15 Dangerous and Adventurous Chapter Books for Brave Boys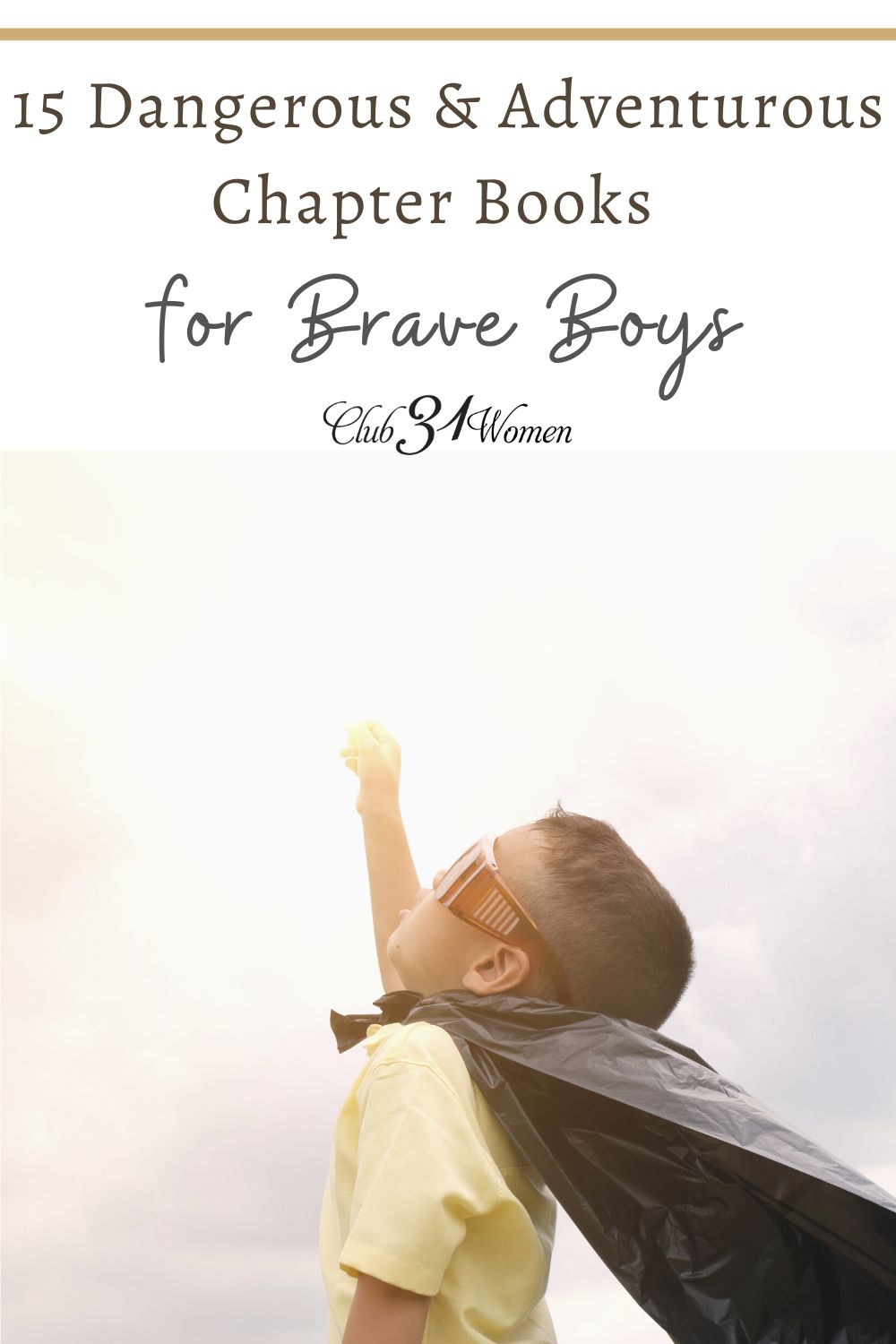 Finding great books for brave boys doesn't have to be impossible. Here is a fantastic list to get you started!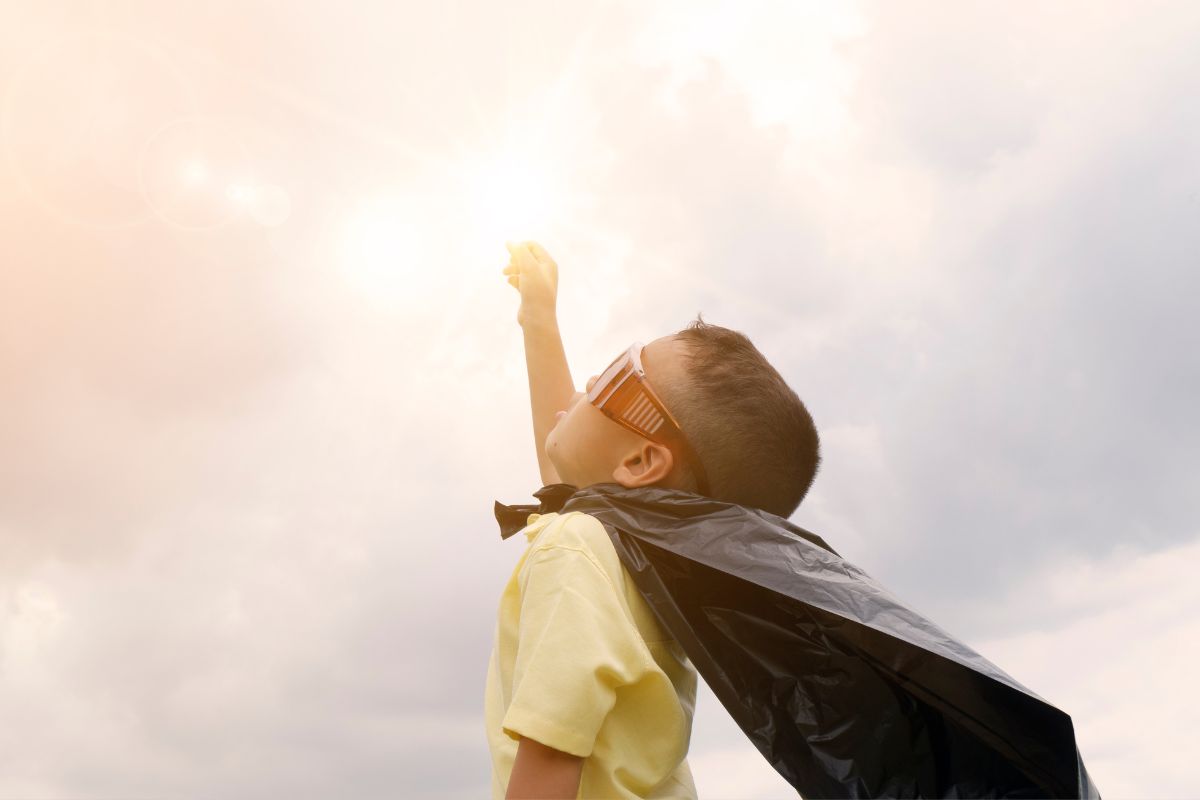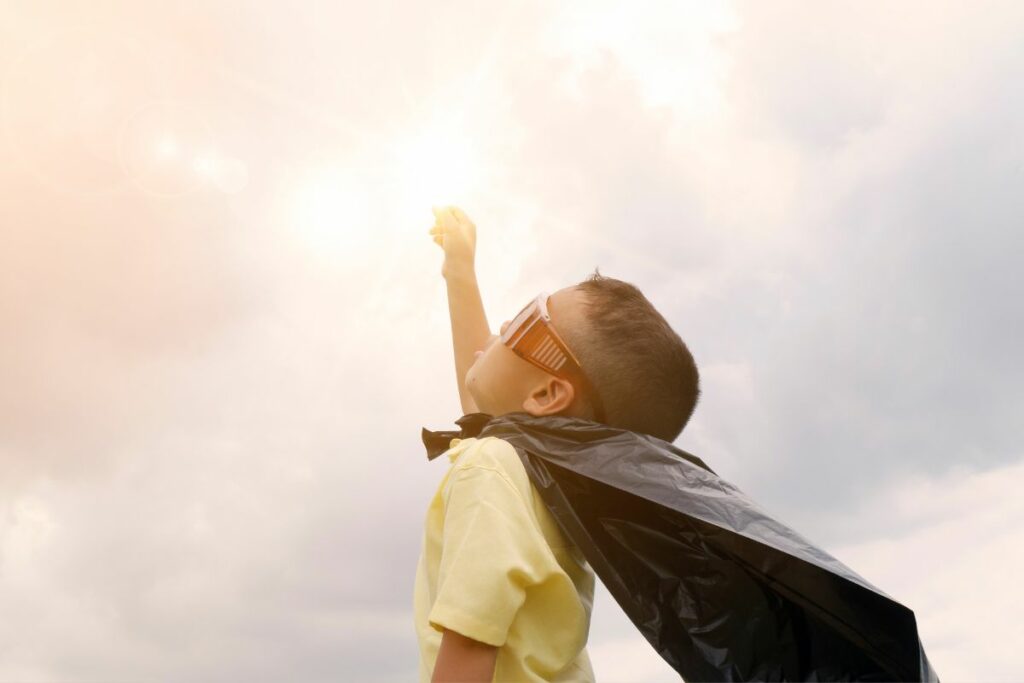 My brothers were "all boy" and constantly on the move as they built outdoor forts, played with (harmless) snakes, and frequently managed to be covered in dirt. But they also loved to read. And the books they thoroughly enjoyed almost always contained that special mixture of mud, danger, and bravery that appeals especially to such adventurous young men.
Thanks to my brothers, some books on this list are ones I've known of since I was young. Other books I've discovered more recently, as my husband has introduced me to some of his own boyhood favorites. And all of these are ones that I can see my own four-year-old son enjoying in the not-too-distant future! Because there is nothing that spans the generations quite like a well-written book, full of courageous moments that may be well covered in mud.
This post may contain affiliate links through which Club31Women might get a small compensation – with no additional cost to you.  See my disclosure policy here.
Rolin's mundane life is turned upside down when strangers in the marketplace strive to steal his heirloom pendant. In his flight to escape, he climbs a tree and is suddenly transported to another world. This place is full of mystery and trouble, and Rolin is immediately introduced to the deadly batwolves and the story of the seven soros. Is Rolin's pendant the missing soros? And why did Gaelathane, the Father of the Lucambrians, appear to Rolin and direct him to this strange land? Soon it becomes obvious that Rolin is a descendant of King Elgathel, and his destiny is entwined with the Lucambrians. Fights against evil Felgor and his batwolves, a trip to the far distant Isle of Luralin, and befriending the winged lions are just a part of Rolin's adventures as he strives to help the Lucambrians.
reading level: ages 8 and up
Risking the Forbidden Game by Maude Cary
With a plethora of soldiers occupying Morocco, Jamal and his friend Hameem come up with "The Game." The goal of "The Game" is to collect the most items from the foreigners, but of course without getting caught! Jamal's collecting takes a twist when he decides to add pictures from the Christian missionary to his collection, even though the risk for one of his religion is extremely high. Then Jamal stumbles across David, a Polish soldier who has deserted from the French army. Is David informing the Desert Prince who is leading the rebellion? Or does Uncle Samir's disappearance have something to do with the rebellion? And what will happen if Jamal's Christian pictures are discovered by his family? The religious differences of the Moroccan people as contrasted with the Christian missionary are thoughtfully discussed in this book. I appreciate how this book encourages young people to grapple with the fact that we must respect those who believe differently than us, even while praying for and witnessing to them.
Reading level: ages 8 and up
To avoid repeating 6th grade, Abby agrees to extra schoolwork, including corresponding with a pen pal in another country. As Abby and Amira's letters fly back and forth between Afghanistan and the USA, Abby discovers that it's mostly Amira's brother, Sadeed, writing the letters. The children enjoy discovering differences and similarities between their lives, until their correspondence must stop due to trouble in the Afghani village.
reading level: ages 10 and up
Sam has run away from his home in New York City, determined to make a home in the Catskill Mountains where his great-grandfather had once owned land. It takes time to figure out how to survive in the mountains, but Sam is resourceful and soon has built himself a cozy home in a tree and began training a tiny falcon to provide him with meat. As Sam learns lesson after lesson about edible plants, the best way to store provisions for winter, and how to avoid other human beings, the reader will likely be tempted to find his own secluded spot in which to live. And as one who thoroughly loved Jean George's Julie of the Wolves, this entertaining story has also found a spot on my "favorite books for young folks" list!
Reading level: ages 10 and up
Rudi's world has suddenly changed with the invasion of Warsaw by the Germans. He watches in shock as he glimpses unkindness on a level he's never seen before, and then is horrified as these "unkind acts" escalate into downright evil. But Rudi's father's belief in a loving God, who is trustworthy in all things, will be an anchor and a wonderful heritage throughout the coming years. Even as Rudi must say goodbye to his father and escape into the forest to live with a band of resistance fighters, Rudi holds the truths his father has taught him closely. (This book deals with the Nazi invasion and horrendous acts in an appropriate way for the young teen or even preteen. While such a book would be best read together with a parent, A Father's Promise is suitable way to discuss the awfulness of an occupied country during WWII.)
Reading level: ages 12 and up
Bill and his friends have evidence that there is a robber hiding in the swamp near his home, but even after a young man is caught by the police there are still strange activities happening. Is the young man really related to Old Man Paddler, who disappeared ten years ago? And who is the old man who chases the boys away from the woods? Is he truly Old Man Paddler or an impersonator? As the boys investigate this mystery, their normal lives are also chronicled, including the arrival of Bill's baby sister, Circus' dad's struggles with alcoholism, and the boys' growth in their love for Jesus.
Reading level: ages 10 and up
This entertaining story of Bill and his friends follows their adventures one summer, from chores around home to nightly church meetings to fights with bees and a mama bear. Most of the six members of the Sugar Creek Gang love Jesus, and the discussions they have throughout their daily interactions show rough-and-tumble boys grappling with biblical truths and commandments. I've read many of the Sugar Creek Gang books, and the everydayness of the boys' lives combined with moments of chaotic danger make them books with which young people can relate.
Reading level: ages 10 and up
Jack and Penny are keeping an eye on the dilapidated mattress store, and fuel is added to their suspicions when the children sneak inside and overhear some cryptic conversation. They're sure that by stealing a mattress they can prove the store owners are nefarious, but unfortunately, it doesn't turn out to be that easy. Add Scruggs and his mean gang to the equation, as well as the children's mother landing in the hospital, and Jack and Penny are in for one adventure after another. Derwood Inc is just the first book in a highly entertaining series, so don't say goodbye to Jack and Penny after devouring this book!
Reading level: ages 8 and up
Whether or not you've enjoyed War Horse (the book or the movie), this sequel is a must-read! The young narrator loves spending school holidays with Grandpa on his farm, but never guesses the significance of the ancient Fordson tractor parked in the barn. It's not until the grandson graduates from high school that Grandpa confesses his great secret, which in turn leads to the story of how two faithful plow horses beat the Fordson tractor. (Warning: There is a brief reference to men being blown up in war, but it fits in with the story and shows the realities of war.)
Reading level ages 10 and up
Michael's grandfather was disfigured in the war, but the story is one that Grandpa has never shared. As their relationship deepens, Grandpa confides in Michael about his buddy, Jim, who saved his life when their ship was torpedoed. The men made it to a lifeboat, but during the days adrift on the open sea, Jim perished. After Grandpa was rescued, life just wasn't the same; he drank too much, feeling like "half a man," and in the end his wife left, taking their baby daughter. Eventually, that daughter found her way back to him, although it was not until Michael arrived that reconciliation truly happened. (While this story deals with tough stuff–men dying, marital relationships not working out, people demonstrating conditional love–it is a story of reality and is written in a tasteful way.)
Reading level ages 12 & up
Grandpa's world is suddenly changed when he visits Yarl's Wood, a refugee detention center. As Aman and his mother share their story with Grandpa, the injustice of their detention grows in Grandpa's mind. The years of living in a cave in war-torn Afghanistan, the horrors of their escape to England, and the faithful dog who was their companion on that journey bring this story to life. (This book is not necessarily an easy read, as the realities of war and the unjustness of life are mentioned, though not in a graphic way.)
Reading level: ages 12 and up
Tom the Turkey is out to get Zack. Every time the giant turkey sees Zack, they both know what's coming. These interactions are ruining Zack's visits to his grandparents' farm. With the help of Josie and Matthew, Zack comes up with a plan to foil that turkey. But then Josie shares about a robber who's struck multiple times in the area, and their marvelous, turkey-blaster trouble-shooter contraption might just have another reason for existence.
Reading level: ages 8 and up
Somehow this book is both terrifying and hilarious, from the nasty ol' thwaps trying to decimate the garden to the disgusting Fangs of Dang who'd like nothing more than to devour every single person in sight. Ever since those Fangs conquered Skree, life has not been easy, but Janner, Tink, and Leeli have managed to continuously outwit the Fangs of Dang. The horned hounds, mysterious bookseller Oskar (who has with a hidden map in his shop), and Peet the Sock Man add to the drama found in these annals.
Reading level: ages 8 and up
Picket and Heather's peaceful world changed forever in that awful moment when the wolves attacked their home. As they flee from the terrible beasts, they fall in with Uncle Wilfrid and his friend Smalls, who aid them in their escape. Soon they learn that the entire rabbit world is preparing to fight the vicious wolves and the awful preylords. But many in the warrens are skeptical of Uncle Wilfrid and their whole family, due to another uncle's wicked actions. Will the rabbit warriors unite in time to fend off the enemy or will traitors in their midst be their undoing? Don't stop with The Green Ember; I highly recommend all of S.D. Smith's writings!
Reading level: ages 8 and up
Jo Shanks is a gifted archer who is out to beat THE archer, Nate Flynn, in the well-known archers' competition. But after his failure, Jo is shocked that Nate Flynn invites him to join his group of famous Bracers. This gives Jo the chance to visit Cloud Mountain, where it seems that the world is preparing for war. But who are these traitorous Longtreaders, and are they in league with Garlackson and his wolves? Whether you've devoured The Green Ember already and want to know more details of the story, or you've not yet been introduced to these fiercely loyal rabbits, this story is sure to keep you on your toes!
Reading level: ages 8 and up
Books are such a fabulous avenue to inspire bravery, courage, and perseverance, and the titles in this list should do just that for your family. Whether your sons are at an age to enjoy these adventure books for brave boys as read-alouds, or they are ready to launch into these exciting tales on their own, I hope at least a few of these will find their way into your family's favorites.
Off to the library,
Jennifer Church
Here at Club31Women, we recognize that not everyone has the same taste or point of view on books, music, or movies, but we offer these short reviews for your consideration. Our hope is that you will find something new and wonderful on this list of recommended resources!
~ Club31Women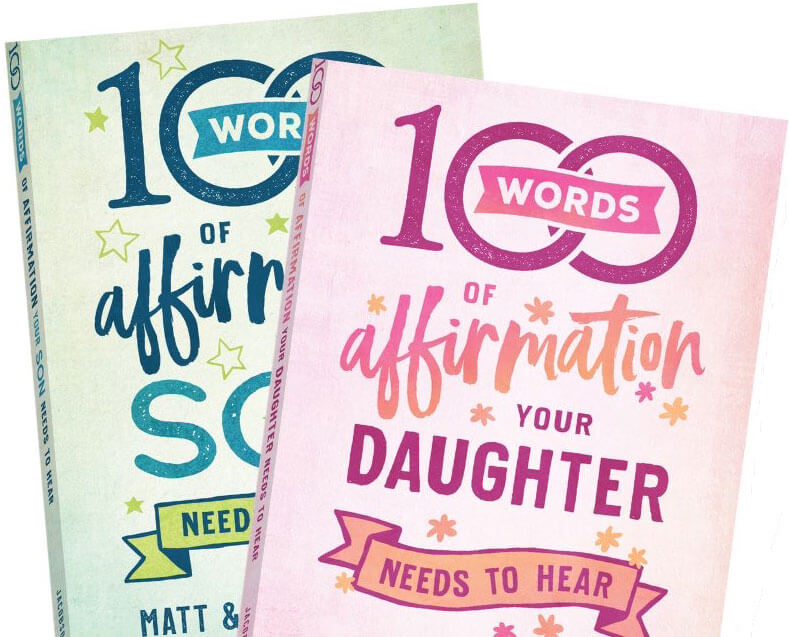 100 Words of Affirmation Your Son/Daughter Needs to Hear
Matt and Lisa Jacobson want you to discover the powerful ways you can build your children up in love with the beautiful words you choose to say every day–words that every son and daughter needs to hear.
These affirmation books offer you one hundred phrases to say to your son or daughter – along with short, personal stories and examples – that deeply encourage, affirm, and inspire.
So start speaking a kind and beautiful word into their lives daily and watch your children–and your relationship with them–transform before your eyes.