Couch to Table 2021 and Easy Garlic Spaghetti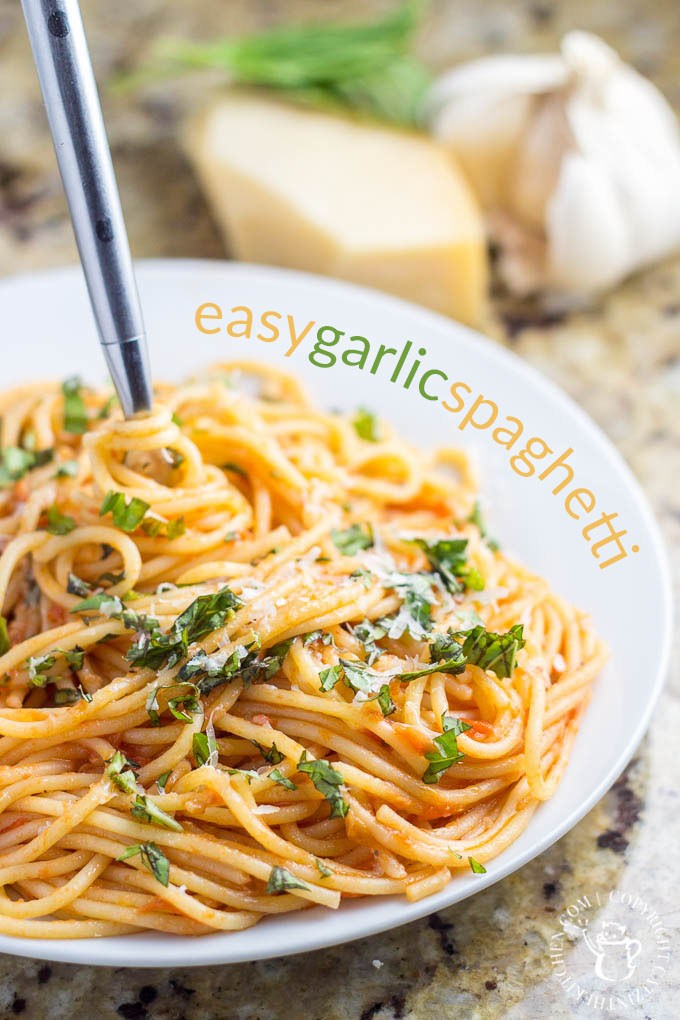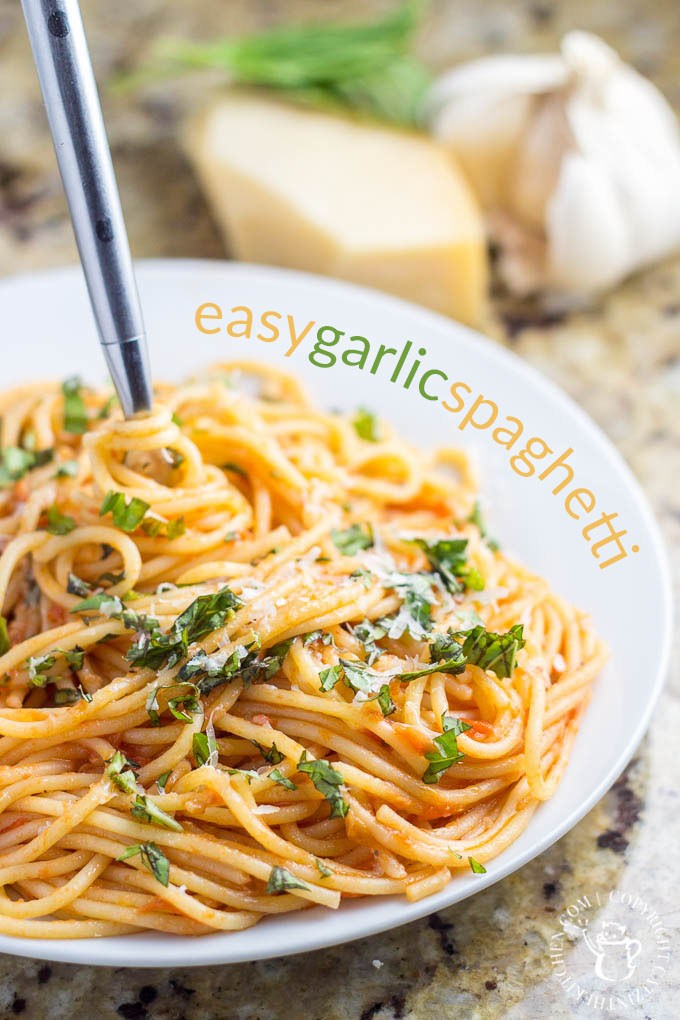 It's okay to keep things simple so here is an easy spaghetti recipe to help you do just that!
The year 2020 will inevitably go down in history for many reasons, but one of the things we'll remember is that it was the year we had to pivot from many of the plans and ideas we had intended and simply stay home instead.
Like a lot of women in the early spring of 2020, with nowhere to go, I relaxed and wore mostly loungewear (i.e. sweats!) because I wasn't going anywhere, it was comfortable, and I got lazy, to be quite honest.
This attitude of laziness crept into our mealtimes, too, in different ways. On Sundays, we made an effort to sit down together at our kitchen table, order out from one of our local restaurants, and play a board game. (Sushi Go was one of the all-ages favorites among our kids, in case you're curious.)
On weeknights, more often than not, our dinner table became the coffee table and our entertainment…the TV.
We did make it back to our dining room table right before the holidays erupted. You know how it is, though, towards the end of the year, work stresses, school burnout, upcoming holidays, election fatigue…by the end of the day we were just done and needed to not think.
Hello, coffee table, you old friend!
I don't think that sitting at the coffee table for dinner occasionally is a bad thing. Friday nights, we sit around the coffee table, eat pizza, and watch a movie, and that simple routine has become a favorite family tradition – something we all look forward to! But choosing to let the coffee table (and the television) become the place our family gathers for meals is not healthy for our family culture. We're a family that likes to have loud conversations, space to gesture wildly with our hands, and discuss our days. That doesn't happen when we eat on the couch.
How do you change it? My husband and I have talked a lot about this – actively making the switch in our kids' brains to not instinctively begin setting the coffee table in the living room, but rerouting them to do so in the dining room.
If you have a formal dining room, do you use it? If not, why not? Is it only used for company, holidays, or laundry? These things are not bad, but what if you began a few nights a week encouraging your helpers to set the table in the dining room…away from the living room or den and their distractions. Of course, if you only have a kitchen table (as we did for most of our married life), that can be beautiful, too – instead of having the TV on, opt for some soft music and a candle or two.
Time Around the Table
Our family's Bible time has moved around during the course of 2020 as school and work schedules have shifted and changed, but now it's back at the table. My husband has also begun reading Tom Sawyer at the meal's end, instead of lunchtime, and so far the kids have enjoyed it so much that they've begun asking, "Are you going to read to us after we finish eating tonight?"
Just because you choose to bring dinner back to the dinner table, does not mean that you need to serve some fancy meal on platters. I certainly don't. Sometimes I break out nicer serving dishes, but in my season of life, serving meals out of the pots and pans they're cooked in is often good enough for me!
Which is why I'm sharing this good old spaghetti! This is a more flavorful recipe than spaghetti out of a jar. Garlic cloves simmer in oil creating a delectable, infused simple spaghetti sauce. Not to mention, the heavenly aroma of garlic simmering in olive oil is a surefire way to gather the family! Oftentimes, when I make pasta for dinner I leave it at that because it can be filling, but garlic bread and roasted veggies would be delicious on the side (and also easy to prepare).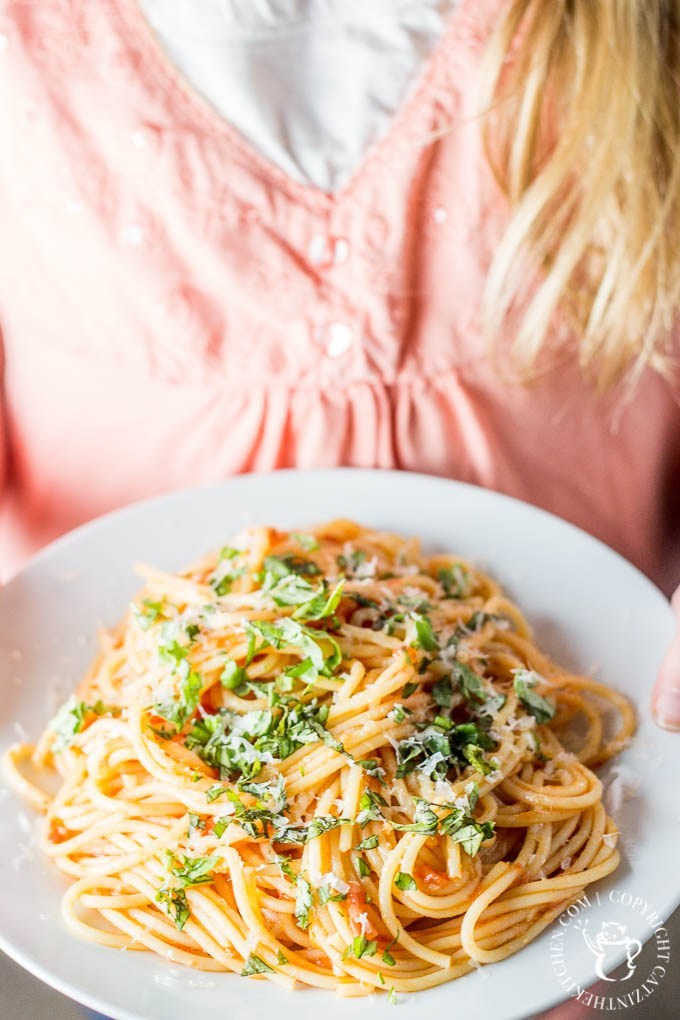 Easy Spaghetti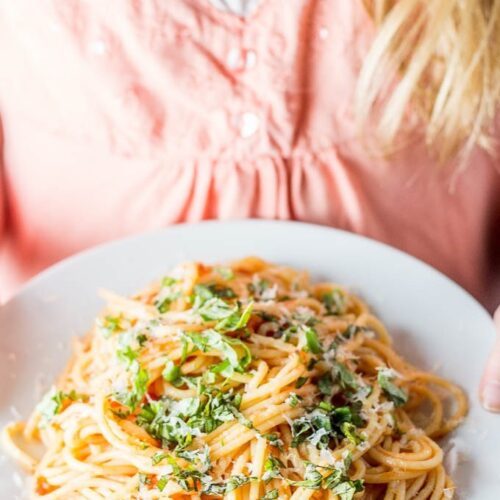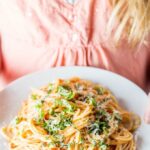 Garlic Spaghetti
In need of an easy, inexpensive meal that's still full of flavor and popular with the whole family? Try this go-to recipe for easy garlic spaghetti! 
Ingredients
9

cloves garlic, minced

1/2

cup

olive oil

6

tbsp

butter

1

15oz

can crushed tomatoes

Salt and freshly ground pepper

1

lb

spaghetti, cooked

I prefer angel hair

2

tbsp

freshly chopped basil

Grated parmesan for garnish
Instructions
In a small saucepan, cook the garlic in the olive oil for 30 minutes on low heat. Stir occasionally to keep the garlic from drying out. In a medium saucepan, add the butter and tomatoes, and stir until well blended and the butter is melted. Stir in the garlic oil and season with salt and pepper.

Prepare pasta, according to package direction.

Allow the flavors to meld for 10 minutes. Toss with the spaghetti and serve garnished with basil and parmesan.