20 Exciting Books for You and Your Tween Girls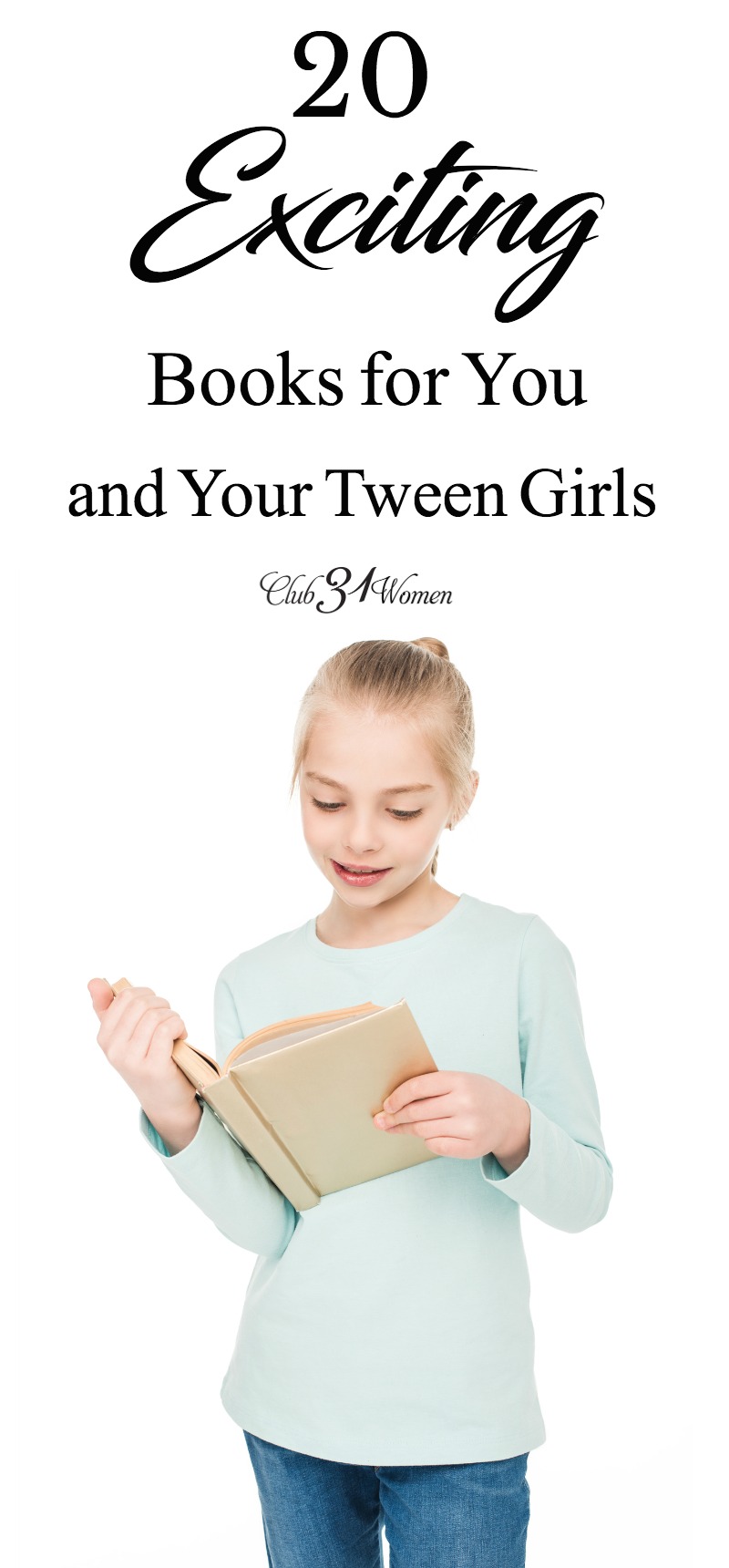 Does your tween girl need more books to read? Because we have an exciting list of books that stand out above the rest that mom and daughter will enjoy!
My mom decreed that the birthday kid didn't have to do school or chores on their special day. That meant glorious hours to read and read and read. What more could a girl want?
Books have thrilled, inspired, and challenged me for as long as I can remember. From the Kirsten and Boxcar Children series to Dave & Neta Jackson's Trailblazer Books, I made my way through most of the books in our small town library.
When Christmas and birthdays rolled around, I knew the packages with my name on them contained books. But the lack of surprise didn't keep away the absolute pleasure of owning a few more of the wonderful treasures.
Now there's nothing that gets me talking faster than someone commenting that their child needs more books to read. Because amongst the thousands and thousands of books I've read, there are some titles that stand above the rest. Those that had an extra edge of adventure and excitement, a call to do something great, or opened my eyes to worlds I'd never thought about before. And it's those books that I hope every girl (and her mother) will read and enjoy. Here are just a few of those exceptional books–and the series they come from.
Action-Packed Books for Girls
This post may contain affiliate links through which Club31Women might get a small compensation – with no additional cost to you.  See my disclosure policy here.
After watching her father's murder, Alice runs in fear and disguises herself as a choirboy. Many of the choirboys help Alice as she seeks to discover the reason behind her father's death. Was it really ordered by the Queen of England?
Mei-en is frightened to find herself in the home of foreign missionary, Gladys Aylward, after being sold twice. As Gladys Aylward works in her capacity as official foot inspector, the family at the Inn of Eight Happinesses continues to grow. Then the bombs began to fall and Gladys Aylward leads her family across the mountains to safety.
The world of the Minnipins is a life of conformity in the Land Between the Mountains, but not everyone is willing to act identically. The tensions build until the nonconformists are kicked out, and ultimately lead a fight against invaders to their valley.
Sarah is upset as her family begins the long walk to the Kentucky wilderness, wishing more than anything she could stay behind in cultured Virginia. And despite the fact that life in the wilderness is full of adventures, including bears, bees, and blizzards, Sarah is thrilled when her brother Nate arrives to take her back to Virginia.
Jack and Penny's adventures with an international smuggling ring, their local bullies, and their family include humor as well as danger. An important lesson learned by these siblings is family unity in a blended family.
After serving as a slave, Krea is rescued by an old woman. As the years go by Krea realizes that her Mistress harbors a secret about the men in green who come to her for help. Krea chooses to become a courier for the rightful King Reynald, and her new life is full of danger.
For Annie, the adventurous daughter of Patrick Henry, life at home is just as crazy as life in the colonies in the months leading up to the Revolutionary War. Her family seeks to live a normal life even as their mother suffers from a mental illness and their father travels often. Annie loves living on the farm but doesn't live up to her sister's expectations of a proper young lady.
John, Susan, Titty, and Roger sail out in the Swallow to camp on and explore Wild Cat Island. When they team up with the Amazon Pirates the fun is only beginning. After a contest to see who shall be their leader they commence "fighting" against Uncle Jim on his houseboat, which is complicated by the arrival of possible burglars in the area.
Josiah and Hope's world becomes more complicated when their family is ostracized by others in their Puritan fellowship. And Josiah's friendships with Oneko, a Native American, and the Widow Hooker, a Quaker, would upset his family even more if discovered. Then Hope becomes extremely sick and Josiah must bring the Widow Hooker to help.
Jancsi's cousin, Kate, is coming to stay on his family's Hungarian ranch. But "delicate" Kate is anything but mild and meek, and adds an element of adventure to everything normal. From teaching Kate to horseback ride to riding the local ferry to rescuing Kate from drowning in the river, Jancsi's life will never be the same again.
Ada and Mary organize a secret detective agency, and set out to solve the mystery of Rebecca Veridgris' valuable moonstone necklace. The fact that this is based on two actual historical characters makes it even more entertaining than the average fictional mystery.
Raised in Kenya, missionary kid Rachel's world is turned upside down when her parents die. She is shipped off to England by neighbors, where she is forced to play a false identity, all the while yearning for her home in Africa.
After the death of Martitia's parents, the timid girl goes to live with the Gardners. The five Gardner brothers scare her with their rambunctious, teasing ways, but soon she truly becomes part of the family.
Slow-Paced Books for Girls
(not as fast-paced, but still excellent and worth reading)
Sam and Giny Campbell have made friends with a plethora of wild animals near their Sanctuary. Between the squirrels deciding the house insulation is a personal possession and the chimney swifts nesting in the chimney, there is never a dull moment. Then Sam and Giny head off for canoe wilderness, taking along enthusiastic Hi-Bub and his parents. Their interactions with wildlife, both large and small, are thrilling to read.
Ann's family is excited to embrace their new life in the west, but Ann misses life and her cousin in Gettysburg. Then, somewhere between her growing friendship with neighbor boy Andy and interactions with new settler Mr. Scott, Ann realizes that Hamilton Hill has become home.
The Robertson children work hard alongside their parents on their pioneer farm, gathering maple sap, shearing the sheep, and harvesting crops. Along the way they enjoy baby animals, and the peddler's visit, as well as run into dangers such as a lynx. Interspersed among the chapters are pages that describe more about life in the backwoods, as well as instructions on how to make various items such as a balance scale, homemade cheese, shadow puppets.
Sham, a young horse, is sent as a present to the King of France, and the stableboy Agba travels with him. But soon Sham is used as a carter's horse, and owner after owner abuses or sells him. Will Sham's pedigree and speed ever be realized by those around him?
Soon after Tacy moved to Hill Street, she and Betsy become inseparable. They go adventuring up the Big Hill, and on their first day of school, Betsy comforts shy Tacy. The girls enjoy coloring Easter eggs with their older sisters and then navigate family changes when Tacy's baby sister dies and later a new baby arrives at Betsy's house. The other nine books in the Betsy-Tacy series follow the girls as they grow up, meaning that girls of many ages will enjoy relating with Betsy and Tacy's particular adventures.
Hamid rescues his blind baby sister from their evil stepfather's plans and delivers her into the care of Christian missionary, Rosemary. When "Aunt Rosemary" is visited by family, young Jenny is faced with realities she never encountered before in her easy life in England.
Life in the Quiner household has been harder since Father was lost at sea, but Caroline does everything possible to make Mother's life smoother. From watching the stagecoach arrive to receiving venison from some Indians, this is a sweet glimpse into frontier life in 1845. Based on the life of Laura Ingalls Wilder's mother, Caroline, this book is one of many about Laura's ancestors.
Which books from your childhood have stuck in your mind as the very cream of the crop?
I'd love to hear from you in the comments and look forward to reading your favorite books.
Off to the library,
Jennifer Church
Here at Club31Women, we recognize that not everyone has the same taste or point of view on books, music, or movies, but we offer these short reviews for your consideration. Our hope is that you will find something new and wonderful on this list of recommended resources!
~ Lisa Jacobson, Club31Women