How to Have the Kind of Marriage Your Kids Really Want You to Have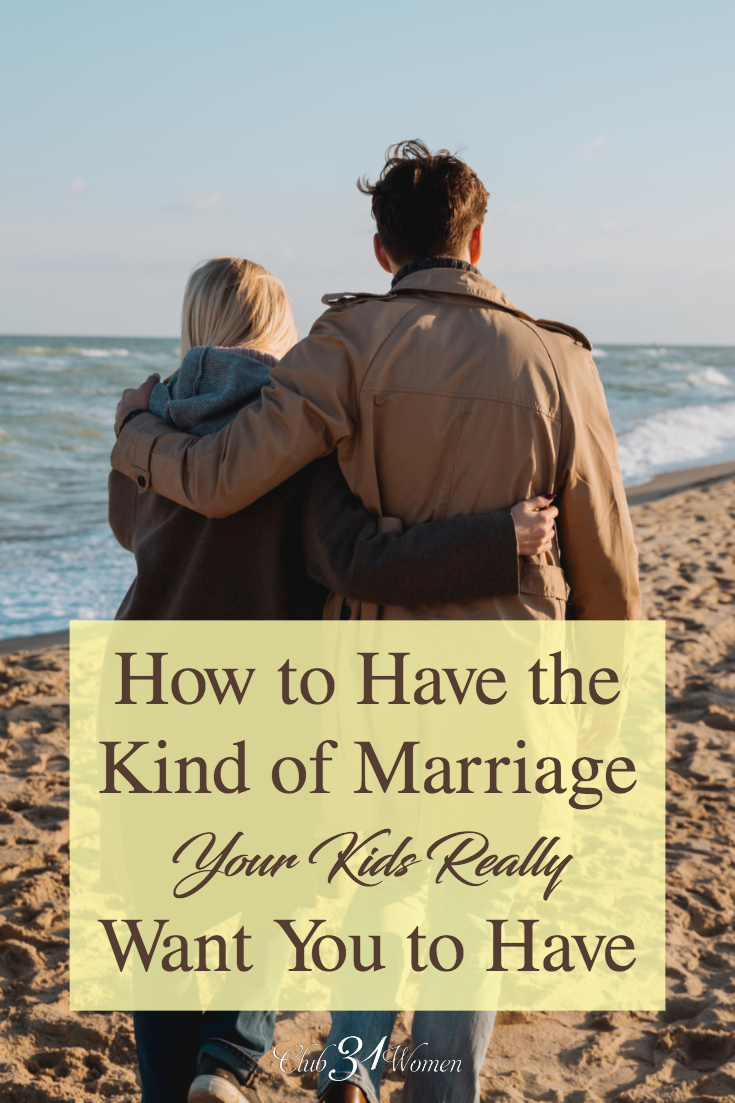 We may not realize it, but our children need us to have a strong marriage.

You don't realize how much they're watching.
Or at least not how closely they're watching.
Because I thought I knew how much it meant to them.
But it wasn't until this recent discussion that I found out just how much our kids take careful note of our marriage.
Our daughter came home last week for a quick visit from her freshman year at college and started telling me about a conversation she'd had with one of her guy-friends.
And it's not what I would have expected.
As in, she casually mentioned to him, "Yeah, I'd call my parents right now, but I can't because they're out on a date."
"What d'ya mean they're 'out on a date' – I thought they were married?" The guy seemed somewhat confused.
Our daughter started laughing. "Um, yes, they're definitely married. Like for over 26 years now."
"So why would they be dating?" He was baffled but wanted to understand.
"I dunno know, they're always going out on dates."
He thought about it for a minute or two. "I'm not sure my parents have ever gone on a date. Not that I can remember, at least."
And then added, "And I only saw them holding hands a few times in my entire life." The young man was nineteen-years-old.
Now she was the one confused. "That's strange. My parents all over each other."
She said that. She said we were "all over each other."
Marriage as a Beautiful Testimony of Love to the World
Okay, so it's a bit embarrassing to hear your teenage daughter describing you as basically hot for one another, and I had to stop her at this point in the story.
You didn't really say that, did you?
"Yeah, of course, I did. What, you didn't think we kids noticed? But I didn't realize that having that kind of marriage is so rare. Few – if any – of my friends' parents have that sort of relationship. Kinda weird, huh?"
Yes, I suppose so.
I don't know if I'd use the word "weird" or not, but it does seem a little sad.
After all, our daughter attends a Christian college, and so you'd think that would be the best place to hear about healthy, wonderful, and, ahem, passionate marriages.
But she said it's rare, people.
Alright, so I get that there are even better reasons to have a great marriage than for the sake of a college student conversation.
Such as the Bible calls us to it.
And it's a beautiful testimony of love to the world.
And, besides, it's a lovely way to live.
But how about considering this as well: our children are watching us. They're learning how to love other people by seeing how we love one another.
They're studying our example on what it means to be married and what their marriage should (or should not) look like. Our kids want us – need us – to have an ongoing love story.
An Ongoing Love Story
So you might want to keep it in mind.
And smile at each other when you walk through the door.
Surprise each other with something kind and thoughtful.
Encourage each other with words of appreciation.
Laugh at his jokes and don't forget to have some fun.
Set up a date night…or afternoon…or morning. Even if it's small and simple. (Just be sure to hold hands, okay?)
Look at each other with love in your eyes.
Remember why you fell in love with each other in the first place.
You might also want to wrap your arms around his neck.
Kiss him long on the lips.
And let your kids see what love looks like.
Yeah, I say give your kids something to talk about.
Because you might find out they're still talking about it long after they've left home.
This post may contain affiliate links through which Club31Women might get a small compensation – with no additional cost to you.  See my disclosure policy here.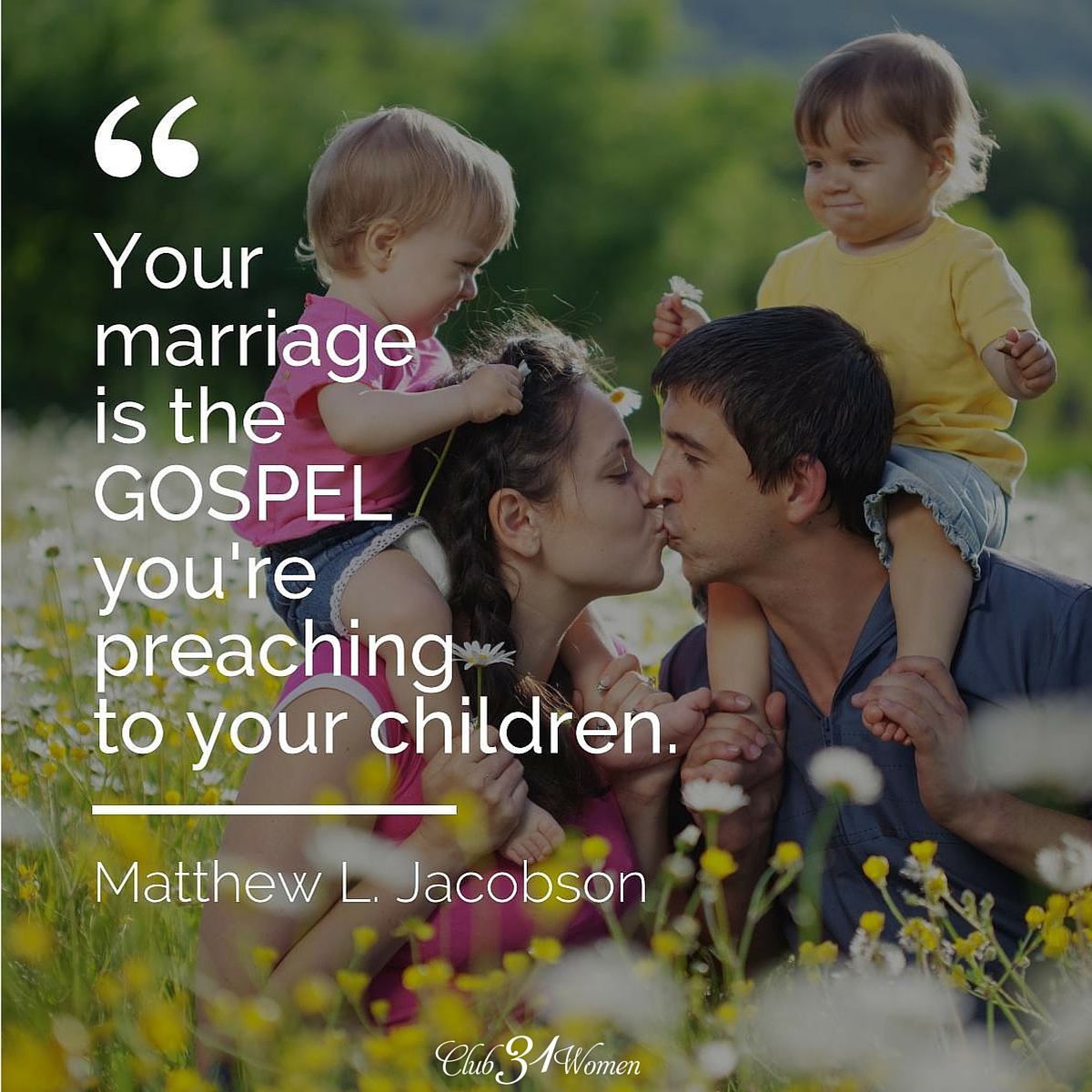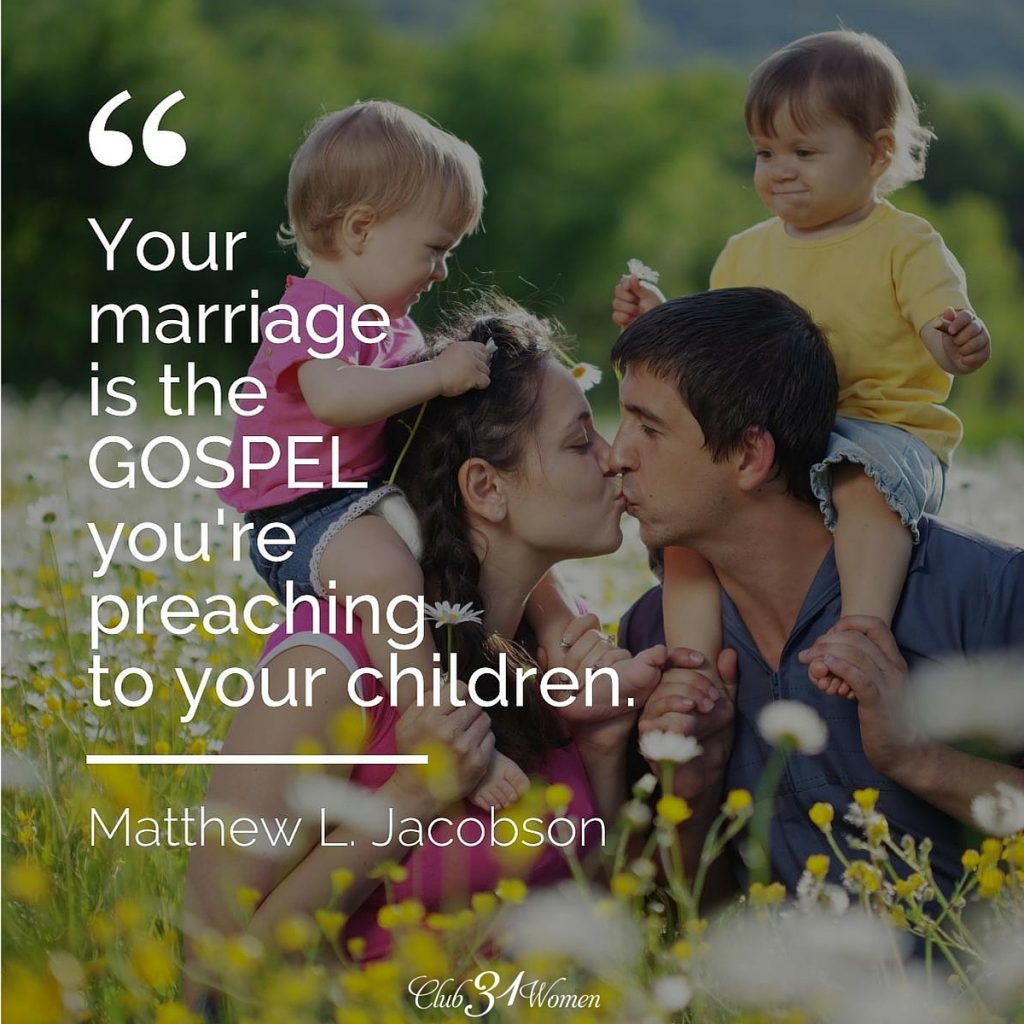 What Gospel is Your Marriage Preaching?
What is the message your marriage is communicating to everyone who knows and interacts with you—starting with your own children?
Today, on the FAITHFUL LIFE podcast, Aaron and Jennifer Smith (authors of Marriage After God) interview Matt and Lisa Jacobson about the power your marriage has to impact the world around you. We hope you can join us as we think you'll find this conversation encouraging, helpful, and inspiring!
In His grace,
Lisa Jacobson
FAITHFUL LIFE podcast
Matt and Lisa Jacobson, authors of 100 Ways to Love Your Husband and 100 Ways to Love Your Wife, are the hosts of a weekly podcast to talk about what it means to be a biblical Christian in marriage, parenting, church, and culture. Matt and Lisa offer deep encouragement, along with practical steps and true-life stories, as we grow in walking the faithful life together.
Subscribe to the FAITHFUL LIFE Podcast
Subscribe to the podcast on iTunes, Google Play, Google Podcasts, Spotify, iHeartRadio, Stitcher, Castbox, or (my personal favorite) Pocket Casts. Get notified each week when a new episode is available! New to podcasts...but don't know where to start? It's quite simple. Click here to learn more!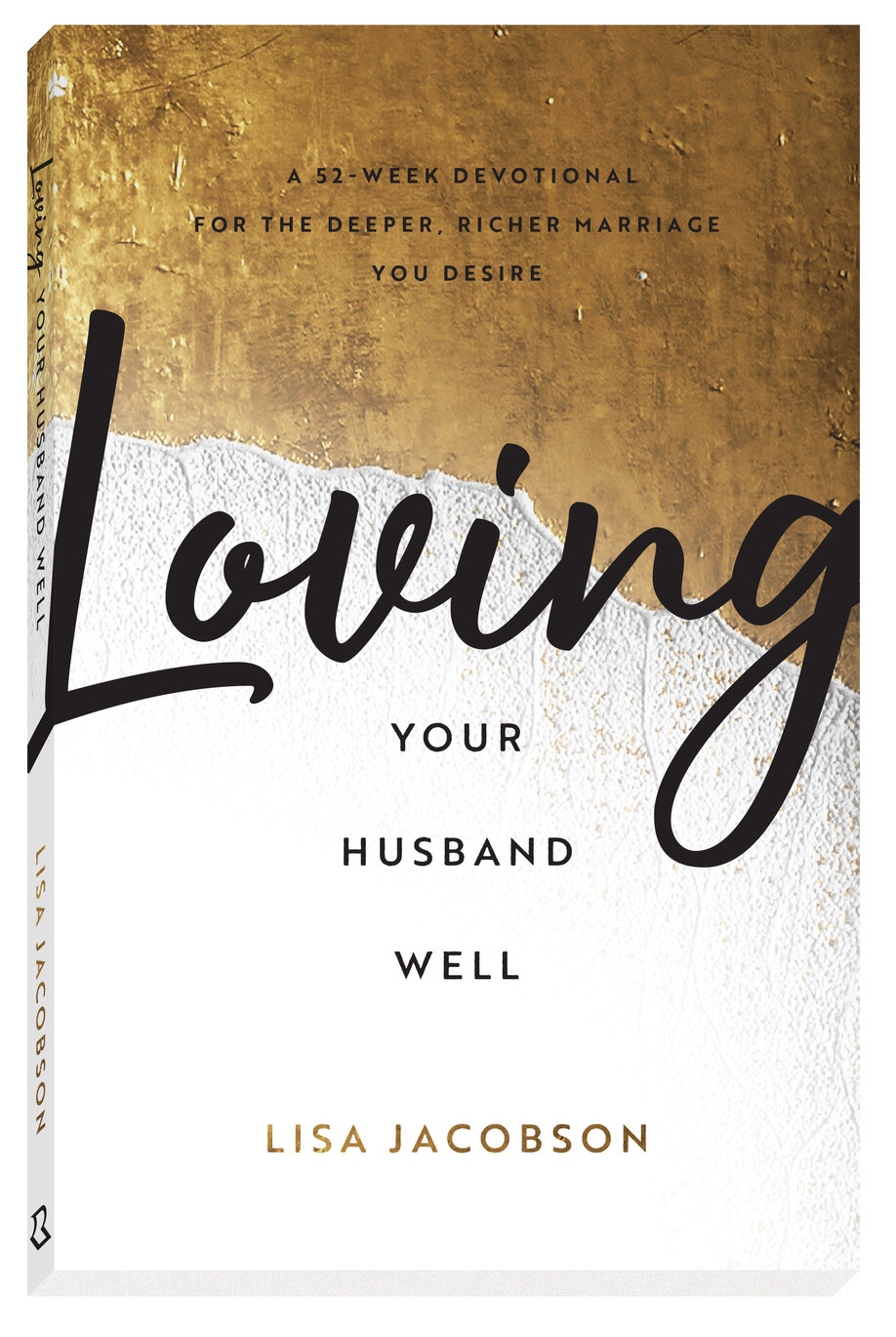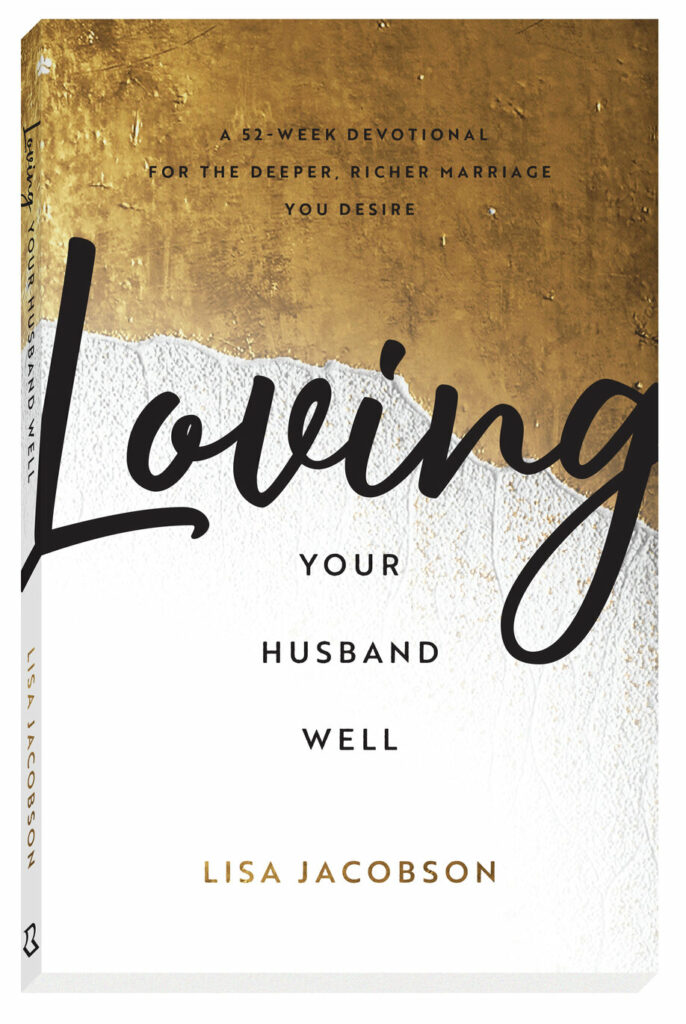 A 52-Week Devotional for the Deeper, Richer Marriage You Desire
An intimate, loving marriage is so much closer than you think

Imagine if, at the end of the year, despite your busy schedules and all the demands on your time and attention, you and your husband were more in sync, more connected, and more in love than ever before. Sounds amazing, right?

That kind of marriage is what is waiting for you as you read through the fifty-two weekly devotions in Loving Your Husband Well. Each entry includes a specific theme, related Scripture, a powerful devotion, thoughts for further reflection, practical ideas, and a prayer, all designed to help you love, cherish, and serve the man who shares life's journey with you.