Apple Bacon Mac and Cheese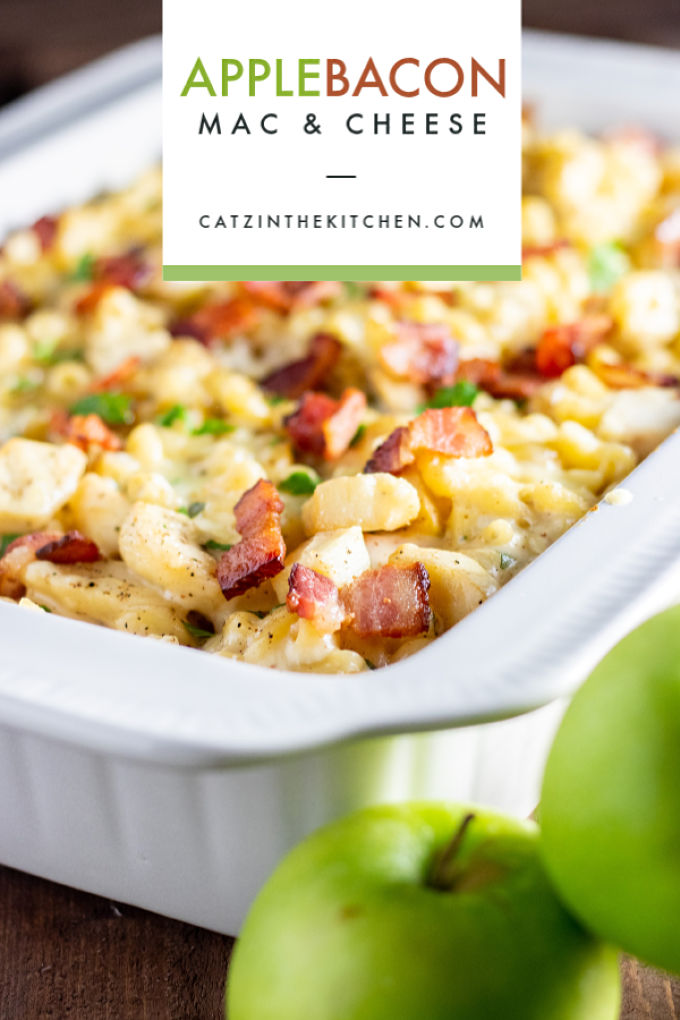 I may ruffle a few feathers with this statement (or hopefully not), but here it goes. I am not big on resolutions. I don't choose words. I don't aim to have lofty goals, and I don't plan out my year. If you do these things and find success in them – more power to you, and you probably don't need to read the rest of this!
I don't think there is anything wrong with making resolutions, having a word to live your year by, or having goals, just for the record. In fact, I find other people's decisions and choices fascinating and often admirable. I think for some people (perhaps many people), those things are really helpful and even beautiful. Especially the words – I'm constantly blown away by the variety of words chosen and the reasons people choose specific words.
For me personally, though, those kinds of resolutions are a detractor. In the past, when I've tried to do this, it's been because I see everyone else doing it and so I felt like I should do that, too! Maybe you've found yourself in the same boat with that same idea, in this area or maybe applied to something else in your life.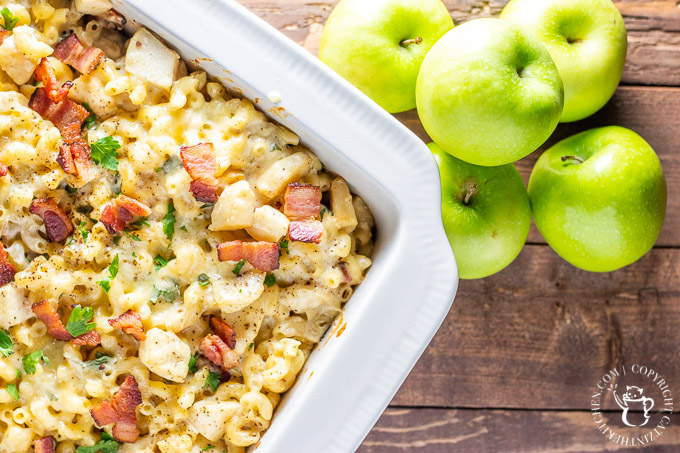 And…maybe it's just me, but I've found whenever to try and mimic something else somebody is doing, without a good, solid reason to do it myself, it doesn't go well. I usually end up crashing and burning and losing the fun and spontaneity of the decision.
So, what do you do when you want to have a resolution or a goal, but want to keep it approachable and practicable to your life, but you're not necessarily a resolution kind of person? For me, the thing to remember is that it is your life. You and your family is going to be the most impacted, so whatever you decide to do, it needs to work for you. Because when it doesn't, unfortunately, those around you will most likely feel the brunt of your frustrations, too.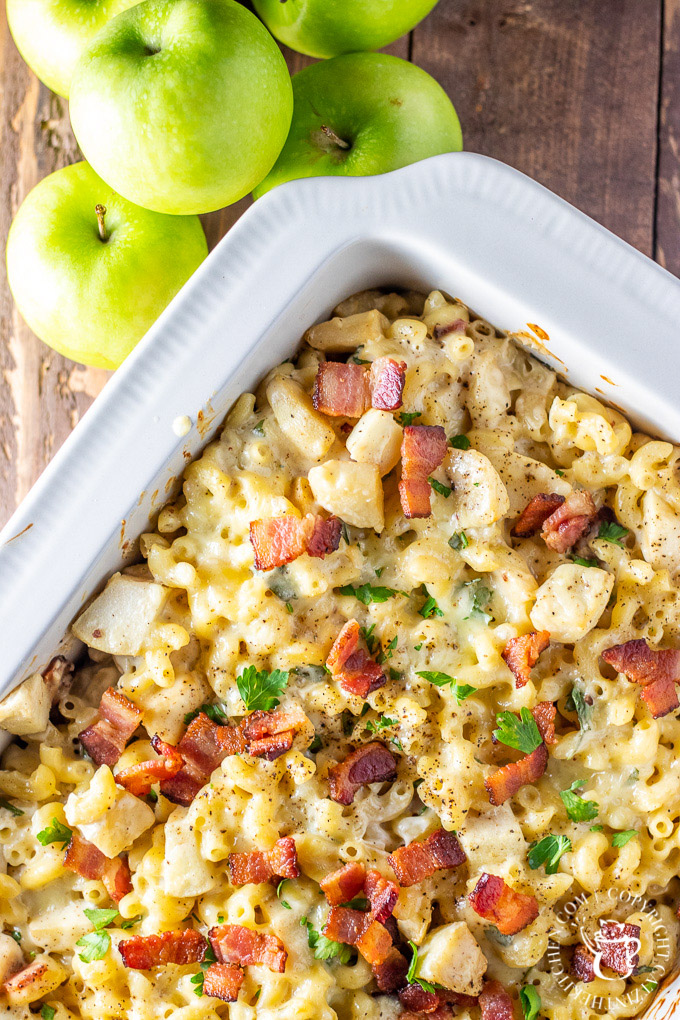 I think, for me, the key to being successful in creating resolutions or goals is to keep it simple and small and build from there. Personally, I've decided to focus on four areas: Spiritual, Marriage, Family, and Health. Let me show you what I mean.
Spiritual


I want to devote more time to prayer. As I've really dedicated the last five months to daily bible reading and studying I've come to see that I don't actually pray as much as I would have thought I did. Which is a really sobering thought, actually, when you think about how vitally important prayer is portrayed as in Scripture. I want to talk to Him more in the day to day moments and bring it to a more personal & intimate level. "Praying at all times in the Spirit, with all prayer and supplication. To that end keep alert with all perseverance, making supplication for all the saints…" Ephesians 6:18

Marriage


I want to continue to actively make time for each other (which has gotten easier the last few months with our oldest insisting on being our built in babysitter – and her younger siblings love her for it!), but I want to actively seek out his needs and communicate more. One of the things we've really enjoyed, but haven't actively made a priority in the latter half of the year is our marriage journal. It has prompted so many good conversations and I'm excited to get back into it with him.

Family


I asked the kids and my husband what they wanted to cook more of. My husband said he wanted us to experiment with seafood more and the kids said new takes on macaroni and cheese (we'll need more ideas than that, obviously…). I want dinnertime to be a fun and exciting time for them, for them to like what they are eating, and for everyone to stay involved, so I told them we would definitely do that. The other little goal I want to tack onto this area is to play more games as a family. I'm actually obsessed with board games, but no one is willing to stick out a game of Monopoly with me. Any takers?

Health


I need to drink more water. Despite carrying a water bottle all over the house with me and out on errands, I'm still not drinking enough. I doubt I'm alone in this area. The other thing I would like to allow myself is more grace when it comes to workouts. I love to workout and I do it consistently through the week (I realize this isn't the case for everyone!), but if I miss a day here and there, I need to allow myself grace to rest and be okay with that rest.

These goals are small and rather simple, but they are attainable goals that can be built upon in layers to gain greater rewards for my personal life as well as my family's life. Since we're talking about enriching our lives, I thought I would share my son's favorite dinner, Bacon and Apple Macaroni and Cheese. It's pretty simple, the ingredients aren't fancy and it's good enough for a main course. Just add a salad if you feel guilty about serving your family Mac and Cheese (also: don't feel guilty)!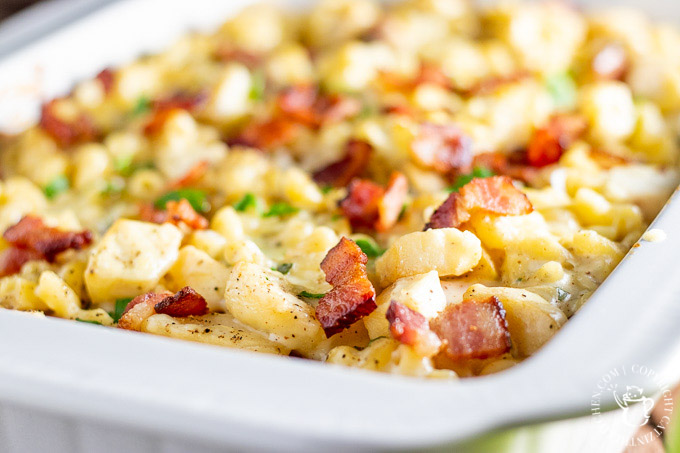 Have a Happy and Enriched New year!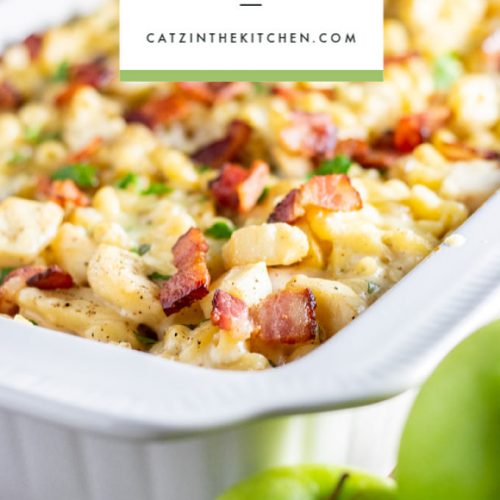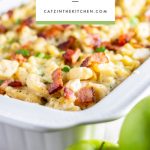 Apple Bacon Mac and Cheese
Sweet & savory, with salty bacon, tart apples, & sharp cheesy goodness - Apple Bacon Mac and Cheese is the easy comfort food recipe you've been looking for!
Total Time
1
hour
15
minutes
Ingredients
1

lb.

bacon,

cut into 1/2 inch pieces

2

Granny Smith Apples

peeled, cored and cut into 1/2 inch pieces

1

lb.

elbow macaroni

cooked according to package directions

4

tbsp

butter

1/4

cup

all purpose flour

3

cups

milk

at room temperature

8

oz.

sharp white cheddar cheese

shredded, about 2 cups

Salt and Pepper

to taste

1/3

cup

fresh flat-leaf parsley

chopped
Instructions
Pre-heat oven to 350 degrees. In a large skillet, cook the bacon over medium heat, stirring frequently, until crisp, about 8 minutes. Using a slotted spoon, transfer to a paper-towel-lined plate. Pour off all but 1 Tablespoon fat, add the apples and cook stirring frequently, until browned and beginning to soften, about 5 minutes. Transfer to a bowl.

In a pot of boiling, salted water, cook the pasta until al dente. Drain the pasta.

In a medium saucepan, melt the butter over medium heat. Add the flour and cook, whisking constantly, for 1 minute. Whisk in the milk; cook until smooth and thickened, about 10 minutes. Remove from the heat and add 1 1/2 cups cheese and a generous sprinkling of pepper; whisk until smooth.

In a bowl, add the pasta, sauce, apples, and parsley; toss well. Reserve 1/4 cup of the bacon. Add the remaining bacon to the pasta, toss. Season with salt and pepper.

Pour the pasta into a 9×13 baking dish. Top with the remaining 1/2 cup of cheese and bake for 30 minutes. Sprinkle with reserved bacon and serve hot.
Recipe Notes
Slightly adapted from Rachael Ray Magazine
Blessings,
Chels, Catz in the Kitchen