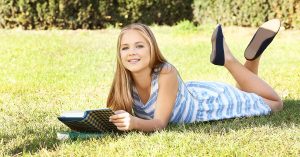 There's nothing sadder for a bibliophile than coming to the end of a good book.
I'm always reluctant to turn to the last page, knowing I have to say goodbye to the characters who had become my new best friends.
It is always with great anticipation then, that I embark upon an entire series. Because in a series I have the delicious promise of many more hours in the company of carefully crafted characters.
I've enjoyed many series throughout the years. But there are a few of favorites I've kept on my bookshelf and read over again. I devoured many of them as a teen, while others I have discovered in the late-night baby-rocking sessions of motherhood.
Here are six series whose characters have become living, breathing, literary friends.
1. Anne of Green Gables by L.M. Montgomery
It doesn't matter if you've seen the movie, or if you've already read the book. The Anne of Green Gables series is one that can and should be enjoyed over and over again, at every season of life. The passages that bring me to tears as a mother are very different from those that thrilled me as a teenager. But the Anne books transcend time and generations.
2. Secret of the Rose Series by Michael Phillips
Outside of Anne Shirley and Jo March, Sabina is one of my very favorite fictional characters. I shed many a tear onto the pages of her story. The purity and symbolism woven throughout is beautiful, but the patience and purity of love across time and borders makes this a precious tale indeed. My journals are filled with many a copied selection from the Secret of the Rose books.
3. O'Malley Family Series by Dee Henderson
I like a good mystery, but I don't like it to be too scary or bloody. This Christian suspense series might not be one I'd want to read when in the house alone late at night, but it's clean and it's not too creepy. The series follows seven siblings throughout their high-profile jobs and recurring criminal cases that always get too close for comfort. With just enough romance thrown in to keep things interesting, it's a series you might enjoy even if you're not the average Christian suspense fan. But my favorite part was the comradery and friendship between the O'Malley siblings.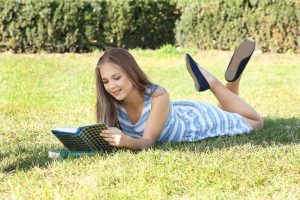 4. French Twist Trilogy by Sandra Byrd
This trilogy is a delicious read—literally. Not much depth, just lots of fun and food—mostly cake! Romantic relationships are always made a bit more difficult when they are interwoven with the work place, as the heroine Lexi Stuart finds out time and again. But if you're looking for a lighthearted romance, this trilogy (with more than one love triangle!) is sure to satisfy.
5. Farm Fresh Romance Series by Valerie Comer
What do you get when three friends buy a farm in northern Idaho with the intent of creating a sustainable communal farm? Farm lit at its best. This series from Valerie Comer is positively delightful, especially if you're a bit "crunchy" yourself. These books do feature a lot of kissing, but they also give a realistic glimpse into how the romance can continue long after you say "I do". While following the development of new relationships in subsequent books, you also get a peek into how the now-married couples deal with pregnancy, infertility, and other life challenges.
But what makes these books real gems is the honest dialogue between the characters about how they have to come to the point where being a Christian isn't just a decision they made once, but a relationship that affects everything they do.
Raspberries and Vinegar (perpetual Kindle freebie!)
6. Aggie's Inheritance Series by Chautona Havig
In Chautona Havig's books, I have been encouraged in my faith, inspired in my parenting, and challenged in my way of thinking. It's like reading a novel written by a trusted mentor, because each character and conversation has something to teach me—without any lecturing or sermonizing. I have enjoyed every book I've read by Chautona, but the Aggie's Inheritance series remains a particular favorite. When Aggie literally inherits her sister's children, both laughter and tears are abundant as she tries to keep her new family together. Each character is sure to become a favorite, so you'll be delighted to revisit them from time to time in Chautona's other series (Past Forward is the serial novel that comes next).
*What is one of your favorite series? I'm always glad for a new recommendation!
~ Gretchen
Here at Club31Women we recognize that not everyone has the same taste or point of view on books or movies, but we offer these short reviews for your consideration.  We understand every parent has to make their own decision on what is best for their family. Our hope is that you will find something new and wonderful on this list of recommended reading! ~ Lisa Jacobson
(This post may contain affiliate links. Read my full disclosure.)
Save