Enjoying Winter? Here's a Stack of Books for Cozy Winter Reading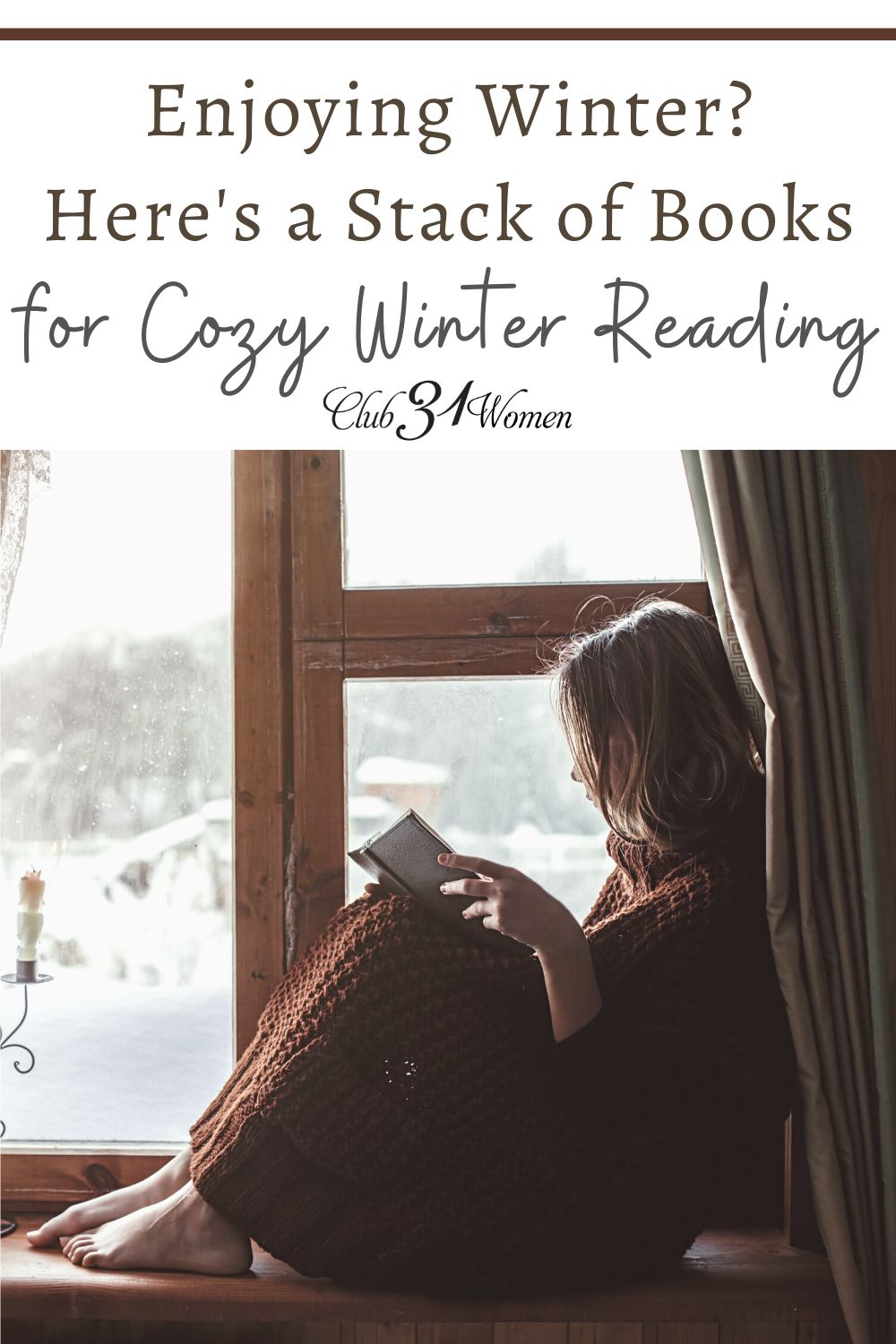 A snowy view is the perfect ambiance when curled up with a good book. If you're looking for a great stack of cozy winter reading, stock up on these titles!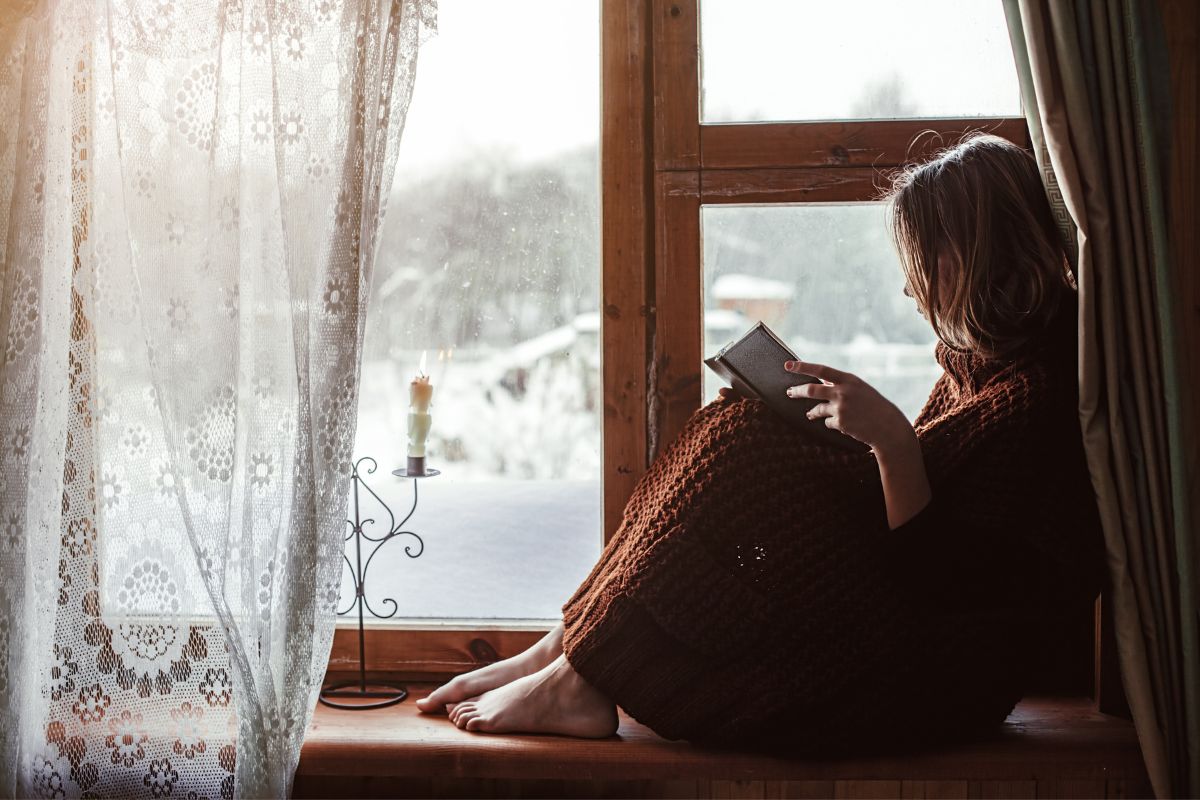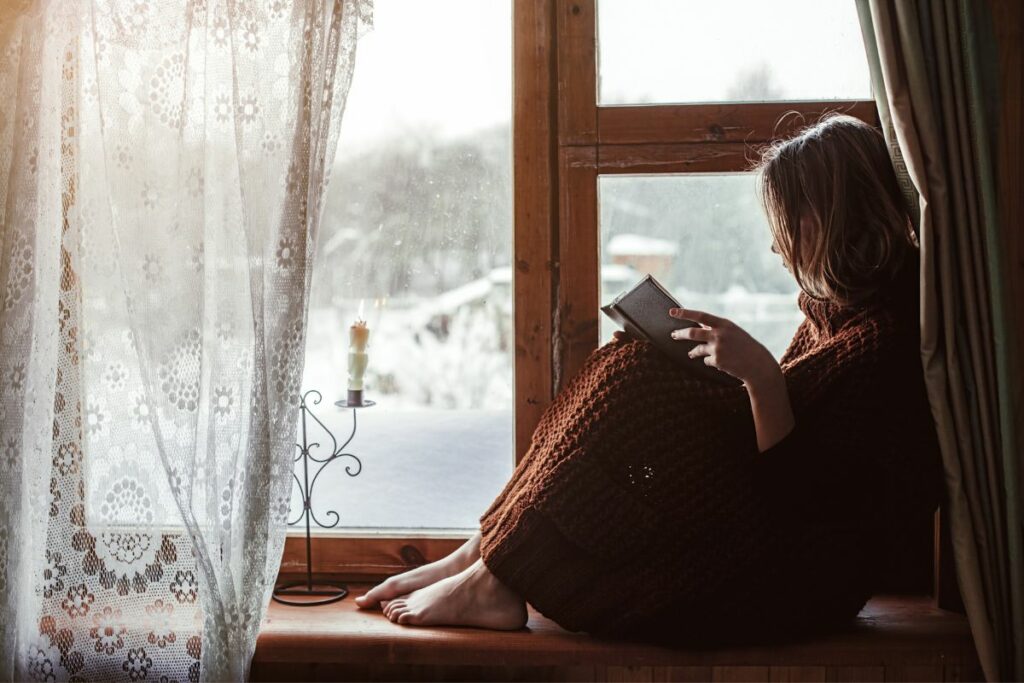 Over the years, I've come to the conclusion that there are two types of people in winter. There are those who embrace the cold and snow as a way to add interest and change up their outdoor activities. And then there are those who love how the cold and snow emphasizes the coziness of their homes and adds an extra level of enjoyment to the activities they're pursuing inside. Maybe this juxtaposition is more evident here in the mountains of Colorado where the winter activities are a big reason why people move here, but I think it's also generally the case anywhere that you get a cold and snowy winter.
My husband, Aaron is definitely in the former camp. He's an avid mountain and gravel biker, and winter just means a chance to get out his fat bike and bike in the snow! He often comes home from these rides glowing with enjoyment and his beard is covered in icicles. Though I love winter, I'm squarely the latter type, and my cup of tea (often literally!) is to savor looking at the beauty of the snow while the cold adds an extra layer of cozy to all that I'm doing inside.
In my opinion, a snowy view is the perfect ambiance when curled up with a good book so I fully embrace the reading time that comes with the winter season. If you also want to embrace this, here are some ideas to add to your stack…
This post may contain affiliate links through which Club31Women might get a small compensation – with no additional cost to you.  See my disclosure policy here.
These books aren't technically specific to winter, but as I received them as a long-awaited gift this past Christmas, they'll always be associated with winter for me. And since receiving them, I've started to incorporate reading the liturgies into my days, and it has been a lovely way to start the new year. So often I'm struck by the sheer beauty of everyday moments, and being a word girl, I absolutely love the idea of having liturgies to commemorate them. (Please note: you don't have to attend a liturgical church in order to appreciate these beautiful prayers.) Every Moment Holy: Volume I is full of liturgies specific to just the commonplace occasions of life ("Lament upon the Finishing of a Beloved Book" and "For the First Snow" were the first ones I read through and absolutely loved!), and Volume II focuses on "Death, Grief, and Hope". Every single liturgy I've read has resonated deeply and caused me to ponder and look at everyday situations in a new light. Every household should own these!
As I shared in my autumn book list, I think that it's always a good thing to challenge some of our cultural paradigms, especially in areas like parenting. As such, I always enjoy reading books about parenting in other countries, and There's No Such Thing as Bad Weather was no exception. Especially considering my previously-noted tendencies in how I handle cold weather, it was good for me to confront some of them with wisdom and experience from people who deal with lots of cold weather!
The cover alone of this book will give you all the wintery feels, but it's also a story that mostly takes place over an English winter. As you might expect from the title, Once Upon a Wardrobe is a story about C.S. Lewis and the origins of Narnia. This book drew me in from the very first page and is the perfect blend of nuggets of truth and layers of story, all wrapped up in gorgeous wordsmithery.
Speaking of wordsmithing skills, Amanda Dykes is a master, thus why I'm including one of her books in each of these seasonal book lists. As such, Yours is the Night isn't necessarily specific to winter, but that won't matter the minute you start this book. Full of unforgettable characters, this is a story so rich with light and hope, and redemption that each page is a gift. There are so many layers to this story, and it is truly one that became a little part of me.
If your family is anything like mine, then winter is a time full of kids getting sick! I have six kids and in the past thirteen years of parenting, we've experienced our share of normal childhood illness. While we obviously get medical help when needed, we are able to treat the majority of those illnesses at home, and Smart Medicine for a Healthier Child is an amazing resource in that regard. Written by a N. D., a M. D., and a R. N., this incredibly comprehensive tome goes through a huge variety of children's ailments and how to address them with herbs, homeopathy, diet, nutritional supplements, and acupressure, along with noting what the conventional treatment is. The wide variety of options helps you personalize the treatment to your specific child, and what might work best for them.
Though this story (and its sequels, Little Men and Jo's Boys) cover years, I think Little Women is often regarded as a Christmas/winter book because that's when the opening chapters happen. This book is a complete classic and one I still enjoy though I've read it umpteen times. Little Women, et al. were also the first books that I shared about in my list of novels that have taught me about parenting, as Marmee is one of my parenting role models.
Having been a ballerina years ago, I loved the glimpse into the world of ballet from almost two centuries past. A Midnight Dance has so many intricate layers of story that truly kept me guessing at the answers to the different questions until the last page. So many beautiful truths are woven into the story, yet it's so well-written that it doesn't feel preachy at all, but rather that you are alongside the characters as they learn these lessons too. I'm realizing now that while I don't necessarily think that the story all took place in the winter, the ambiance of the book seemed wintery to me due to it taking place in a drafty old theater!
I shared some other Food52 cookbooks in my summer book list, as they are some of my very favorites for creative recipes, unique flavor combinations, and practical kitchen hacks. Genius Recipes was my first Food52 cookbook and I love its simplicity of taking basic recipes and taking them to the next "genius" level by incorporating different tips, tricks, and ingredients. (The pumpkin pie recipe alone makes it worth the price of the book, in my opinion!) I feel like the cold days of winter are perfect for upping your kitchen game, and this is the perfect book to help with that!
For me, the first months of the year have me evaluating different areas of my life, and as a mama of six, parenting is one of those areas. This is one of the best parenting books I've ever read, and so helpful in that evaluating. Incredibly balanced and holistic, I really appreciated Jodi's approach in talking about parenting kids in the three areas of "mind, body, and spirit" mentioned in the subtitle of The Whole & Healthy Family. A lot of parenting books will usually only focus on just one of those areas, yet all three work together synergistically in helping your kids to thrive. Jodi's tone throughout the book is very personable and encouraging, and I love her practical approach that recognizes the beauty of simplicity and the importance of relationship and connection.
I've already mentioned that I fully embrace the extra excuse that winter can give to snuggle down with a favorite book…and combining that with yummy food is the perfect combination! In writing this, I discovered that since I purchased my copy several years ago, The Little Library Cookbook went through a reprint and now includes more recipes, but I'm sure either edition is equally delightful. Covering everything from children's books to classics to modern novels, it pairs recipes with books (and I would assume this is obvious, but recommending this cookbook is not vouching for the content of every single of the books mentioned in it). The table of contents already had me with some of its categories of "Before Noon", "Around Noon", "After Noon (Tea)", and "Midnight Feasts", but that whimsical feel continues throughout the book. While this cookbook will especially delight you if you're a bibliophile, I think it's a fun concept that can be enjoyed by anyone.
As much as I love winter in Colorado, sometimes in the dark days of January and February, I'm longing for a place that's warmer with beautiful growing things. This gorgeous series takes place in the American South, mostly in Charleston, South Carolina, and it definitely brings me to beautiful warmer places and more! The three books in the Heirloom Secrets series, The Dress Shop on King Street, Paint and Nectar, and Where the Last Rose Blooms all have split timelines, and there are a lot of small details linking the stories together. As such, I really recommend that, if possible, you read them one right after the other to fully engage in the richness of all the different stories being woven together, with pain and beauty making a divine pattern and the thread of redemption running through it all.
Whether you're a person who loves being outside in the cold and snow, one who prefers to snuggle down inside, or a combination of both…I hope this list gives you some ideas for some cozy winter reading!
Under the Mercy,
Jessica Telian
Here at Club31Women, we recognize that not everyone has the same taste or point of view on books, music, or movies, but we offer these short reviews for your consideration. Our hope is that you will find something new and wonderful on this list of recommended resources!
~ Club31Women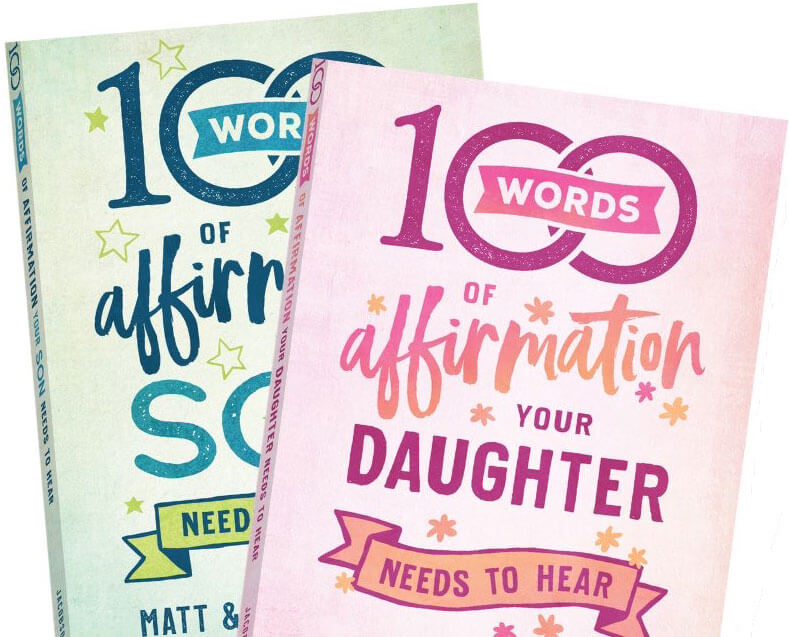 100 Words of Affirmation Your Son/Daughter Needs to Hear
Matt and Lisa Jacobson want you to discover the powerful ways you can build your children up in love with the beautiful words you choose to say every day–words that every son and daughter needs to hear.
These affirmation books offer you one hundred phrases to say to your son or daughter – along with short, personal stories and examples – that deeply encourage, affirm, and inspire.
So start speaking a kind and beautiful word into their lives daily and watch your children–and your relationship with them–transform before your eyes.