6 Books With a Vintage Feel That Christian Teen Girls & Their Moms Will Love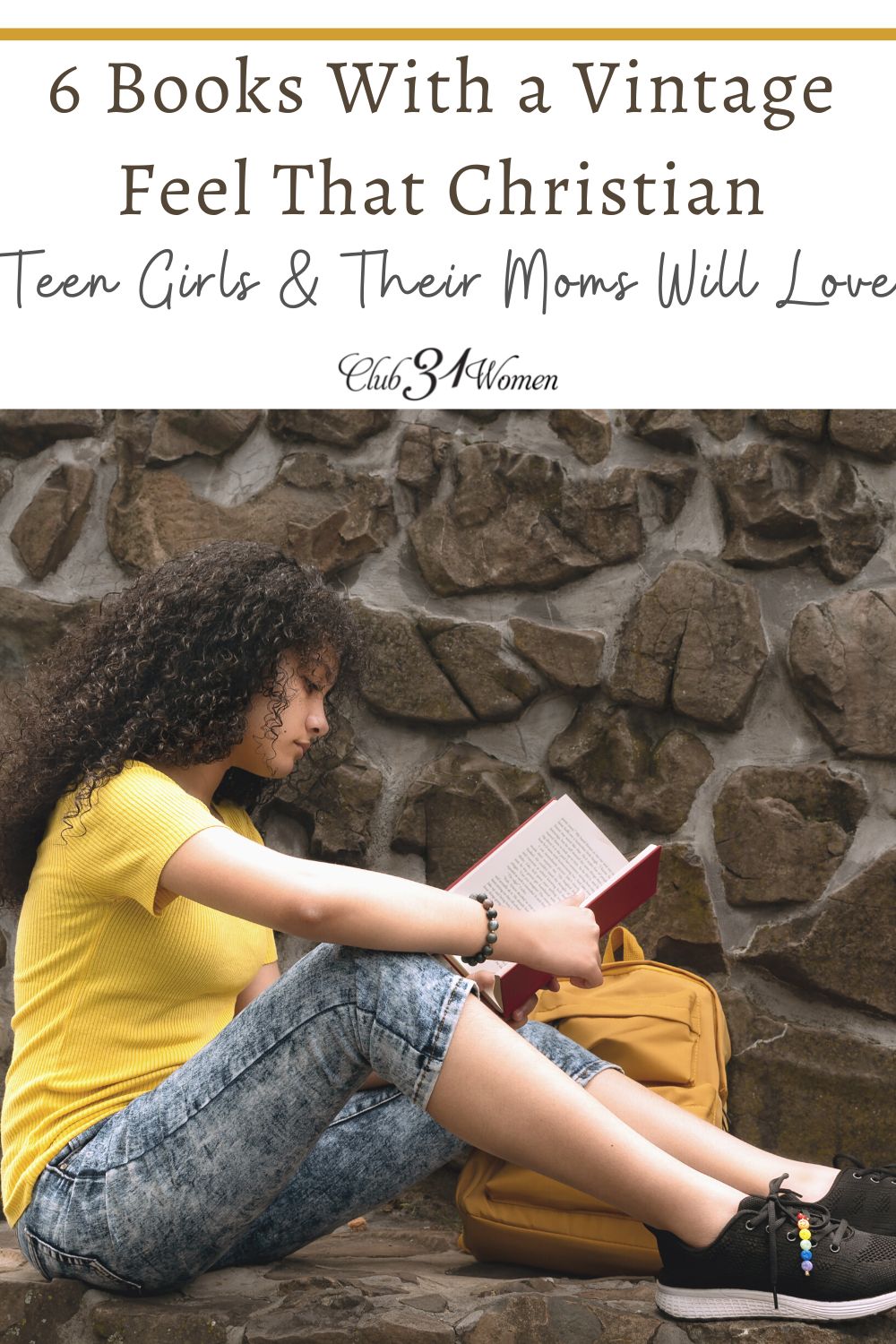 Is your teen girl into that old-fashioned fiction that she can't get enough of? How about some amazing, vintage feel books that she'll want to read over and over again?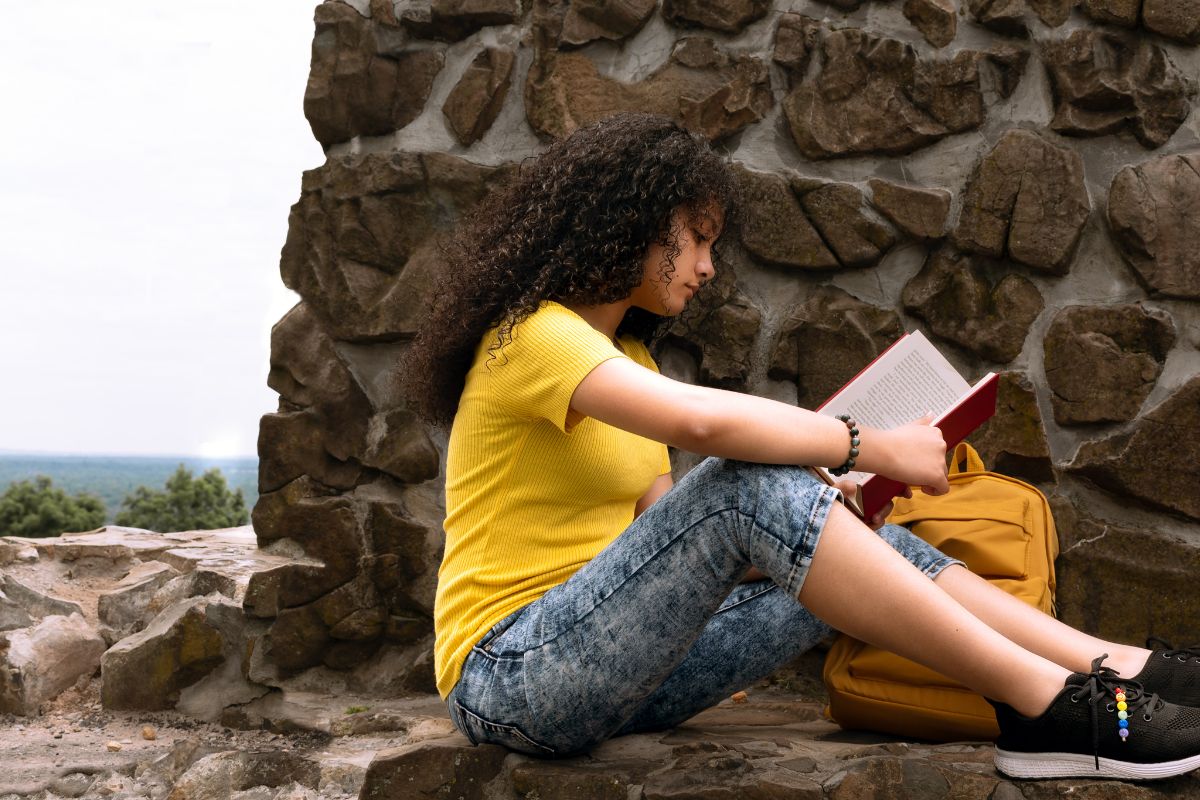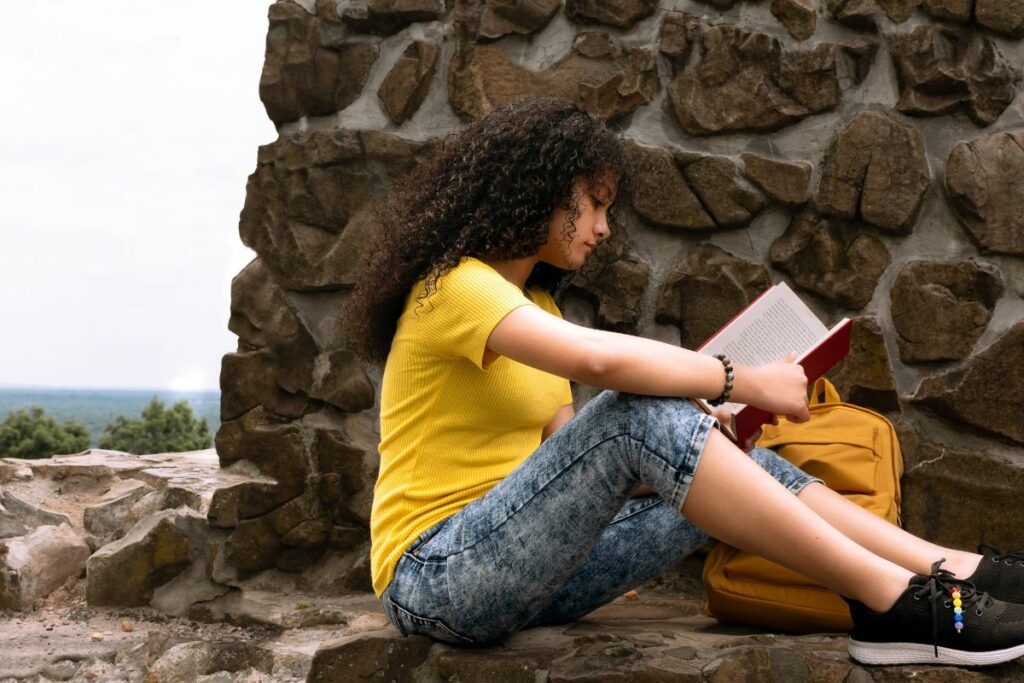 There are at least three ways I know that my teen daughter loves a book:
She reads the same book over and over again—when she just read it.
She decides she wants to order the book so she can have her own copy.
She tells me, "Mom, you have got to read this book!"
My oldest daughter reads voraciously, rather like I did at her age. We don't read all the same genres—she loves fantasy like Lord of the Rings and The Wingfeather Saga, while I tend more towards modern or historical fiction—so it's extra fun when we find books we both love.
Sometimes, I'll pre-read a title before handing it to her. Other times, since she reads quickly (and has more time!), my daughter is the one raving to me about a new book (usually a book or author that's been recommended to us from a trusted source).
Here are some middle grade (and more!) titles my daughter Ruth Anne and I have been enjoying lately. They are recent releases with a vintage feel and historical setting. With each book, we've suggested an additional bonus read—sometimes a novel, sometimes a picture book (since in our house we believe that you can never be too old for picture books!).
Vintage Feel Books Your Teen Girl Will Love
This post may contain affiliate links through which Club31Women might get a small compensation – with no additional cost to you.  See my disclosure policy here.
This lovely debut novel set in 1914 was an instant favorite with my daughter Ruth so I decided to find out what captivated her. I was delighted to discover that The Star That Always Stays has everything we love about vintage fiction like Little Women and Anne of Green Gables, with the added authenticity of being rooted in the author's own family history. Difficult topics including racism and parental divorce are discussed with grace, while scriptural truths are gently woven throughout the story. The heroine, 14-year-old Norvia, felt like a friend by the end of the book. It's a book I'm glad my daughter—and I—read! The soon-to-be-released audiobook means our whole family will be enjoying The Star That Always Stays on a road trip soon.
This delightful epistolary novel is a perennial favorite in our home. Mary Elisabeth is a precocious 11-year-old who has been sent to her uncle's farm while her mother enters a Tuberculosis sanitorium in 1924. Their letters back and forth will make you laugh out loud at the antics of Mary Elisabeth and her cousins, but you may also find tears on your cheeks once in a while. While the characters are fictitious, the events in the book are based on the escapades of the author's own father. A charming read-aloud, Love, Mary Elisabeth is a book that my daughters and I have read over and over again.
I heard the middle-grade novel A Place to Hang the Moon referred to as an "instant classic" many times before I got it from the library—and my daughter and I definitely agreed with that assessment. With flavors of The Lion, The Witch, and The Wardrobe, this story set in 1940 features three orphaned siblings sent from London to the countryside for safety during WWII. Their first few billets leave William, Edmund, and Anna despairing that they will ever find a new home. But through false accusations, hunger, and loss, the kind librarian Nora Müller offers the children nothing but kindness and friendship. The audiobook has been enjoyed by every member of our family!
"I think I have a new favorite book," my daughter announced when she finished Once Upon A Wardrobe. While not officially middle-grade reading, it's written about a fictional seventeen-year-old Megs Devonshire and her ailing eight-year-old brother who wants nothing more than to know the origins of his beloved Narnia. In order to answer George's questions, Megs seeks out C.S. Lewis at Oxford in 1950, and in each interview, we're taken into Lewis' own childhood in the style of a split-time novel. From the tales of loss Lewis experienced in his own life to the origins of Boxen, Lewis' stories bring Megs and her brother George hope in the midst of the despair their family faces. Heartbreaking yet beautiful, I desperately wanted all of this book to be true! (There is some mild romance and a few kisses, but despite being adult historical fiction, Once Upon a Wardrobe reads much more like a book for young audiences than does Becoming Mrs. Lewis.)
Don't judge this book by its cover! The medieval story contained in Lapis Lazuli for Hope is as fascinating as it is wholesome and well-written. I didn't even know what an illuminator of religious manuscripts was until I read this fictional story of a novice nun from the time of Martin Luther. Turned out of a convent in 1536 during the dissolution of England's monasteries, Clare is forced to learn about life outside the walls of the convent when she's sent to live with her grandfather. Hopeless that her skill of illumination will ever be needed beyond the convent, Clare finds solace in friendship and in the colors she loves so well.
Both my tween and my teenager raved about this book and told me I just had to read it. From the title, I wasn't sure what to expect. It's truly an unusual magical and medieval tale of a girl who appears at a monastery with no memory other than that her name was Beatryce. As Brother Edik and Answelica the goat doggedly nurse Beatryce back to health, Brother Edik realizes that Beatryce may be the one about whom the prophecy was written—and whom all the kingdom is seeking. Both funny and fantastical, The Beatryce Prophecy is a charming celebration of stories and those who tell them.
I hope both you and your daughter will find a few new favorites in this list of vintage feel books! I know my daughters and I have.
Further Up and Further In,
Gretchen Louise
P.S. Looking for more titles for you and your teen girls? Don't miss these lists:
Here at Club31Women, we recognize that not everyone has the same taste or point of view on books, music, or movies, but we offer these short reviews for your consideration. Our hope is that you will find something new and wonderful on this list of recommended resources!
~ Lisa Jacobson, Club31Women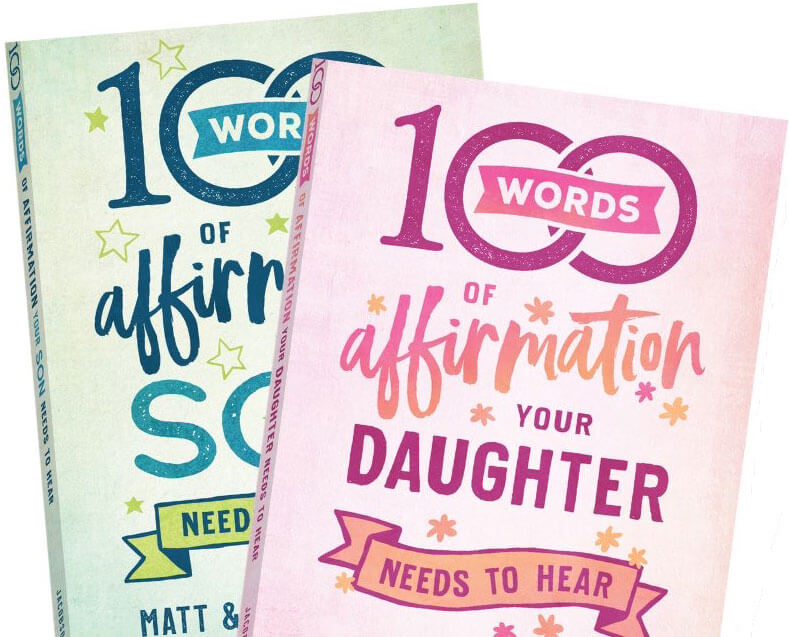 100 Words of Affirmation Your Son/Daughter Needs to Hear
Matt and Lisa Jacobson want you to discover the powerful ways you can build your children up in love with the beautiful words you choose to say every day–words that every son and daughter needs to hear.
These affirmation books offer you one hundred phrases to say to your son or daughter – along with short, personal stories and examples – that deeply encourage, affirm, and inspire.
So start speaking a kind and beautiful word into their lives daily and watch your children–and your relationship with them–transform before your eyes.